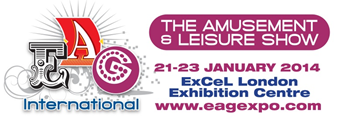 BALPPA Anticipating Full Agenda At EAG International
With the fifth edition of EAG International scheduled to take place at Excel London on 21st-23rd January 2014, many participants are already laying plans to guarantee a successful three days.
EAG International organiser Karen Cooke has confirmed that exhibitor bookings are ahead of the same period last year as more than 180 manufacturers and distributors prepare to wow visitors with the very latest products and innovations.
The event has always been much more than just an expo, with many organisations planning their own meetings and networking events around the show, ensuring the best possible use of time.
Indeed, leading trade association BALPPA has supported EAG International since 2012 and has played an important part in the show's development. Founded in 1936, BALPPA represents the interests of owners, managers, suppliers and developers in the UK's commercial leisure parks, piers, zoos and static attractions sectors.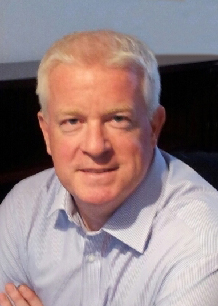 For the third year running, BALPPA will hold its AGM at EAG International and time its annual dinner to coincide with the show. For the duration of the event, BALPPA will also host a comfortable members' lounge, conveniently located on the expo floor.
BALPPA Chief Executive Paul Kelly is in no doubt about EAG International's relevance: "BALPPA's members inevitably have many facets to their businesses and we have a strong coin-op membership, most of whom are joint members with BACTA," he revealed.
Now one year into his role, Paul is determined to leverage the Association's involvement with the show to deliver value to its membership. "I've spent my first six months at BALPPA securing memberships, lobbying the attractions community and focusing on the basics," explained Paul.
"More recently, the focus has been on parliamentary lobbying on important issues facing our members. I think it would be fair to say that we've only been partially successful in getting our message across and, like many, have had some difficulties in getting to grips with ministerial and other changes at the DCMS. A good example of this would be the recent Triennial Review which has benefited some operators but has been a damp squib as far as Cat. D has been concerned. The family entertainment businesses feel left out in the cold, effectively not having been awarded a Cat. D stake increase for 20 years," lamented Paul.
Other issues high on BALPPA's agenda include the Government Consultation on the Education Secretary's proposal to reduce school holidays, VAT relief for tourism businesses and the current debate on zero hours contracts. Government support for seaside towns and what this could actually mean is also likely to be a hot topic.
Paul continued, "These are huge issues; if we take the subject of zero hours contracts, 90% of businesses in the parks and attractions sector employ these contracts because of seasonality and fluctuations in visitor numbers.
"There will inevitably be debate about how these issues should be approached and EAG International will provide a great opportunity to share BALPPA's thoughts with BACTA and crystallise views on several areas.
"We know that EAG International has also attracted legislators in the past; it would be great to engage with them at the show if possible," said Paul.
For many exhibitors, EAG International is about showcasing new products and services for the forthcoming season. Paul had very positive news for these companies: "Many of our operator members have enjoyed a great summer, with August being a particularly strong trading month. They are now actively considering investment for the coming season.
"I'm also pleased to report that our membership is widening, with 75 new businesses joining this year. The majority of these are play centre operators which are new entrants to the industry and will be visiting EAG International, hungry for information," promised Paul.
And what of the future? Paul is optimistic about the UK's prospects: "People like staying in the UK and it's a much better holiday prospect than it used to be. Attractions are investing in accommodation and facilities upgrades. There is growth in newer concepts such as glamping; the trend is to go up-market with a focus on value rather than price.
"The influx of new entrants to the market has widened the opportunity for sharing experiences and learning. The gap between how large and smaller businesses deal with issues such as marketing and communication is closing and it's our aim to facilitate the exchange of information," assured Paul.
The BALPPA team are looking forward to EAG International as a further opportunity to engage with both established operators and newcomers.
 "We hope people will visit our lounge where we will all be on hand to discuss BALPPA's latest initiatives, including training, seminars and our parliamentary lobbying campaign. Refreshments will be available and all will be welcome," assured Paul.
Register now for EAG International at www.eagexpo.com