Interview with Brandon "Buzz" Zyxnfryx, CEO - ZFX Gaming, Inventor of 21STUD® by: Victor H. Royer
Casino Life Magazine recently had the opportunity to interview Brandon "Buzz" Zyxnfryx, CEO and founder of ZFX Gaming, and inventor of the new table game 21STUD®. Brandon has been in the gaming industry for more than 15 years. Active as a senior software developer for FIS Global, a Fortune 500 financial-products and services company, based out of Jacksonville, Florida, since 2014, he also excels as the owner of ZFX Gaming LLC since 2018.
Image: Playing 21STUD® at the Boston Billiard Club and Casino (Photo Credit: Chris Boncoddo)
ZFX Gaming is notably the developer of 21STUD®, a game that features elements of both blackjack and Casino War. It has seen play in numerous casinos located across the New England region of the U.S. and is soon to be played in California. A free-to-play version can also be found on both Google Play and the App Store.
Zyxnfryx looks forward to continued success in gaining a nationwide presence for patented casino game, 21STUD®. He hopes to soon have it recognized on the major casino floors of Las Vegas, Britain, Europe and in casinos worldwide.
Zyxnfryx has previously gained expertise in engineering as a quality assurance engineer and technical support engineer between 2007 and 2011. He garnered experience as a poker dealer at Rockingham Park in Salem, New Hampshire, from 2011 to 2014, as casino floor manager at Aquasino in Lynn, Massachusetts, between 2012 and 2014, and as a two-time World Series of Poker dealer for the Rio All-Suite Hotel & Casino in Las Vegas between 2014 and 2016.
To achieve his professional goals, Zyxnfryx obtained an Associate of Science degree in computer information systems at Quinsigamond Community College in 2003. He subsequently earned a Bachelor of Science degree in Interactive Media & Game Development at Worcester Polytechnic Institute in 2007.
Brandon, first I want to thank you for taking the time to speak with me. Please tell our readers more about your role at ZFX Gaming.
Victor, first let me say that I am very excited to be sharing this interview with you! I love my role with ZFX Gaming. As the original developer, my role is to help support 21STUD® by focusing all my efforts on achieving a nationwide recognition, at both the industry and consumer levels, for what I believe is the polar-opposite flavor of blackjack as we understand it today.
Looking back, I recall that moment of inspiration when I came up with what would become 21STUD® – two-card blackjack, with no hitting or splitting for either the player or the dealer.
The question you might have is, why would you remove the draw? The answer: match bets. Players absolutely love placing match bets during a round of play at a blackjack table. So much so that players in a single group will eagerly place chips on each others' betting positions in order to get a piece of their action.
It is a natural progression to see the value in adding a secondary match bet by using both of the dealer's cards. However, the ability for a player to take additional cards, and potentially bust, would complicate this idea. By removing the draw and split we could solve this complication, and instead award bonus prizes during those times where the player would normally be taking an action – especially splitting a pair of aces.
The point of 21STUD® is to remove player action intentionally, such that anyone – regardless of experience – will always have an entry point into table games. This will also double the frequency of reinforcing behavior, and betting, in a way that rewards the player emotionally, while at the same time increasing the overall volume and speed of the game.
At the personal level, I am driven by the belief that newer gamblers today would prefer and pay for the choice of being able to play a blackjack game without the fear of social anxiety. By removing the card draw – and applying the three bonus bets – the end result is an entirely new experience that people at any level can enjoy. Overall there are a number of reasons why a casino might want to offer a "friendly alternative" to 21, so much so that I am personally invested in the success of this product.
Your game – 21STUD® – is about to be launched in California, at the Eagle Mountain Casino, in late spring of 2023. Please tell us more how this came about and where the Eagle Mountain Casino is located.
The newly constructed Eagle Mountain Casino is located at 1850 S. West Street in Porterville, California. It is an 18-and-older, full-service casino that is owned and operated by the Tule River Tribe. It's easy to get to and enjoy, so please visit their web site at this link: https://www.eaglemtncasino.com/about-us/
The decision for moving forward with a field trial started with the GTGC/GGPC conference, held by Richard Marcus, at the Excalibur Hotel & Casino in Las Vegas, Nevada. At the conclusion of the table games conference, 21STUD® received a second-place award for "Best New Table Game" in terms of player appeal, ease of understanding and potential commercial success. Ronald Washington Jr., the assistant table games manager for Eagle Mountain Casino, had connected with me prior to the conference. He informed me that they were interested in the game and wanted to include it as one of the many exciting things to be offered at the new facility. They are expecting to be open very soon in the coming months.
As briefly as you can, please tell our readers how to play 21STUD®.
The act of playing 21STUD® is conducted by the player making the decision of how much money they want to risk on the outcome of being dealt a series of matching cards, or having a higher two-card total.
Once the bets have been placed, each player receives two cards face-up and the dealer receives two cards face-down. If the player is dealt a pair, they win the first bonus bet – the Mirror Match.
After payouts are complete, the dealer will flip the leftmost card marked with a (1). If any player card matches the first-revealed card, that player wins the Match 1 bonus.
Then, the Dealer will reveal the rightmost card marked with a (2). If any player's card matches the second-revealed card, that player wins the Match 2 bonus. Finally, the base wager is paid 3:2 when the player is dealt "21" – or a pair of aces. Otherwise it is paid even money when the two-card total is higher than the dealer's. There is no push.
What is new and innovative about 21STUD®?
21STUD® is a curious thing to both the industry and the consumer alike. For the industry it's a solution which allows placing up to three match bets per individual hand. The game plays faster, requires less shuffling and captures a wider audience.
To the consumer it's a "straight up" version of 21 that offers more ways to get a blackjack. There are no mistakes and no "busting." It's very easy to understand and players are accepting of the "no push" terms, so long as it is limited to non-blackjack ties.
By removing game mechanics, 21STUD® lowers complexity and reduces friction, which results in an increased chance that a guest is willing to exchange money for chips. Furthermore, the flow of execution is structured such that every deal of a hand or flip of a card results in the player anticipating an outcome. This is further reinforced by utilizing a bonus payout structure with prizes large and frequent enough to keep the Player engaged.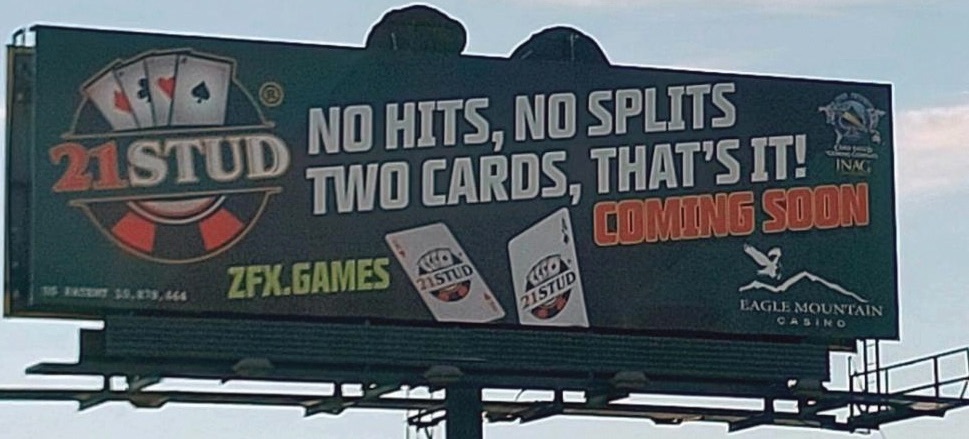 How is 21STUD® distributed?
In January 2023, ZFX Gaming signed an agreement which gives the exclusive distribution rights of 21STUD® to INAG – the WORLD'S GREATEST CARD BASED GAMING COMPANY, owned and managed by Sir Mark Jones. For more information concerning pricing and availability in your gaming jurisdiction, please contact our distributor by visiting https://www.inag11.com or feel free to send an email directly to me at bz@zfxgames.com and I'll get you connected.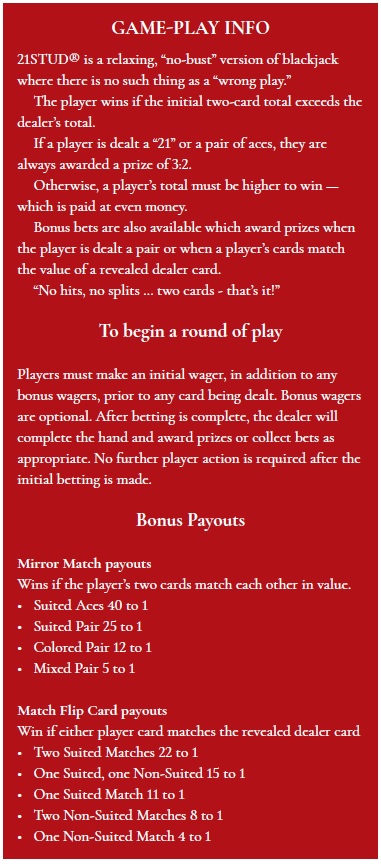 Is a real-money full-play and full-pay version of 21STUD® available for online casinos?
As of today, 21STUD® is not currently available for online casino play, but there is always the free-to-play app which can be downloaded to your mobile device at www.zfxgames.com/21stud
When using the mobile app, you can discover real-money locations offering 21STUD® by touching the map icon under the Options menu.
Is a real-money full-play and full-pay version of 21STUD® available as an electronic table game for land-based casinos?
21STUD® has been patented for manufacture as an ETG and is protected by U.S. Patent number 10,878,664. However, 21STUD® is not currently available for play as an ETG. While I believe that table games are best served by the handling of chips and a touch of felt, there is opportunity for growth in this area as we see increased levels of brand recognition and land-based installations of traditional felt.
What is your perspective on the current status of American and international gaming? How do you see the future of table games, as compared to the rise in electronic gaming?
When you mentioned international gaming, that reminds me of how different my gaming experience was when I was overseas, and played at the Spielbanken Bayern in Bad Weissee, Germany. In the pubs, the slot machines used a cool-down system to limit the transfer of money in both directions. Plus after an hour, the game will literally pause for five minutes. You won't see that in America today. Then again, you don't exactly see slot machines in the American bars either, although New Hampshire gaming is quickly growing with the recent implementation of historical horse racing.
Anyway, the actual casino in Bad Weissee did not have those cool-down restrictions, plus there was  a strict dress code to play in the Groß Spiels (Great Games, i.e., table games). I can't think of any dress codes to play table games in America today. And then we have the recent growth in sports betting and iGaming as a whole industry. Mobile phones have become a huge enabler for both Internet gambling and cashless payments.
Regarding the future of table games, there will always be a place for felt, chips and a friendly dealer. Machines cannot substitute for this, the same way cash will always be welcomed at a casino. It's simply a part of the overall process, and there will always be a place for it.
It is also important to consider that there aren't many new table games being released and players notice when a new game is on the floor. Given this, casino operators should be considering new options as they become available to them.
Is 21STUD® available as a stand-alone slot machine game?
A slot machine version of this game could be a very interesting idea! This would be completely different from the table game, of course, as well as from the ETG version of the table game. But the concept and principles would be the same. It seems that 21STUD® can be an incredible game for a video slot machine.
For example, the topmost video reel on the screen would have the two-card "Dealer's Reel" for the dealer's hand, which would "spin" along with all the other reels. Underneath would be all the "Player's Reels," each reel with four, two-card hands on each line. So there would be five player reels and one dealer's reel, and this would then be an incredibly fun slot machine game! Players could wager on any one or more of the player's reels, along with the side bets.
I believe this was your idea, Victor, so if any slot manufacturers are interested, I'll send them your way and you can explain more how this would work. But it's a grand idea indeed.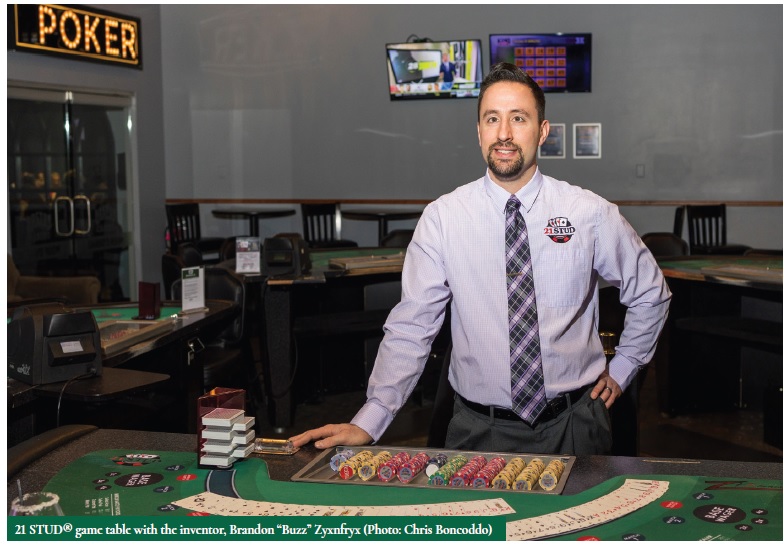 Is 21STUD® available in the British and European and South American markets? And for cruise lines? Or will it be?
21STUD® is not currently available for real-money play in British, European or South American markets. I did speak with Norwegian Cruise Lines and they advised me that until 200 or more installations are made in the U.S., they would not consider any new table games for their ships. Given this, I would revisit the question of cruise lines again once the company has realized 200-plus installations. But I will definitely ask them again once I hit the 100-plus mark!
How does ZFX Gaming consider the future of cashless gaming? Is this something that ZFX Gaming is actively pursuing in relation to 21STUD®?
As I mentioned earlier, cash is an important part of the casino-going process, as the acquisition and handling of newfound money is what attracts players. But once a gaming session has started, that gives way to the convenience of cashless gaming as a means of extending play. Once 21STUD® sees higher rates of adoption and installation, I might be able to focus my attention on cashless-gaming initiatives. The future is full of possibility.
Are there any other new games being developed by ZFX Gaming at this time?
Victor, I believe that the premise and need for 21STUD® in the casinos is so important that I cannot bring myself to consider making any other games at this time. As earlier stated, it is my focused objective to get nationwide recognition for the game. However, I'll admit that there is a three-dice craps alternative I was toying with, but that's still in the early phases. Stay tuned.
Finally, in your career with ZFX Gaming, what would you consider to be the highlights so far?
Apart from the current excitement with the launch of 21STUD® at the Eagle Mountain Casino and now the news of a trial at the Win-River Resort and Casino, my other great joy has been seeing 21STUD® play at Encore Boston Harbor in 2022. This was one of the most important milestones on my journey toward success. I got to watch as the game came to life and people interacted with it for the very first time. It was the most surreal experience and it felt wonderful.
This led me in a direction where I was able to attend the GTGC/GGPC conference and achieve our second-place finish, out of 15 entries.
When we consider that 21STUD® has now seen multiple installations, and is backed by both brick-and-mortar and digital distributors, with more installations on the way, there is indeed a future for 21STUD®. It will continue to demonstrate itself as the original two-card blackjack with no hitting or splitting.
On behalf of Casino Life Magazine and Outsource Digital Media, I would like to thank you, Buzz, for your time, and for sharing this with us and our readers worldwide.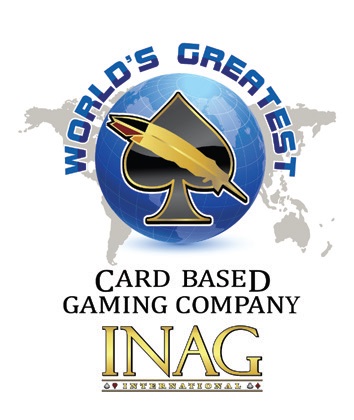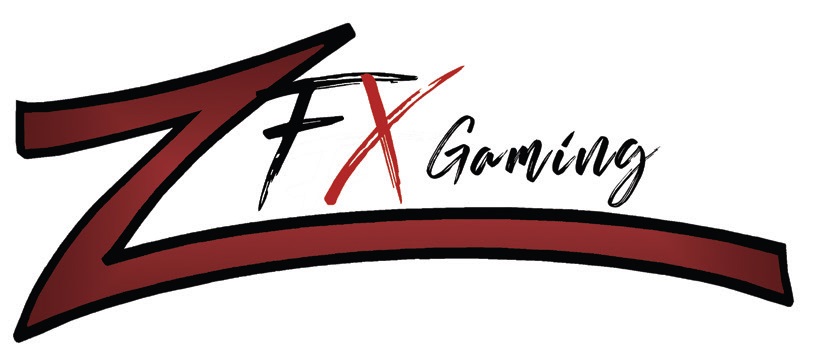 *** This interview was originally published in March 2023 edition of Casino Life Magazine***