Ljubo Benko, Managing Director of G-Digital chats to Glyn Thomas
When did you commence your career in the Casino industry and what were your reasons for choosing this sector?
I started to work in the Casino Industry in 1991 after having spent five years as a development engineer in electronics. I was young and curious; it was a challenge for me. As I am from Slovenia you might have guessed that I also worked for the HIT Group where I worked myself up to director level with a range of responsibilities.
Why and when did you create G-Digital?
I established my own company G-Digital in 2003. We started with the development of G-Digital in 2008. During that time we co-operated with a few important companies in the gaming industry as a distributor, development partner or we provided services for them. After the crisis started in 2008 business prospects fell and revenues from co-operations dropped. It was the time to look forward and look for new opportunities. I have a very good team in the company and so I decided to invest in development of the new product – G-Digital.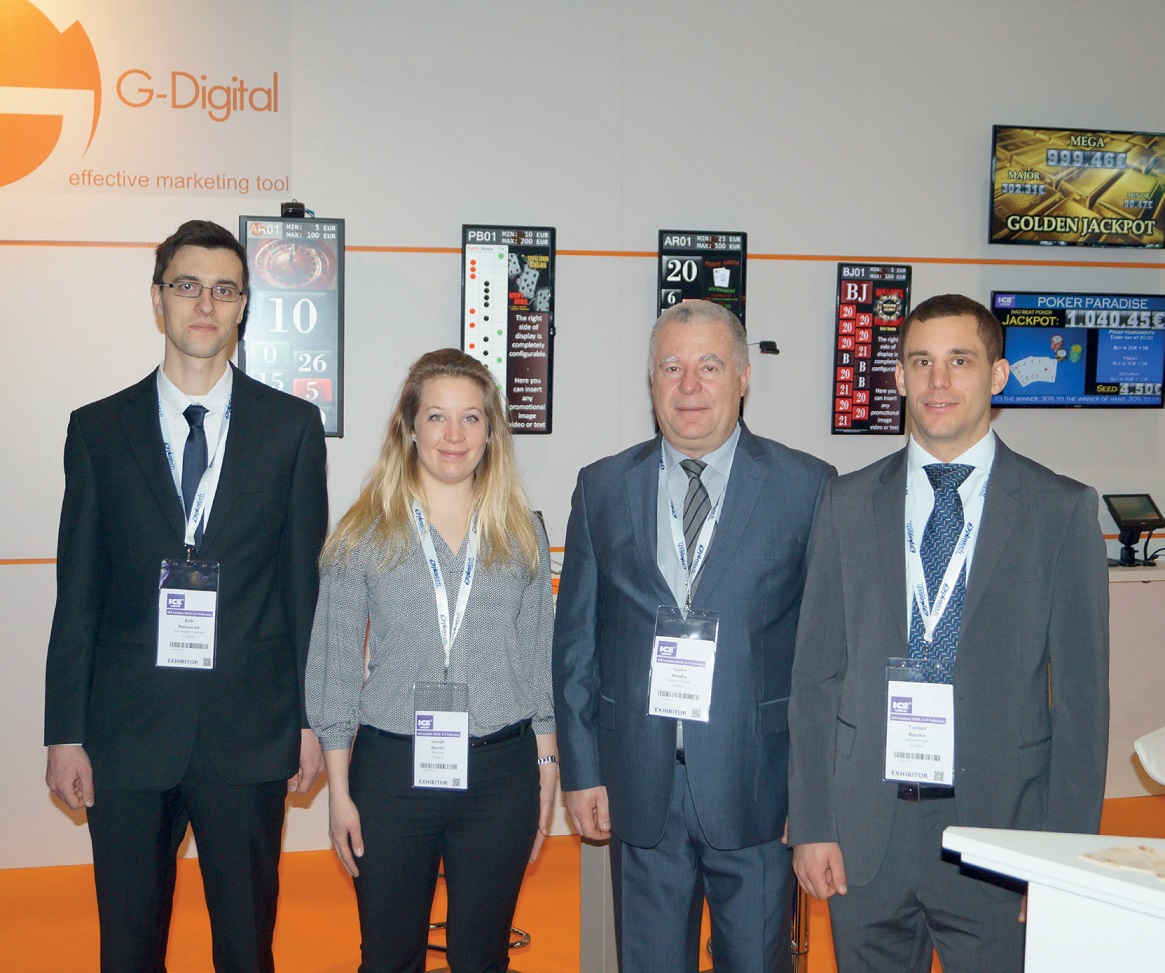 Can you explain the features of G-Digital Display operating system?
It's a general Digital Signage software. Using G-Digital you can manage and control a network of displays placed anywhere, inside or outside of your premises, as well as on public places to share information or offer advertising. The use of G-Digital is simply limitless. For example: we recently installed our system in a factory with 300 employees at two locations. They decided to run a paperless factory, so all their communication runs through 30 displays. They developed their own software to control production, quality control, get feedback when certain phases in the production are finished. They use G-Digital as the platform to show their applications on displays all around the factory. They decided to use G-Digital after 6 months of intensive testing.
For us it's proof that G-Digital is a robust and bulletproof solution that can be also used in the industrial environment.
It's very similar with our solutions for the Gaming industry. We have developed different setups, such as Wining Numbers Displays and Jackpot Displays. We can show on displays
information important for casino operations like winning numbers, jackpot values. It's important to focus on the fact that there is always a possibility to use part of the display to show advertising or share information. All advertising or informational contents can be controlled and changed from the office anytime with a few clicks.
Do you provide training during the installation of your Displays?
Naturally training is part of the installation.
How easy is the G-Digital Display operating system for staff to learn?
One of our main objectives is to keep things simple and user-friendly. G-Digital's User interface is simple and intuitive. Based on our experience users can manage basics after 2-3 hours of training and they become experts after 2-3 days of training. I would like to point out that users don't need to be IT experts. Mostly we train users who daily use Word, Excel or Outlook. If there are some more complicated setups then our engineers can support and be of help.
How was ICE London for G-Digital this year and what was the reaction from visitors to your booth to the G-Digital Displays and Systems?
ICE was very successful for us this year. Customers running land-based casinos were very excited seeing a possibility to share information or advertise on winning numbers displays.
The game statistics are very important to many players. Therefore, they like to see this information on a screen. Many operators offer further services for their customers – restaurants, bars and events to name just a few. Yet the player attention is on the screen during game time. This information can be portrayed on part of the screen using our software – it is a win-win for both player and operator. The player keeps his or her concentration on the screen and receives further interesting information. The operator has then been successful in communicating this information without the fear that the player loses concentration on the game.
Players do not wish to miss out on such information. Alongside the game result information, this is naturally important for them.
Customers were also impressed with the fact that they can use the same software to manage all other displays around their premises.
This year we found out on the ICE a new segment for potential customers: Companies running online casinos and land-based casinos, slot rooms or betting shops wish to inform their customers in land-based operations about their online offer.
In the land-based operations they want to show their online promotions, jackpot values in real time amongst others. With G-Digital we can simply pull data from the online casino or sports betting site and show them in land-based operations on the displays.
We were pleasantly surprised by the number of people who came to see us. Last year we were busy introducing ourselves, inviting people to our stand. The fact that many people made their way to our stand shows us that the name G-Digital has made its mark in the global gaming market. G-Digital is an effective marketing tool, enabling gaming operators to make much more of their digital signage.
Can Gaming establishments tailor the displays so they can notify guests of special offers?
Yes, the configuration of displays and contents on them can be carried out completely. What we showed on the ICE is just one example of many: Each customer can configure displays according to their needs and requirements, using their own graphics, logos, style. There is practically no limit how to configure the display and contents on it.
Do you provide Gaming establishments free trials of your Display signage systems?
Yes, we do. Our product is a software package and it's very simple to organize and set up a trial. In most cases we can do this remotely with a little support from the potential customer.
Most Casinos have bars and restaurants incorporated into their establishments. Can your display system also be incorporated into these locations but in different display screens, providing different information and services?
Yes, very much so. This is exactly the reason to choose G-Digital. As we know, it's a general Digital Signage software. Each display on the network can be configured differently and show different content as scheduled. Options how to use and configure displays and contents on them are limitless. This is done all from one point from the office.
Security of any operating system is of upmost priority what is G-Digitals approach with your Display Signage system?
Security options are integrated in the G-Digital system by default. If a customer has their own IT and security policy, we then do our best to ensure we can match their requirements.
How easy is the Signage software suite to incorporate with the Casinos other operating systems?
It is very easy indeed. We can pull data from many sources, like database, XML , HTML, txt, rss files ... and show them in proper way and time on the display(s).
Usually our engineers work closely with the customer or suppliers of other operating systems in order to ensure smooth integration of G-Digital.
How can readers find out more about your company and its products?
They can find much information on our web site www.g-digital.eu, but they are also welcome to contact us on e-mail sales@g-d.si and get more specific information.
What are the next exhibitions and events this year where readers can meet up with you?
We'll be present at BEGE Expo in Sofia, Bulgaria, in November 2019 and of course on the next ICE show in London in February 2020.
Customers are also welcome to visit us in our show room in Kobarid, Slovenia, at any time.
Is there anything else you would like to add?
We have extensive knowledge to support casino operators in their drive to increase player experience and bolster revenues. Both these are possible when using G-Digital. Our software is intuitive, simple to use and extremely effective as you can see from the examples I have given in this interview. We will gladly answer any questions readers may have. Please get in touch.