Fifty percent of Americans polled, favor legalized sports betting according to a Fairleigh Dickinson University Poll It's Now Legal, However, the Work is Just Getting Started. By: Robert Ambrose
The dust is beginning to settle on the recent Supreme Court decision to strike down as unconstitutional, The Professional and Amateur Sports Protection Act of 1992, (PASPA.)
Bringing Sports Betting (SB) into a recognized, legal, transparent model means jobs and a tax stream for states, as it provides another "market-driver" in customer visitation for casino properties. And at the same time, also reducing, and hopefully making illegal betting less desirable, putting those operations out of business.
There is a great deal that still needs to happen state by state to identify, discuss, define, negotiate and finally develop into law a responsible, regulatory environment, that can hold up to the challenges for the integrity of the games, and customer engagement.
As far as regulations are concerned, expect to see similarities among states, as well as some differences. What all should agree on is sound regulations and reasonable tax rates.
There are 4 states that have passed legislation to bring sports betting to their specific jurisdiction.
They are, Mississippi, West Virginia, New York and Pennsylvania. To clarify further, states that were grandfathered in when PASPA became a reality in 1992 are Nevada, Montana, Delaware and Oregon.
Aside from those states already mentioned, we are looking at an additional 14+ states that are in the production cycle. With more to follow and quickly, unless the U.S. Congress decides to inject their opinion into the process. Most feel this is unlikely.
State Tax rates on SB should be approached with caution. It is not a "cure-all" for budget short-falls. New Jersey seems to be taking a more reasonable approach with the tax structure, compared to neighboring Pennsylvania.
Still to be discussed and finalized during the early June legislative sessions, New Jersey expects to tax SB at casinos and race tracks at 8%, with on-line wagers at 12%. PA's current suggested tax rate of 36% and a $10-million dollar fee, has drawn wide criticism. Nevada, where it is already legal is at 6.65% GGR, (Gross Gaming Rev.)
"Gambling expansion is understandably appealing to officials wishing to raise revenue without raising taxes, but the long-term revenue is uncertain, and potential economic and social costs require careful consideration…" "…States that find new forms of gambling to authorize, open new facilities, and impose higher taxes on gambling. The results are short-run yields and longer-run deterioration..." (The Nelson A. Rockefeller Institute of Government, 2016, The Blinken Report.)
New Jersey has been engaged in the legal battle to deregulate sports betting since 2011. I am confident that the regulators knowledge base is strong on this topic, and the model is being readied for some final tweaking, before it goes to the Governor for his signature in June. The NJ model has been predicted to create over 3,000 plus jobs and $173-million in tax revenue, according to a report published by Oxford Economics.
For other states considering SB legislation, there are "best-practice," working models operating in the four states that currently offer it. These are great templates for any states SB model. Nevada always being the mothership for all things gaming, is engaged in all elements of the model.
Fairleigh Dickinson University under the Direction of Krista Jenkins, Ph.D., and, Professor of Political Science conducted a poll on Sports Betting prior to the Supreme Court decision.
Fairleigh Dickinson University has two New Jersey locations as well as locations in Vancouver, British Columbia, and Wroxton College in England, as well as its online learning platform.
The FDU poll of 1,001 adults was conducted by phone from April 25 to May 1. A margin of error of plus or minus 3.9 percentage points. The results found that 50 percent of those Americans polled favor it, with 37 percent opposed.
Dr. Jenkins stated that, "the survey was conducted using a nationwide sample of Americans aged 18 and older. As it was a probability sample, everyone had an equal chance of being selected."
She explained that the survey pointed out that the legalization of sports betting is about two things.
"First, we know that millions of Americans bet on sports every day. They do so with family, friends and neighbors in office pools, family gatherings, and in any number of other settings where people gather and share their passion for their favorite teams."
"Second, the ability for Americans to wager legally and publicly will only serve to intensify the engagement of a nation of sports fans."
When the participants were asked whether they were either in favor or opposed to the legal expansion beyond the current states of Delaware, Oregon, Montana and Nevada, "it was discovered that Americans take a moral or practical approach to sports betting," she said.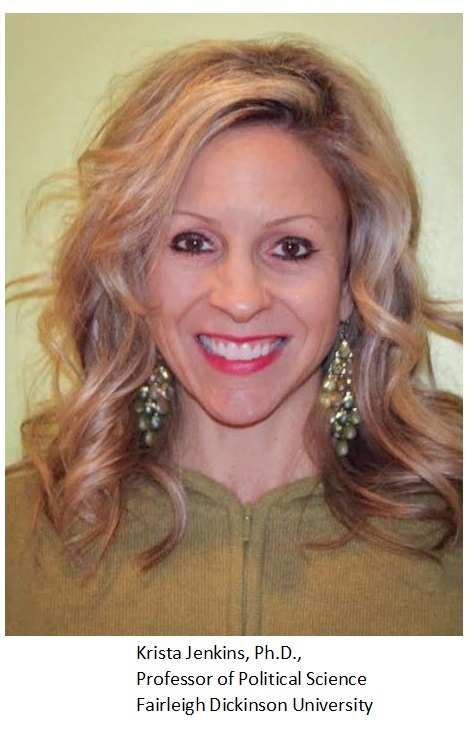 Dr. Jenkins stated that, "those who oppose it are worried about its effects on society. Two thirds oppose expansion because of fears that gambling addictions will increase. Worries also extended to the spread of organized crime and the games becoming less fair. Supporters of expansion want the states to benefit from the money that is already flowing through illegal wagering and the simple fact that people are already betting illegally."
An interesting subplot to the survey was pointed out by Donald Hoover, Senior Lecturer at The International School of Hospitality and Tourism Management, at FDU.
Professor Hoover pointed out, "that 62 percent of Americans disapprove of sharing sports wagering revenues with sports leagues. The sports leagues have begun the dialogue about adding "integrity" fees to sports wagers prior to the Supreme Court decision. The debate between the sports leagues and operators over fees and revenues will continue over the next few years."
I agree with Professor Hoover in that the debate is just beginning on this fee. I have heard terms such as a "Sports Wagering Integrity Fund?" Basically, a cost to cover more diligence, and in part, to serve as a royalty type fee, for basically the individual leagues providing the game content that is being wagered on. With an estimated $150 Billion being wagered illegally now, the leagues do not see any of this.
Interesting to note that in my research on surveys, I found a poll was conducted by FDU in April 2011. This was the same year that New Jersey began their battle to legalize sports betting. This poll found that 53% supported sports betting in the state, while 30% opposed. (A plus or minus of 4 percentage points.)
Atlantic City
A Diversity in Gaming Products…
With legalized sports betting we see another "niche" market added to the already diverse hospitality and gaming products in Atlantic City. The addition of SB will be another market driver encouraging longer visits to the city and increasing more customer secondary spending.
So far, I haven't read a headline linking legal sports betting to that worn-out phrase, (used too many times by the media,) defining any new product as "saving Atlantic City." This seashore gambling town is already in recovery mode, with 2 new properties opening this year, the sale of Tropicana to a new stake holder and a general upgrade in process, at all properties.
On-Line gambling has settled in nicely too, since it became legal in 2013; with figures in 2017 totalling at $245.6 million. Up 24.9% from 2016. This too was originally labelled as the product that will "save," the AC market." There is no doubt it's contribution is noteworthy. My point is, and I have been saying this for years, that Atlantic City's comeback was never about "one-thing." It has never been about one particular game, one new company opening a new property, on-line gaming, skill-based gaming, more amusements, more restaurants or even more hotel rooms. It has been about all of these, as a collective initiative applied one at a time. One change to the city's landscape was never going to bring AC back from the abyss. However, each vision, each new stakeholder, each entrepreneurial endeavour, that followed another contributed to the business model, as long as it was backed by good business sense, and the financial framework to support itself.
As we see each new model of gambling or a hospitality related-product establish itself, it collectively elevates and expands the city offerings. We are seeing what AC's come-back has been about. The odds are now in Atlantic City's favour, witnessing a more strategic casino footprint as the business model has expanded.
With AC applauding a 2017 win of $2.6 billion. And back to back years of positive casino wins, and a renewed interest by investors beyond a gaming product, there is optimism and talk about a renaissance taking place in the city. With the added "drawing card" of legalized sports betting we see yet another hand dealt to the water's edge of the city, bringing a new "niche" market of sports betting enthusiast to town.
These SB consumers will be in "extended-stay mode," eating in the restaurants, drinking in the bars and willing to engage in real-consumer "spend" to experience a property's hospitality, gambling and entertainment products.
This is a pivotal time for the gaming industry. Once the SB market is established nation-wide, let the peaks and valleys of the individual states model play-out. Be cautious about the "rush-to-judgement," reports by those that would enjoy shooting holes in any states model of legalized gambling claiming that the roll out was not perfect. There needs to be a breaking in period before there is a consistent read of the revenue numbers. A later analysis of what role SB actually played in growing gaming- "product-linkage" to other gaming products will be available for a state by state comparison.
Several states are looking to move quickly. Short of calling in a special session of the legislature; most state law makers will not reconvene their session until 2019. I have read reports stating that those states that are just approaching the drawing board for SB, could be at least 12-24 months out or more from set-up to implementation.
Congress still has the option for general oversight parameters; so, it is important that states get it right! My insiders tell me that it is all hands-on deck as casino properties begin to establish their in-house technical infrastructure and customer wagering areas. The staff meetings have already started.
Primer:
As the curtain rises on SB, in the U.S. the process will introduce us to stakeholder companies, legislative endeavours, regulatory drafts and numerous pieces of subject matter that will at times create information overload.
Strategic partnerships will be developed between companies that want a stake in development in the SB process nationally. Knowledgeable companies will be sought as a uniform security standard must be in place. I have listed below just some of the topics, terms, and discussion points that will be part of the development process. I do place an emphasis on some!
Some Information Tags as part of the Sports Betting Universe…
• Commercial and Tribal Gaming Enterprises.
• Credit Card Companies: They are positioned to make a great deal of money, especially in transaction fees. With payment models already approved and operating in places like Nevada, states need to add them to their research check-list.
• Daily Fantasy Sports (DFS): Their current infrastructure and current compatibility.
• Entity Wagering: Third party wagering.
• Esports Relevance: SB will also establish another level of legitimacy for Esports. The Downtown Grand in Las Vegas, took bets on Esports last year as the result of a new bill that widen the scope for wagering in recognizing Esports as a sport. The bill made it clear that under "other events,"
Esports was an acceptable model to wager on. (Nevada Senate Bill 240.) Companies with a stake in Esports are exploring ways to incorporate their assets and be part of the Esports legalized betting opportunities in other states. Better to get in when the legislations and regulations are being laid out. Note: Sports Betting could be a catalyst to bring more of those much sought out Millennials to spend time at a casino property.
• Federal wire act 1961: Prohibits the transmission of electronic sports wagers across state lines. According to a Feb 2018 release by Gambling Compliance, information transmitted through the internet could touch servers in a prohibited state during transmission. How will this impact SB?
• Gaming Enforcement: Regulatory follow through.
• Gaming Equipment Manufacturers: Hardware and software product solutions.
• Integrity Fee. Will sports leagues and gambling companies come to terms on the "Integrity Fee?" Who should pay the cost to monitor suspicious activity?
• League real time data: At what price?
• Social media broadcast companies: Rights and Controls.
• Sports Franchises and Player Unions: A general consensus on fees.
• State Legislatures: Establishing the legal parameters. Important collaboration with Stakeholders.
• State Lotteries: How will they be impacted by Sport Bet spending?
• State Tax Rate: Variables by state. An acceptable tax rate will encourage industry growth, enhancing further State revenues.
• State Virtual Boundaries: Controls. (The invisible fence)
• Technology Companies: The system infrastructure.
The American Gaming Association (AGA) has been and will continue to be at the forefront of the information chain with all industry stakeholders.
In the April issue, Casino Life published my interview with the American Gaming Association President & CEO, Geoff Freeman. I asked him based on the assumption then, that SB became a reality, how can AGA further assist the states at the policy and regulatory level?
His response was: We want to be an expert resource for state policymakers and regulators. No one has generated as much original sports betting research as the AGA has. We have examined the economic potential of sports betting, the difference tax rates can make on sports betting's benefits for states, various sports betting regulatory models around the world, and more. We also have an unmatched network of sports betting experts and law enforcement authorities, eager to advise states on what tools are needed to ensure consumers are protected and law enforcement has the oversight it needs to stop illegal betting and protect game integrity. We are ready to lend our help to policymakers and regulators. (April Issue CL 2018)
President Freeman also highlighted the work AGA has engaged in for the past 3 years pursuing their "two-track strategy to legalize sports betting in, working both through the Courts and Congress." A great deal has taken place to bring the gaming industry to this point. This will be an exciting year ahead for all stakeholders.
Robert Ambrose Gaming Consultant,  Adjunct Professor, Casino Management  Fairleigh Dickinson University