Exclusive interview with Shaun McCamley, President of the Ho Tram Casino Resort in Vietnam. By Steve Karoul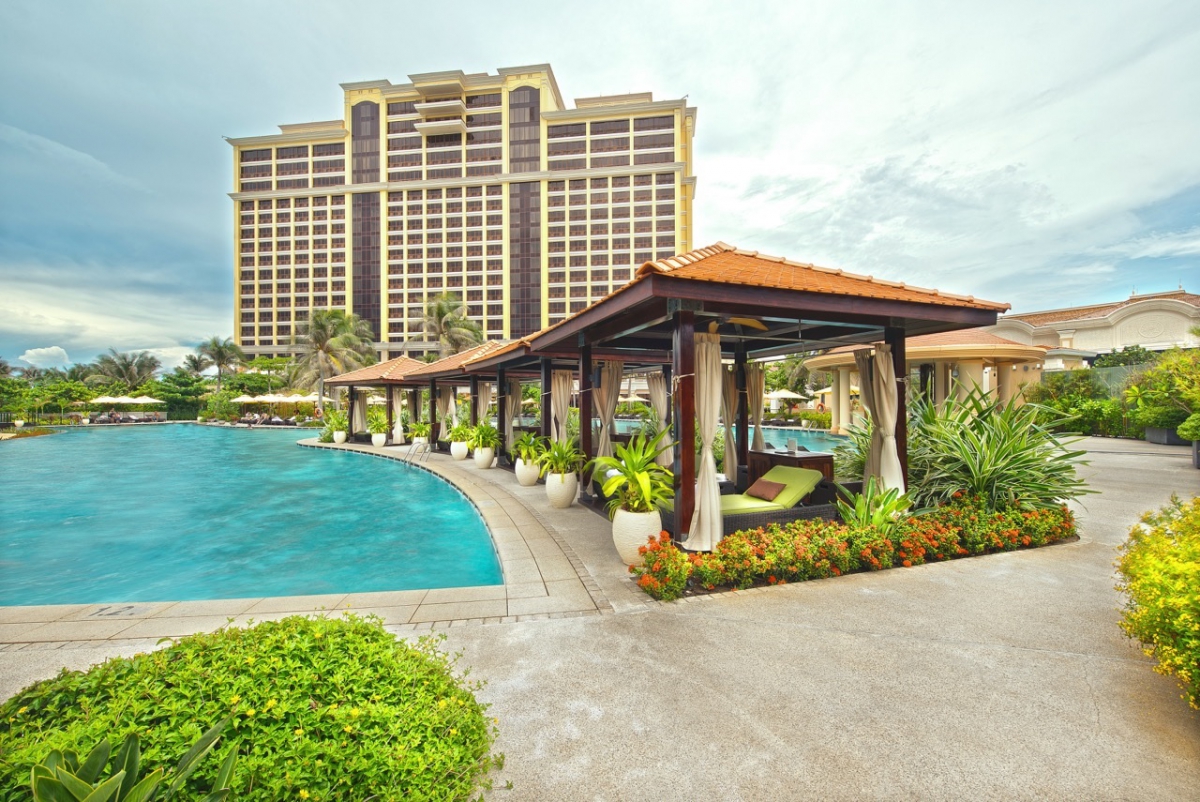 This article is a follow up to the exclusive coverage that Casino Life Magazine had last November on the new Ho Tram Casino Resort. Vietnam is still a mystery to many people around the world but a country that also has much appeal and interest. 
The Ho Tram Casino Resort along with their Greg Norman designed Bluffs Golf Course are both extremely exciting and intriguing. Steve Karoul recently had a unique opportunity to interview their president, Shaun McCamley, at the Ho Tram Casino Resort.
Shaun, you are an unusual President for a large casino resort in today's market because you have such as extensive gaming background. Please tell us a little about some of your past experiences and how they have helped you here at the Ho Tram Casino Resort Vietnam. "In many ways, my career path has always been building up to a role like this. I started as a Croupier in one of London's exclusive Mayfair Clubs in the late 1970's and have spent my entire career working my way up from the floor. I have never forgotten what life is like on the tables however, and so I believe that gives me a perspective quite rare in this field. I have had roles in all aspects of gaming from operations, to development, to marketing, to online, to senior executive management. I most recently had a consultancy firm based in Macau that provided specialised management and consulting services to the gaming industry, both land based and digital. So with that kind of history behind me, I had been looking for an opportunity where I could use my extensive background knowledge and skills toward building and developing an organization. For me, that's where both the real challenges and the real opportunities lie. So when I was asked to submit my name for consideration to take on the role of President of The Grand Ho Tram Strip, and knowing some of the background of the Ho Tram project, for me it was just too good of an opportunity not to go after it. It's such a beautiful property and one that has a definite "wow" factor, why would anyone not feel privileged to lead it and the team who have worked so hard since its opening?"
There are many beautiful casino resorts around the world today but what do you feel distinguishes Ho Tram?
"Our property is utterly unique in this beautiful part of the world. No one else has our beach, our climate, our cuisine, our service standards - it's amazing how quickly skeptics become believers when they visit Ho Tram. We have had many industry leaders visit Ho Tram in the last couple of months, all, without exception, are completely blown away with the quality of product we have at The Grand."
One of the great attractions at Ho Tram is your world class golf course which was designed by Greg Norman. How important is the golf course to marketing Ho Tram to the world and do you have grand plans for it? Can we expect to see major events held here in the future?
"The Bluffs golf course fills a key need in our market. We have approximately 200,000 Koreans in Ho Chi Minh City alone - right there is huge potential for golf and gaming on our very doorstep. We also see large numbers of visitors from Japan, China, Taiwan and Southeast Asia as well. The reviews of our course are astounding - we became the first course to ever be nominated in three categories at the Asia Pacific Golf Awards - and that was before we were even formally open! The course is absolutely a crucial piece in our puzzle."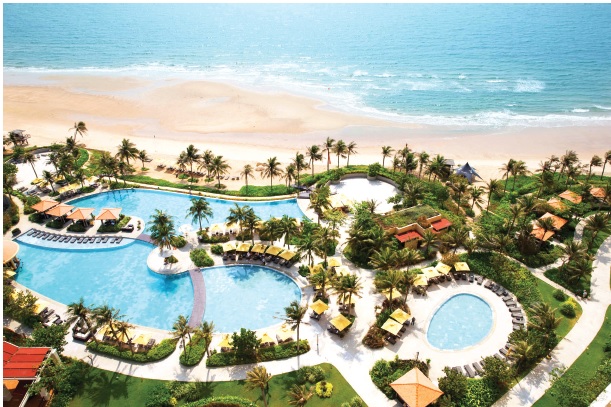 The Bluffs Golf Course designed by Greg Norman is one of the primary attractions of the resort. It was obviously designed and built with the VIP guest in mind. Please tell us about some of the unique features found at the golf course.
We launched The Bluffs last year, a links golf course which has met incredible acclaim from the world's media and everyone who has ever played it. The Bluffs golf course is a forerunner in our region being the only true 'Links' golf course in Asia, one that golf purists will be talking about for a long time. The topography of the course reminds one of courses that were built over a hundred years ago and found on the shores of the Scottish coastline. 40 foot towering sand dunes corridor fairway and greens make navigation for the golfer a unique experience. The Bluffs prides itself on international service standards and the 120 expertly trained caddies are no exception, set to help the golfer plot his/her way around the course, it's hearty advice to followtheir suggestions on the infamous Greg Norman undulating greens. The 5 Star 2300 sqm club-house boasts 360 degree views of the Ho Tram coastline, resort and national forest and is definitely worth a meal to soak up the views and reflect on one's game.
The club-house was also designed and custom built to satisfy the discerning VIP player with extremely elegant locker rooms, dressing rooms, massage rooms and private dining rooms. The resort even has their own helipad for anyone desiring to fly in by helicopter from Ho Chi Minh City. Customer service is outstanding."
We understand that Vietnam citizens are not allowed to gamble in Vietnam. The Grand Ho Tram has a really beautiful casino. We understand that your casino team has made some recent changes to better satisfy your foreign gamblers. Can you please explain some of these new changes or updates?
"Since my arrival in September we quickly implemented a more flexible approach when dealing with our players which translates to a 'Can Do' philosophy. With this more flexible approach we also dramatically increased our table limits to where we now offer the highest table limits in Vietnam. The original floor plan, in my opinion, was not properly conceived for this market. This has now been addressed with much improved player walk through flow patterns. Our newly developed Sky Casino is the only one of its kind in Vietnam. It is a high roller facility that offers complete privacy and in terms of décor and presentation, is second to none. It is located in our Penthouse Suite on the 22nd floor with an incredible view of the grounds, the pool and the ocean. Our VIP areas are now performing very well, so that tells me that we have the necessary pieces in place there too. Finally, the property itself is truly amazing. It's a place that almost everyone in our industry has an opinion of, yet when people see if for themselves, the 'wow' factor cannot be underestimated. Between our location, our gaming facility, our golf course, our restaurants, our 5 star rooms and outstanding friendly service, we really do have everything going for us, and that is beginning to show real results for our business."
Can you tell us a bit about gaming in Vietnam and what benefits or challenges does a casino operator face there.        
"It is a relatively new frontier for the gaming industry. We are in a part of the world where gaming demand remains under-serviced, and where we believe that the gaming market is looking for something new and different. Macau is hugely successful at what it does, but Singapore has shown us that a very different product can also succeed. Ho Tram is unlike anything in gaming this side of Nassau. We have a 2.2 kilometre beach flanked on all sides by protected forest, we have one of Asia's great golf courses, we have a fantastic food and beverage offerings, we have a great cigar bar and a dynamic night club, we have compelling programs for international tour operators - we really have everything going for us. As for the challenges, the standout remains a perception that we are 'far' from any major city. When the new highway came online early in 2014, the journey to the Ho Tram Strip was cut to around two hours or less. Work continues on that road and its connectivity to the city, and the speed limit was also recently increased, so the travel time continues to get shorter. The nation also intends on building a new airport to service southern Vietnam in Long Thanh which is only 45 minutes from our location. The other obvious challenge is the ban on locals entering prized gaming areas. However, there is a decree under development that is looking to review that as well, so progress is being made on our key challenges at this time."
If you had a crystal ball, what would you like to see for Ho Tram in the next 3 to 5 years? What do you think Ho Tram will look like by then?
"There is so much going on at the moment! As you may know, we just launched The Bluffs, a Greg Norman designed links golf course which has met incredible acclaim from the world's media and everyone who has ever played it. We are happier now with the performance of our VIP gaming, but there is still room for growth. A lot of our focus now is on building out the mass gaming floor and our entertainment facilities. One of the most important things to watch here however is the draft decree on local gaming - we are all waiting to see how that shapes up, as it clearly could be big news for us in the near future. We believe that it will be good for the country and will help create more jobs and additional opportunity for tourism as we continue to expand. As for the property itself, we recently announced that we will kick off construction on a new residential offering, comprised of a condominium tower and we will later add beach and golf course villas, and as I said, we are also looking at adding to our non-gaming entertainment options on site as well. It's an extremely exciting time to be in Ho Tram, and we look forward to welcoming more and more guests and players to come and experience this exceptional property for them-selves."
Shaun McCamley is a different type of casino President. He is extremely personable, charismatic and approachable. Shaun continually stops during his rounds of the property to talk to his staff. To Shaun, they are all family and he cares for his staff deeply. That is quite evident in the back of house staff facilities which are immaculately clean and well appointed. Casino players are an interesting breed unto themselves. They continually like to explore new properties not only to see them but also to try to change their luck. The Ho Tram Casino Resort is an ideal property for many casinos around the world to develop an alliance with. They will not steal your players but they will guarantee that they will have a great time whenever they visit. Vietnam is still rather unknown to most players and therefore is very intriguing, mysterious and sexy. It is also interesting to note that Ho Chi Minh City (formerly known as Saigon) is a large (estimated population of 12 million) and interesting city. Therefore, a combination trip to Ho Tram and HCMC would be an exciting combination for anyone. Shaun and his staff would be more than happy to assist with suggestions or recommendations in Ho Chi Minh City after visiting the Ho Tram Casino Resort to enhance the overall visit to and experience in Vietnam.
Steve Karoul is a recognized casino consultant with over 36 years of hands-on experience with the best casinos both within the United States and internationally. He is also an authority on all aspects of casino marketing. Steve has lived in numerous countries and has conducted casino marketing activities in well over 100 countries around the world. He also monitors Poker, online Poker and online Gaming around the world. He is an author, a lecturer and an educator who often injects his own hands on experiences and openly shares his ideas and thoughts with fellow industry executives. Telephone + (1-860) 536-1828 or skaroul@comcast.net or www.euroasiacasino.com