Peter White chats with Lisa Waterfield, LW Consulting
Veteran gaming consultant Lisa Waterfield knows well the difficulties of piercing the gaming industry's glass ceiling. Not only did she break in as a croupier in UK & South African casinos, it was almost 40 years ago, when South Africa was socially backward, a tough path for Waterfield, an English emigre. Perhaps that's what has made her an outspoken voice on what has been done to improve diversity in gaming-and how much remains to be done. A former executive with companies like WMS Gaming & Aristocrat, she's also got some strong ideas on how the casino industry should come back from COVID-19, showing that she's not afraid to buck a trend. We spoke with her at her office in Las Vegas, her home for the past 23 years.
We are grateful for your generosity to answer our questions. First, I would like to ask you to shortly introduce yourself and tell us when and why you started working in this industry?
Having grown up in the UK, with grandparents that owned a sports betting shop, it was no surprise that I started work in the casino industry as a croupier. Casino gaming lured me to South Africa and then onto the cruise lines, where I travelled to many different countries. During my time in operations, I held various positions in table games, slots, keno & bingo. Having gained that experience, I was able to pivot my career into a sales role selling everything from slots, gaming systems, loyalty programs and signage. Moving to Las Vegas allowed me to expand my gaming career over the past 23-years. Las Vegas is home to many of the major gaming companies which creates the perfect foundation to start a gaming career.
What are those experiences, key-values that you gained at your past workplaces and can use in a new role?
Early on in my career, I learned that your reputation and credibility is all you have. Trust must be earned and going above and beyond is what made me stand-out from others. Working hard, being accountable for my actions and pushing myself to do better have been the fundamentals to which I am committed.
What have been amongst your tasks and responsibilities during your career to date?
My legacy has been launching companies into new gaming markets, building & leading effective sales teams and exceeding goals. In every position I've held, it starts with the development of a strategic plan, effective implementation and successful execution. Good planning gives you direction and motivation to get the job done. Without a plan, there is no plan.
Do you think women feel intimidated in business?
To a certain degree, most women do not view the gaming industry as having long-term career prospects. The industry portrays an image of sexism, which doesn't translate well to women seeking career development. However, recent years have shown an increase in programs that help develop young women both personally and professionally, by providing the necessary skills for advancement.
What are your views on what the industry needs to do to help attract and retain more women?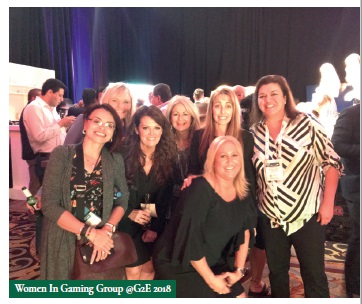 Gender equality in management is widely studied across many industries. The gaming industry must continue to champion young women by providing effective mentorship programs with strong examples of how career goals can be attained. Women must continue to evolve their behaviours by confidently speaking up, contributing and taking on additional responsibilities. As mentors, we must continue to provide encouragement and acknowledgement with meaningful celebrations of success. As more young women receive higher levels of education and as the value of female executives continues to be acknowledged, the future appears bright for those seeking corporate leadership roles.
Do you feel that there are more options for women nowadays in terms of more companies hiring more women?
There are certainly more opportunities for women today, compared to when I started my gaming career in the early 80's. Although the industry is progressing, changing the culture is a process. A few major gaming companies set goals to have 50% of their executives be women by 2025. That's all well and good, but who's measuring progress? Unless we begin to measure and publish results, nothing really changes. As any executive will confirm, the path to the top takes time, hard work and strong professional relationships. This is crucial for women looking to advance, given the disparity between men and women in leadership positions, and the gaming industry is no exception.
What has been the most surprising part of being a woman working in the gaming industry?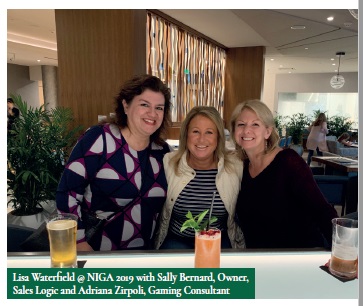 The most amazing part of being a woman in the gaming industry is proven success in having built a 37-year long career. From small beginnings in a casino where promotion wasn't possible because of my gender, to climbing the corporate ladder in sales management. I would encourage young women to be fearless and confident, Women in management are valuable contributors to the industry, we must continue to inspire women to believe in themselves. Remember, we don't need permission to achieve greatness.
How do you manage new product launches? What tactics, strategies and processes do you use?
Creating a value proposition, every new product needs one. Sales & marketing efforts must be fully aligned, as both must drive qualified leads. Selling a new concept or product is always a challenge. Creating compelling talk tracs and training your team is key. Product launches will create publicity and build awareness, make sure your team is prepared for the influx and ready to jump on opportunities. As sales leaders, it is our responsibility to ensure the team is prepared and has the drive to sell a new product. Without key efforts and guidance, you run the risk of product failure to launch.
From where do you draw your inspiration?
When trying to come up with an innovative idea or an approach to problem solving, I find that taking a moment for myself and allowing my mind to float, makes it a perfect place for triggering inspiration. In giving my mind freedom to roam, chances are I'm going to have an insight. It also helps make order of stress and chaos and prioritize what's important.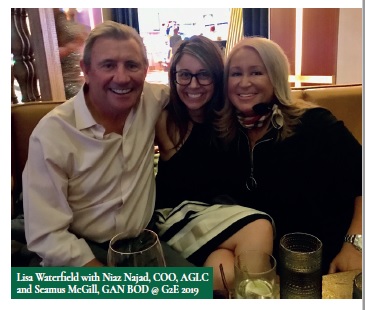 Do you call Las Vegas home?
Las Vegas has been my home for the past 23 years, and the longest period I have ever remained in one place. During my career, I have visited many places within the U.S., and never discovered anywhere that compares to everything Las Vegas has to offer. Over the years, I have seen many changes in Las Vegas, as the town has prepared itself for continued growth through reinventing and reinvesting. As we move through our own journey, it's important that we embrace change and plan for the future.
What in your opinion have been amongst the most notable areas of development of EGM's over the last decade?
The most innovative product during the past decade has been Electronic Table Games. Having been part of the original failed launch of ETG's in Vegas in 2003, the product has since evolved and is a great compliment to the traditional table games offering. Today. ETG's retain a large floor presence and enjoy continued growth. The next wave of slot innovation is Interactive games, that are skill influenced games of chance. Gamblit Gaming has been the leading provider of interactive games, building the 7th slot category next to ETG's . With with more manufacturers coming online, popularity of interactive games will continue to grow floor share.
The positives of working in the casino industry?
What sounds like more fun, working in an office 9-5 or being in the excitement of a casino? Being around people having fun in a casino makes work that much more enjoyable. Once you've worked in a casino, there will be plenty of opportunities for advancement, or to expand skills into other areas. Gaming skills learned are transferable to other casinos and other industries. Switching to the manufacturers side can also present other opportunities to get into sales, game development and management.
What are the achievements you have gained during your career that you are most proud of and why?
In 2008, WMS Gaming nominated me for "The Great Women of Gaming Rising Star Award". The awards were designed to recognize top women who work in the gaming industry and excel at managing both career and personal life. These awards showcased women who conducted themselves with poise and purpose and went above and beyond every day to achieve great things. Gaming industry women who committed themselves to extreme professionalism with exceptional personal achievement, were eligible to be nominated. It was an honor to be recognized for my efforts and be in the circle with some of the greatest female contributors in gaming.
How would you compare the land-based casino market of today to the one you first joined?
Working in South African casinos in the early 80's, presented challenges for women. During apartheid, women were suppressed, and advancement opportunities were non-existent. It's hard to envision a casino world that promotes only those of male gender. While equality in the gaming industry has evolved over the years, there is still much room for improvement.
One of the concerns for Casino Operators as a consequence of the lock down is that it has conditioned a lot of their patrons from the bricks and mortar to online. What do manufacturers and suppliers need to consider when designing the next generation of new games and ETGs for Land-Based Casinos to assist with driving customers back into Casinos?
With the recent industry shutdown, online gaming has gained increased popularity. Some of the most obvious initiatives to help bring back players to land-based casinos, is the elimination of parking fees with reduced or suspended resort fees. While the re-opening of casinos around the US has seen positive results, operators need to step up efforts to increase customer engagement. It's a good time to look at new technology that can change guest behaviours. Post-pandemic presents marketing opportunities to give back to the player, it will be an essential part in getting millions of people to return to Las Vegas at a time we most certainly need their patronage.
Are their any other initiatives manufacturers should consider to assist casino operators over the next 12 to 18 months?
The post-pandemic world is driving increased demand for cashless solutions. Many hands touch money, so who wants to handle cash in a casino. Manufacturers exist to solve operator issues, which will eventually lead to a cashless environment. Nevada GCB has already stated that it's open to looking at new technology and ways to attract new customers, which are more beneficial and safer for the industry.
What in your opinion, are the next technological system trends poised for growth in land-based casinos?
With the Supreme Court clearing the way for US states to legalize sports betting, growth opportunities exist for new companies to break into the US market. As new states start coming online, operators will need to find an experienced sports betting platform partner that can provide guidance with flexible trading services. Legacy systems lack technology. and operators will need to evaluate capabilities of their current platforms and how they can add new features, kiosks and mobile. As more sophisticated technology becomes available, operators who currently outsource their sportsbooks will have more options to bring their operations in-house. Finding the right sports betting partner and platform provider will be critical to the success of new operators and existing operations that want to upgrade.
Where are your favourite vacation places and do you have plans to travel overseas in the years ahead?
Having travelled most of the globe, vacation spots are a tough one. Typically, my ideal vacation spot is somewhere warm by the ocean. These days I tend to do more "staycations" in Las Vegas, as everything you could possibly want in a vacation exists right here in my own back yard.
Do you like to gamble? If so which is your favourite game or slot machine? Have you ever won big yet?
Although not much of a gambler, I've played many slots games for market research and entertainment. My preference is games of strategy as I like to think about my next play, as opposed to hitting a button for a pre-determined outcome. For those like me who prefer more interaction, skill games are the next up and coming segment of slots. With more skill-based manufacturers coming online, expect interactive games to become the next slot category. Post pandemic, we need to find more ways to attract and adopt a younger demographic of slot players, as the risk is high that the baby boomers may not return.
What inspiration can you provide others whom are reading this interview and also looking for new opportunities?
The most important lessons learned from my experiences has been the willingness to take risks, to raise my hand for the tough projects and opportunities that stretched me out of my comfort zone. In doing so, I gained confidence and recognition, which is so important for women with high ambition. As women, we are not always able to realize or clearly understand our full potential, until we are willing to be vulnerable and prepared to risk failure.
Post pandemic finds me in the position to ask myself "what's next?" Recent events have forced many companies to significantly reduce or eliminate their sales force. However, companies still need to sell their product and turn a profit. As one door closes another one opens, and opportunities to represent myself as an independent salesperson have started to open-up. This gave me the motivation to go it alone and start my own company, 'LW Consulting'. As a freelance sales consultant, I work with brands in the US to lead sales efforts for a variety of products. My clients and services include, providing sales efforts or Gamblit Gaming, a slot machine manufacturer and content provider of interactive skill-influenced games for land-based & online casinos. Also, FSB Tech, a B2B sports betting platform provider in the UK, helping them build brand awareness in the US and assisting sales efforts in finding US casino partners. Now is the time to act on the positives, look inside and find your own "new normal". Don't be afraid to step outside of your comfort zone, take risks and try new things.
Company Overview
LW Consulting provides independent freelance sales services to gaming companies wanting to introduce their products into the US casino market. Our services are ideal for small start-up companies or companies with little or no sales resources post-pandemic. We provide A-Z services in the selling process, without having to invest in full time employees. Services include:
• Review US gaming markets • Identify sales potential • Lead generation & qualification ​• Initial client contact via telephone, email and face to face • Schedule client meetings • Product demonstrations ​• Contract execution • Alignment of sales with company KPI's & target • Assistance with sales tools & marketing materials.
Company Contact Information:
LW Consulting, LLC
Lisa Waterfield, Owner & Casino Industry Freelance Sales Consultant
Email: thelwconsulting@gmail.com
Mobile: 702-528-6982
Website: www.thelwconsulting.com