Interview with Dawn Clayton, general manager, Thunder Valley Casino Resort by Victor H. Royer
Casino Life Magazine recently had the opportunity to interview Dawn Clayton, general manager of Thunder Valley Casino Resort, in Lincoln, California. Dawn joined Thunder Valley Casino Resort in August 2010 as vice president of gaming operations. Shortly thereafter she was promoted to assistant general manager and then in March 2013 she was promoted to general manager with direct oversight for the day-to-day operations of Northern California's premier casino destination resort. She is a 40-year veteran of the gaming/hospitality industry, having held executive-level positions at commercial, riverboat, racino and Native American properties.
Dawn is a strategic, dynamic, inclusive leader with a proven track record of exceeding revenue projections, increasing guest visitation and developing future leaders in highly competitive markets.
Volunteerism is also part of her DNA, as she serves on the Board of Directors for PRIDE Industries and champions creating employment for individuals with disabilities. She is a member of the Executive Board of Directors for the local SPCA, and for Lighthouse Counselling & Family Resource Center. She is a mentor and sponsor of FLAME (Female Leadership & Mentor Exchange), which helps advance and empower the next generation of female leaders in business, education, public service, and media.
Dawn has been recognized as one of the Sacramento's Business Journal's "Women Who Mean Business" and was named to the National 100 Women to Watch List compiled by Bizwomen. She has also been featured in Forbes Magazine as one of its California Women Business Leaders. She was additionally honored as a Woman of Distinction by the American Association of University Women. Most recently, Dawn was recognized as the Best of the Best in Gaming by Bentley Price and as the 2022 Business Leader of the Year by Placer Valley.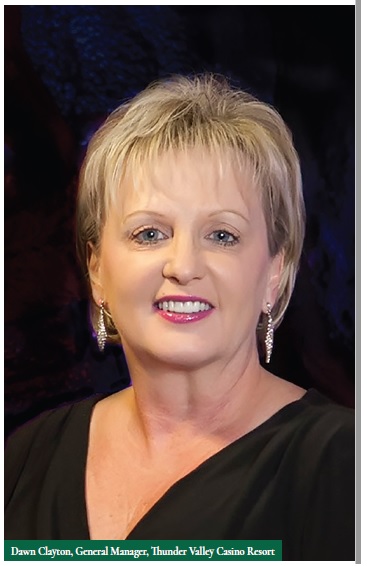 Dawn, first I want to thank you for taking the time to speak with me. Please tell our readers more about your role at Thunder Valley Casino Resort.
Thunder Valley Casino Resort is a AAA Four Diamond award-winning, premier destination resort in Northern California. In June, we will celebrate our 20 years of operation and incredible success.
The resort is located 30 miles east of Sacramento in Lincoln, California. The property consists of 270,000 square feet of gaming space, including 3,500 slot machines, 100 table games, a bingo room that accommodates 800 guests with dymanic giveaways, our poker room that ranks amongst the best in the country, with guaranteed prize pools exceeding $1 million, 18 restaurants and bars, a 17-story luxury hotel with 408 rooms and suites, an expansive outdoor pool with private cabañas, poolside bar, a luxurious spa, and our most recent addition – the $100M state-of-the-art entertainment facility called "The Venue." It consists of 150,000 square feet that accommodate seating for 4,500 guests. The sound and acoustics are spectacular.
I have the distinct pleasure of serving at the helm of a truly dynamic, guest-service-focused team of dedicated team members who create memorable experiences on a daily basis.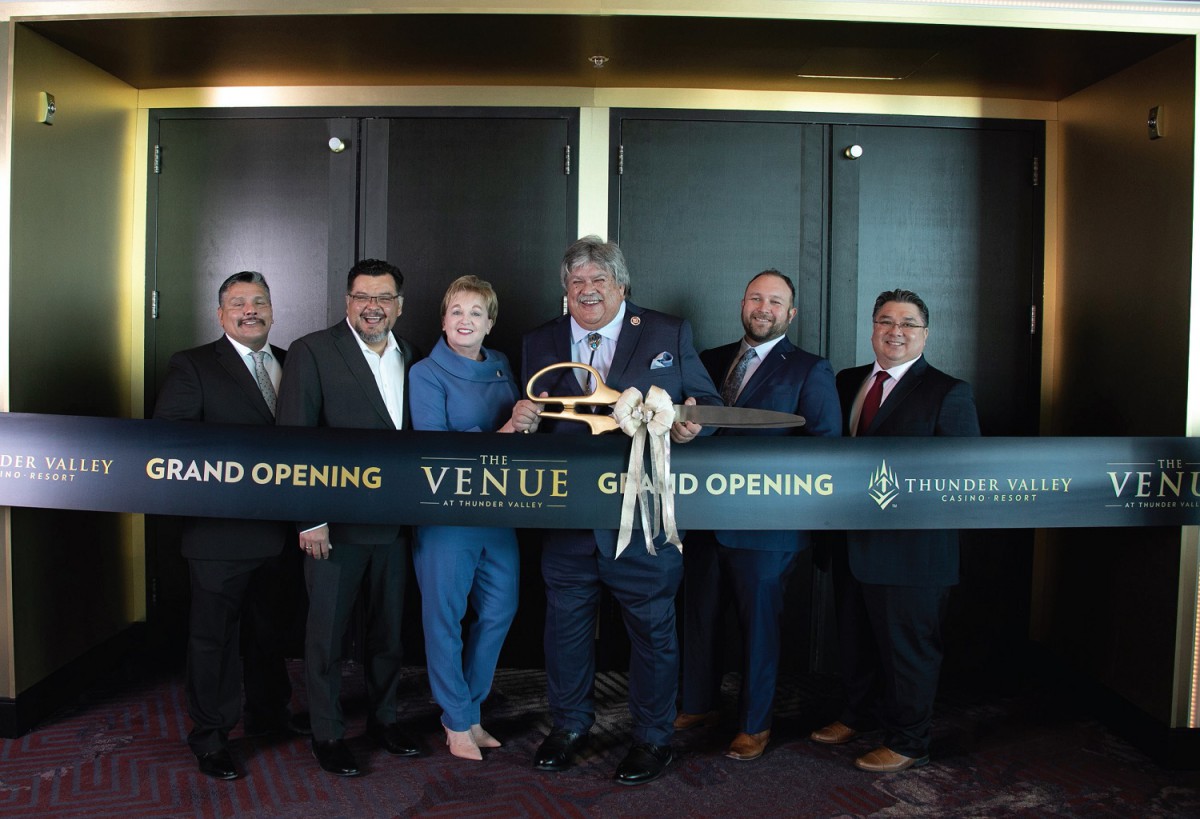 Please tell us about the newest leadership appointments at the Thunder Valley Casino Resort and in which roles they now serve at the property.
The United Auburn Indian Community and Thunder Valley Casino Resort leadership team allocates time and resources to developing their team members, and in preparing them for promotional opportunities that become available for advancement and career development. I am delighted to share that, with a couple of recent key executives retiring after long tenures, not only in the gaming industry but at Thunder Valley, their positions were filled with internal candidates who are knowledgeable, committed, driven and passionate, and embrace the culture of inclusion and succession planning.
Their ascension in the leadership ranks was a seamless transition and enabled our team members to witness that commitment to the Thunder Valley Casino Resort team, and to its goals and objectives, affords promotional opportunities.
How do you see the Thunder Valley Casino positioned in the current and future gaming market?
The United Auburn Indian Community and the leadership team continually analyze the local markets and trends, actively soliciting input from our guests and team members, and conducting in-depth research to support future growth. This is incorporated into what is shared in our master plan for the property. This includes a full scope of multidisciplinary services and amenities, mixed-use developments, and leisure-related assets, leading to increased visitation. In June 2023, we will celebrate our 20-year anniversary, and look to the future with great excitement as we look to add to the amenities that we currently offer on the 190-acre site of contiguous land owned by UAIC.
How much of a difference is there between the Northern California tribal gaming market and Southern California?
While I have never had the opportunity to work in Southern California, I know that we share many similarities and commonalities. There are routine conference calls whereby general managers from Northern and Southern California are invited to participate, to share what is transpiring at their respective properties. This was incredibly helpful during the times of Covid, as we were able to share best practices and adopt health-and-safety protocols as a collective group, working collaboratively. That aided our industry in safeguarding our guests, team members and communities at large.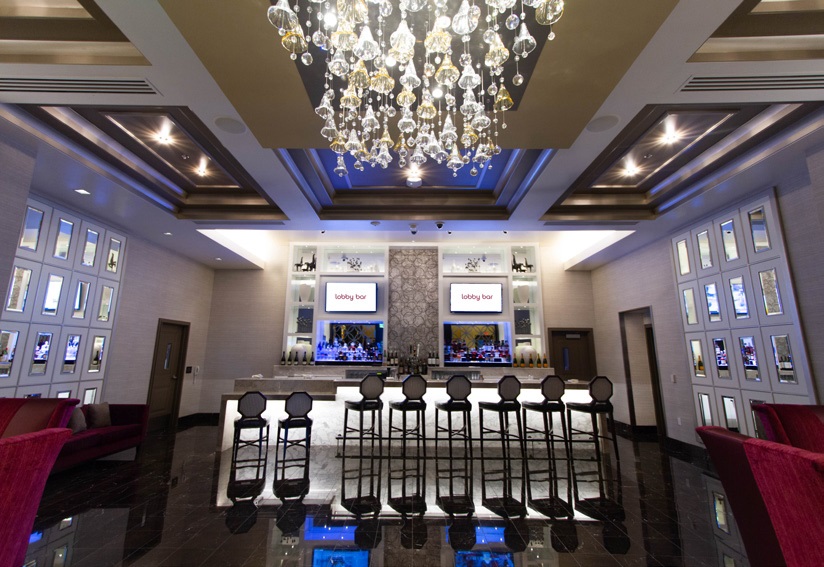 Another example of positive outcomes are from strategic dialogue, as the GMs shared many initiatives that could be considered when attempting to recruit and fill many of the open positions within our organizations—once we were approved to resume gaming operations after the shutdown due to Covid. Labor and supply chain challenges were not unique to any specific region or business, so sharing our insights was very beneficial. The interpersonal relationships forged in this way are a valued asset, and my fellow colleagues at the helm of their properties are some of the finest men and women in the industry.
And how big is the difference between Northern California gaming and Las Vegas? Or Reno?
Every region is different, while sharing similarities. For example, during the winter months Reno will often encounter challenges with inclement weather, resulting in road closures that have a negative impact on business operations. Our property is located in a part of California that does not experience issues due to snow and ice. When the aforementioned does occur, we often experience an increase in business.
Las Vegas is continuing to differentiate the amenities they offer to their guests via entertainment, sporting events, large-scale conventions, an incredibly large inventory of hotel room product, the Formula One races that are upcoming, etc. Our master plan for the next five to 15 years incorporates the diversity of amenities that will appeal to our current guests and attract new consumers from Placer County outside of gaming operations. The diversification of our product offerings will enable us to maintain our positioning in Northern California.
Thunder Valley Casino Resort is in Lincoln, in Northern California, and is also positioned near Sacramento and San Francisco. Are these the primary markets for visitors to the Thunder Valley Casino Resort? What are the most prominent demographics in these markets?
About 70 percent of our guests reside within a 30-mile radius of the property. Both Sacramento and San Francisco are dominant markets for us. Our guests have options as to where they would like to spend their discretionary income, thus the reason we continually add to the offerings that span age and demographics. We have a significant amount of our Asian guests who travel from San José and San Francisco. We are the title sponsor of the Ms. Chinatown USA Pageant & Coronation Ball, held annually in San Francisco, as well as the title float that hosts the newly crowned court and Ms. Chinatown winner for the Chinatown Parade.
What is the governance of the Thunder Valley Casino Resort?
The reporting structure in place is that I report to the Board of Directors, who are elected members of the United Auburn Indian Community. The aforementioned members are proactive, supportive, and align to support the initiatives presented that will provide growth and financial sustainability for their membership.
Have there been any operational-perspective changes – or any significant shifts in casino operations – at your property since the pandemic? Meaning other than the naturally required changes to general operations.
Covid presented some very unique challenges for everyone. During the closure of 79 days we faced uncertainty while taking time to reevaluate every facet of our business model. We are so profoundly proud of all our teams, because as we initially resumed business operations we were significantly understaffed while managing huge demand. We, like every other business, needed to implement health and safety protocols to insure the safety of our team members, our guests and our community. The best practices that we committed to performing were often repetitive and routine in nature, but necessary nonetheless. Our teams performed them willingly and with a commitment that was unsurpassed.
We analyzed every aspect of our business model and made some decisions to not resume several of our offerings that we had prior to Covid, such as the buffet. We just received our AAA Four Diamond recognition for the 11th straight year, and many of the testing standards that were implemented during Covid still exist today and focus on high touch-point cleanliness for safety reasons. These protocols will most likely remain in place for the foreseeable future.
Please tell us more about the gaming floor at the Thunder Valley Casino. Which games – or type of games – are among the most popular at your property?
Our slot floor consists of 3,500 slot and video poker machines. During the budgeting process we allocated a significant amount of capital to insure that our slot product offerings—and our gaming floor in general—are innovative and have the latest and greatest games, themes, cabinets, signage, etc. We pride ourselves on being first to market with new gaming product for both slots and table games.
Thunder Valley Casino Resort was the first to offer Face Up Pai Gow Poker, as the inventor was one of our former casino shift managers. He has since retired, but his successful game is now offered internationally, with 300 games to date in active placement in casinos. Our leadership team champions meeting with our guests, and actively asking their input and feedback as to games, and offerings they would like for us to consider in adding to our footprint.
How is the Thunder Valley Casino Resort positioned in the ongoing California sports wagering situation?
The most recent sports wagering initiative was the most expensive in the history of the county. While it did not result in approval to offer sports wagering, it in no way dampened the appetite to add this as an amenity to casinos in California. Undoubtedly it will be on a future ballot and we await the outcome of that vote.
Please tell us more about the player's club at Thunder Valley, how it is structured, and how and where players can earn and use their benefits.
Our Thunder Valley Reward Card is our guests' unique passport to incredible benefits and special offerings. As a Rewards member, guests earn Rewards points every time they play, to advance to higher tiers within a given qualifying period. Higher tier levels mean exclusive benefits such as invitation for free gifts, slot tournaments, drawings, and specially themed events. What's more, guests receive five percent back in comps on all non-gaming purchases using their Rewards card throughout the property. The earned comps can be used toward ticket purchases for stellar performances in The Venue, as well as for luxurious spa treatments, award-winning dining options, hotel stays and much more. It's essentially one card that holds unlimited enjoyment and fun for our guests.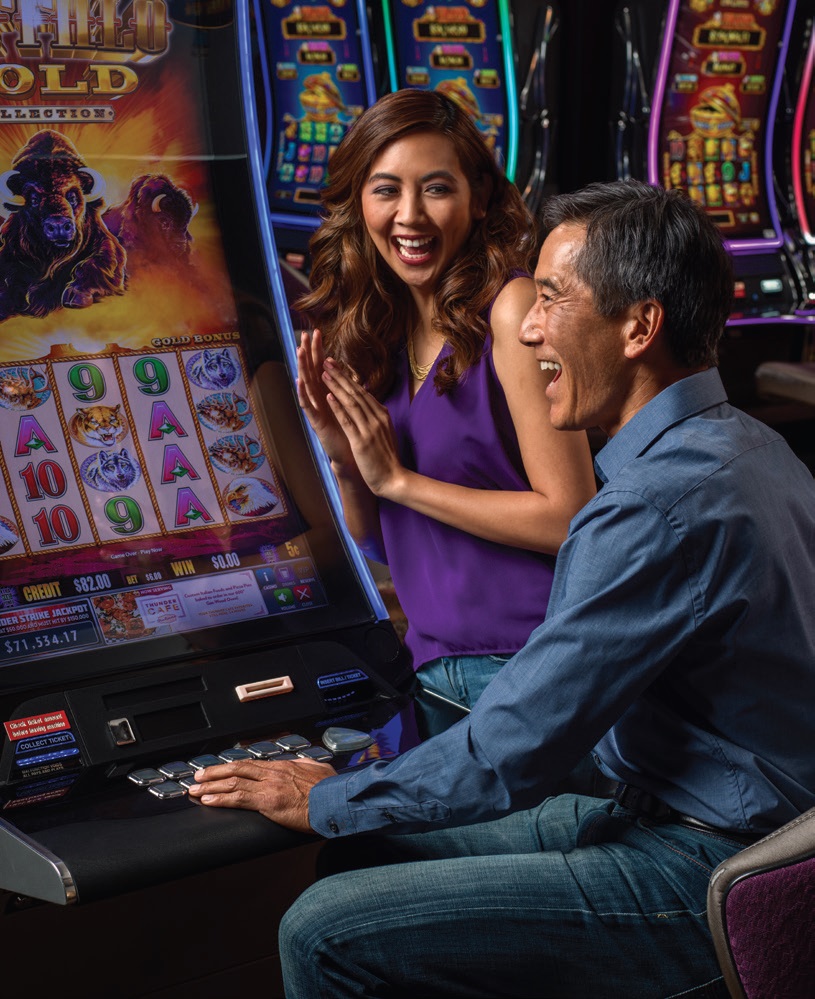 What is new and innovative about the Thunder Valley Casino as of the second quarter of 2023?
2023 has been a history-making year to date. On the President's Day weekend we opened The Venue with a three-day, star-studded lineup of artists, with none other than The Eagles, Bruno Mars and Carlos Santana. What a way to showcase this amazing entertainment facility! We can now offer year-round entertainment, with upcoming artists such as Jerry Seinfeld, Journey, Bill Burr and more.
Thunder Valley Casino Resort has a very well-known poker room – please tell us more about live poker at Thunder Valley, and any special tournaments or player incentives, rewards and perks.
Our poker room has been an incredible success. It is a destination for many guests from across the country as we host events with the most well-known tours such as the World Poker Tour (WPT), World Series of Poker (WSOP) and the RunGood Poker Series. Our newly designed poker room affords us the opportunity to host live play and events in one location. The poker room was built to have the technical capability to host live streams and televised productions, such as the WPT Live Steam in April that netted over 500,000 viewers. The poker room holds the only $1,000,000 in guarantees in the region and commonly offers event series that draw over 1,000 players for each event.
Please tell us more about the hotel facilities, dining and other non-gaming attractions at the Thunder Valley Casino Resort.
Our amazing AAA Four-Diamond resort offers 408 rooms and suites, a state-of-the-art, fully equipped fitness center that is open 24 hours a day, and an extensive in-room dining menu.
The Spa at Thunder Valley is a relaxing oasis. And the Coconut Pool & Bar is a perfect way to enjoy a relaxing day.
We offer a wide array of food offerings that are sure to appeal to everyone. Our AAA Four Diamond steakhouse is called High Steaks – what more perfect name could there be? Our gourmet Asian restaurant is called Red Lantern and the Thunder Café is open 24/7 with an expansive menu of items, including pizzas from our open-fire pizza oven. We also offer an array of casual dining options such as Dos Coyotes, Peet's Coffee, Ben & Jerry's, Panda Express, Fatburger, Subway and Pizza Hut.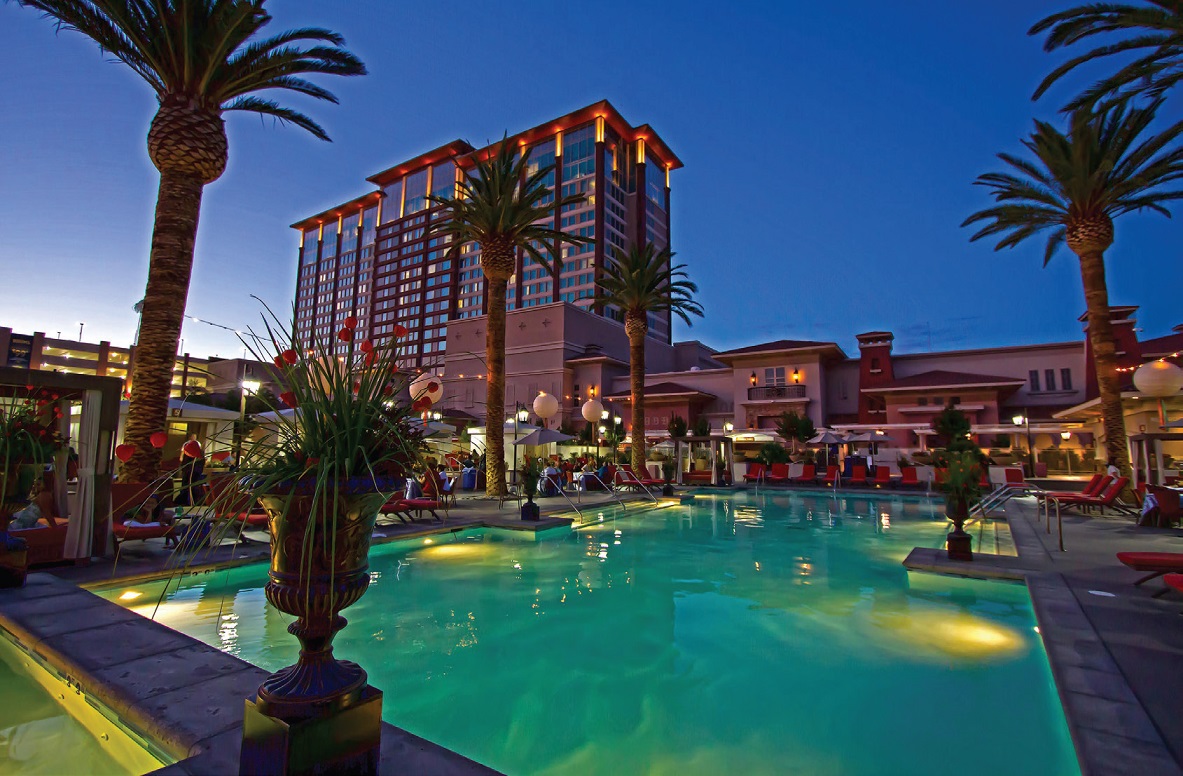 From the perspective of casino operations, how do you see the California tribal-gaming market in 2023 and going into 2024?
The California tribal-gaming market is vibrant and positioned to continue to flourish as we look forward to 2024 and beyond.
Are there any other items, or news, that you'd like to share with our readers about the Thunder Valley Casino Resort? Something I may have missed asking?
As we prepare to celebrate our 20-year anniversary we are excited about what the next 20 years has in store, as we continue to add to our footprint and diversify our amenities.
Finally, in your career in gaming, and with Thunder Valley, what would you consider to be the highlights?
Having started in the gaming industry as a craps dealer in Atlantic City 40 years ago, a time when there were very few women working in the gaming pits, I never would have dreamed that I would be be working in this amazing, ever-changing and dynamic industry all these years later!
I will be forever grateful to the team members and fellow colleagues for their hard work, commitment, dedication and passion, and for being on this journey with me.
To all the leaders who willingly shared their knowledge, keen insight, words of encouragement and challenged me to embrace the ranks of leadership, I say thank you.
Most importantly, I want everyone to know that climbing the ranks in the gaming industry is achievable. Will it be an easy ascent? Absolutely not. But incredibly rewarding. I am humbled to work for a tribe that champions inclusion and diversity, and invests in their team members.
On behalf of Casino Life Magazine and Outsource Digital Media, I would like to thank you, Dawn, for your time, and for sharing this with us and our readers worldwide.
*** This exclusive interview was originally published in Issue 158 Casino Life Magazine August 2023 ***