Chris Sanson talks to Thomas Engstberger, Sales Manager at AMATIC Industries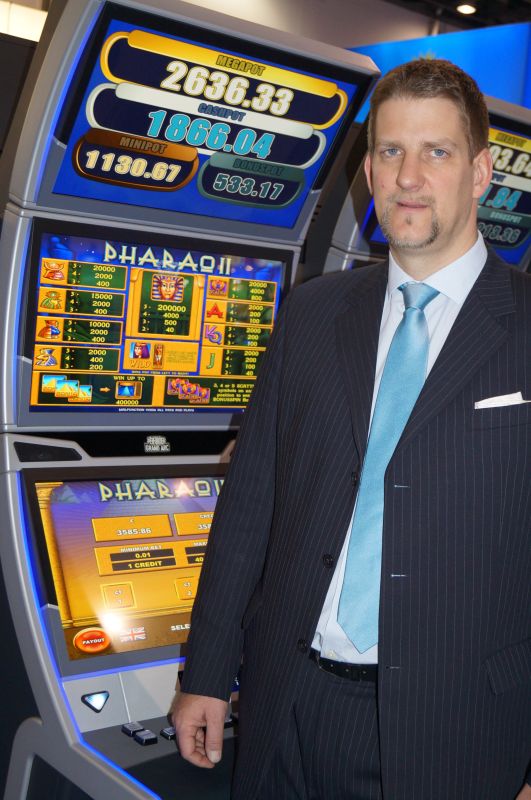 The new Performer Grand Arc slant top is an impressive innovative design. What are its key features that impressed visitors to your stand at ICE?
Presenting a ground-breaking new design for gaming machines takes a combination of knowledge, experience, flair and naturally risk-taking. We took the first step with the Performer 22" upright cabinet that resembles no other gaming machine in the industry. Customers naturally are used to particular designs. We all know, however, that it is the player who ultimately decides which design is successful or not. The success of our Performer 22" showed us that we are on the right path and gave us the confidence to introduce what really is a completely revolutionary different design for the Performer slant top version – the Performer Grand Arc. In particular, when three large screens are chosen, the curve is most apparent. We were expecting good feedback. In fact the feedback was overwhelmingly positive. The Performer Grand Arc literally drew in visitors to our stand just like a magnet. So, we believe that the Performer Grand Arc will have a magnetic force on players. We are beginning to roll out the first Performer Grand Arc gaming machines to the international market – so let's wait and see how the Performer Grand Arc is greeted by players around the world.
I guess the Grand Arc will come with the Multi Game package?
Most definitely. It is only the combination of the gaming machine and the games themselves that can create success. We at AMATIC have twenty years of experience in Multi Game. Our range of games just keeps on growing. We take players on exciting journeys around the world with our differing features. AMATIC Industries focuses completely own in-house game development. Thus, all games stem from original ideas. Our Hot and Wild series continues to enthuse players. The games library is thus a strong pillar within the enterprise. Our new games such as Train Robbery, Mermaid's Gold and Diamond Cats really compliment our greatest hits that include Billy's Gang, 80 Days, Casanova, Aztec Secret, Baron Munchhausen, GrandX and Pharao II.
The AMATIC Grand Jeu Double proved a winner at this year's show, for those that didn't get to the show this year could you explain the latest features incorporated into this version of what is a classic electronic roulette.
We have made a name for ourselves in the field of electronic roulettes with our beautiful design and excellent technology. The new Grand Jeu Double takes this one step further. This ten-player completely automatic electronic roulette incorporates two roulette wheels. Thus, depending on player needs and local legislation requirements – operators can offer players the possibility of playing on both wheels at the same time. Double fun with double the chances of winning are the factors that draw in players. This is naturally a potential revenue driver for operators. Our fantastic reputation for our design and flair together with proven long-standing technology places us as a preferred partner in the field of electronic roulettes. Our roulettes have been in operation for many years and often 24/7. Our customers often tell us how reliable our Grand Jeu electronic roulettes are. For the Grand Jeu Double, the integrated four large monitors above the wheels make it standout from afar. The high definition graphics make it very comfortable on the eyes – what is especially important for players who like to remain for longer periods of time.
Its sister Grand Jeu Prestige was also on your stand this year what are the key features of this version?
The Roulette Grand Jeu Prestige is our 'bread and butter' product – we have been selling this for many years. Reliability, design, excellent features for players (such as 'drag and drop') make this product stand out. Secondly, we had the Grand Jeu 22ws Electronic Roulette on show which has improved graphics, wider monitors, unique player features. It is designed as standard for eight separate playing positions.
How is the organisation's targeted approach to countries and regions with Games Slots and Multi-players paying off?
This is a key part of our business philosophy – to tailor our products to particular markets and / or regions. We are all different – we see this in Europe in particular. There is no one solution that fits all markets. As a medium-sized, family-owned business, we are ideally set to be able to generate solutions that cater to local tastes. We underlined this philosophy on our stand at ICE. We created regional solutions. This is very much welcomed by visitors. They knew exactly where to focus. Also, it increased their awareness for the fine differences and nuances in gaming and sometimes  acted as a catalyst for them to understand whether solutions for other regions or markets could be offered to their local players.
This year the focus of AMATIC Industries was also very much on online business is that setting a trend for future approach of the organisation at major shows?
This is true. We have three pillars to our business: Multi Game, Grand Jeu electronic roulettes and the online / mobile gaming. For more than two years the proven games of AMATIC Industries can be played online at Grand X and Multi Win Casino .
AMATIC Industries brought another highlight to ICE: Now the complete game portfolio of AMATIC Industries is available for mobile devices. The ever-popular multi-games are thus available everywhere at any time: land-based gaming machines, online and mobile.
Every licensed online operator can now use the game content of AMATIC Industries by integrating them into their platform – in every possible form – so on gaming machines to online gaming right to the simplicity of offering AMATIC games on mobile devices.
This edition will be represented at both the Enada Rimini Show and the Fer Interazar. With that in mind, is there anything you would like to add for those attending these shows?
AMATIC Industries will be exhibiting at the FER at our long-standing partner's stand – Comatel. This market is of particular importance for us for the Grand Jeu electronic roulette and increasingly for our Multi Game solutions. We will be attending the Enada Rimini show as a visitor.