Reports of the death of online gambling in the United States have greatly exaggerated.
We've just passed the first anniversary of legalized Internet play in New Jersey and, true, Betfair Poker has folded its hand and Ultimate Gaming has gone out of business completely. But Caesars Entertainment continues to flourish, marketing its product through a variety of online platforms: HarrahsCasino.com, CaesarsCasino.com and WSOP.com. It also offers online poker play in Nevada but the greatest volume has been in New Jersey. In Year One, Caesars has seen $910,547,346 in wagers, with $529,157,594 bet on casino games and $381,389,752 changing hands on the cyber-felt in poker. Players have ranged from 21 years of age to one punter of 101. Seth Palansky, vice president of corporate communications for parent company Caesars Interactive, sat down with us to discuss the first year of digital gambling and what the future holds for Caesars and players alike.
When it comes to the online-gaming industry in the U.S., should we look at the glass as half-full or half-empty?
It's clearly one-eighth full. That's the right way to look at it. We are in the very early stages.  This is like taking the land-based environment and taking it back to when there were just a couple of casinos in Las Vegas. Now try and envision how, what a quarter-century later, the landscape across the U.S. looks like. The online-gaming sector will follow a similar path.
Why has online gaming been perceived in the media as a disappointment to date, if not a failure?
Simply, people just look at line-item numbers of a budget of someone with no point of reference of what the market should or would be, trying to extract to mature-market projections of land-based gaming and trying to come up with numbers for a budget. I pity the person that had to do that because there's no way to know. It's a new business model that hasn't been offered before. It's hard to put a guess on it. The reality is, everyone should now look at it one year in and what the numbers are as a baseline. And now it's our job as operators to grow the market from here.
Why are your sites succeeding where Betfair Poker and Ultimate Gaming failed?
Brand is a big factor in this. When you're trying out a new business in a medium like the Internet where all you see and hear about these days is targets: credit card breach, Home Depot breach, Sony breach, hackers, NSA … there's still some hesitancy of people to deal with digital transactions, especially that require a lot of personal information before you can play. The regulations are right in New Jersey and Nevada. It's a high bar you must reach to be able to game to begin with. We're a trusted, known, longstanding brand. Poker, there's no one older than us: We date back to 1970, the World Series of Poker. People know it and trust it. We've been operating it without any issues successfully and for a long time, and obviously the Caesars and Harrah's brands are outstanding brands as well. So that helps. If you're going to adopt, it helps to have something that has that brand awareness.
You combine with what's been our stronghold in the land-based world: our loyalty program that we're accepting in our online casino and poker rooms as well. We have 50 million people in our database – obviously not that many in Nevada and New Jersey – so we've been able to offer them special promotions to try us out online. That's something that Betfair and Ultimate didn't really have. Ultimate did have it in Nevada because they're part of Station Casinos and such. But they had no brand name going in. they didn't launch under Station, they launched under the Ultimate moniker, which had no affinity here.
How well are safeguards like geolocation working?
It's been problematic. There's two ways to look at it. In terms of doing its intended job, keeping people from out of state [from playing], it's worked exceedingly well. That's really the number-one priority. That said, if you look at how is it to the consumer, it can be disruptive. There's false positive readings. We had issues early on, the way the borders – think of it as a virtual fence that was put around New Jersey but it's a tricky state, with waterways and bordering other states.  The digital footprint that was put around New Jersey was not consistent for each user. One time they'd log on from Hoboken and all would be fine and the next time it would say they're in New York.
So, the technology itself of geolocation could use some refining, because its intended use is different than what we're using it for. Geolocation was kind of created for merchants to know where someone was from when they're buying something online. In online gaming, geolocation is done throughout your playing experience. We are constantly monitoring where you're from because somebody could be on a mobile device and start in New Jersey but be on a bus going into New York. We have to cut them off. So it's a constant process. The technology is sort of learning how to deal with these varying scenarios than what was originally intended when that technology was created.
How much of the domestic market has been tapped?
Very little. This is about the next generation, for all intents and purposes. If you think about college students today, they've grown up in a completely digital world with their smart phones and their iPads. This is what they know. They are not going to be as interested in products and forms of entertainment that don't have a digital component. So it was important for us, as a land-based operator, to ensure we also have a presence going forward in what will be a popular form of entertainment for the next generation. We don't see this as going from zero to the mountaintop in a year or two. This will be a gradual build and no different from mobile-device adoption for almost anything else.
It changes over time but it grows a bigger share of the market and the same thing will happen with casino entertainment. It's different now. We're building different experiences. In the land-based, it's become more about the show, the nice restaurant and nightclub and beach club, and all that, not necessarily the gaming itself.
In poker, we have a very symbiotic relationship driving players to the land-based World Series of Poker by winning your seats in online games. We think there's a good way for both of these different offerings to coexist well going forward.
How important is social gaming to growing your for-money gaming operation?
We don't see it as important at all. We may be in the minority but we view it as a completely distinct, different business. It would akin to licensing the Caesars brand name for dishwasher lines. We get a licensing fee and not much more. To us, social gaming is arcade-style games for people right now. It's not about gambling, it's not about the money thrill they have. This is about achievement and breaking through the leader board, and getting to the next level of the game. I was one of those kids that played Ms. PacMan a lot and I put my quarter in and I'd die off in Level Six. I was determined to get to Level Seven, so I'd put in 50 more cents so I could continue the game on Level Six. That's essentially what social gaming is today and will continue, and it's not a customer who wants to gamble. We don't see the crossover but we've been able to build what amounts to a nice business in the digital space that keeps our brand awareness out there, which is good.
Enabling legislation has just been introduced (again) in California. How do the chances look for that?
We don't know. It may be the fifth or sixth bill that's been introduced. It's not uncommon for various states to go through these stages of limited interest to broadening interest. California has been a tougher market to handicap, simply because you have various things going on there: You have a strong lottery, strong racetracks, poker-only card rooms and of course tribal gaming is prominent as well. How do you balance that? There are a lot of pieces to work out. At the end of the day, we take the real long view of, 'Where are things in 25 years?' In 25 years we'll see the majority of the states offering some form of online gaming, because it's ultimately what consumers want and showing, like New Jersey has in Year One, that it can be effectively regulated, licensed and operated.
Are you going into any overseas jurisdictions?
We are in the United Kingdom now. That was actually our first market. We were there to put ourselves in the position to understand the business and what it took before a potential opening of the U.S. market, so it was good experience for us. We're having a hard time navigating international markets. The ones that are interesting and completely regulated are closed markets. In France, you can only play if you are inside France's borders and that sort of thing. We don't have properties there; brand recognition isn't as good as some [others]. It's a heavily competitive marketplace that we've looked at and said, 'It's probably hard for us to be successful.' We'd be more like Betfair than what we are in New Jersey. So we keep an eye on things.
You will see the European market one day become more open and cross-country in a consistent regulatory environment that'd we'd feel more comfortable in. but currently there's a lot of unregulated states, loosely regulated states – we won't touch anything like that, that doesn't have clear, concise government and regulatory safeguards in place. We dabbled in France and Italy, actually, years ago and determined that we didn't have enough business opportunity to continue.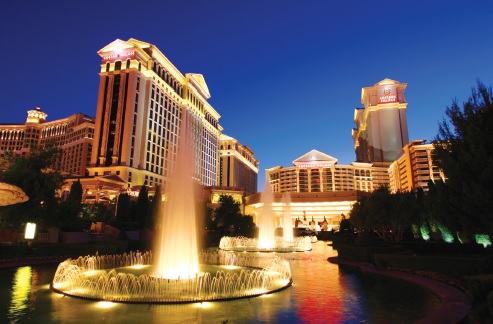 What do you make of Sheldon Adelson's crusade against Internet gambling?
He certainly has his right to spend his money and go after things he doesn't like or does, for that matter. We find it disingenuous. He's offering land-based casinos. We think it has more to do that he's a bit out of touch with the Internet. This is going to happen. For us, we see this as we don't want to be the next Borders Bookstore or Blockbuster Video. These were brick-and-mortar operations on many street corners throughout the country. In a decade's time they're obsolete. We offer land-based gaming and it's important and we need to continue to improve and reinvent our offerings in the land-based world and we also have to accept the digital world and what that means to our business going forward.  We see this clearly as something consumers are going to want and have already chosen in other industries – to move their business to a digital world. We just want to be prepared for that.
Are you counter-lobbying?
Yes, we have spent time and money educating lawmakers on the reality. Sheldon talks about underage kids and you can just quickly look at the year in New Jersey and not one of his fear-mongering claims has been proven correct. There's been no underage gambling, there's been no one stealing Dad's credit card, there's been no one from outside the state playing. None of these claims are happening. It's more misinformation than accuracy and we're glad that New Jersey and Nevada – like they were in land-based – have led the regulation of this activity and they can prove for all that it's a safe activity that can be regulated and the concerns are less than they are in the land-based world.
You can go right online to our site now and you can set limits. You can set deposit limits, betting limits, time limits – all sorts of things. [If] I want to play $20 a week betting and I lose $20, I want to be shut out … you can set that up. In the land-based environment, I can go into Sheldon's casino and bet with him, and lose $20, and go to Atlantic City and walk in various other casinos. There's no way to shut off in that regard as well as you can in online. This is the future and we're not going to take the head-in-the-sand approach. We're going to embrace it and try to offer consumers the best we can.
Are there major developments in I-gaming that we should be anticipating?
Clearly, there is a lot of attention all over the world on this activity and how to best regulate it. The Internet was created before government bodies had the chance to step in and set rules of the road, so to speak. Now it's clear that we're in the next decade of people studying this, analyzing it, trying to figure out what's the best policy for their citizens and enacting legislation that reflects that. So you won't mind mass expansion of this activity in the next decade in terms of the operators and offerings being put into it, but you will see a much clearer – instead of all these gray markets you're going to have a lot of black-and-white markets. And that will sort of usher in the next era of operations and different games and entertainment offerings as the market matures and the economies of scale of markets being opened works. Delaware and Nevada have signed a pact to share their liquidity on poker. So this will be the first test inside the United States, and in fact the world, when it comes to regulated shared liquidity where two states with different laws are drawing up standards for this activity to regulate, license and tax it. That should come along in 2015 and provide a nice blueprint for how this can be done.
It's hard. No one wants to overstep their boundaries, and the lawmakers and regulators are right here to baby-step their way into this, not to let this get too far out of line before they have a chance to look at this activity and monitor it. New Jersey's doing that and Nevada's doing that.