Tim Kennedy, Vice President Sales EMEA, SUZOHAPP shares with Damien Connelly
2020 was a considerably challenging year for the gaming, leisure and entertainment sectors. What would you say were amongst SUZOHAPP's most impressive achievements during the course of that year?
Last year was definitely one of those most challenging years our industry has ever seen. With travel and hospitality closed, we saw a lot of businesses shutter their doors forever because the closures were so long and restricted reopening was just not enough to bounce back with. That being said, I think one of the biggest achievements of any company has just been to make it through to 2021. We had a stellar team at the helm in 2020 that was able to make difficult decisions quickly and react to the constantly changing times. We also took then mentality of "industry first" knowing that in order to make our business survive, we had to make sure our customers could survive first. So we looked at what products could best serve customers in helping them reopen, like PPE products, separators and items to help meet reopening guidelines. We also donated PPE to assist in the front lines in the hopes that even that small gesture would help keep more customers safe and get us all one step closer to reopening.
What are the biggest challenges and opportunities facing the gaming sector in the coming years and what steps is SUZOHAPP taking to ensure it can deliver the answers?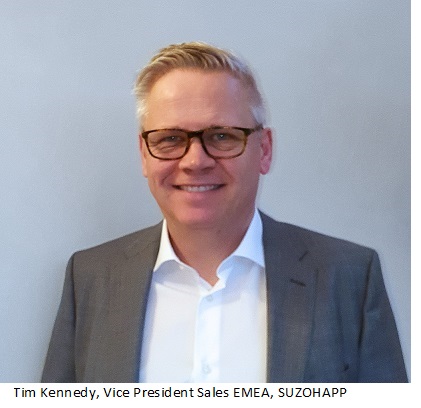 The pandemic has changed peoples' mentalities in some ways. I think the return to table games might be more challenging than we would like as people get accustomed to being around others again. The biggest opportunities are the shifts towards cashless payments and the potential for mobile integration in the gaming experience. As people have gotten used to doing their betting online, casinos will need to find unique ways to align the methods that people bet online with how they bet in person. I think we will find that the demand to be in a casino is there, it's simply the nuances of how to make it easier for customers to acclimate back to being in person that the industry will need to figure out how to get right.
G2E Las Vegas is looking good to go ahead this year with everything going as planned. Are you in a position at this time to provide readers any insight into what is planned for this year's show?
We are cautiously excited about G2E this year. If we have learned anything in the pandemic, it's not to make concrete plans because you'll likely have to change them. For the most part our plans include making sure we highlight the importance of our partnerships that have really shone over the past year. Our partner Elo, for example, has come up with great new products in the display and touch-screen space, which has been exceptionally difficult considering there is a global display shortage. Mostly, however we are taking our G2E plans one day at a time to see how everything will turn out globally, as the state of Europe will have a big effect on the show and how many will be able to attend.
Do you see land-based casinos going more in the direction of electronic gaming with more EGT's?
Casinos are definitely headed towards more electronic gaming. EGT's are one way to help align those expectations that customers bring from their year of digitally exclusive content to the in-person casino floor. As a society, we may be wary of groups and crowds for a while, even after vaccines and whatever herd immunity we can achieve, just given how quickly we got into this mess in the first place. So seeing an increase in this type of gaming makes total sense.
What are your hopes and aspirations for the gaming leisure and gaming sector in the years ahead?
We have so many opportunities for innovation in the next few years to really get the digital and casino experiences aligned. There is a lot of pent-up demand to get out of the house and to have fun, and I think we'll benefit greatly from that, but we have to make sure we live up to those dreams and expectations in order to keep people coming back for more.