Interview with Tony Taeubel, Senior Vice President at Boyd Gaming, General Manager, Suncoast Casino by Victor H. Royer
Casino Life Magazine recently had the opportunity to interview Tony Taeubel, senior vice president of Boyd Gaming, and general manager of the Suncoast Casino Resort in Las Vegas.
Suncoast Hotel & Casino is located in an affluent, northwest suburb of the Las Vegas valley, Summerlin. It is surrounded by golf, shopping, and incredible views of the Las Vegas Valley and the nearby Spring Mountains. The property offers exclusive restaurants, gaming, deluxe accommodations, a salon/spa, an award-winning bowling center, luxury movie theaters, bingo and a 500-seat showroom, and 25,000 square feet of convention space.
The hotel has 388 newly remodeled, deluxe, guest rooms at 550 square feet and 39 newly remodeled, lavish, guest suites ranging from 1,100 to 2,300 square feet. All rooms are non-smoking and have full-length windows that offer breathtaking views of the surrounding vistas.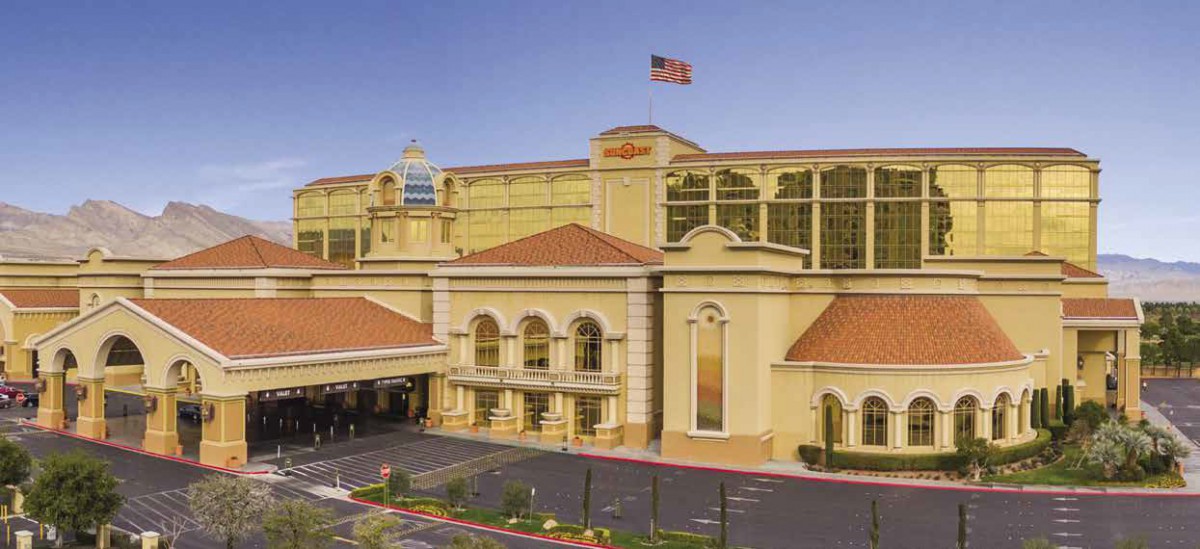 Image :Suncoast Casino Resort in Las Vegas, a Boyd Gaming property
The 80,000-square-foot casino has all the hottest new games in slots and table games, as well as a popular 600-seat bingo hall, with smoking and non-smoking rooms. There are several excellent restaurants, as well as a Subway sandwich shop open daily.
Tony joined Boyd Gaming in January 2004 as vice president and general manager of the Stardust Hotel & Casino. A gaming industry veteran of more than 37 years, Tony has been general manager of The Orleans Hotel & Casino, of Gold Coast Hotel & Casino and of Stardust Resort & Casino. Prior to Stardust and Boyd Gaming, he was the chief operating officer of gaming operations for Pearl River Resort in Philadelphia, Mississippi (a Choctaw Gaming property), and general manager of Ameristar Casino Council Bluffs, in Iowa. For six years, Tony was also a Nevada Gaming Control Board agent. He graduated from the University of Nevada-Reno with degrees in Psychology and Criminal Justice, as well as earning his MBA from UNLV. Tony is married with three children, ages 30, 27 and 20.
Image: Tony Taeubel, Senior Vice President at Boyd Gaming, General Manager, Suncoast Casino
Boyd Gaming is known primarily in the North American market. please tell our readers more about Boyd Gaming's presence in Las Vegas, as well as in the U.S.
Boyd Gaming has 28 properties across the United States in Nevada, Lousiana, Mississippi, Iowa, Kansas, Pennsylvania, Indiana, Illinois, Missouri and Ohio. Boyd is also invested in online gaming and offers sports betting in legalized markets. Boyd owns five percent of FanDuel, so this is our partner in most of the non-Nevada sports books, as well as the Fremont Hotel in downtown Las Vegas. In addition, Boyd developed and operates the Sky River tribal casino in Elk Grove, California.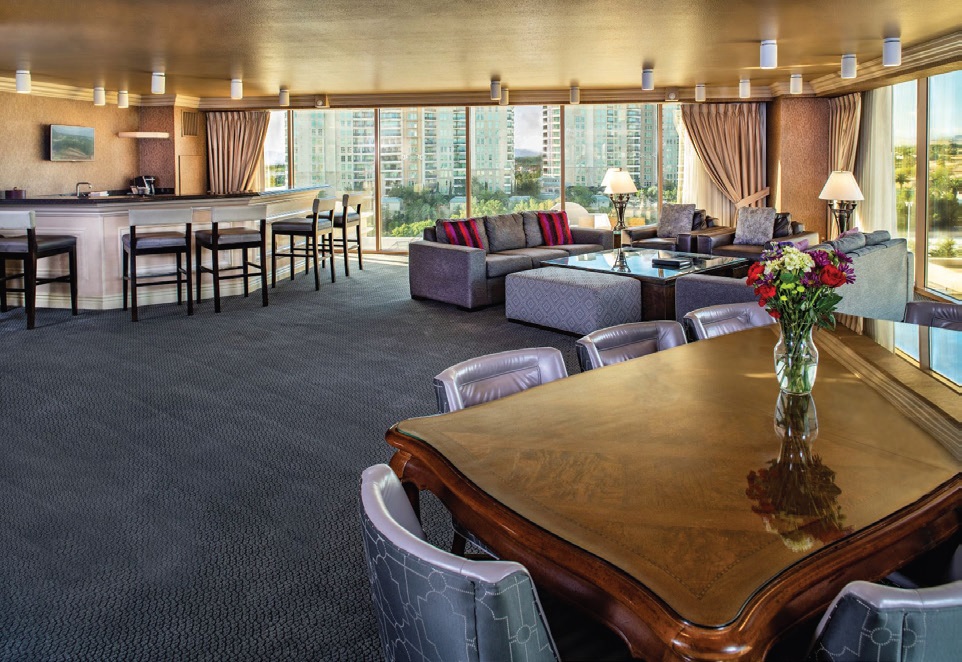 Image: Hotel suites at Suncoast Casino
How has the direction and vision statement for Boyd Gaming in Las Vegas changed since the pandemic? Or has it?
The pandemic certainly made us take a closer look at our operations, to find ways to be more efficient, effective and productive. The ways of operating as we did in the past required new perspectives and operating paradigms. For example, buffets in our company (and many of our competitors) have been eliminated and therefore paved the way for food halls, and other interesting food concepts. Additionally, our company focused a great deal of our resources and reinvestment into our best players, which has definitely reaped rewards the past several years, based on our results to date.
Suncoast Casino is an established property in the Boyd Gaming family here in Las Vegas. Please tell us more about that casino and your involvement in its operations.
I am responsible for the vision and direction of the property, the mentoring of our executives, and the monthly results. The Suncoast clientele is the most aged in our company, based on our location in Summerlin, which is a well-known and affluent retirement community. One of my goals is to transform the property to also appeal to younger guests, as we add certain amenities including new, trendy and popular restaurants. Entertainment is also something we are looking at, to bring a new and varied clientele to the Suncoast.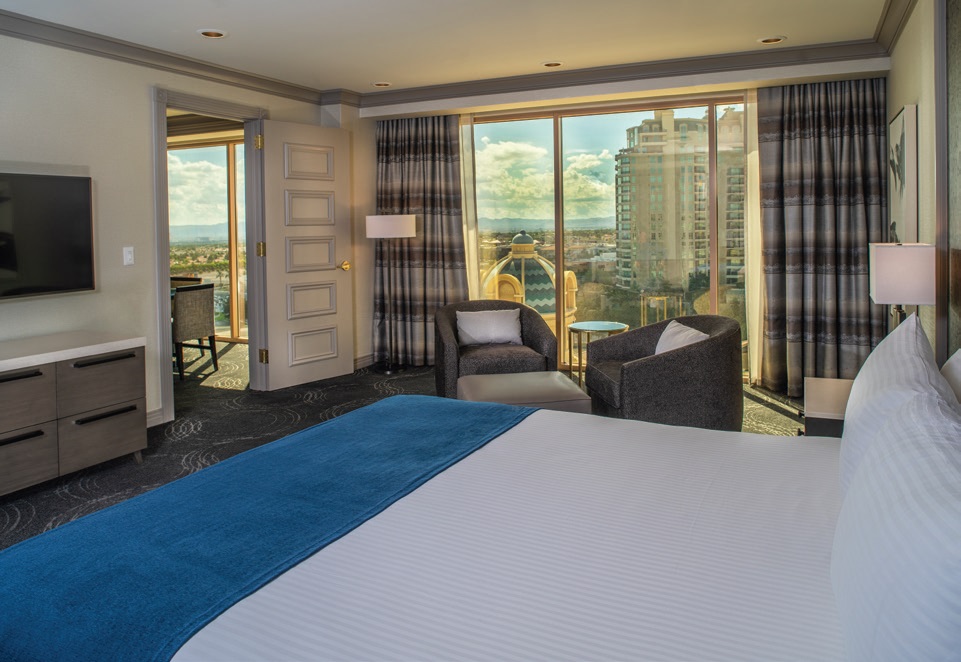 Image: The plush new bedroom suites at the Suncoast
Please tell us about the newest leadership appointments at Boyd Gaming, and at Suncoast Casino. In which roles they now serve within the company and at that property?
Two of my recent assistant general managers were recently promoted to general managers within Boyd. Chris Joy is now the GM of Aliante Hotel, Casino & Spa. Rick Goldstein is now the GM of the Cannery Hotel & Casino. Boyd Gaming prides itself on promoting women and minorities into management ranks, and six key leaders at Suncoast are Keno Ackerman, director of marketing and bingo, Michelle Bodendorfer, director of slots, Nicki Szyndler, director of catering, Cynthia Fields, director of human resources, Chris Carlson, director of sales, Becky Herman, bowling center manager, and Marshall Smith, hotel manager.
How do you see Boyd Gaming positioned in the current and future gaming market?
Boyd is well situated in Las Vegas to take advantage of the population growth and across the country to continue to expand online, as well as in sports betting operations as jurisdictions approve these betting options. Based on the company's low debt levels, we continue to evaluate merger-and-acquisition opportunities but only when they make financial sense and will grow our business. In the meantime, we continue to reinvest in our existing properties to ensure that they are well-positioned to take advantage of their existing market dynamics and to remain competitive.
Image: Brigg's Oyster Bar at the Suncoast Casino
Has there been an operational-perspective change – or any significant shift in casino operations – since the pandemic? Meaning other than the naturally required changes to general operations?
We took a very close look on how our business is structured, from labor to our expenses, and established priorities that maximize our overall profitability. We analyzed everything from our hours of operation, to casino, hotel, and restaurant offerings, and the overall structure and dynamics, to be sure they make sense and have the initiatives to stand on their own, and make a profit.
Please tell us more about the gaming floor at Suncoast, and in general at Boyd Gaming properties in Las Vegas. Which games – or type of games – are among the most popular in the local and regional markets?
The Suncoast slot floor is very competitive with our neighbors, and offers a wide variety of revenue-share games such as Buffalo, Dragonlink and Lightning Link, as well as many of the popular video poker platforms. On the table-game side, we offer craps, blackjack, roulette, Texas hold-em, pai gow poker, three-card poker and high-card flush.
What is the percentage mix of slots versus table games at Boyd Gaming properties in Las Vegas? How many slots and table games do you have on the floor at Suncoast?
Typically in the gaming business, slot revenue makes up between 70 to 85 percent of the total gaming revenue. It's no different at Boyd. All of our properties fall within this range and the Suncoast floor is predominately a slot-game-based casino. Units tend to fluctuate, but as of this writing Suncoast has just over 1,400 slot units, and 21 tables on the casino floor.
Image: SC Prime Steakhouse at the Suncoast Casino
What is new and innovative about the Suncoast?
We are always reinventing our business operations and looking for advantages, so I will not disclose some of the items on which we are currently working. However, from an amenity standpoint, we are opening a new Asian restaurant on March 31st called Taste of Asia. Award-winning restaurant operator Karrie Hung (current owner of Noodle Asia at Venetian and past owner/operator of Ping Pang Pong at the Gold Coast) is our partner in this establishment.
In addition, we are starting construction shortly on a new high-limit slot room, which will contain a new bar and lounge area. Additionally, a new steakhouse concept should open at the end of 2023 or early 2024. Suncoast has also developed a new concept called The Cove at Suncoast, which is a new and exciting pool/resort area (with a brand new jacuzzi/spa) that invites locals to visit as well. The Cove at Suncoast will open in mid-April.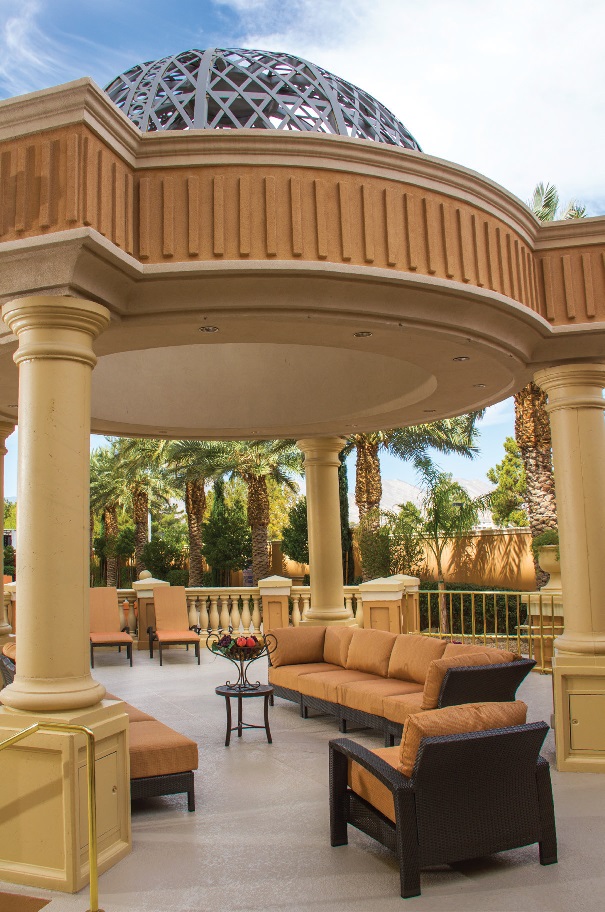 Image: The outdoor pool deck and Cove at Suncoast
Boyd has well-known poker rooms – please tell us more about live poker in Las Vegas, and what plans – if any – there are for this live game, and a poker room, at Suncoast Casino.
The Orleans Hotel & Casino has a successful poker room and thrives because of the volume of guests it's able to attract. At this time, no other poker rooms are planned for Boyd locally, or at Suncoast.
Please tell us more about the hotel facilities, dining and other non-gaming attractions at Boyd Gaming properties in Las Vegas, and at the Suncoast Casino in particular.
Recently, Boyd Gaming opened the Fremont Food Hall, which offers a look into how we are positioning the quick-serve dining options within our company. Obviously, all properties have different structures and opportunities, but our focus is to add a number of new, quick-serve options into our properties in the near term Suncoast dining offers Du-par's Café, 90 Ninety Gastropub, Brigg's Oyster Co., The Game Sportsbar, Subway, SC Prime Steakhouse and Seafood, Bagel Corner Deli & Bakery, as well as the Bowling Snack Bar. Taste of Asia will open shortly and our new steakhouse is in development.
From the perspective of casino operations, how do you see the Las Vegas gaming market in 2023 and going into 2024?
Compared to business volumes and trends in 2022, our business is holding similar to last year, and we see good things for Las Vegas this year and going forward.
What are the differences, if any, between the Strip market and the locals and regional markets? Do you see, or expect, any specific or perceived operational or marketing shifts within them?
Certainly, locals casinos have to market differently than the Strip casinos because there are not hundreds of thousands of people walking by each day. So marketing is more targeted, and direct mail/gift offers are more focused in our market. Relationships are also very important, because these players come to the property every day or two to three times a week, so they feel more like family over time.
Are there any other items, or news, that you'd like to share with our readers about Boyd Gaming properties in Las Vegas?
Boyd Gaming is a family-centric company that values longevity for its team members as well as for its customers. It's a good place to work and play.
Finally, in your career in gaming, and with Boyd Gaming, what would you consider to be the highlights?
Well, I have taken pride in mentoring many individuals so they can be promoted and prosper in their careers and within the industry. That's the rewarding aspect of management for me as I look back on my nearly four decades in our business. I have had many interesting experiences in the industry, working for the Gaming Control Board from 1987 to 1993, as well as many jurisdictions and types of casino businesses. It's been quite an exciting journey.
On behalf of Casino Life Magazine and Outsource Digital Media, I would like to thank you, Tony, for your time, and for sharing this with us and our many readers worldwide.
*** This interview was originally published in Casino Life Magazine Issue 157 March 2023***