We are grateful to your for your generosity in answering our questions. First, I would like to ask you to introduce yourself, and tell us when and why you started working in this industry.
Thank you for the opportunity, I love the chance to share my enthusiasm for the industry and my role as a marketing leader across diverse markets. I have over 20 years' experience in the gaming industry, beginning my career in the compliance department of Anchor Games in Las Vegas. I immediately loved the sense that a corporate job could lead toward the betterment of the communities in which we serve. Combined with the thrill of working in an entertainment industry and being given free rein to learn new technology, and as opportunities presented themselves, I felt that I had found the perfect industry! IGT's acquisition of Anchor Gaming allowed me the opportunity to relocate to IGT's then-corporate headquarters in Reno where I worked extensively with cross-functional groups implementing a range of software solutions. Seizing an opportunity to join the International division, I moved to Amsterdam in 2006 as the product manager for international casino products, overseeing and crafting go-tomarket activities for all markets outside of the U.S. and Canada, and have since held various global marketing roles for well over a decade. Currently I reside in London. and am responsible for the global marketing operations, marketing-automation and sales-enablement technology platforms. Additionally, I continue to lead marketing teams across Europe, the Middle East and Africa, and Latin America and the Caribbean, and thrive on the complexity of leading multi-national, multi-cultural teams across geographies.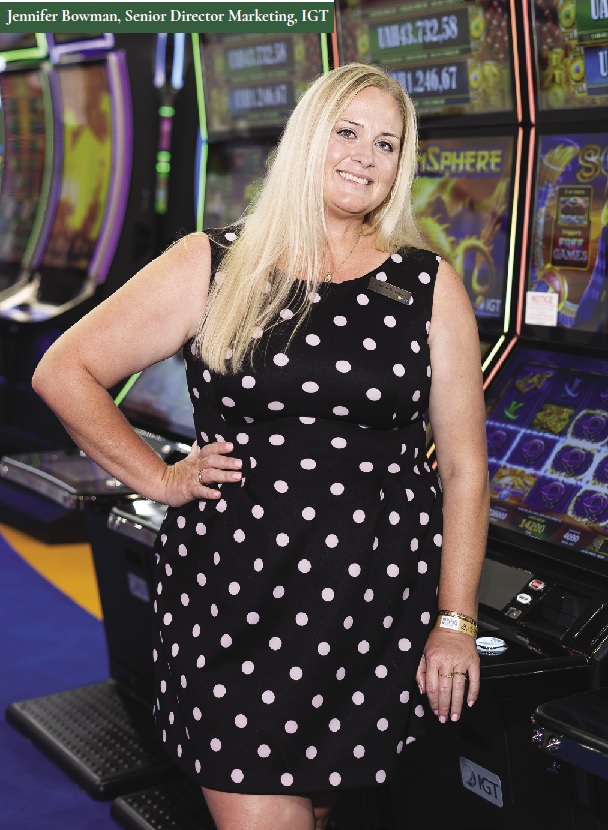 What is involved in your role as senior director of marketing?
I have held many roles at IGT. Over the past decade my role has evolved to ensure that we are adapting to the latest market and business needs. In my current remit I oversee all marketing activities for EMEA and LAC, and at a global level, all our marketing operations. What I love most about marketing is that there are so many facets and skills to master. With a market-specific role, my team members have the opportunity to wear many hats, and enjoy a diverse set of duties on a daily basis. My regional teams are responsible for regionally focused product marketing, field marketing, event management, branding and digital marketing, including social media. They craft the go-to-market positioning of our products intended for EMEA and LAC markets, provide creative direction for related marketing collateral, design integrated campaigns, provide launch activations in the field, and plan our presence at trade shows. All of these varied activities are done in concert with ensuring that customer communication and social media content are engaging, targeted, and within our brand standards. From a marketing-operations perspective, I oversee the strategic procurement and program management of the technology stack that the global marketing team leverages to support all of IGT's business verticals. Part of this tech stack includes integrated sales-enablement platforms for ease of accessing content needed during a sales cycle versus marketingonly usage. Thus, marketing-operations roles vary greatly. One day it could be the distribution of a global customer communication in Salesforce.com Marketing Cloud, another it could be securely providing training or marketing assets to our sales team. Importantly, our marketing technologies produce valuable analytics that enable us to determine the usage of our tools and the impact our campaigns. I love the diversity of my daily duties whether it be working with live customer events and product launches, providing campaign strategies or leveraging integrated technology. The diversity of my work keeps my day fresh and varied, and there is always someone interesting to talk through a current campaign, which keeps the focus on fun and entertainment.
What have been your personal highlights of the past year?
I was absolutely, over-the-moon thrilled to be back hosting IGT customers at an industry exhibition after over a year of hosting virtual events. I believe that the best way to capture the love and energy that people have for an industry is at a live event such as a trade show. You could see the relief and joy on everyone's faces as they would greet old friends, colleagues, customers and competitors, and feel a collective sigh of relief as the world of gaming looked to each other, and collectively toward a sense of recovery. I love that 2021 was a great lesson in adaptability and flexibility as the market opening status and restrictions were continually shifting around the globe. The ever-changing market conditions forced us to make the plans as needed, sometimes shelving them for later use, and to be ready to react immediately, upon markets reopening, to assist our customers with launch activities. Most of all, it was incredible to be able to see so many people whom I hold dear in person to know that they were safe, to hear what great ideas they had hatched, and to see innovation continue with new products and technology brought to market. For me, it all started with Ukraine this year and it was so wonderful to see the Ukrainian market reopen, the industry gather and people closing 2021 with their sights set toward the future.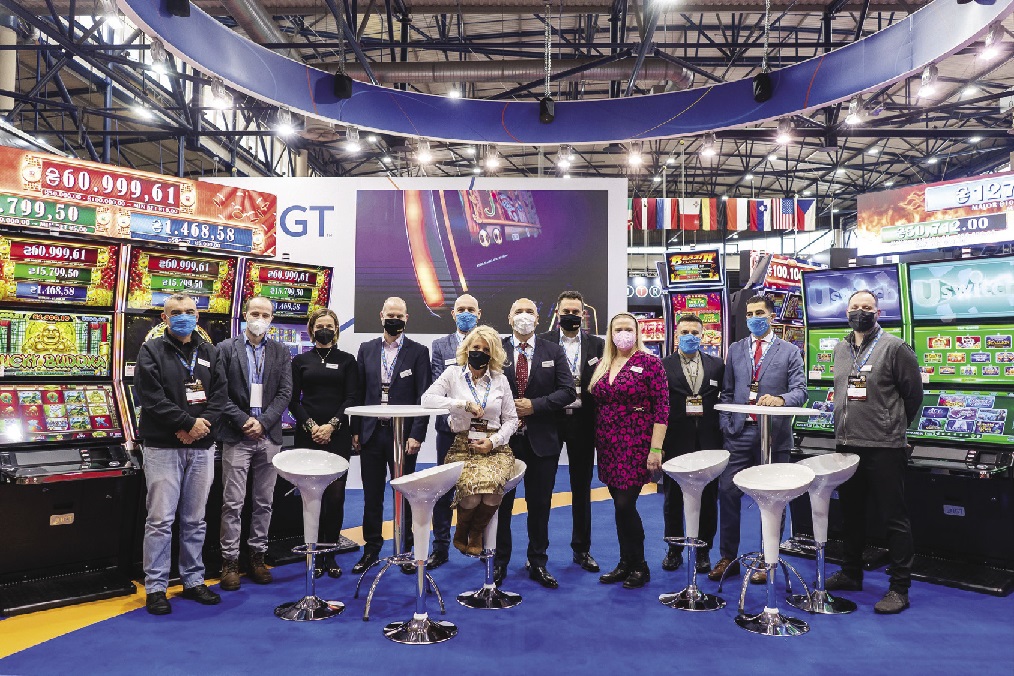 Given your global presence across Latin America, Africa and Europe, to what extent do you look to personalize for each region?
It is paramount in marketing that we are curating content that is relevant to the market. We create campaigns that are impactful and resonate with the target audience. Speaking our customers' or players' language, not only literally with language translation— although that is an element of complexity that we navigate—but in the beautiful, smaller nuances that help to define doing business in a new culture is critical. My favorite part of my role is that I work across a diverse multi-national, multi-cultural employee, customer and player base. Understanding the nuances that are unique to a culture is critical for a marketing campaign to be successful. Examples can range from how a business meeting is conducted, to the level of formality of address in our marketing communications; the shifting player demographic and their behavioral differences are all part of what we do every day. My team strives to create engaging content that provides insightful information to our customers. We create content that will help our partners speak to their players in an educational and entertaining way that is within our customer's brand whilst representing the IGT brand. IGT localizes its products to meet the unique player needs and preferences in individual markets and marketing has the privilege of telling this story. Our stories must shift to resonate with our audience which can range from players in Romania who love fruit machines, to a casino player in Mexico who may experience a holiday-promotion weekend, to a player who first visited Monte Carlo and stumbled upon a casino. IGT has this great opportunity in the Ukrainian market, where we had a very strong brand presence prior to market closure, and now we can bring back the love for IGT games to players in a fun and interesting way. Understanding the local markets, and how to help our partners build affinity for IGT products, will only happen if we personalize the content created for each experience.
If you could choose anyone, who would pick as your mentor?
 If the time-space continuum was not an issue, then without hesitation it would be Amelia Earhart. The story of her adventures, and her love for exploration and aviation I find thrilling! Her pioneering and indomitable spirit forging new frontiers for women has always commanded my attention. I love finding fierce, brave, unconventional people in the world and spending as much time with them as possible. It keeps my perspective broad and my mind open to new scenarios, facilitating new approaches to problem solving. I work with several mentors currently, both inside and outside gaming, and they are brilliant, inspiring humans each in their own unique way. Most of all, my mentors lend such a wonderful, unique lens to how they see the exact same scenario I present myself in, and I find this perspective refreshing. When my ideas are challenged, it forces me to examine my perception. As a result, I stay creative, resourceful, and the work remains interesting. When mentors share their wisdom with me it is great to see how they have navigated strife, not only their public successes. I find it so enriching to have a community that can lend me their wisdom and experience and encourage everyone to have more than one mentor to benefit from this diversity of thought. Ultimately, after years of coaching and experience, I hope that when I am faced with complexities in life or work, I can learn the lesson that the challenge provides me and take that lesson as a gift forward.
Coming from the Midwest, how do you like London? Was it a big culture shock?
 I was incredibly fortunate in my childhood to spend time living in my parents' separate households. I was raised primarily during the school year in a very small town of only 74 people in Idaho, on the Montana border along the Continental Divide. Location and population constraints alone taught me many lessons including the meaning of community, survival skills (it was the mountains, after all) and how to be a selfreliant, resourceful problem-solver, as there usually was no one within 120 miles when you needed to 'call a professional.' I spent my summers traveling to be with my father, who was working as an engineer in the power industry and constantly in a new location. These summers of adventure provided me balance to offset living in such a small, rural community. He also instilled this wonderful sense of wanderlust, which still fuels me today, and I hear its constant beckoning and yearn for continuous exploration. I remember having almost paralytic anxiety about how to function in a larger city and crafting a step-down plan of how to integrate and survive. Although I was well travelled as a child, I had no idea how to take public transport, had zero street smarts, and no idea how to navigate a world when you didn't walk past every person greeting them with a smile and saying hello! I made a series of moves that helped prepare me for living in a large metropolitan city and, luckily, I moved to Amsterdam as my first European home, a city with such a diverse community of expats. I was welcomed and helped by so many as I suffered massive culture shock settling into a European lifestyle. I was thrilled when the opportunity to work and live in London presented itself. It is such a beautiful city, not only incredibly diverse, but steeped in iconic historic monuments, museums, the theatre district—oh, how I could go on extolling London's virtues! I remember one scenario when I first moved to London, nine years ago, that sums up my experience of a small-town girl finally moving to London. It was a cold winter day and as I climbed out of the tube and walked through our large business complex, I said hello and smiled, greeting everyone only to have looks of incredulity returned. Promptly I retold my commute to my colleagues and asked why everyone is so incredibly grumpy in London. My tale was only met with laughter and a stern lecture that I was to stop speaking to every stranger I pass on the street. Apparently, much to my disbelief, we aren't all colleagues if we only share an office building skyrise. That morning reminded me that I am still very much the person that has zero stranger-danger and will talk to everyone! However, I do know that such a quality is one of my favorite things about the people in the gaming industry—we all assume that if you don't know me, you know someone I know, and I might find out your hobbies and your entire work history when I bump into you at a trade show.
What are your views on what the industry needs to do to help attract and retain more women?
Over the past month I kept seeing the same quote across multiple social media channels and it always made me stop and pause: "Surround yourself with women who would mention your name in a room full of opportunities." It is such a simple idea, not only for women but for everyone in gaming to approach each of our workdays with intentional inclusivity.
If you know of a woman that is talented and it would offer an opportunity for growth or a new experience, are you helping to make the introductions and recommendations?
At least once a week I am approached regarding someone in my network all looking for various things ranging from assistance finding a mentor, looking to fill a vacancy or for an introduction. Without hesitation, I provide several options if I can think of anyone that might be a good connection or introduce them to a professional in my network that might be able to assist. The gaming industry is building more diverse and inclusive work environments not simply because it is the right thing to do, but it's what must be done by companies in order to thrive. It should become ubiquitous to have conversations of opportunities naturally turn to those we know in our network, and it is the responsibility of those who have history in the industry to continue introducing new talent so that they have the opportunity to learn. Additionally, we all benefit from a fresh perspective. I think that mentorship plays a huge role in retaining talented women in gaming, and it brings me such joy to be a mentor as well as to work with many of my mentors. The most wonderful thing about gaming is that there is so much opportunity for anyone that wants to learn. That spirit pervades markets and organizations with such an energy that we need to show women in gaming the opportunities that do lie ahead and prepare them to take advantage when they are present.