Sim Bielak, President of Global Gaming & Amusement Business, SUZOHAPP chats to Glyn Thomas
SUZOHAPP, a leading supplier of components and solutions to the casino industry, just promoted Sim Bielak from Chief Marketing Officer to President of Global Gaming & Amusement business. Bielak has been with SUZOHAPP for six years and was tapped for his experience in this gaming sector. "Sim knows this business well and will bring the knowledge and energy needed to serve our customers well and deliver strong results for our company," says Managing Director Ken Brotman. SUZOHAPP looks to maintain its status as a one-stop shop for the casino industry, for everything from LCDs to TITO ticket dispensers—hardware that will surely be on display at the impending trade shows.
Congratulations on your recent promotion. What are amongst your main goals in the years ahead?
Thank you. I am deeply honoured to be leading the Gaming and Amusement division at SUZOHAPP. Make no doubt about it – gaming is our core business. Our roots are in gaming and we are extremely focused on supporting and growing our global business here.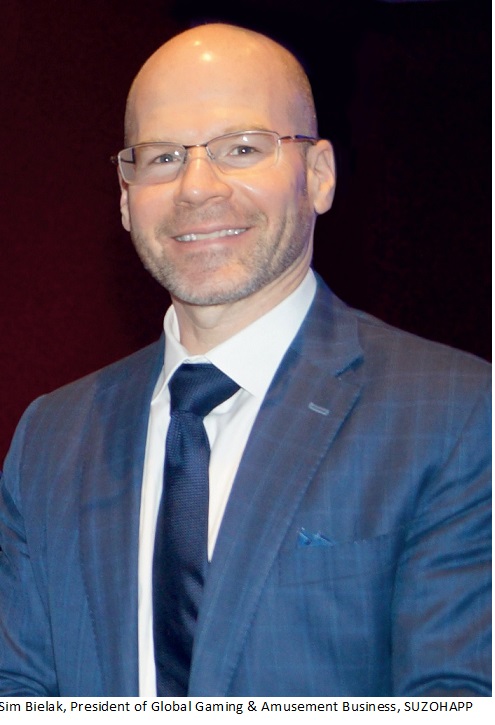 How important is customer satisfaction for SUZOHAPP?
Customer satisfaction is a core element for us. We are always striving to improve our customer satisfaction.
Which brands are your best sellers in the Gaming Sectors?
We have a combination of our own brands that we develop and manufacture ourselves and leading brands that we exclusively distribute in the global gaming market. VisionPRO™ is our monitor range. Our new VisionPRO™ 4K 43" LED-Framed monitor has a frame of colour surrounding the display and is available both in Edge- Lit and Front designs. It features a 4K UHD panel with a brightness of 500 cd/m² and a contrast ratio of 4000:1. The Edge-Lit design is meant for external use where the monitor is floating outside the cabinet with VESA mount (the LEDs are visible from the sides and front), and the Front version is designed for flush integration within the cabinet. All the VisionPRO™ LED-Framed models from 21.5" to 43" are available in touch or non-touch, with either addressable or RGB LEDs. There are now more than 50 models in this product portfolio.
ELO is the leading supplier of touchscreens and monitors. We have been exclusively distributing ELO products for many years. Other major distribution partners include NEWLAND (scanners) and NANOPTIX (printers). In total we offer over 50,000 different products. Many are SUZOHAPP products, such as bill readers and recyclers, coin hoppers, slot machine toppers, pushbuttons, controllers and power supplies.
'Simplify your Sourcing with SUZOHAPP' – does that sum up the company?
It sure does. We take away the complexity of the purchasing decision. We have amassed a great amount of knowledge and combine this with the industry's largest component range. We provide exact advice that corresponds to our customers' needs. This brings true value to our customers. They can rest assured that they can find the right solutions. Not only that – we naturally offer economies of scale. Our customers save money when channelling their requirements through us. Another important saving is time. Our customers do not need to speak with multiple vendors. They have one contact at SUZOHAPP who covers all their requirements. Furthermore, our sales team is multi-lingual so more often than not our customer can deal with us in their own language. We take pride in our business relations and invest in visiting our customers. This helps us to understand even more their needs to create a true win-win business relationship.
As the industry consolidates, working with a global supplier with a local presence like SUZOHAPP simplifies operations while maintaining local connections for support and service. With our wide range of components and technologies for gaming machines and sports betting terminals, we deliver the most complete offering in the business. . Gaming machine and sports betting kiosk manufacturers find in SUZOHAPP a one-stop-shop for all their product needs which significantly simplifies sourcing.
What are the key features of SUZOHAPP that set it apart from its rivals?
Current developments within the industry indicate solid growth in the Casino sector and exciting potential in the emerging Sports Betting market. At the same time, the industry is consolidating and the players are becoming more global. Customers want the simplicity and efficiency that comes from working with global suppliers, rather than having to manage many local or regional suppliers. Our global operation is able to deliver that efficiency, while maintaining a local approach to customer relationship development and service.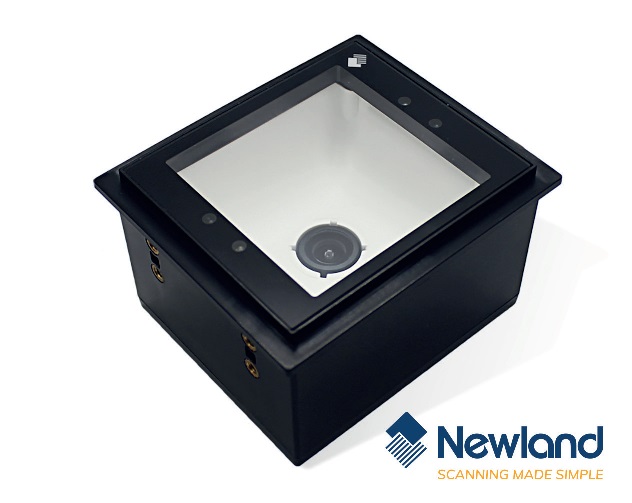 What Cash Handling Products do SUZOHAPP Provide for a casino cashier?
We have a very strong set of solutions with our CashComplete™ range. In particular our RCS – Recycling Cash Solutions – are ideal for gaming. The RCS-500 and RCS -700 are the solutions best fit to this market. These heavy duty cash recyclers offer a host of benefits, being ultra secure, fast and efficient as well as giving real-time information on the cash stored. The RCS-500 can store up to 12,500 bills and the RCS-700 can store up to 16,400 bills – so are ideal for casino requirements.
How does the company cope with working in so many countries?
We are a truly global team and we know each other well. We communicate and share information. Adding to that, we have simplified our organisation, bringing the individual subsidiaries closer together. This can be well seen, for example, at international exhibitions where the team from around the world comes together.
SUZOHAPP is also a big supplier to the OEMs sector. What are amongst the key reasons why the company has been so successful over the years with leading manufacturers in the Gaming and Amusement sectors?
We provide practically every component that an OEM needs. Our 'Simplify your Sourcing' credo makes purchasing such requirements very easy. We have a great team with many years of experience. We understand that manufacturers and operators value innovation to drive growth, but also need simplicity and efficiency to keep operating costs low – these are the benefits of Simplifying your Sourcing. Lastly, we have very keen lead times – often the products are in our warehouse – meaning that we can get the products to our customers quickly and efficiently. Today more than ever our customers appreciate this as their customers often do not give forewarning of their requirements.
Exhibitions are clearly important for SUZOHAPP, but with so many what criteria do you have for your choices with which ones to exhibit such as G2E Las Vegas BEGE Sofia and ICE London?
It is a critical factor for us to be present at major gaming exhibitions to demonstrate our latest innovations and for our team to answer all the questions of our visitors. We often exhibit at local shows and when this is not possible you can bet that we will be walking the show floor to reach out and speak with our customers. Please make sure you pop by and see us at the show(s) you'll be attending.
What can visitors to the SUZOHAPP booth at this year's G2E Show expect to see?
New leadership, new products and a new vision. This will be the first G2E for me in my position of globally leading gaming and amusement at SUZOHAPP. I am pleased to welcome Todd Sims, our new Vice President of Gaming & Amusement for North and South America.
New products to be introduced at this year's G2E include the Newland line of scanners, new printer models from Nanoptix, the high-tech lock system e-LockPro, custom lottery and sports betting AiOs, and an expanded VisionPRO™ monitor line.
Have you anything else you would like to add?
I'd like to state how passionate I am about the gaming business. I am really excited to be leading such a talented and dedicated global team. I look forward to greeting our customers at the G2E and would welcome any new faces to come and see us as well.