Chris Sanson talks to Lorenzo Verona, 
Commercial Director at 
VNE
VNE launched the new 2 pence change machine specifically for the UK market at this year's ICE Totally gaming.  Although it's only a short time since the show, what was the general opinion of this new machine that incorporates a stunning high quality video along with over 18,000 coin storage capacity?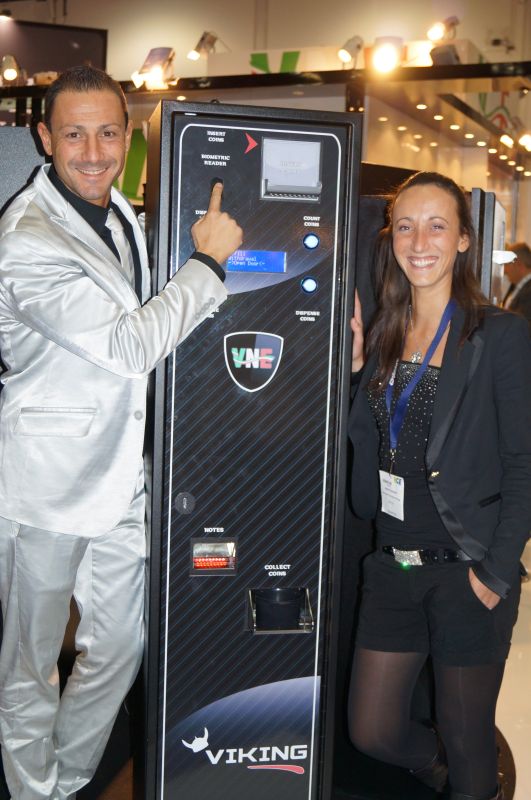 The ICE is 'Totally Gaming' and very international, yet we found it only fitting to introduce the 2P change machine at this exhibition as it is based in the UK. The 2P is targeted for the UK amusement market. It is an excellent example of how we work. We look to solve the operator / customer problems in individual markets / countries. That is why we have such a large range of change machines. The operators from the UK amusement industry who visited our stand commented on the extra value they are getting from the 2P from VNE. It not only works as a very secure, solid change machine with the fantastic capacity of 18,000 coins. It is also a multi-media device that can be used to display messages, advertising, promotions, videos, etc. The in-built speakers means it can function as a juke box. The large screen means it can then function as a video juke box. By the way, the 2P offers coins-to-coins change. For customers who require both notes-to-coins and coins-to-coins, we have the 'Maxi Changer'. It is thus exactly the same as the 2P changer with the addition of a banknote reader.
How many change machines from VNE are in operating & what do you think are the key reasons why the company is the market leader in Italy?
There are over 60,000 change machines from VNE in operation in Italy alone. The international demand for our change machines keeps on growing. The security and ability to operate them online (for accounting and security purposes) means that we can offer real-time support and service to customers around the globe. The reason why we are market leaders in Italy is that our customers tell us we have the best solutions for the market. We cater to both VLT and AWP. We even have a Cheque Machine to print cheques (which is possible in VLT arcades in Italy). Thus, we have very close dialogue with our customers and work very hard in creating the solutions to match these requirements together with our own specific knowledge.  
In addition to the 2 pence change machine you also exhibited the new Viking change, which has increased change capacity and network connectivity, could you explain the benefits of these modifications?
The Viking indeed offers a great deal of benefits. The latest addition to the VNE change machine family, the Viking is true to its name – with even more in-built strength and security. The Viking can change notes and coins and vice versa. It is fitted with the latest CashCode bank note recycler Bill-to-Bill 200 that can dispense up to 200 notes in total (2 denominations, 100 of each). Various cashbox sizes are available (up to a maximum of 1,000 notes). The Viking is equipped with two heavy-duty hoppers with a capacity of 2,500 coins each (thus 5,000 coins in total). A discriminator hopper and coin validator at the upper section of the VIKING enables bulk coin feed.  Coins are divided into two hoppers for high capacity alongside a cashbox for the overflow coins or for those coins which are not to be recycled. Thus, with just one cabinet several configurations are possible.
 The network capacity means that operators have real-time information on all transactions, the current banknote and coin levels in the various components. For VNE, we can offer real-time support and service. Furthermore, the Viking is always traceable – we have linked our software to google maps – for security purposes.
Remote monitoring & supervision is a great benefit especially when compared to older stand-alone alternatives?
This is very true. We offer these services as standard. Remote servicing / support. Operator real-time information. Information on the change machine whereabouts (in case they are stolen – this is a great tool). That just underlines why we are the number one in Italy.
What are the security aspects of the Viking?
Here are just two examples:
The Viking door comprises of two separate sheets of steel. The door hooks have been strengthened. The Viking is indeed a heavyweight, entering the ring at 150kg. 
Secondly, inside the Viking, it is divided in different sections: in this way it will not be possible to have access to hoppers or to the bill cashbox without having keys or without being authorised.
Security – simplicity – service. This is our company philosophy.
This is the Enada Rimini Show issue with that in mind is there anything you would like to add for those attending the show?
We will be exhibiting from our large stand as ever in our home country. One further point I would like to mention. A different way to finance the investment in VNE change machines. We introduced this finance model at the last ENADA and proved an instant success: We offer the possibility to rent our change machines. This can open the door to new customers or maybe customers may prefer this finance method. Also, we would like to add that we also have a retail solution for paying bills, topping up mobile phones, etc. This highly technical retail machine will be on proud display at the ENADA Rimini.
A further highlight at the ENADA Rimini will be the introduction of ToolGame. ToolGame is a complete operational software for real time control of both change machines and AWPs on site. The combination of data, resource , management, controls and assistance, analysis, accounting and management takes such online management for operators to the next level. 
See you in Rimini!