Bill Healey chats to Paul Simmons and Tim Nguyen, founders of Platinum Entertainment Limited, the management group for Royal Casino HaLong
Emerald waters and thousands of towering limestone karsts draw tourists to HaLong Bay, an enchanting UNESCO seaside community in northern Vietnam. As one of the leading tourist destinations in the north, expats and tourists typically journey to HaLong for a 2-3 day scenic cruise.
Recreation, leisure and entertainment have been growing in this coastal city with golf, nightlife and casino gaming. One of the few casinos in northern Vietnam is the Royal Casino in HaLong. Casino Life has been fortunate to catch-up with Paul Simmons and Tim Nguyen, founders of Platinum Entertainment Limited (PEL), the management group for Royal Casino.
Could you provide background on how Platinum Entertainment Limited got its start. Who are the founders of the group and what are their experiences in the casino market?
Platinum Entertainment Limited was formed in March 2019 by Paul Simmons and myself (Tim Nguyen). We had been working together in Vietnam and before that in Cambodia and Laos for the last 10 years. During this time we gained an invaluable understanding of the dynamics of the local gaming industry, both in terms of government regulations and marketing drivers. With the current expansion of the gaming industry, particularly in Vietnam, we saw the need for a knowledgeable consulting company with local experience to assist new entrants and existing operations establish and grow their operations.
Paul has worked in the gaming industry for over 40 years starting in the United Kingdom, then South Africa and Australia where he was a member of the opening team of Burswood International Resort (now Crown Perth) holding the position of Executive General Manager International Business and prior to that, General Manager Casino. Since 2005 Paul held senior roles in Galaxy Macau, Nagaworld Cambodia and most recently as the Group Head Operations for Silver Heritage Group overseeing their gaming operations in Laos, Nepal and of course Vietnam.
Myself, having completed my B.A. in 2002 I took a position with the Royal Casino HaLong Bay, Vietnam as a member of the VIP Services department, which introduced me to the world of casino marketing. Following Royal Casino I moved to Cambodia holding positions with a number of casinos including a contract to set up the casino marketing department in Vietnam for Nagaworld. More recently I have held the role of Director of Silver Heritage Vietnam, and have consulted to a number of gaming companies in the region and of course I have now returned to the Royal Halong Casino in a consultant management role.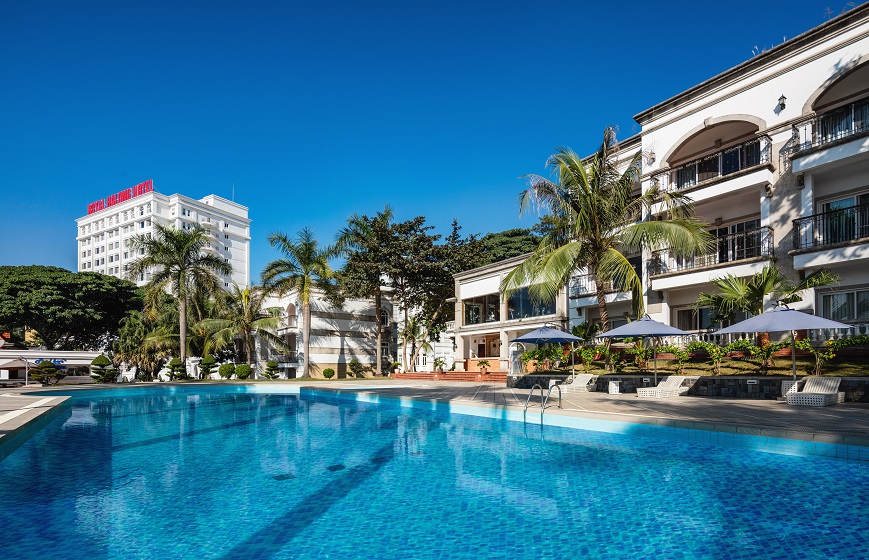 What is the group's geographical plan? Will PEL reach beyond Vietnam?
PEL is deeply rooted in Indochina and has extensive experience across the whole region including Australia, Macau, Malaysia, Singapore and Nepal. This provides a unique experienced based skill set which can be applied to new facilities or existing properties across Southern and SouthEast Asia looking to establish and/or grow their business.
PEL's first client is the Royal Casino in HaLong Bay, Vietnam. What is PEL's role with the property?
PEL has been appointed as the exclusive manager of the Royal Halong Casino. Royal management recognized that the casino was operating following the same operational procedures and organizational structure that had been in place since the company's inception and that as a consequence was functioning below it's full potential. Our brief was to review and reform all work practices with emphasis on three core areas; organization structure, technology and operating procedures.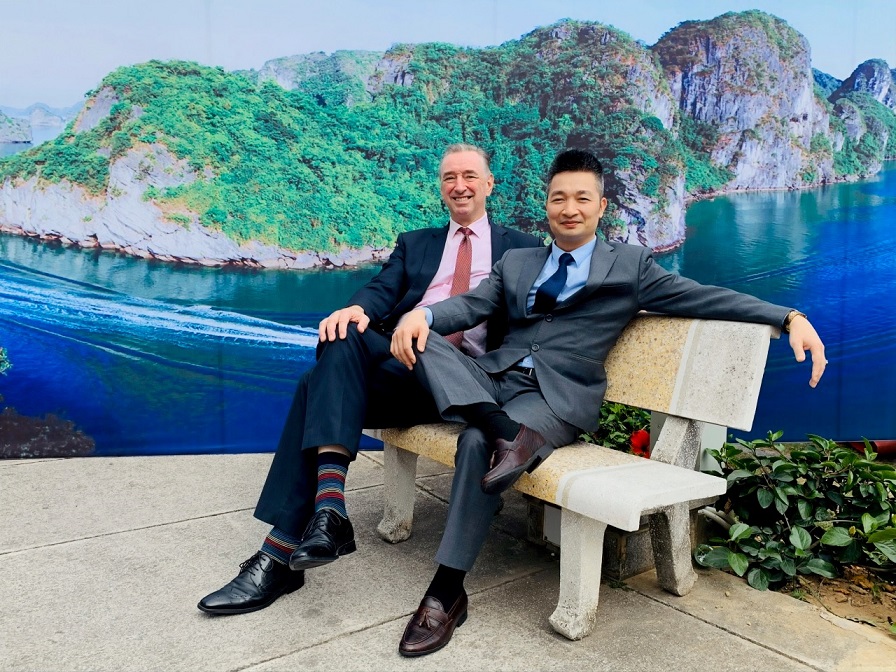 Image: Tim Nguyen Managing Director  and Paul Simmons General Manager Platinum Entertainment Ltd
A change management program was required covering effective training and skills upgrading for the organization. The process commenced by identifying champions in key positions to communicate the need for change. Following this, emphasis has beenconcentrated on redefining the VIP Services and Marketing departments strategic direction, reviewing and amending casino operational procedures and raising skill levels equal to that of a contemporary international standard casino.
From a facility and technology perspective the objective is to enhance the entire customer experience starting by redesigning the gaming floor layout and traffic flow, to introducing exciting and stimulating gaming promotions, and completely overhauling the gaming loyalty programs with the introduction of a comprehensive casino management system. Royal Casino is fortunate in that it already has a wonderful pool of young talent to work with. The local Vietnamese are famous for their warm hospitality and this provides the foundation on which we are able to capitalize and create an energized and welcoming atmosphere throughout the resort casino.
How long has the Royal Casino been operating? Was PEL involved with the casino planning and opening, or did PEL come in after the casino was open?
Royal Casino first opened its doors in 2003, PEL was not involved with the casino planning and opening. I was, however, a foundation employee back in 2003 which had given me valuable insights into where change needs to occur for Royal to be able to compete in a rapidly expanding industry in Vietnam.
What makes Royal Casino unique?
Apart from the genuine, warm hospitality of the Vietnamese staff, Royal Halong is located in the iconic UNESCO World Heritage Area Ha Long Bay, which is truly one of the most remarkable natural wonders of the world. A visit to the Royal Halong casino has everything one needs to ensure a most memorable visit. Ha Long Bay, which means "Bay of Descending Dragons" features 1,969 amazing limestone 'karsts' and isles in various shapes and sizes and has featured as the backdrop in numerous feature films, most recently the Hollywood monster movie Kong. Skull Island featuring Samuel L. Jackson was also shot here. Ha Long Bay is also home to the largest theme park in Vietnam attracting visitation from across the region and supports Royal Halong Hotel and Casino as an ideal venue where families are entertained while the adults can enjoy the excitement of the casino.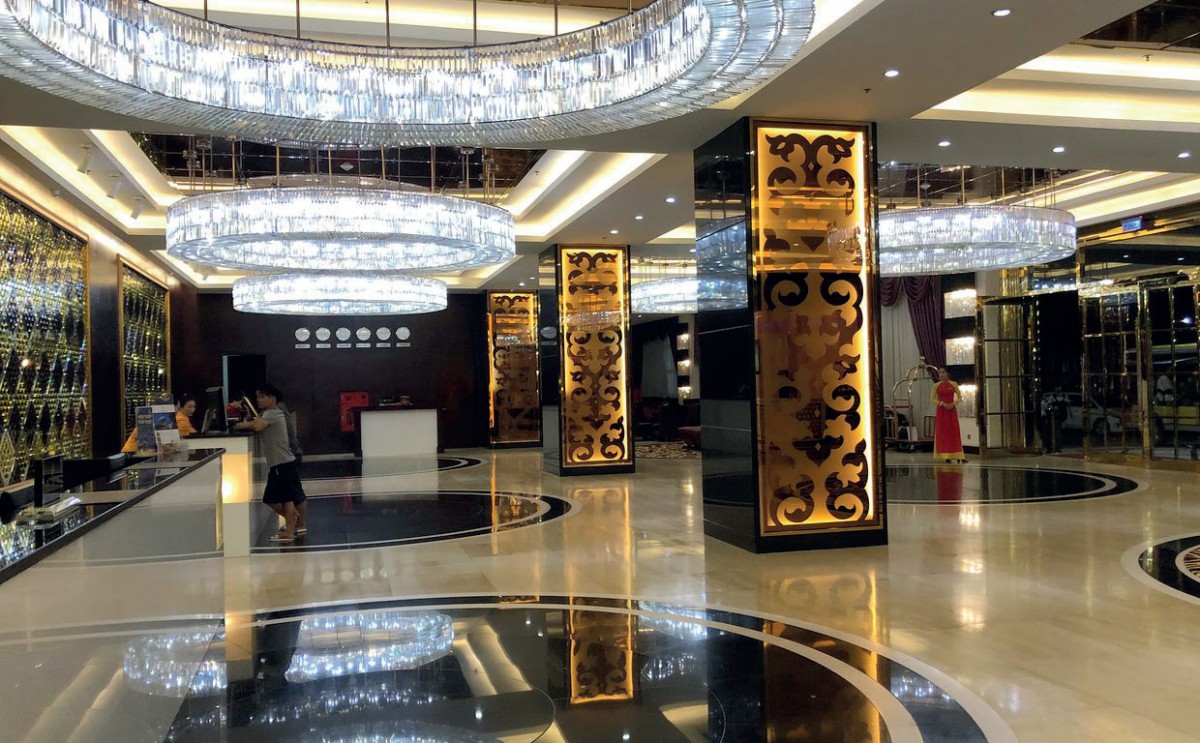 The Royal Casino Ha Long Bay is within a UNESCO World Heritage site. This must draw many global tourists into the hotel and casino. What is the mix of customers to the casino?
Yes Ha Long Bay is fortunate in that it is unique and attracts worldwide visitation however from a casino perspective the major player base is drawn from China, Taiwan, Korea and Malaysia.
Are local Vietnamese allowed to gamble at the Royal Casino?
Current Vietnamese regulations permit entry for foreign visitors and Viet Kieu i.e. Vietnamese holding a foreign passport only, however, the government has relaxed this regulation recently allowing two new Integrated Resorts, of which one is yet to open, to trial entry for Vietnamese subject to mandatory minimum income requirements. Given the level of employment created by casinos and in an effort to stem the outward flow of Vietnamese gaming dollars estimated to be at least $1.2 billion to nearby countries such as Cambodia, Malaysia and Singapore, we are hopeful this trial can be extended to include existing licensed casinos in Vietnam.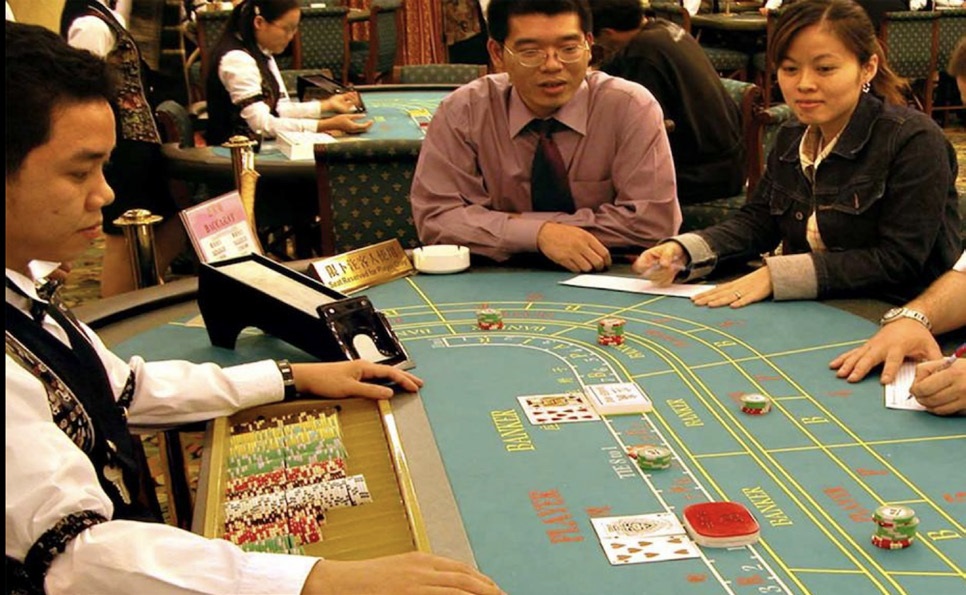 Is there an active program to help locals with gambling addiction?
Locals are not permitted entry so there is no specific program targeted at locals. We are concerned however that gaming in Royal Casino does not potentially lead to any of our casino patrons self harming through problem gambling and provide support via a voluntary self-exclusion program that they can join. In addition information on harm minimization is available throughout the casino.
What is the size of the casino in terms of area, number of table games and number of slot machines?
The casino has no restriction on the size of the physical footprint of the gaming area and is currently licensed for 18 tables and 70 Electronic Gaming Machines.
Are there tournaments at Royal Casino?
Royal Casino has not held tournaments up to now but this is very much an area we will be concentrating on so watch this space. We are currently planning a Baccarat tournament in June and this will be followed by a Roulette tournament in August.
What are some of the marketing efforts to draw new customers into the site?
As mentioned our initial focus is on rejuvenating the gaming offering in terms of the physical product and the human capital skill set. We intend also to capitalize on the expanding infrastructure linking Ha Long to Hanoi via the new expressway which has cut travel time by more than 50% and which now enables us to actively market in Hanoi, a city of over 7 million people with a large expat community both resident and travelling businessmen, also the opening of the nearby new Van Don International Airport. By 2020, the airport is forecast to serve around 2 million passengers a year, with the potential for 5 million visitors by 2030 and is already servicing flights domestically from Ho Chi Minh City and internationally from Shenzhen, Changsha and Seoul. Further we are looking to partner with Junket operators seeking a new and exciting destination for their clients.
Are there non-gaming activities that draw customers to the Royal Casino?
Royal Halong Hotel offers our guests a relaxing and fully equipped spa and beauty therapy salon, two gymnasiums, two swimming pools, one indoor and one outdoor, the largest and most lavishly appointed KTV in northern Vietnam and of course just step outside and you have the majesty of the World Heritage listed Ha Long Bay and the largest and most exciting theme park in Vietnam which is located a short ten minute drive from the casino.
What type of social responsibility and community development is PEL involved with?
Royal Halong has a long association with local charity donations and support, last year Platinum Entertainment Limited and Royal International Corporation executives attended a Christmas lunch specially prepared by the Royal Halong Hotel chefs for the children of the orphanage of Quang Ninh Province. The home cares for disadvantaged and special needs children who have been abandoned or are blind, deaf, mute or infected with HIV.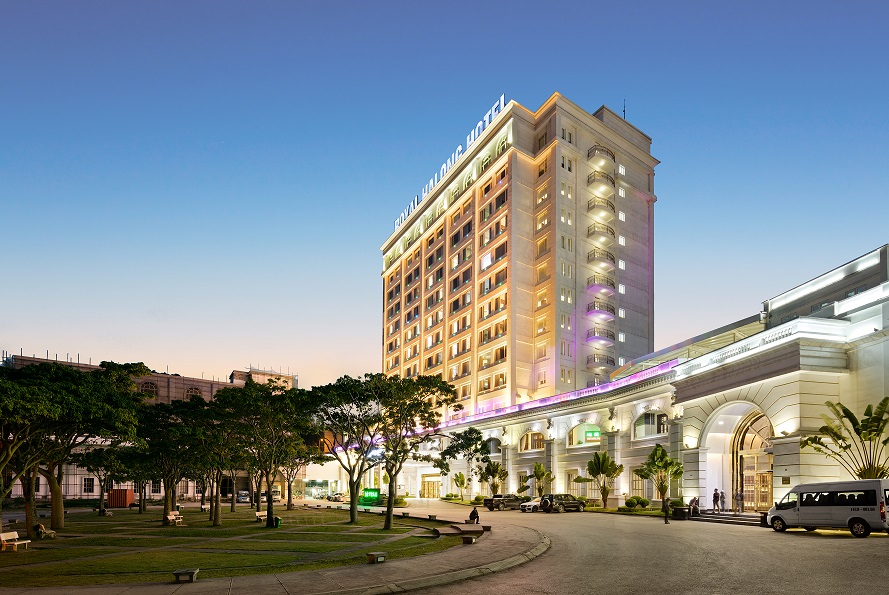 What are the guests' favorite table games?
As with most Asian casinos, Baccarat is the main attraction, accounting for up to 80% of play with the old favorites American Roulette, Blackjack and Sic Bo or Tai Sai making up the rest.
Where does Royal Casino source it's gaming tables and slot machines from?
Platinum Entertainment has established relationships with most major gaming equipment manufacturers and suppliers across the region and can provide door-to-door delivery in most cases. Regulations for the importation of gaming equipment into Vietnam are complicated and onerous. PEL has been involved in  importing gaming equipment into Vietnam for many years and can provide a comprehensive logistical advisory service on request.
What is the currency used for the table games and slot machines?
All table games and machines are played in USD.
How active are PEL and the Royal Casino in social media? What are the social media accounts guests and the general public follow, for both PEL and the casino?
Social media marketing is an area of opportunity for Royal casino with the current Facebook page currently being reviewed. We use a number of different messaging apps such as WhatsApp, WeChat, Line, Kakao Talk and Zalo depending on the target demographic. WhatsApp is used popularly across the region but we find WeChat to be more popular with our Chinese guests and Kakao Talk is becoming increasingly popular with Koreans. Royal's website features the resort as a whole rather than focusing on the casino and in addition to our own website, PEL is also active on the business networking site Linkedin.
What are some of the features of the enhanced loyalty programme that members can expect in the future?
Loyalty management to date has centered around an in-house developed membership system. We are in the process of replacing this with a proprietary Casino Management System which will enable us to link our slot machines and tables together, as well as link directly to the hotel and its outlets, a basic functionality these days, which to date we have not been able to offer. Rewards will include complimentary room, food and beverages as well as commission and rebates. Coupled with a robust CRM, we will have far greater knowledge of our guests and their needs, employees will be empowered to provide preemptive service decisions increasing the customers enjoyment level and our marketing team will be enabled to make more targeted and cost efficient marketing decisions.
Casino Life appreciates the chat with Tim Nguyen and Paul Simmons at Platinum Entertainment Limited. We look forward to our next visit to HaLong Bay to experience the advances at the Royal Casino.
Interview undertaken in Vietnam during March 2020 and originally published in Issue 139 Casino Life Magazine