Jurgen De Munck, the CEO of DR Gaming Technology™ talks to Glyn Thomas
DR Gaming Technology™ (DRGT™) seems to be exhibiting at more shows this year than ever; how has the reception been from visitors so far?
Thanks Glyn, that is a nice compliment, and I say that because we are actually attending the same number of shows we did last year.
What I think has created the impression that we are indeed exhibiting at more shows than ever before is the fact that we are seeing a genuine upswing in the interest in our products and technology from both a media and operator point of view, which is extremely encouraging.
So, to answer your question; the reception from show visitors to date remains ever positive and talks to what I have mentioned many times before: market demand for cost-effective and reliable solutions that do what they say. Consumers in general are getting more and more spoilt for choice, and if you can't meet their needs there is bound to be someone else who can. I'm just really glad that at the moment we are meeting these needs, and in many cases driving them.
You and Michiel (van Dam, co-founder and CTO) started DRGT™ initially as a systems company, and then evolved to include Slots Jackpots, and now Tables Jackpot Games. Your Blackjack11's game is doing really well in both Central and South America, and Africa, any feedback from the Casinos on the popularity of the Game?
The response to BlackJack11's has indeed been good, and it remains arguably the most profitable Tables Jackpot game on the African continent ever, with our most recent installations taking place in May at Peermont's Rio Casino, and at Sun International's iconic Sun City resort which co-incidentally is celebrating its 40th anniversary in 2019. These follow additional installations at Sun Carnival City, Sun Sibaya, Sun Windmill and a number of other Sun International, Peermont and Tsogo Sun Casinos, as well as casinos in Belgium, Cyprus, the UK, Angola and the Seychelles.
In Central and South America, it has proven successful at venues in the Dominican Republic and in Peru, and most recently in Mexico, where we opened an office just over a year ago. In fact in Mexico we currently have seven tables installed across some of the Miravalle Group's casinos, a number which we intend to increase significantly across the rest of the Group over the coming months, adding to what already is a list of in excess of 50 new BlackJack11's tables requests across a number of Mexican operators' casinos in 2019.
For those readers not familiar with BlackJack11's can you explain the game?
The game really is dead simple, for both players and dealers alike, and I have no doubt that this is the reason for its success. The bet is a single chip, which makes dealing the game and understanding it simple, and in order to win players need to get dealt a total of eleven with their first two cards, and that's it.  Then as an operator, further value lies in the fact that the game offers fully configurable reward and jackpot levels with flexible RTP options and linked jackpot functionality across all table games, across different table pits, or across a wide area.
You must be very pleased with both Alex (Stiglich, MD: LatAm and the Caribbean) and Alfredo's (Moreno, MD: Mexico) successes?
I am; Alex and Alfredo continue to drive what remain two key regions for DRGT™. The relationships they have created, and customers they have secured and supported have aided our global expansion considerably. 2019 sees us celebrating the 7th anniversary of our office opening in Lima, and over that time we have managed to roll-out our technology to in excess of 15,000 devices across over ten countries in Latin America and the Caribbean. I'm confident that Alfredo will reach similar success in Mexico.
What other products are proving a hit in 2019?
We launched a new Tables Jackpot game called Poker21's at ICE earlier this year, and like BlackJack11's it too is really easy to learn and easy to play. Simply get dealt twenty one with the initial three cards received in a 3-card game of poker and win – again really easy. Add to this the ability, like BlackJack11's, to operate the game as a standalone, across multiple tables or a wide-area, as well as a number of RTP and reward and jackpot options, and we believe we have another really compelling player first solution that will drive operator revenues.
The DR Gaming Technology™ management system has always been at the heart of your business. Recently there have been a number of upgrades to the Tables Management System, correct?
Quite correct. As you well know, slots have been at the forefront of management systems development for some time based simply on the technology they use. Table games on the other hand remain quite manual and as a result labour intensive, in so doing creating great customer engagement opportunities, but unfortunately also a technology lag in terms of their ability to accurately track game play, and as a result award Tables players loyalty points and rewards.
Our Tables Management System now seamlessly integrates Tables game play data into our accounting, cage and reporting modules, in so doing bridging the technology lag referred to above and affording Tables Managers the ability to offer their players the kind of functionality and rewards available to Slots players and Slots Managers. An example of this is that operators are now able to offer double loyalty points to players of our BlackJack11's and Poker21's side-bet jackpot games.
Customer service is vital in building a strong reputation, you've never made any bones about that. That said, in Asia specifically, your expansion has without a doubt been significantly aided by your strategic partnership with long-standing customer RGB International?
Without a doubt! RGB's presence and reputation in Asia, along with their unwavering commitment to customer service have proven invaluable. We have managed to forge a truly symbiotic partnership to the benefit of our customers, and its success is evidenced by our continued expansion in the region. Our showing at G2E Asia in May was well supported, and together we were able to address and engage with local Asian customers and jointly present our range of technology solutions.
To date our systems and jackpot installations have taken place in Laos, Vietnam, and The Philippines, amongst others. One of our most recent Asia installations was a full installation at the Grandz VIP Club in Caloocan, Manila which opened with our world-leading 8.8" drScreenUltra player tracking units and our casino management system.
Looking forward, where will the focus be for your company in 2019?
At present DRGT™ operates its jackpot, tables, and casino management system solutions on approximately 50,000 devices across in excess of 50 countries. Our short-term goal is to expand on that install base as quickly as possible, but not to the detriment of our service standards referred to earlier. As such 2019 will continue to be a focussed balance between strategic product development and deployment, and our on-going commitment to providing operators with robust, user-friendly technology (that is well supported) that puts the player first!
What specific technology are you referring to?
I've referred many times before as to how consumers in general are becoming more and more demanding of tailored offers, and this includes casino players.
Just as retailers, for example, leverage their bulk buying power to the benefit of their customers through special offers and price reductions, Wide-Area technology allows casino operators to drive the number of players contributing to a specific jackpot. That, however, is no longer enough, and I believe that Gaming managers now more than ever need to work hand-in-hand with their Marketing and CRM managers to create bespoke jackpots (and other rewards) for specific players or groups of players based on either their individual wants and needs; our jackpot, management systems, and reporting technology can do that, and it is this data that must now be used to drive business intelligence and as a result the way we understand, provide for, acknowledge and reward players.
Attracting and retaining players has to now be driven by a truly integrated product and marketing effort and I firmly believe that we offer operators the tools to do that really well.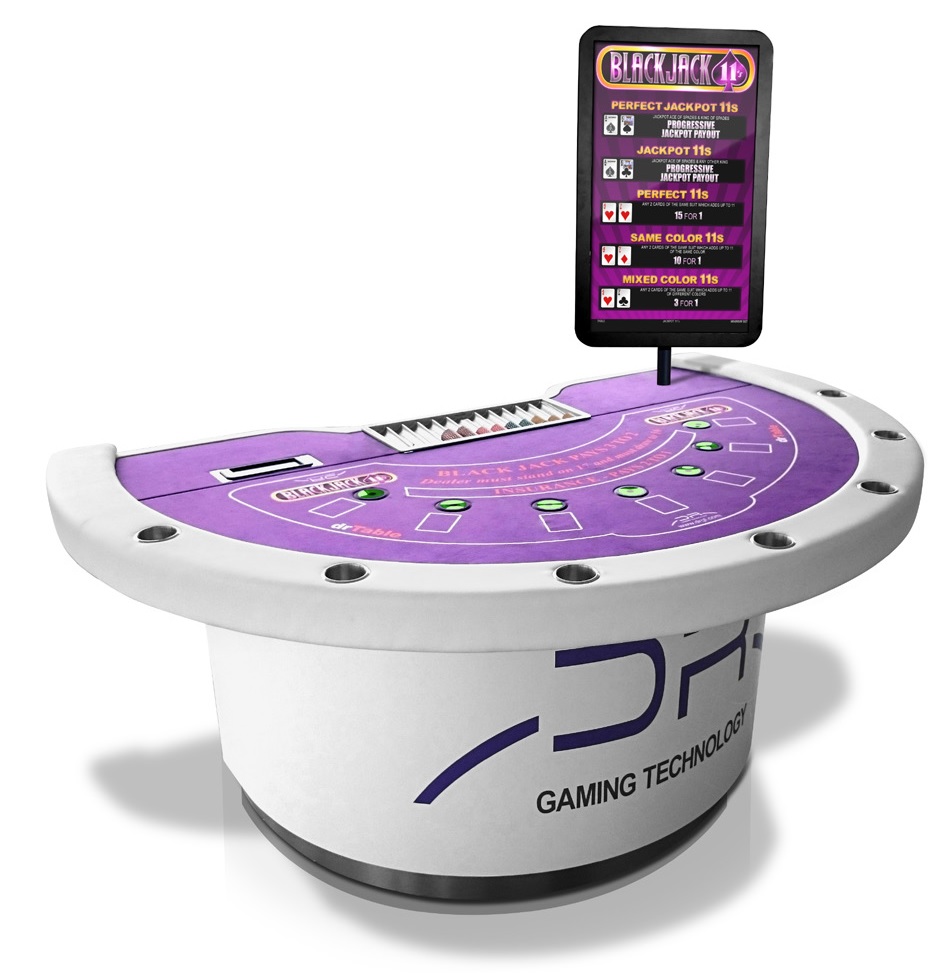 How are you attracting new customers?
At the start of our chat I mentioned the upswing in interest we have seen of late in our products and technology from both a media and operator point of view; a key driver of our growth remains these 3rd party endorsements and referrals. This sort of marketing is something that cannot 'just' be bought.
Belgium and Switzerland are perfect cases in point, where our expansion in both of these countries has been assisted tremendously by operator endorsements. In Belgium for example, I can now proudly say that all 9 Belgian casinos manage their operations using our system, and in Switzerland, where just over a decade since installing our first system in Grand Casino Bern in 2008, we have expanded that footprint to over ten casinos, resulting in us now being the leading gaming systems supplier in the country, by some margin.
We are well into the second half of 2019, where and when will DRGT™ be exhibiting next?
Our next showing will be in Las Vegas in October, and this, as always, provides the perfect platform to engage primarily with our Mexican, Latin American and Caribbean customers. That said, the truly global appeal of the G2E Global Gaming Expo, and Las Vegas itself, affords us an audience with operators from all four corners of the globe, and the ideal stage to showcase our full jackpot, management systems and marketing technology product bouquet. We'll be there with a 'bang' and look forward to welcoming visitors to our booth No. 4405.