Gavin Isaacs, President and Chief Executive Officer at Scientific Games, and Ken Jolly, Vice President of Scientific Games Asia, spoke to Peter White during G2E Asia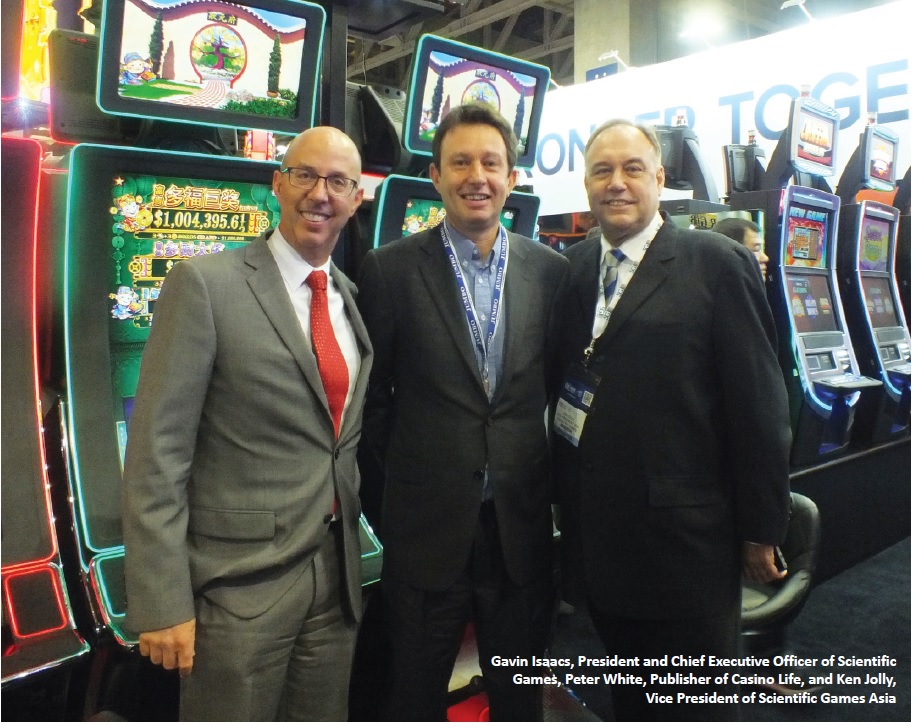 "Stronger Together" is a slogan that fully encapsulates the amalgamation of what is now Scientific Games. How would you describe the combining of these companies?
Isaacs: By bringing together a comprehensive suite of products, systems, and services, Scientific Games is favourably positioned as the partner of choice for our customers and vendors in the Australasian market and around the world. The integration is progressing well and we're looking forward to demonstrating our unmatched innovation with products and solutions that help our customers grow their operations.
It's been one year since you took over at Scientific Games. How have you found the responsibility, especially with regards to dealing with Wall Street?
Isaacs: With the acquisition of the three companies – WMS Gaming, Bally Technologies, and SHFL entertainment – we can capitalize on opportunities in many areas because we have the best team in the world. We have an amazingly focused sales team and also have incredible talent in design and development, all of whom have proven track records of creating innovative games and systems. No other supplier can compete or has the same amount of market-leading games.
Dealing with Wall Street continues to be an amazing experience. In terms of the debt, the complex effort of negotiating and dealing are in place, and now it's time to drive the organization forward for further growth and expansion.
How are your customers reacting to the many changes over the last year?
Jolly: Continuity has been a major goal with our customer base, which is quite massive in its wide range of slots, table products, and systems offerings. We now must ensure continued customer care, service, and support along with a continued pipeline of new and innovative products. It's a matter of maintaining our credibility and confidence with our customers so we can deliver on our commitments.
Our customers have been very receptive to changes because it means they get more from our products, content, and partnership. Given our recent developments and acquisitions, our customers now have access to a massive end-to-end product portfolio that enables them to maximize their potential on casino floors.
As the world's premier gaming and lottery entertainment and technology company, we can build upon our impressive portfolio by developing cutting-edge content and products to establish our position as the partner of choice for our customers.
In regards to that, the Nevada Legislature has passed a bill that allows for skill-based, electronic slot games. What opportunities will the development of skill-based slots present to Scientific Games?
Isaacs: We introduced a Bally Pong-themed slot machine in 2008, but this bill will enable us to develop slot games that offer even broader entertainment appeal. Skill is an important factor for many who enjoy console or PC games. Challenge appeals to many people, as the changes will provide them a greater level of interactivity and sense of control. Nevada Senate Bill 9 provides an opportunity for Scientific Games to create enhanced features that ensure that the entertainment factor is maintained in this competitive marketplace. It's important that we maintain momentum about the great entertainment experience that all of our current games offer. At the same time, we must be cognizant of new players and what appeals to them.

What were the "hot" games at your booth at G2E Asia?
Jolly: Our booth had more than 80 innovative products from across the company's diverse array of top brands and those products represent our rich portfolio of gaming technology solutions designed for the Australasian player.
Our Bally-brand games on the Pro Series™ and Equinox™ cabinets will appeal to players in the Asia-Pacific market. Following the success of Duo Fu Duo Cai, we have a new Asian-themed progressive link called Da Fu Da Gui, which means "big riches, big honors." Da Fu Da Gui was inspired by Duo Fu Duo Cai with the dedicated Asian content and math model. It offers players the anticipation of big wins with its Double Luck Jackpot feature. When players reveal three Double Luck symbols during the jackpot feature, they win the current jackpot amount, plus the start-up amount of the winning jackpot level. The Da Fu Da Gui link launches with Rich Traditions™ and Jade Eternity™ on the Bally Pro Wave cabinet.
Prominently featured products include several electronic table innovations such as Tablemaster™ Fusion and i-Table Roulette™, which combines the excitement of traditional roulette with all bets and pays made electronically and an unlimited number of remote betting terminals. The Tablemaster Fusion platform transports the fast-paced excitement of live table gaming to a fully electronic platform. The Tablemaster Fusion version we demonstrated at the show features the Chinese version of Ultimate Texas Hold'em℠ with a Mandarin-speaking dealer.
We showcased the WMS Life of Luxury Progressive™ multi-game. Bringing back a classic WMS game in multi-game format, Life of Luxury Progressive features five games that combine classic, current, and new WMS content. One Life of Luxury symbol on the final reel awards the Life of Luxury Bonus. In this bonus, each reel is assigned to a GEM symbol that allows players to pick for a chance at the progressive when the symbol appears on the reels. Additionally each game within the set has its own unique Free Spin Bonus triggered by three or more Bonus symbols.
How important is the Asian market to Scientific Games and how was that importance demonstrated at G2E Asia?
Jolly: G2E Asia is the region's premier gaming exhibition. Our commitment to the region and the show was demonstrated by our company having the largest booth and displaying more than 80 innovative products.
It has been a busy year to say the least. Any further acquisitions planned for the future?
Isaacs: Now that the restructuring is complete and the integration is well underway, our focus and concentration is on executing our plans and growing the business. However, you can never rule out the possibility (albeit slim) of future acquisitions should the ideal opportunity come along.