The Ritz Club, London Ventures East
It was 4 p.m. in London one day last month (8 a.m. in Las Vegas) when Roger Marris, Chief Executive Officer of The Ritz Club London, took time to speak on the telephone with Jack Bulavsky, Special Assignment Correspondent for Casino Life.
Roger Marris has been involved in the gaming industry since 1998. His background in gaming started with Harrah's WSOP and Littlewoods, on the gaming side of the business. His career with The Ritz Club began in 2005 as the former Managing Director of The Ritz Online Casino when it operated from 2005-2007 (the company was sold in 2007). Prior to coming back to The Ritz Club as Chief Executive, he was working in a global executive role for a FTSE250 business, a role that took advantage of his strategic operational and management skills in a multi-channel business.
The time spent outside the industry; including his experience of working in China, gave him valuable insights into how other multi-international businesses are managed. His experience in land based casinos along with online and WSOP has allowed him to focus on the challenges, technologies, developments and opportunities in the land based, online and social gaming industry. 
As Chief Executive of The Ritz Club, Roger has spent time looking at processes and management structures as well as developing strategic operational plans and introducing new channels of communication. He advocates stability in regulation and believes that all businesses should have a multi-channel perspective that embrace different channels as opposed to fighting them; to ensure growth in the industry, mindful of the effect that the international operators are having on the UK marketplace. 
Your name is very well known among sports fan in America.
 I'm aware. Roger Maris, with one r, was a famous baseball player for the New York Yankees. When I lived there some years ago, I always got comments about my name. And there was even more attention whenever I used my credit card.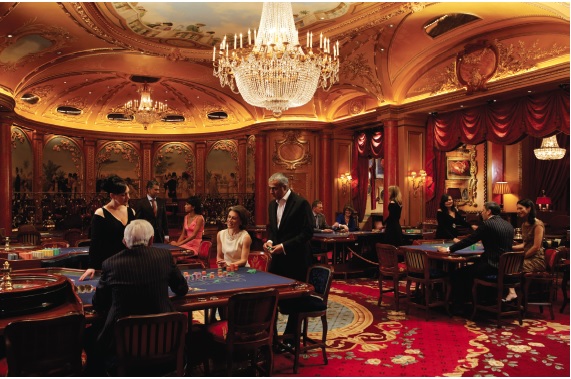 How do you describe The Ritz Club, London?
This is a stand alone business that sits in the old ballroom of the renowned Ritz Hotel in London. The Club opened in 1978 and a new management team came on board in1998.  We are one of the most luxurious and exclusive private member's club to be found anywhere in the world with a membership that caters solely to VIPs. It's mostly an international clientele. That membership comes with many benefits including our prestigious and award-winning restaurant and bar and cigar shop.
Because of our clientele, there is a screening process. Understand that we do not cater to what might be described in Las Vegas as "grind action."  We have a few slot machines, not thousands of them. We have fewer than 30 table games. More often than not, the room is never full. If someone is losing a large amount of money, that person wants to play in an element of privacy. We provide that. That is how I would describe The Ritz Club. We are a VIP casino, the only one of its kind in the world.
Can you share some characteristics about your members?
Our customer is a large stakes player and can be from anywhere in the world. I recently returned from China to become better acquainted with that culture.  The Ritz Club, for years, has always been a first destination for Middle Eastern players and we still are.  However, about two years ago, we starting see a larger number of Asian and Chinese players with large net worth coming to London. So we added the correct ambience, games, services and offerings that Asian players desire. Maybe they were playing in Macao or Las Vegas, but now they prefer coming here to play.
How do you prepare for your special kind of player?
We do our due diligence. Persons with that type of net worth and who play at the level of casino play we offer have expectations.  We need to know and understand their preferences so they become comfortable and familiar with our services. No matter what they request, we customize their needs. Privacy? Done. Want to go shopping in Paris? We'll make all the arrangements. Is there a certain sporting event or show they want to see? We can facilitate that.  Does the member want a specific table or game or dealer? That will be arranged along with placing the table against a wall or looking out a window. Once players get to know us and what we will do for them, a bond is created which is extremely important for these VIPs.
Tell me about your employees. In this type of environment, they have to be a cut above most employees.  
You are absolutely correct. Our 200 employees have become a huge marketing tool for the business.  They are well taken of because our philosophy is to have a long term employee which translates to a familiarity for our customers. Club members are familiar and know our dealers and waiters and will ask for them by name when they arrive. For instance, our dealers,  who know the importance of personal appearance and verbal presentation, operate at a high level but know how to cope with the pressure of high end play and not be intimidated by these ultra worth players. There is always a separation between employee and customer, yet there are also genuine relationships between the two.
London and the Ritz brand are all about being British so there is no problem having English speaking only dealers. We have hosts on floor who speak any number of languages including Farsi and Mandarin.  Our employees also understand privacy and security which is at forefront of the property.  That's why we have members coming to our five-star brand. They're comfortable here and have that knowledge that everyone, including all employees, understand  discretion.
How do you market such a private club?
Foremost, we're a people business. We can't assume that our members will always be there just because we're here.  There are never any assumptions and we maintain steady friendships such as remembering birthdays and anniversaries, not just for the club member, but for the entire family. Not that long ago, I learned that one of our members was going to be in London on business during his birthday and arranged to take him to lunch. He sincerely appreciated the gesture. There is no email marketing or sending flyers or giving a chip when they walk in. Yes, we send gifts on special occasions and know what they like and they even know that if they forget something or their car breaks down, we're there to help. These members are more than customers. We're a private company but it's run like a large family business. 
You and your management team just celebrated 15 years since taking over The Ritz Club.  What changes have you seen in that time?
Fifteen years ago, our clientele was mostly European and British. Then it became Middle East and that business is still there. But over the past few years, the Asian market has dramatically grown and we have made a few changes. We became a 24/7 Club this year because our Asian customers want to play 24 hours a day. At the time, Middle Eastern players played from midnight – 6 a.m.  Always remember that we are a private members club and cater to our members.  
The style of some of our games is also different. While roulette is the first choice for Middle Eastern members, baccarat is the most popular game for the Chinese. The high-end Chinese player plays at a pace and with money that we haven't seen before. The amount of bets is quite staggering. There is a new wealth coming from the east and Europe is opening itself to China in many ways besides gaming meaning retail and luxury housing as just two examples.  They play in a certain way and we're learning and realigning as that market develops.
However, several things will not change and one is the Club décor which is still prestigious and luxurious and our service and food preparation which is the finest anywhere. It's what you expect from The Ritz Club.