Damien Connelly met with Barry Clemo, Strategic Marketing Director, Genting UK, on a tour of this soon-to-open resort casino 
Resorts World Birmingham will be a successful business with a very, very strong leisure remit. Resorts World Birmingham will help open people's eyes to the casino experience and the wider leisure and entertainment experience offered by resort casinos; and in doing this, help the industry overall in the UK improve its product. I'd like Resorts World Birmingham to be a catalyst for change that benefits our entire industry," commented Barry Clemo.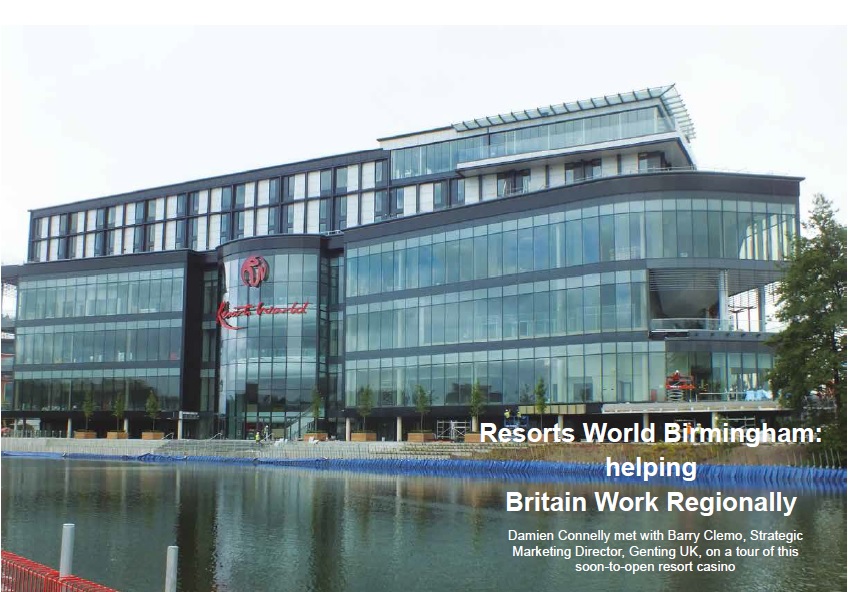 Allow me to introduce you to Europe's latest casino resort; and the UK's first resort casino. With a Grand Opening planned sometime in the fourth quarter of 2015, Resorts World Birmingham is a beautiful property with a very wide range of non-gaming amenities surrounding the casino that makes it unique in the UK and, to my knowledge, Europe. And with the train from Birmingham Airport to central London taking as little as 1 hour 10 minutes, you can actually fly into Birmingham and be in central London faster than using some 'London' airports.
POSITIVES FOR THE ECONOMY
Resorts World Birmingham has already added
"significantly to the regional economy by employing 1,700 construction workers for over 2.5 years. Once open, the resort casino will employ a further 1,150 full-time equivalents (FTEs). This will make Resorts World Birmingham the single biggest creator of new employment in the region since Deutsche Bank moved into the area. Based on research by PwC once open, Resorts World Birmingham will create almost £35 million in added value to the regional economy…exceptional, I think, for a 'single property' leisure and entertainment business.
As research from the American Gaming Association proves, casinos deliver significantly more positives than negatives to their regional economies. Plus, casino jobs provide excellent training, salaries and benefits, as well as opening up a wealth of quality career opportunities to employees—especially for those fortunate enough to work for Genting, as this company has truly global reach.
Genting has casinos in highly regulated jurisdictions in Asia, North America, and Europe, and casino cruise operations based in Asia and North America…if you want a career that provides a very wide range of opportunities from customer-facing croupiers to back-office IT support staff, that requires a high level of professionalism, that delivers superb training opportunities, that gives you the chance to work worldwide…then I can't think of a better option than working for Genting.
CASINO DICHOTOMY
One of the dichotomies I continually find jurisdictions (and people) have with casinos is their incorrect, negative perceptions—even in places like Singapore, where resort casinos bring in enormous economic and social benefits.
"We are also hoping to have a positive influence on the British casino industry and help change perceptions so people see the reality that resort casinos such as Resorts World Birmingham and The Hippodrome in London offer a leisure and entertainment experience significantly beyond gambling," noted Barry.
IMPORTANCE OF NON-GAMING
"From the original architect's perspective, there's a cruise ship feel to Resorts World Birmingham; the shape of the building, the fact it overlooks a lake, our atrium which is classic cruise ship, and then all the entertainment feeding off the atrium. When you think how a casino cruise ship operates, there is a synergy between how you integrate a landbased casino with its leisure and entertainment offerings and how a cruise ship integrates all its offerings within the space limitations of the ship.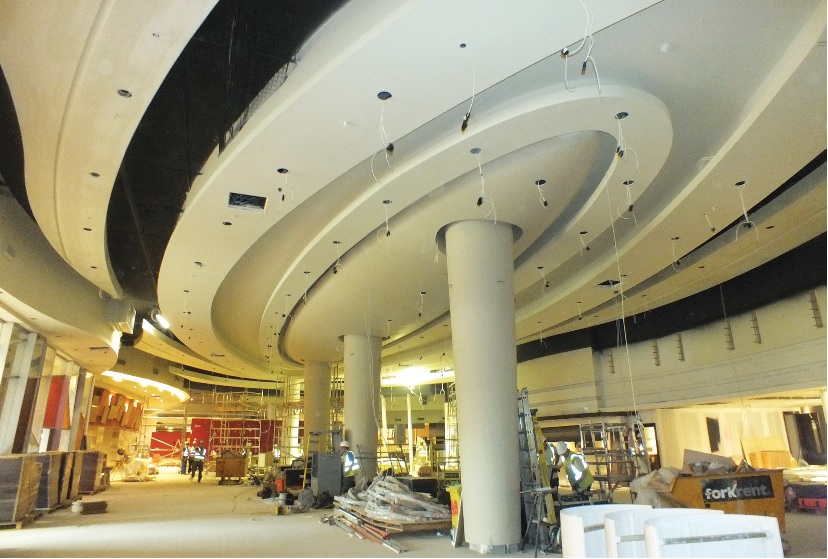 "Resorts World Birmingham is quite a small plot; something like 534,000 square feet. We have seven floors in total—five for public use—and we've crammed quite a lot into a relatively small amount of land space. Our efficient use of space is based on our having spent a lot of time focusing on the customer journey to get that right. Our design will help our customers explore the building and 'touch' all of its elements from the casino, through leisure and entertainment, to retail.
"One of the big volume drivers for Resorts World Birmingham is our outlet retail mall on the ground floor. This has 51 outlet stores; 'outlet' refers to a factory outlet store, which has certain rules: it has to be High Street product that's discounted between 30% and 60%. The reason we opted for that is there is no other outlet retail mall on this scale in the West Midlands region. And secondly, we like the idea of the discount concept as this is a volume based model that, we hope, will drive significant numbers of people to our property. So they will come here and experience the discounted outlet retail experience, and also our food and beverage, our leisure, our entertainment, and our casino.
"There's also 44,000 square feet of conference space and several meeting rooms, which gives us the capacity to do full-blown banqueting for about one thousand people. There is a clever ceiling system which lowers the ceiling within three minutes of pressing a button, so if we reduce the space to allow for a smaller meeting or event, the ceiling can be lowered in height to keep the feel of the room 'intimate' and in balance so it doesn't feel too cavernous.
"There is a 180-room 4-star hotel, of which on the fifth floor there are 5-star suites as well as a Presidential suite which has its own kitchen and dining room. The hotel is way north of 4-star with excellent fitting out standards, but we want it to be accessible to our mass customers, so we chose to go for a 4-star rating so we don't put people off…although the hotel and its rooms are most definitely stylised.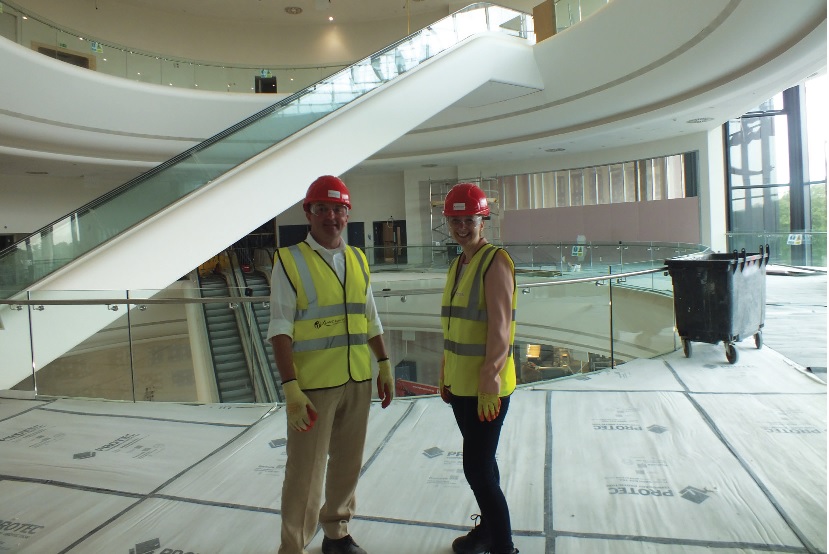 "There's an 11-screen Cineworld cinema that can seat 1,750 people in total, with a purpose-built IMAX screen; the first purpose-built IMAX screen in the UK undertaken by Cineworld. We've also got a spa with a slight Asian theme to it that is very subtle. It's a medi-spa, so it's not just about pampering as proper medical treatments can be carried out by the trained practitioners in our spa. We've partnered with EF MEDISPA who operate several top-end spas in London."
IMPORTANCE OF PARTNERSHIPS
"Resorts World Birmingham is a landlord operating model where we have tenants renting space from us, as well as directly operating elements of the building ourselves. We took a decision to operate more than just the casino so we could be in touch with what I call the 'heartbeat' of the building to allow us to bring the building to life.
"We will directly operate five bars—possibly six—two or three restaurants, the casino, the salles privées, the hotel, the spa, and the gym. This gives us lots of elements we can directly influence so we can create the noise and build excitement so we bring the building to life. That is a key component of what we think will be a major success factor for Resorts World Birmingham.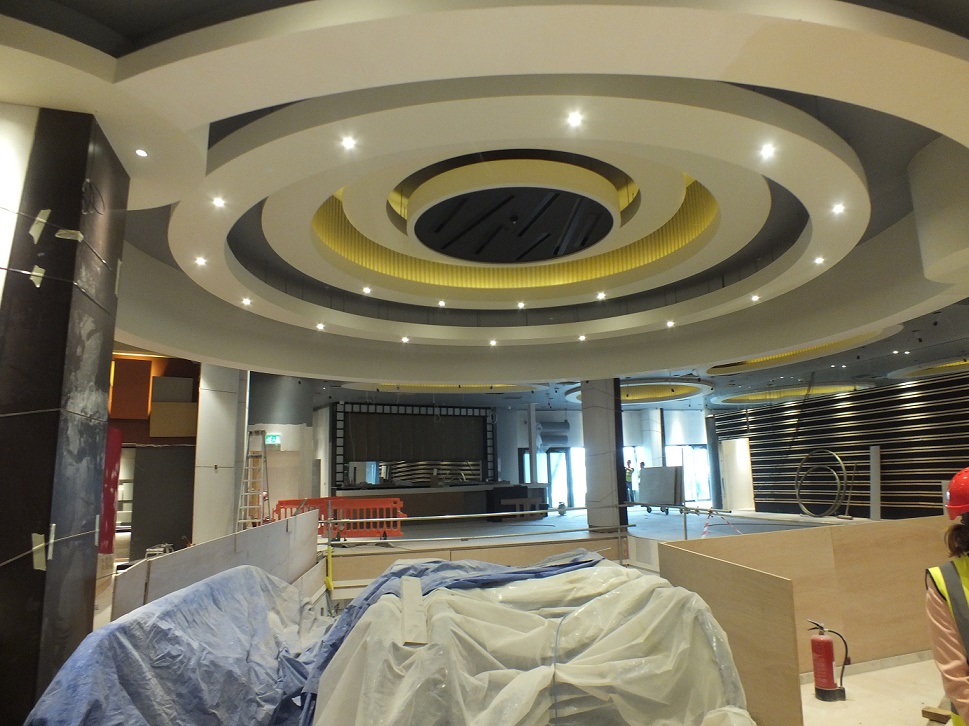 "Another important partner is the NEC (National Exhibition Centre). We recently signed a 10-year deal to sponsor the nearby Genting Arena, which is on the NEC campus and attracts over 1 millioncustomer visits annually. We have a very strong relationship with the NEC, which was recently sold and that will hopefully bring new investment into the campus to support our investment to benefit everyone.
"Resorts World Birmingham brings an added dimension, I think, to the kind of shows the NEC can pitch for, which will help them grow. If the NEC performs well, we will perform well. You've then got the fact that Birmingham Airport is right next door, and there's a major train station next door also. Travelling to or from London by train is only just over an hour; and the train travel time to London will reduce to 37 minutes once HS2 opens. It's actually easier to fly into Birmingham than it is to fly into Luton if you're traveling on to London.
"This highlights one of the reasons we built Resorts World Birmingham here; the infrastructure is great. We have an international airport, there will be a super-fast train connecting to central London and north to Manchester, there are three motorways to act as feeders, and there are something like seven million people living within 60-minutes travel time of this location."
GROUP BENEFITS
As Barry commented, "We also face challenges, given we're a destination venue. Our research highlights that people in the UK who haven't visited a resort casino before are rather naive in their perception of what it can offer them. One of our key challenges is understanding how we can get our name out there so we can communicate with consumers so they understand just how exciting and fun it will be to come here.
"That will take a lot of work as consumers don't understand what a resort casino offers as it's never been done before. So they don't know what to expect. Our research is leading us to the view that once we get established, once we get our name known, once we get through to people what a resort casino offers in terms of one destination with endless possibilities, it does offer a very exciting draw for people. This makes it both exciting and challenging."
This challenge has been supported by Genting Group, as Barry noted: "This is the first time we've taken what is a very successful international brand – Resorts World—learned from all the experience of both our parent company – Genting – and from the different Resorts World properties around the world, and developed a property within what is, internationally, quite a tight physical space. In doing so, we've had to be quite creative with some of our solutions.
"I think we've shown we can successfully develop a small resort casino whose model can be replicated around the world."
Go see for yourself if you agree with Barry and his Genting team: Have they? I think so.