2018 is likely to see mainstream adoption of blockchain-based casinos. While several projects are likely to onboard large numbers of users, RealCasino.io is one project that is very well positioned to take significant market share.
As we know, one of the very first applications of blockchain technology (after the peer-to-peer electronic payment system enabled by Bitcoin) was gambling. The ability to generate provably fair random events on the Bitcoin protocol spawned Satoshi Dice way back in April 2012. The site was an almost instant success, earning the equivalent of $50,000/month before being sold in 2013 for 126,315 BTC!
Since then, many blockchain based casinos have come onto the scene, each bringing additional features to improve upon the very basic early version that was Satoshi Dice. Comparing the current projects in terms of the functions offered, RealCasino - a relative newcomer to blockchain (who isn't?) but a project that has a proven history in the casino industry - emerges the clear winner.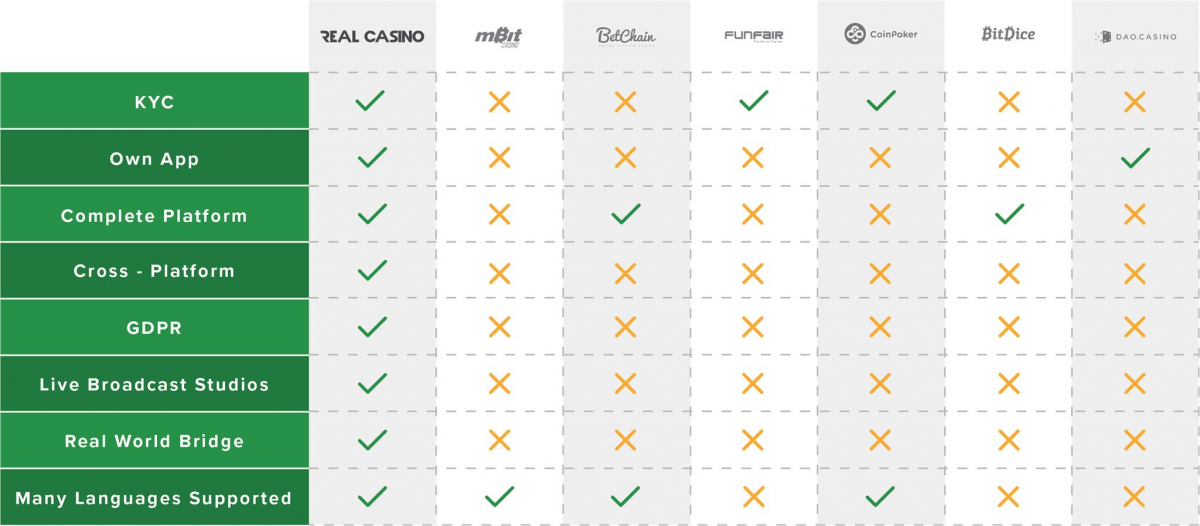 KYC
Working closely with regulators in the blockchain friendly nation of Malta (where the project is based), RealCasino has developed a fully compliant KYC verification module that can be distributed onto suitable blockchain platforms. This makes it easy for independent node operators to comply, setting the foundation for a highly scalable casino network.
Own App
With over a decade of online casino development experience, the RealCasino team knows how to build entertaining games that attract and keep customers. RealCasino has already developed a functional app that works on mobile and web platforms.
Complete Platform
RealCasino's technology has been in development for over 2 years. It has been tested by GLI and licensed to several operators. The components delivered are (a) provably fair results (b) over 20 games (c) technology that delivers random results via the blockchain. We already have a Live MVP you can demo right now.
Cross Platform
One of the main advantages of RealCasino is that its delivers a conventional entertainment based casino that is broken down into modules. The modules will be distributed onto suitable blockchain platforms. This allows each party to focus on what they are good at:
Platform: registration, KYC, payments 
Casino: attracting players 
Studios: delivering entertaining content 
Miners: delivering fair results on a distributed open ledger 
Node Operators: settling stakes, risk management 
General Data Protection Regulation (GDPR)
This is a regulation by which the European Parliament, the Council of the European Union, and the European Commission intend to strengthen and unify data protection for all individuals within the European Union. RealCasino takes this regulation very seriously and works closely with European regulators to ensure compliance with GDPR.
 
Live Broadcast Studios
Existing Blockchain casinos offer a very basic user interface and product range but players expect the high entertainment value offered with traditional online casinos. With over a decade of online casino development experience – including the UK's very first live casino - Vegas247 which was a live Casino on TV that people played via a telephone keypad! -  RealCasino knows that live studio entertainment is a very attractive offering to players. Gambling is a game after all, and RealCasino knows how to make it fun. Try out our suite of high production, story rich roulette and spin-to-win games.
  
Real World Bridge
RealCasino is working with land-based casinos to develop a system in which players can seamlessly transfer their CHIP winnings (RealCasino's native token) from the RealCasino platform for use in select land-based casinos – and vice-versa. This is a unique feature of RealCasino that sets it apart from the competition and will drive adoption of the platform.
Many Languages Supported
As a Malta based Europe-integrated project with years' experience running a global online casino, RealCasino of course offers its services in several languages. This, for RealCasino, is a given.
Token Generation Event Ongoing
RealCasino is currently holding a token generation event to kick-start its network by distributing its native token (CHIP) and to fund continued development of the platform. The pre-sale, which offers a 20% bonus, is currently underway with the public sale set to begin on February 23rd.