Partners in the Hard Rock Hotel and Casino Say "They are Here to Stay."
The grand opening of the new Hard Rock Hotel Casino in Atlantic City whipped the already enthusiastic crowd into a frenzy with the smashing of guitars by celebrities, spectacular fireworks, dancers, and pulsating music, -vibrating you right out of your seat. It was a celebration of both, marking the opening of the Hard Rock and the simultaneous changing of the city landscape forever.
Forty years ago, when the first casino opened in this city on May, 1978 the local Press of Atlantic City wrote: "The city will never be the same again!"
Today, you could say, they are re-building "this city, on rock and roll!" And, if I can borrow the same phrase, "The city will never be the same again!"
Opening day can best be described as being rocketed to the center of the universe, amidst a major cosmic eruption. It was certainly a testament to vision, leadership and team commitment.
The Hard Rock Hotel Casino opened on the south side of the boardwalk in an area that has seen three casinos close in four years. The property has 2,000 rooms completely renovated, 2200 slots games and 120 tables. Mr. Allen stated that 300 shows have been booked. Close to four thousand jobs have been filled and there is excitement everywhere you look. They have it all in restaurants, retail, convention space and entertainment options. The Hard Rock brand is in 75 countries, did 6 billion in revenue last year, and has 37,000 global employees.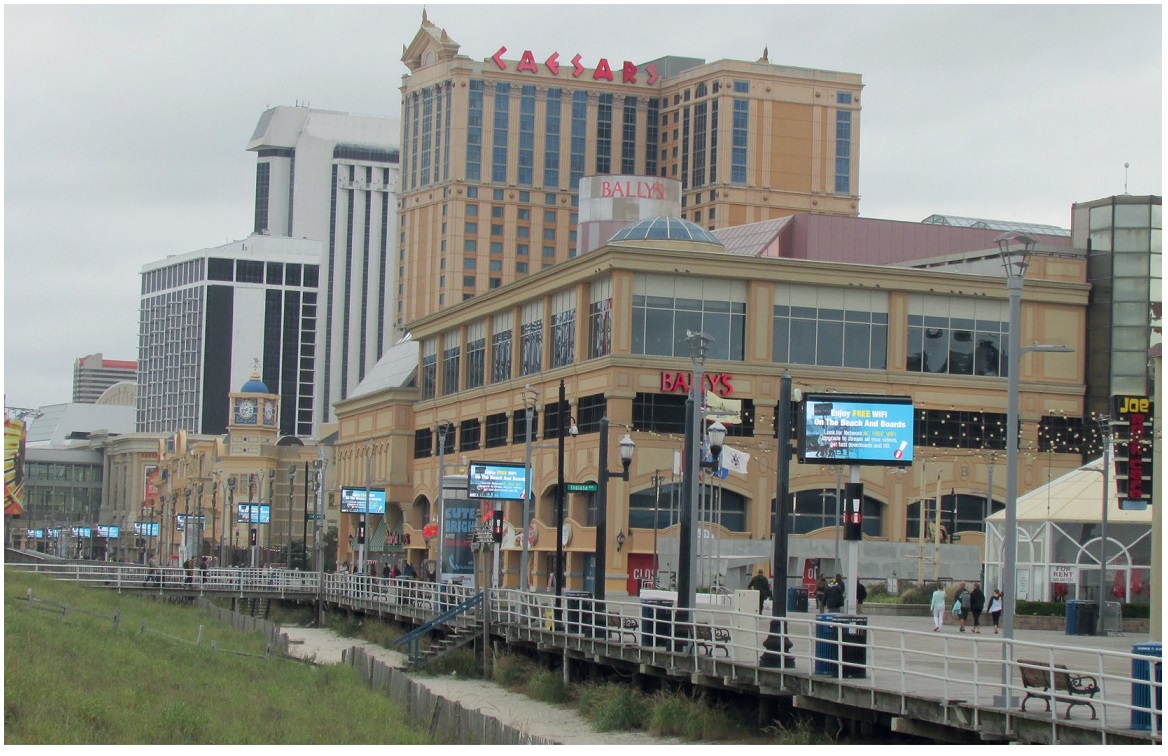 This Hard Rock International partnership includes some "Jersey Boys," as they like to call themselves, in conjunction with the Seminole Tribe of Florida, which has owned the Hard Rock Brand since 2006.
Jim Allen, Chairman of Hard Rock International and CEO of Seminole Gaming said that there has been so much interest in this story, (The Hard Rock opening in AC) that they decided to hold the press conference before the official grand opening. Their intent was to make it more of a question and answer session with very few speeches. With the primary stakeholders on stage, it became a relaxed and interesting conversation.
Mr. Allen discussed some particulars about the property, noting the $500 million in renovations, and reminding the press that; "We promised that we would not just paint and put a guitar on the wall." "Remember when we said that?" He said.
The partners, Joe Jingoli, CEO of Lawrenceville-based Joseph Jingoli & Son and Jack Morris, CEO of Edgewood Properties have strong business and family roots in the state. And they have spent a great deal of time in the Atlantic City area on various projects.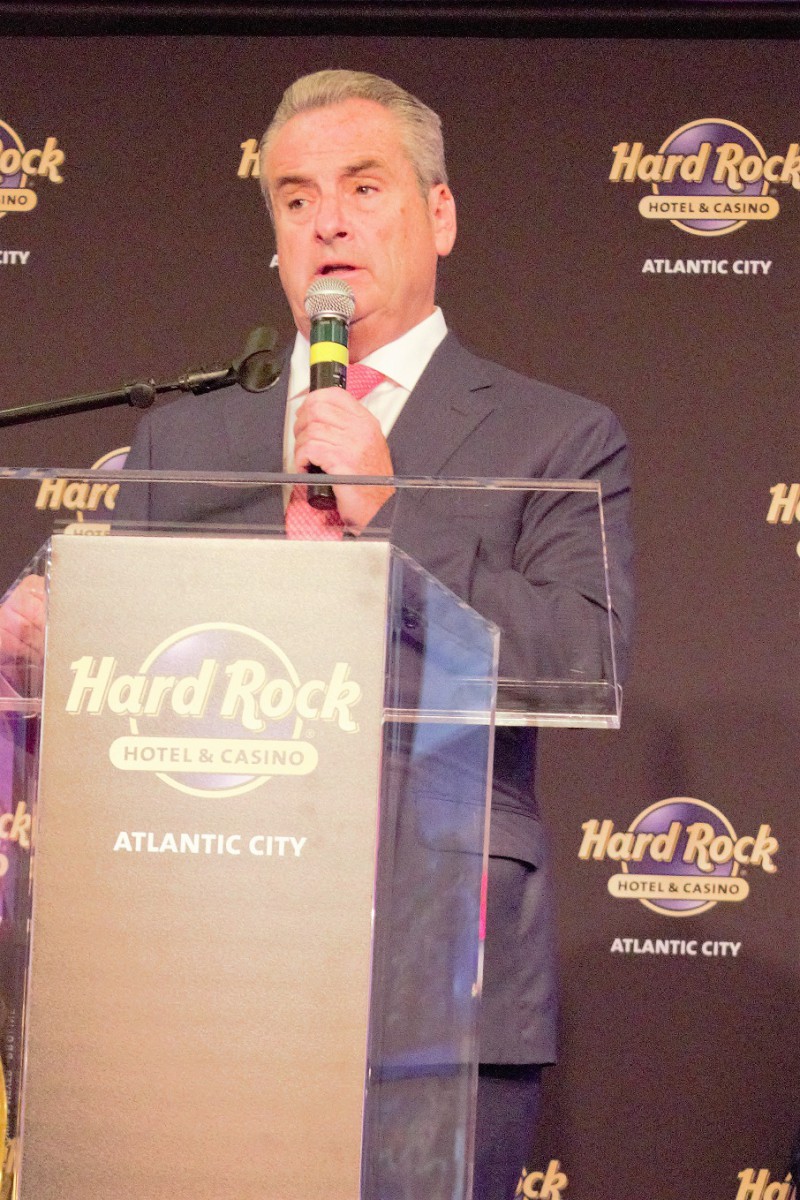 CEO Jim Allen (pictured right) was born in south Jersey and began his career in the Atlantic City gaming market. At one point he oversaw operations at all three, then Trump properties in AC, which included the former Taj Mahal, now Hard Rock. You could say that he knows his way around the building. Jim has a reputation for being a hands-on operator. It was very evident on the invited soft play night, as I saw him walking the property in casual attire, blending in with the crowd and talking with guests. That's the definition of a leader's leader! Today Jim Allen is Chairman of Hard Rock International and CEO of Seminole Gaming. The partners have poured $500 million into the renovation to rebrand the resort in eight short months.
Mr. Allen pointed out that in the history of the gaming business, no other company, except the Hard Rock, have simultaneously had a positive grade rating from Moody's, Standard and Poor's and Fitch. "This is a financially sound project with no outside debt." He said. "We do not have to worry about bond holders and interest payments."
"Atlantic City will take the next step; and our project we believe is the catalyst to that," he said. "Leaving Florida was a big step, said Allen." "Having both the Hard Rock and the Seminoles
together, with all the qualified financial resources, to meet all approvals, is a very "special-moment."
What does the opening of the Hard in Atlantic City mean to the Tribe? "This is an exciting time for the Tribe!" Said Seminoles Chairman Marcellus Osceola, Seminole Tribe of Florida.
"This is something great for all of us," he said. "It is another step forward. This is something our ancestors did not anticipate." "For me personally," said the Chairman. "This is a step-in history for Native Americans. We are paving the way for others."
"I am just so excited to be here." Said, State Senate President Stephen Sweeney. The Senator represents south Jersey and has been very active in the revitalization effort for Atlantic City.
"Atlantic City has had some very dark days," he said. The Senator immediately turned to Seminoles Chairman Marcellus Osceola, and said, "thank you for their trust!" "We are on the rise!" Said the Senator. "The only way you are going to get investments like this, (meaning the Hard Rock) is when people have the understanding that government is not like the way it was. We are moving forward."
It was high praise on all fronts to get this project in place and open on time. Both in the press conference and the Estess arena event, speeches were filled with praise for the tremendous level of cooperation from all sectors, to include local and state law enforcement, regulators, unions, and supporting vendors.
Having been involved in casino property development myself, that high level of cooperation is needed, but doesn't routinely happen. It was emphasized by CEO Allen, that there were no labor issues for the entire development process.
"The power of the pen, used to be the mentality of Atlantic City!" Said CEO Allen. "This has been an engaging environment (praising the city and all involved entities) to take on this monumental task," he said. From the podium, partner Jack Morris, CEO, of Edgewood Properties stated, "In all his years of business, he has never seen this level of cooperation."
The Mayor Frank Gilliam of Atlantic City summarized the culmination of today's opening events with several key phrases. "A phenomenal day for Atlantic City, he said. "This is the next step for the future!" "This is a collaboration." "This is a spirit of working together." "There is an energy in this town."
If I may take some editorial privilege, as the author of this article, this was also an exciting experience for me, as I have a long history of working in Atlantic City, and have always been a cheerleader; even in its darkest hours. We have seen in recent years, a one step at a time initiative by stakeholders, such as the Hard Rock take place, giving hope and bringing a piece back to the city image with their brand.
The presence of the Hard Rock global brand is contributing to making the city a more diversified hospitality and entertainment market. Change has been slow to happen in this city, but as all participants at the grand opening seemed to agree on, that this is just the beginning! Establishing and operating a successful integrated customer experience does not happen by accident. It takes a solid financial platform, knowledge, careful planning, exceptional leadership, a great team effort, and an in depth understanding of the market.
The successful brand of the Hard Rock brings a variety of already recognized amenities to the market. The famous Hard Rock Café is known world-wide for its casual dining and signature burger.
Other non-gaming elements bring a consistency to the brand that adds interest, curiosity and cross generational appeal. The Hard Rock brand is historical and offers a broad market appeal. The Hard Rock brand has perfected the expertise through great service and product Identification. It is a, "singular," personal customer experience or "identifier," for each of their customers, but on a mass market platform. This strategy creates the return-customer that calls it their own, one customer at a time. I heard a customer ask a store associate about a very specific Hard Rock logoed shirt. That says a great deal about brand relationship and personal identification!
And the great collection of museum quality, music memorabilia is of tremendous historical value. It defines decades of popular culture through music memorabilia which evokes memories in all of us, of other times and places, unique to each of us, in which only what music can provide. That is part of what makes the Hard Rock brand so personal.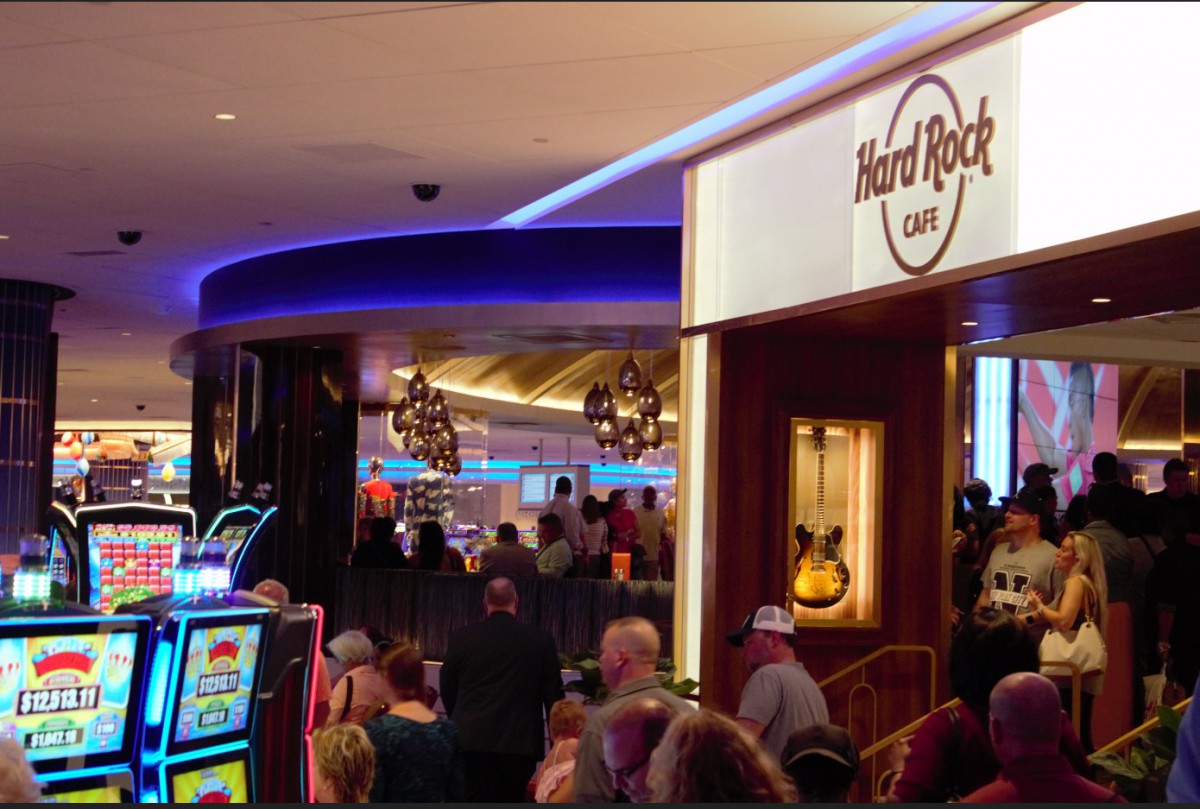 Redesigning seventeen acres of a brick and mortar property in about 8 months is not an easy task. Considering this property has bones dating back decades and was built to accommodate another gaming era in Atlantic City. Today, the transition from the old property to the Hard Rock looks seamless. Although we know it took countless hours of team effort and solid hard work. They accomplished the mission! The property offers boardwalk entrances that provide an open view of the gaming floor and other key hospitality elements allowing "first-timers," an ease of movement through the property.
The grand entrance from valet is spectacular! A guitar chandelier capturing the theme of the brand greets the guest and is beautifully illuminated overhead as you enter. As you descend the escalator, you are immersed in an array of graphic images depicting music legends and iconic images. The perimeter of the gaming floor is generous with great signage, and there was easy access to all locations including the elevators. My hotel room was perfect. Everything in its place. And access to Wi-Fi was great. Having been a guest at the property under the prior management, I had an existing benchmark for comparison.
I have stated in my editorials that a great deal about Atlantic City's history has been a tug of war between the "old and new," and the marketing models vs. the current customer perceptions. There is no doubt that the opening of the Hard Rock Hotel and Casino entertainment complex in the Atlantic City market is a game changer!
It's no secret in the past decade, that AC has faced numerous challenges, with casino closures, ongoing local and state political intrigue, and property ownership changes.
The summer of 2018 is witness to the beginning of an improved Atlantic City tourism model. What sparked this Hard Rock and Seminole initiative? How did we get here? What began the process that created 'the Jersey boys? (This was the name the partners affectionately tagged on themselves.)
Jack Morris, CEO, of Edgewood Properties: I had the great pleasure to meet Jim Allen about 3 years ago, and we had a conversation about AC. My partner Joe Jingoli and I go back about 25 years. I knew we "needed good partners." After meeting Jim and knowing the kind of person he was, also from New Jersey, and his commitment, I talked to Joe and well, -because we are the "Jersey boys." We talked about where AC was, and it needed our help! We could not have done
it without the Seminole tribe because, with no disrespect from our friends on wall street, -but, they didn't want to touch this place! The only people willing to do it are the people up here on the podium. And I am proud to be here!
Grand Opening Event
It made absolute sense for Hard Rocks Grand opening ceremony to take place in the rededicated Etess Entertainment arena. What better way to reintroduce a performance venue to the public with a capacity to seat 8,000 guests and a design and sound system, capable of hosting high energy events.
The Broadway spectacular like production at the main event was a compliment of dance, pyrotechnics, confetti and balloons descending on a star-studded group of celebrities and a crowd of on lookers reveling in the moment. Oh yes, and don't forget about the guitar smash! Symbolic of the iconic Hard Rock brand is its international loyalty base of customers, it's brand is so encompassing in its global footprint, and diversity, that it has crossed generational demographics and culture complexities. The love of the brand was clearly evident by those that attended opening day ceremonies. Some traveled great distances to be here for this historic moment in the city's history and company.
In the competitive congested, and sometimes oversaturated casino market place (like the east coast) a company planning to open a resort needs more than a marketing strategy of telling the market place they are "different." The Hard Rock Brand is unique. They are different! I think you can say they do operate in a "Blue Ocean" strategy in a sea of "red" competitors.
For those of you not familiar with this strategy it is based on a book published in 2004, by Kim and Renee Mauborgne. Basically, its premise is that companies can be successful by creating an uncontested space in the market. (Blue Ocean.) The Red Ocean is compromised of everyone else competing in the same market. The Hard Rock has been sailing, "Blue," for several years. It's a solid, self-defining brand.
We know today, in general, that the casino floor environment has been reinvented with major design changes, to include a more open casino floor. New technology has assisted with this re-design, but also, the market place has called for the change. Gaming floor sightlines now include cafes and restaurants as well as more space to allow for social gatherings. It is about a blending of community within all segments of hospitality. This is very evident within the Hard Rock model.
The Atlantic City model is at a new beginning-driven by the vision of companies that see the city as a cup half full rather than half empty. We applaud the stakeholders that stayed when the financial waters were turbulent, and we welcome the new stakeholders such as the Hard Rock and Seminoles Tribe who bring their strategically thought out models to this market.
There is a new source of energy in this coastal gambling city. We are witnessing a historical transition in Atlantic City. In some ways it is highlighting more of the non-gaming experiences that made Atlantic City the marketable city of the 1900's that today just happens to have casinos. The beach, the boardwalk, lavish hotels, dining, retail and great entertainment options are part of that integrated resort experience in this city.
The Atlantic City model is about a more strategic hospitality footprint, and a blending of community among all segments of the tourism presentation. So, take note of the Summer of 2018, when the "Jersey Boys," came to town! The city will be a different model from its former casino influenced market base going forward.
The most favored phrases of Hard Rock's opening day included:
• It's a new era
• The city is again open for business
• A Renaissance in the city
• The city is moving away from the past
We are applauding a 2017 win of $2.6 billion in Atlantic City gaming. And with back to back years of positive casino wins and a renewed interest by investors, such as Hard Rock International, there is optimism and talk about a renaissance taking place right here on this beach.
We have seen Atlantic City and its complex gaming and hospitality infrastructure continually tested. Today, with the opening of the Hard Rock, we are witnessing Atlantic City tourism moving to the next level. "Individual commitment to a group effort - that is what makes a team work, a company work, a society work, a civilization work." Vince Lombardi.
Robert Ambrose, Gaming Consultant, Adjunct Professor Casino Management, Fairleigh Dickinson University