Can you provide our readers an insight into Olympic Entertainment Group, what is behind the success of this operation that manages to operate so effectively in a highly competitive climate amongst economies in varying stages of recovery?
 There is no simple recipe for success. For Olympic Entertainment Group the three main building blocks are team commitment, constant innovation and maximum cost-efficiency. Passion for service excellence and strive for the highest customer satisfaction has definitely given us an edge. "Smile à la Olympic", we call it.
The macro economic conditions over the last 7 years have been challenging, and with so much competition in acquiring and retaining customer leisure spend; what makes OEG stand out and how have the company's Gaming Operations weathered the tough operating climate?
I agree that the economic crisis had a major impact on the global economy and this time it affected the gaming sector quite badly, too. Over a short period of time, we were forced to make several difficult decisions, close tens of casinos in different markets and make an in-depth analysis of all of our processes. I said already back then that the crisis poses a moment of truth – the weak will disappear, but the strong ones will emerge even stronger. Our decisions have proven to be right, OEG earned its largest-ever profit in 2013.
How was 2013 & how is 2014 treating Olympic Entertainment Group?
Thank you for asking, Olympic Entertainment Group is doing very well. In January 2013, we received the Best Land-based Casino Operator of the Year Award at the Totally Gaming Awards and since then our business has been growing even further. We also celebrated our 20th anniversary. With our very strong market position we are actively looking for interesting challenges by expanding into new markets. Last year we launched a new online gaming brand OlyBet.com, which in addition to online casino games offers also sports betting.
Do you and your team plan to visit G2e Las Vegas this year?
Yes, we will definitely be there. The Olympic team has been attending G2e for years, and I myself have given several presentations there. It is definitely one of the top annual events of the casino business, and participation is a must. In recent years we have also visited the G2e in Macau. When you aim to keep up with the gaming sector's development or even stay a little ahead, international cooperation and exchange of information are crucial.
The comment published on the Olympic Entertainment Group website, 'I am convinced that only the fastest, the most flexible and at the same time the bravest can survive the rapid changes seen in the global gambling industry during the last two years'. Is investment in providing the latest slots and table games part of that ethos, or do some slot games never seem to lose their appeal?
We are accustomed to operating in very competitive markets. Innovation, ie new games and new gaming technology, has always been our clear competitive strength. It is how we became the leader in the Baltic marketplace ten years ago and we are confident that relentless innovation is the key to success. The life cycle and popularity of games varies in different markets. However, one game that has remained very popular everywhere over the years is IGT's Game King. Funnily providing an Egypt-themed game has always been a safe bet – dragons and kangaroos simply cannot compete with sphinxes and pyramids.
Technology plays such an important part in our lives and it has certainly affected our leisure time, how has it affected the offering within your casinos?
As I have already mentioned, new technologies have been the basis for Olympic Casino's success. Over the years, we have constantly developed our loyalty program and offered many modern additional winning opportunities as new technology has provided new possibilities. We were also the first ones in Europe to adopt cash-free EZ Pay system. The world is rapidly changing – Olympic is riding along and has no intention to fall off the train at the next stop.
Do you track how many of your land based customers also actively play at www.olybet.com/en/Index.bet
Yes, of course. We have always said that they are actually very different segments. At the same time, there is certain overlap and I believe that it will grow over the years. More and more online gamers will be looking for a live experience and long-term customers of regular casinos will test online gaming. I believe that thanks to land-based casinos, our customers respect and trust our online brand. We have also found synergy between the two segments in poker and in sports betting. As part of launching OlyBet.com, we opened a chain of OlyBet sports bars in Estonia and Latvia, showing sports events from large screens and offering live betting.
If there was one single fundamental change you could make (theoretically) to the laws governing Gaming in the in Countries you operate in, what would it be?
As a businessman, I should start by saying that taxes should always be lower. But seriously speaking, the biggest challenge would be the harmonisation of gaming rules in the whole European Union. After all, we have free movement of goods and services, and also the gaming sector could become a single market operating under the same regulations. This problem is especially acute in online gaming, but also land-based operations would benefit from it. Reasonable rules are always better than lack of rules, and harmonised rules would make the life of all stakeholders easier, while doing away with the political turbulence that is characteristic to some countries.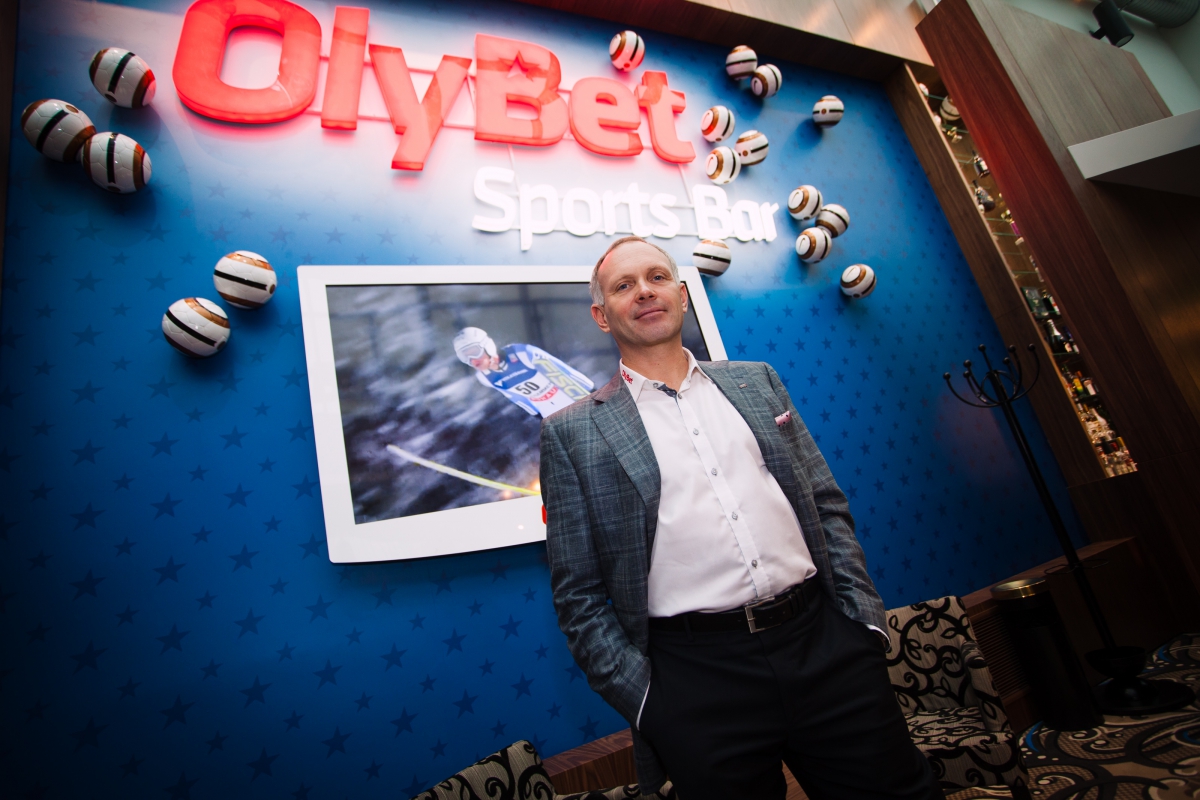 Over the last few years, there has been a significant change in how your operations have been branded, marketed and operated. Can you summarise what your customers (new and existing) can expect when they visit one of your venues?
One of the keywords in our flagship casinos is versatility. We have always favoured the Las Vegas-type approach where gaming tables and slots are located next to each other in the same area. Today, we have added a sports bar, live sports betting and a poker room to the mix, plus in bigger casinos, a separate stage and room for live performances. Instead of building luxury megacasinos, we want to offer a wide range of services in a compact and modern environment.
Could you provide an insight into the organisations approach to its Privilege and rewards program?
In 1990s many competitors were offering additional bonuses to customers to limit their losses, but we chose a different route. Olympic's principle has been that our bonus program is based on the handle and this has stayed the same for more than twenty years. However, we have added various options to win attractive additional prizes on the basis of virtual tickets that customers earn based on their handle etc.
What are the main initiatives taken that are amongst the most effective at retaining existing members as well as attracting new to Olympic Entertainment Groups Casinos?
To attract new customers one needs to offer a wide range of entertainment. Once the customer has had the first positive experience and found something they like, customer service becomes key. Nowadays, a person's leisure time is very limited and a valuable resource. It means that when customers trust us to take care of their leisure time for the second or third time, it's already a major recognition. We must be ready to offer activities that give customers enjoyment and make them come back for more.
Looking beyond 2015, what markets and/or projects would Olympic Entertainment Group like to become involved in?
As we are listed on the Tallinn and Warsaw Stock Exchanges, I cannot go into detail about our specific development plans today. But as I have said before, Olympic will continue to seek exciting challenges and I'm confident that we have something to talk about next year, too