Amy Culora, Head of Marketing, Grosvenor Casinos chats to Peter White
 Grosvenor Casino Brighton has been reinvented by the Rank Organisation as a bigger, better Pier Nine Casino. Not many people would think of Doctor Who as a gambler but the old casino was "a bit of a Tardis," in the words of Rank marketing chief Amy Culora. Part of that reworking of Casino Brighton was to rebrand it as Pier Nine Casino, cashing in on Brighton's historical cachet as a seaside resort. Rank poured $6.8 million into the makeover, one that resulted in a two-casino facility with 24-hour bars, among other amenities, which include private cinemas and karaoke lounges. Not missing a step, Pier Nine remained open throughout the conversion process. In conversation with Peter White, Culora explained the rationale behind the name change, what customers want and how being started in the casino industry in Stoke was the best thing that could have happened to her.
Pier Nine Brighton is in a very good location in the Town a as its only 5 minutes from the centre?
We have a fantastic location, as you say, 5 minutes from the lanes and we're right on the seafront between the Palace Pier and the West Pier.
What would you say are some of the most exciting new aspects of Pier Nine Brighton?
Pier Nine is a 24/7 entertainment hub which includes several bars and food offers, a wide range of entertainment, competitive socialising, karaoke and of course all your favourite casino and electronic games.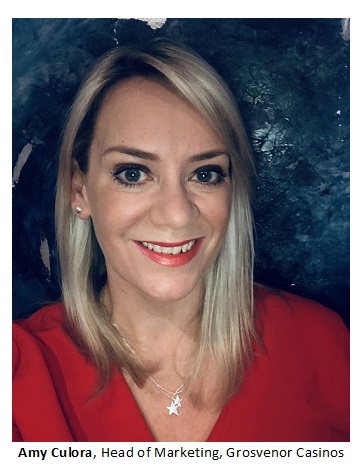 Would it be fair to say in addition to this being a major refurbishment that it's also seen the Venue undertake a major rebranding that includes the name and along with the likes of a stylish Live Sports Bar.
Our vision was to develop a venue which would give our existing customers more reasons to visit us and encourage trial for a variety of new audiences. With the changing leisure landscape and the change in consumer requirements for their leisure time over the past five years or so, we knew this had to be more than a refurbishment.
With that in mind, we undertook a thorough programme of customer insights to look at the product mix, venue design and of course branding. The challenge as always, is how do we create a better venue for our existing customers at the same time as attracting new audiences and that's always a fine balance.
However, listening to the customer feedback we hope we've done just that.
We didn't call the venue Grosvenor Casino Brighton for many reasons. Firstly, research told us that for new audiences, the word casino can be a barrier to trial. Secondly, its Brighton and there is a preference for independent venues over big brands in the locale, and lastly, we have a repositioning job to do so that our customers see this as so much more than a casino. We're proud of the Grosvenor brand and wanted to use this to emphasise the expertise around the gaming elements but the venue has many more reasons to visit than gaming alone.
Restaurants are a proven winner with attracting patrons. What has been the approach with Pier Nine Brighton as regards the investment in its new restaurant?
We've been reviewing our F&B strategy nationally and have found that some customers want to sit down to eat for an occasion, many of our casino customers just want 'fuel for play', and others want a far more casual dining experience. Therefore, we've created several options. You can enjoy a casual dining experience from a range of third party brands in the club house, sit down to one of the gorgeous sharing boards in the View Bar, whilst enjoying the sea view and a glass of your favourite wine, or order food to your table straight from our app anywhere in the venue. This venue is really about how the customer wants to interact with each of the individual elements.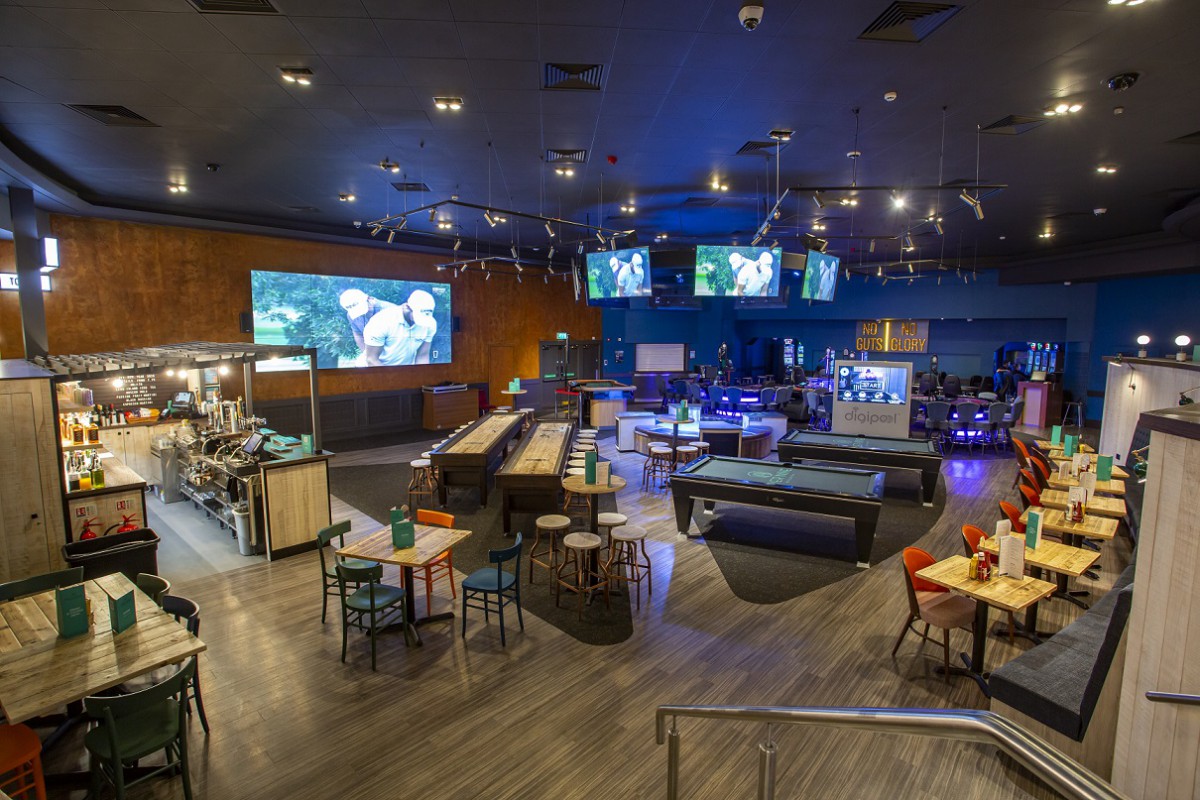 Infrastructure with these new refurbishments is extensive, what was your organisations choice of company to install all the displays lighting and sound systems and its interactivity with the venues management operating system?
It absolutely is and we've worked hard to ensure we have the right systems in place to ensure we create the right atmosphere in each zone relevant to the customer needs during the day. This includes lighting and music. We have a wide range of suppliers who work with us on these projects to ensure the customer experience is what it should be.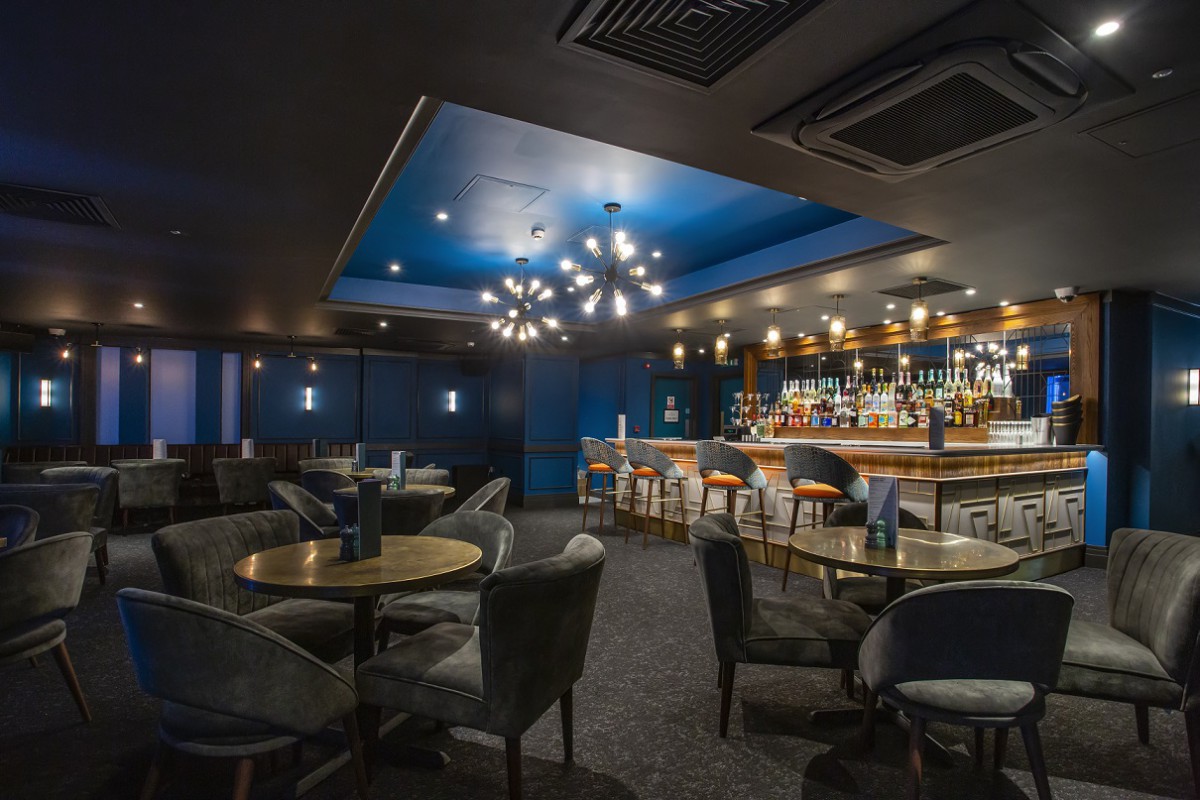 The design and the layout of the table gaming area is impressive, what has been the feed-back from patrons?
Our gaming team seek feedback from customers every day on the set up of our product mix and layout on a national basis. These learnings are fed into all our venues, including the Grosvenor Casino at Pier Nine. The refurbishment has just been completed so it's too early to get formal feedback, but we've been sure to take our customers on this journey with us and anecdotally the feedback has been positive so far.
Is there a seasonal impact on the Casinos revenue or is it steady throughout the year?
Before the refurbishment we didn't see huge seasonal trends in the business, but we had a very core customer group who mainly lived in and around Brighton. However, the vision for this investment is to continue to look after the customers we know and love but also attract a range of new audiences which will include holiday makers and day-trippers - so we would anticipate some seasonality moving forwards.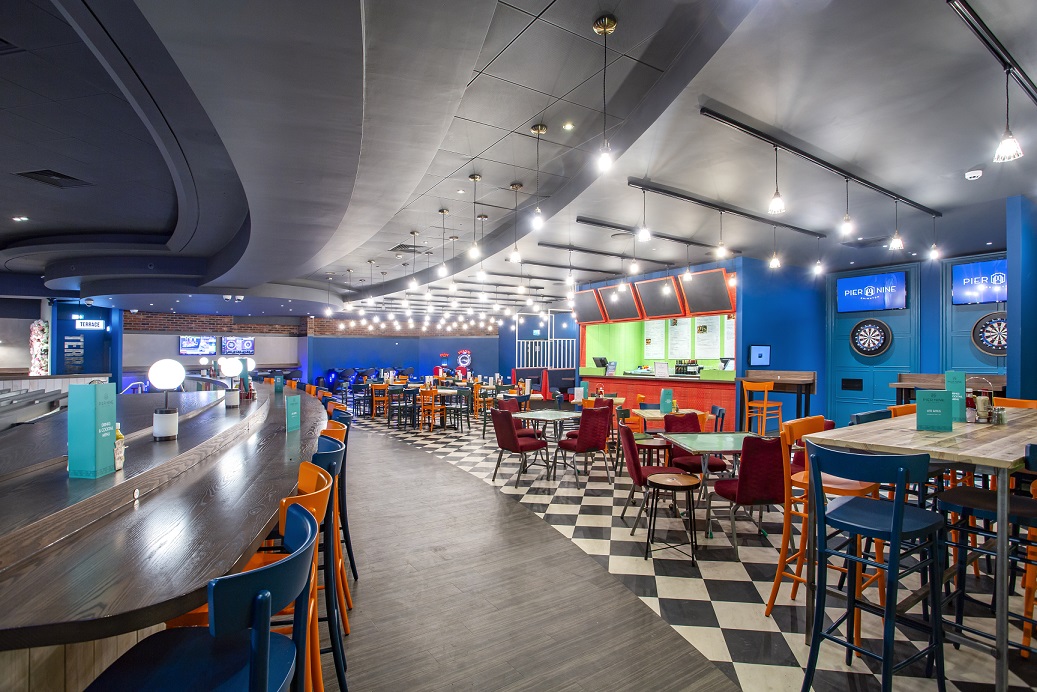 How have guests treated the venue? Is it as much a party, entertainment and dining venue or as a casino?
Its very early days but this venue has many different experiences to offer different audiences. The premises itself is a bit of a Tardis - as we've taken over an adjacent building. The benefit of this means there are lots of different areas or zones which offer a different experience and atmosphere to meet the needs of each individual customer group.
How does the entertainment and casino venue compare with the other alternative attractions in the town?
Brighton is a vibrant cultural city with more experiences on offer than anywhere else I can think of. That's almost a blessing and a curse when launching a new venue. It means people are open minded and ready to trail new experiences but obviously it's highly competitive. However, it tends to have lots of smaller independent venues, but it doesn't have anything like Pier Nine to date. In fact, I think Pier Nine is a UK first, not just a Brighton first.
Is there an average age group or does the Casino attract patrons from 20s to 70s+?
We hope it will appeal to everyone. It certainly has a broad enough range of experiences and as I have said, lots of different zones offering different atmosphere and product environments.
How did you get where you are today, and who/what helped you along the way?
I've worked in the industry for 17 years now in a variety of different roles from PR to corporate comms to marketing. As you will know, as an industry we've seen more change than ever before and for anyone working in it, each change has brought new experiences and new hurdles to overcome or opportunities to maximise. From the lift of the 24 rule and advertising ban, 2005 casino act, introduction of new brand formats such as G Casino and now Pier Nine, lobbying against Bingo taxation and the development of new bingo formats – I've been lucky enough to work on all of those projects and that has given me a breadth of experience and also a deep understanding of our customer needs as well as how to successfully deliver schemes and projects both internally and to our consumers.
What was your first big break in the industry?
I have had some brilliant mentors to help and guide me and I've enjoyed almost every minute of my career in gaming so far. This industry is a strange one. Before you work in it you're not really even aware that it exists – unless you are a gambler yourself. My background was in PR and marketing agencies.
I guess my big break was on day one in this job where I was sent to Stoke to open the new casino there. I remember the night vividly as I had no idea what I was doing but I got to meet all of my trade press contacts who I'm still in touch with today and I got to see a casino in full swing on its busiest night – we literally had queues outside waiting for us to open the doors. The team were new and nervous, the venue was at capacity and the gaming tables were 10 people deep. There were a few challenges throughout the night, and I think I ended up clearing the glasses and emptying the bins but it was obviously a night to remember and I've never looked back.
What is on your wish list for your next five years here?
My immediate wish is for Pier Nine to be a success as I've been working on it for close to two years with a number of people at Rank and external agencies. Overall I feel like this is an important time for our industry and it will change a lot over the next few years. My wish would be for people to try casinos before they judge what they're like inside. There are still so many misconceptions and stereotypes which is frustrating.
Has been the approach in developing the appeal of the food and beverages been nationwide or has Grosvenor provided independent approach to its regional Casinos?
It's been a mixture. We have a range of brands that we work with and our venues can choose the mix dependent on their local clientele. Its really a case of test and learn to see what our customers like. However, in Brighton we have partnered with a variety of local suppliers to celebrate and offer the fantastic products available on our doorstep. This includes coffee to gin!
Entertainment is also a factor in broadening Casinos appeal especially outside of major Cities, what has been your approach to involving cabaret along with singers?
I think we see entertainment as being more around how we deliver each and every experience we offer to our customers, rather than having a singer on the stage. It also doesn't have to be facilitated by us to make an experience entertaining. Of course, in some of our venues we do that, in others we offer a broad range of entertainment from comedy to bands to e-Sports events.
But at Pier Nine we're proud of every element and understand that for some customers their choice of entertainment is playing the roulette tables but for others it's watching the match on the big screen or having a game of darts with their mates.
This interview was originally published in February 2020 Casino Life Issue 138