Palms Casino prepares to reopen under new ownership and the direction of Cynthia Kiser Murphey. By David McKee
In its 21 years, Palms Casino Resort has seen its share of ups and downs. Its star-studded opening on Nov. 15, 2001, was a shot in the arm for a Las Vegas that was reeling from the effects on tourism of the Sept. 11 attacks. Owner and creator George Maloof developed the innovative and canny stratagem of marketing to locals weekdays (especially with good slot and video poker values) and to party-hearty California tourists on weekends. It was a formula that succeeded spectacularly, even though the Palms was a healthy jaunt off the Las Vegas Strip. So popular was it that a second tower was opened in 2005 and the Pearl Concert Theater two years later. (There was even a short-lived Playboy Club.)
Then came the condominium boom of the mid-decade and Maloof embarked on an ambitious condo-hotel, Palms Place. When the condo bubble burst in Vegas and the Great Recession struck, Maloof found himself overextended and vulnerable. In 2011, he liquidated to private-equity firms Texas Pacific Group and Leonard Green & Partners. This marked an era of stagnation at the Palms. Seeming rescue came in the form of Station Casinos in 2016. It purchased the casino-resort for a knockdown price, and promptly sank $620 million into renovating and reinventing it. Station hoped to reposition the Palms as a competitor with the bigger Strip casinos, a misjudgment that was epitomized by the Kaos nightclub, which promptly collapsed under the combination of excessively lavish entertainment contracts and poor attendance. At times the Palms was producing a negative return on investment for Station. The Covid-19 pandemic of 2020 provided a handy reason for mothballing the Palms altogether.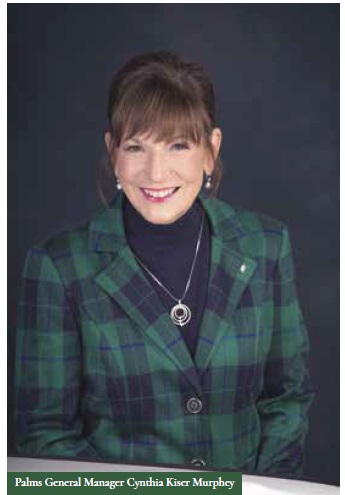 During this two-year period of darkness, a beam of light shone from the San Manuel Band of Mission Indians. The latter already had stamped its name on Las Vegas by being the initial gaming partner of the Las Vegas Raiders of the National Football League. Looking to expand their foothold in Sin City, San Manuel set its sights on the Palms and deal with Station was quickly consummated. San Manuel got the Palms for $650 million and immediately embarked upon the challenge of reintroducing a property that had been absent from the community for two years. Thanks to Station's massive capital infusion, most of the Palms was state of the art but San Manuel does have some remedial work to do. As Vital Vegas reporter Scott Roeben observes, the back-of-house areas had been neglected.
Says Roeben, "if customers can't see it, it doesn't affect the bottom line. It does, however impact morale greatly and it's clear San Manuel makes employee satisfaction a high priority. I get the impression the space wasn't a disaster, but rather typical of back-of-house areas, but given the overall great shape of Palms, it stood out as needing an upgrade." To that end, San Manuel is reportedly spending millions of dollars on higher-grade employee areas. Roeben opines, "Giving employees a pleasant and welcoming place to take their breaks and eat is an important part of hiring and retaining good employees. Happy employees make customers happy."
And happy customers are what casino General Manager Cynthia Kiser Murphey hopes to create. She's no stranger to Las Vegas gaming, having run MGM Resorts International's New York-New York for 12 years, from 2008 to 2020. After that, she ran a benefits fund, parlaying some of the experience she gained in human resources in what was then MGM Mirage, rising to the position of senior vice president of human resources before transferring to New York-New York. A University of Nevada-Las Vegas graduate, Kiser Murphey is no stranger to resort openings, having been centrally involved in three. Given the marketing alchemy involved in conjuring up a new audience for the Palms, this may be Kiser Murphey's biggest challenge yet.
You've said, "We will be building the new Palms." What did you mean by that?
Well, we are opening the new Palms, so we are reopening a beautiful resort that was carefully and meticulously remodeled with beautiful furnishings and unmatched amenities. I gotta tell ya, when I first saw the property I knew it was beautiful but I was very, very excited when I saw what condition it was in. Our job is to reopen it with a new sense of hospitality and welcoming after a two-year closure because of a worldwide pandemic—and to be the first Native American-owned casino and resort in Las Vegas. So we've a little bit of history to make here in the next few months.
What physical changes can we anticipate when you reopen—and when will that be?
We're reopening in the spring. We're working as hard as we can as fast as we can to open it, and do it right, to bring it back in the respectful and proper way that it needs to be done. There's many, many important operational details to line up and over 1,000 people to hire. So we will open as soon as we can. We don't have an opening date. It's very important that we order all of our supplies, get all of our people in, get everybody trained and get all the systems implemented. You can imagine the detail for ordering chips, cards, dice, linens and making sure all the employees are fitted into their uniforms, hired, processed, fully trained. There's a lot to do and we're going as fast as we can. We've been licensed just a little under four weeks and we are working around the clock to get there. We'll have a date soon, I hope, but we haven't an exact date yet.
How will the San Manuel Palms be marketed to the public?
With our location we will certainly embrace the Las Vegas community. We have an extremely loyal, well-developed group of customers coming from Yamaava', which was formerly called San Manuel Casino, that have decades of experience with that wonderful property as well. So those will be key components: embracing the locals and bringing the Yamaava' customers to Las Vegas.
What's your customer 'sweet spot'?
We're really working on that and envisioning all of that right now. Again, if you take the Yamaava' customer, there's a lot that's known about that already. Then, taking a look at the Las Vegas community and giving the locals a reason to come down, to see us, to visit us, looking at both neighborhood reach as well as the broader community reach. Part of that is under review right now and being studied by a team of people that has just been hired, with more to follow in the future.
The Palms has been out of action for two years. How has the industry changed in the interim?
The industry is dynamic and fluid right now. There are changes. What I'm so proud of our industry in general—and even in our Las Vegas gaming industry—is how we have been so agile and so resilient to the constant changes, the market conditions and of course the community these conditions have produced. First and foremost, to come to any gaming establishment, any resort, our customers have to feel safe and know that there's a commitment to their health—as do our employees. So that's number one. Two years ago, if you would have said to gaming executives that masks and hand sanitizers would be one of the most important tools and principles of our business, it would have sounded quite foreign to us. Now masks and testing and health protocols, those parts of our professional responsibility are paramount now. We've all learned a lot and, being that we are a front-facing industry, we have to keep being on the forefront. In our company we have health experts who've been hired to keep us safe and to constantly keep us updated, because as you know, the landscape is changing. I'm really proud of our industry and, as a property about to reopen in these conditions, it is our responsibility to continue that and take it where it goes in the future. So nothing is more important because if people don't feel safe and healthy then they're not going to feel comfortable coming to relax and enjoy themselves. Second, I think people's mode of travel has changed. A lot more people drive. Also people change their mind or conditions change a lot. You have relaxation on rules and cancellations, and all that, so we have to be a lot more flexible with our customers and with our employees with regard to that. And we have to be transparent. We have to show our customers how we clean and how we constantly update.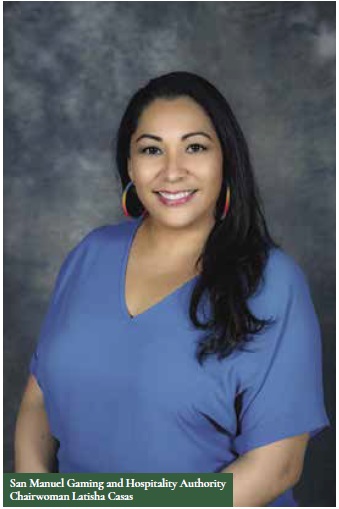 If one remembers the old Palms, what will they find different and the same about the new-look one?
Some of the most famous amenities, such as the Pearl Theater, such as the beautiful swimming pool, such as Scotch 80 Prime, the beautiful Brenden movie theaters, some of those will definitely be familiar to customers from the previous Palms. While we have those amenities...and theaters is one good example. There's 14 theaters. During this closure time they've completely remodeled, put in luxury seating and improved the facility so that when we reopen, while you'll still feel comfortable and familiar when you come in, you also will see that it's been refreshed and updated. The casino floors have changed in terms of the product, in terms of what customers want to do. We've refreshed the product on our gaming floor and our goal is for people to feel familiar, feel a tremendous sense of hospitality and welcome by very friendly employees that we're working hard to hire right now. We have some new technology coming into the sports book. We're refreshing the back of the house.
We're refreshing the employee areas. We're working hard to do some refresh on Palms Place, which is our condo-hotel tower that has not closed during the pandemic but certainly has been a challenge because of conditions in the market. So we're looking to bring all that back.
What kind of a gaming mix will you offer?
We're working on that now. We want to make sure that the Yamaava' customers have a sense of familiarity. What does that customer want to see on a gaming floor and how to we present that in a Vegas way? We've just hired the gaming team. They've been on a couple of weeks and they're working diligently on the right now.
Similarly, what will be your repertory of dining amenities?
We have a very wide range all the way from Scotch 80 Prime, which is clearly our premier, premium, well-known and -loved venue, all the way to some really fun fast-casual restaurants. We also are very lucky and fortunate to have a relationship with Michael Simon, who has Mabel's Barbecue. Michael's also working with his team to bring some new menu items and refresh that wonderful neighborhood restaurant, and that's kind of a unique amenity. Gamers love it, locals love it and tourists really appreciate it as well.
What is your entertainment program for The Pearl?
We are so proud to have the Pearl Theater and it's in beautiful condition. The acoustics are amazing. What we've learned in the short time we've been there is how much the acts want to come back to the Pearl, so we'll be building an entertainment calendar to bring familiar and new acts through. It's a really wonderful venue. It's got excellent heart and soul, great history. A lot of excellent acts have started calling us. We've also got a recording studio, which is kind of fun to package with the Pearl Theater. Some acts want to come and cut an album or a single with us, so we're working on that as well. We'll be announcing within the next few months some of that entertainment programming.
How will the Kaos space be repurposed?
What we're doing with that now is, number one, looking at various options. We have already started booking it for some events and we have had some great success with that. There's actually a fair amount of demand for that space. We've had the license for a little over three weeks. So I don't want to say that we don't have everything built out yet but in three weeks we don't have everything built out yet. [laughs] We're working on all of it. The Kaos space is really unique and quite beautiful and comfortable, and it's got state-of-the-art technology so we definitely plan to use. We're looking at the best ways to deploy that. We definitely have some bookings coming for event space, too.
What makes your suite product unique?
Oh my gosh, the suites are so stunning. Each one has its own story. The views are absolutely spectacular. What's been added to the skyline since the closure, we've got Allegiant Stadium. So you look at Allegiant Stadium, standing in our suites, by day or by night, it's just stunning. And of course the landscape of Las Vegas and the view of the Strip...the suites are, each one, carefully designed around their own theme and there are unique aspects to each suite that make them very special and very desirable. During the day it's great. When the sun goes down it's just outstanding. The views are amazing. You could put the views from these suites up against any major city skyline, whether you're talking about New York, Miami or internationally. It is jaw-dropping to look out of our suites. You could come back 16 different times, stay in 16 different suites and have completely different experiences.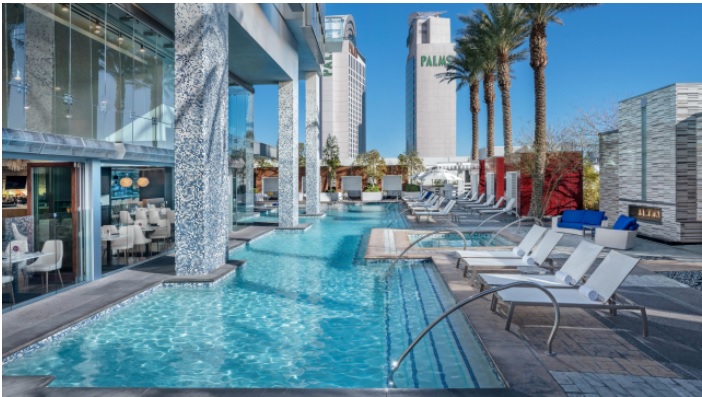 What are the pitfalls to avoid in re-reinventing the Palms?
We have to take a hard look at bringing the right aspects of what's new to the customer. We're spending a lot of time thinking about that. I don't think I can talk about the pitfalls of the past because I'm not as familiar with what went right and what went wrong. What we have to do is carve a new way that works for our company and our tribe, and really bring to the forefront the history and the culture of our tribe as we bridge what San Manuel's intentions are to the Las Vegas community. So really it's carving a new way, rather than looking backwards and that's why we're very carefully planning everything from demographics to amenities to offerings. I think you pose a really good question, one that we consider daily. I would say the answer is it's still under development.
As a Strip veteran, what can Strip experience bring to the Palms and how much do you have to acquaint yourself with the locals market?
That is my number-one goal is to learn as much as I can about the locals market. Fortunately I'm a longtime local, which means I'm a longtime customer of both the locals properties and the Strip. Though I've spent my career down on the Strip I've spent my life up in the community. It's important for my to hire the right people who can bring the vision, and not only to hire them but to listen to them and collaborate and work together on what the new Palms is going to be. That's the most important thing is to figure out how do we in a really robust, safe and appropriate way to bring the Palms back to this wonderful community and get 1,000-plus Nevadans back to work.
How many old Palms employees do you think you can lure back?
Our goal is as many possible. So what we're in the process of doing is contacting them, doing a major outreach to find them. As you can imagine, in two years people move, people change phone numbers. So our first order of business for the whole month of January has been contacting Palms employees and welcoming back as many as we can, as many as we can find, as many as are interested. We've been very, very focused on that. We're scheduling what we call a 'recall event,' which is both virtual and in-person to try to get the Palms people back. What we've learned so far is that there's a group that really want to come back. It's almost more than a job to them. A lot of them 'want to come home.' I'm really proud and happy about that. I'm not idealistic enough to think we can get all 1,000 back because people's lives change. But we're going for as many as we can get.
How would you describe San Manuel's customer-service culture?
One of the things that's so stunning about walking in there is how friendly the employees are, what a great commitment to service they have. They are very, very warm and engaging with the customers. By the way, the property is immaculate. While they have 4,600 slot machines, they have employees that are remarkable and really, really excellent at hospitality. That's important for us to be consistent.
How do you bring that culture to Las Vegas?
By hiring the very best people we can, who are really, truly committed to service. And that starts with my management team all the way to the front line.
Finally, how do you plan to capitalize on your preexisting relationship with the Las Vegas Raiders?
First of all, there's a new connector road. The Palms is on West Flamingo and there's a brand-new connector road that was built that makes it very easy to get over to Allegiant Stadium. So we can provide very nice access to the stadium. We have the view of Raiders Stadium that's excellent and we're all about locals. We're all about winning tomorrow in Cincinnati, by the way, and we can't wait for the Palms to be to open to celebrate our restaurants, have tailgate parties in our sports book, to create a little bit of atmosphere that's supporting the Silver and Black, as well as the Golden Knights, as well as the Silver Knights, as well as the Las Vegas Aces, as well as UNLV, as well as the Aviators—and any other team that comes to Las Vegas. We're going to be all-in on local teams.
* Palms Resort Casino Las Vegas feature originally published Casino Life Magazine Issue 149 February 2022 *