One of the recent additions to Metro Manila's Entertainment City is the Okada Manila, set to become one of the iconic integrated resorts located on the city's gaming strip. We've had an opportunity to chat with Alastair Dick, Vice President of Table Games at Okada Manila
Could you give us a bit of a background on your position with Okada Manila. What does the position entail?
My role as Vice President of Table Games at Okada Manila entails many components. Reporting directly to the President of Okada Manila I oversee all Table Gaming related functions including customer satisfaction, project development, staff mentoring & development, statistical analysis budgeting and last but not least revenue generation. With a team of over 2000 staff and gearing up for a gaming product with over 500 gaming tables, there is a significant amount of planning and administration required to ensure the entire team is working towards our common goal of providing the best gaming experience in Asia.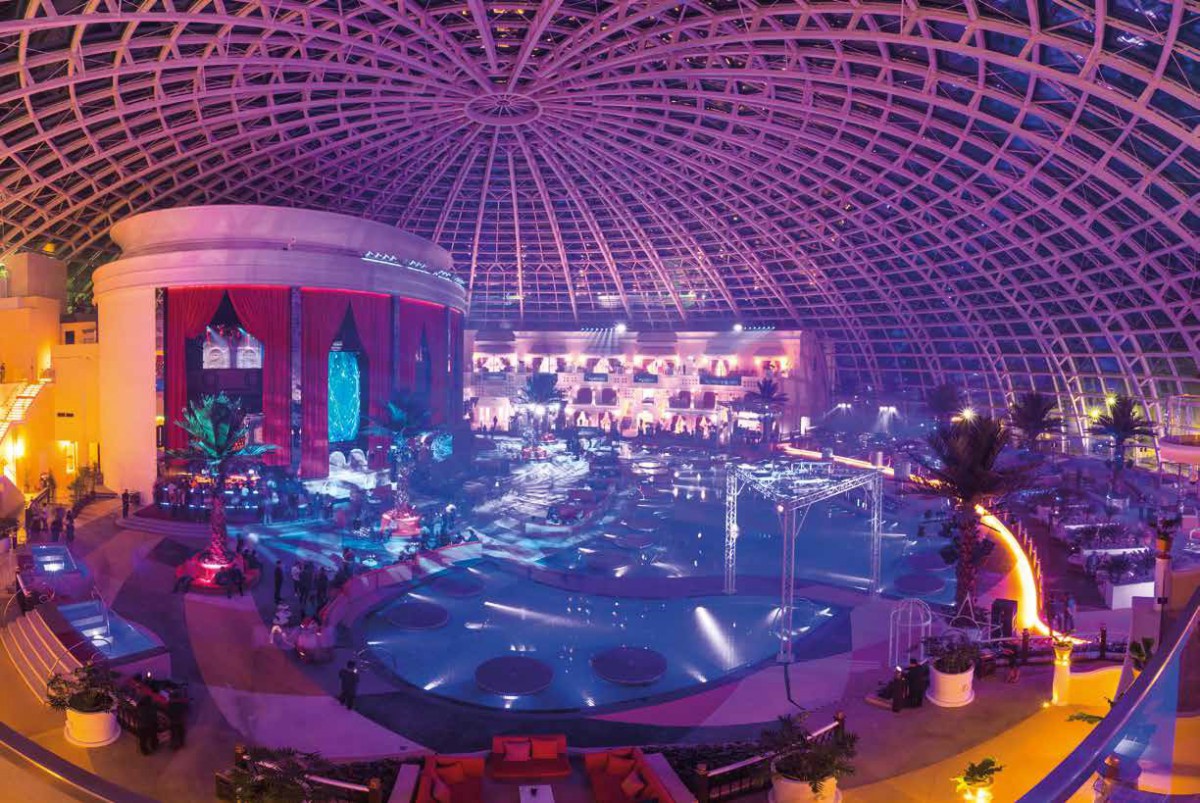 What is your background in the industry? What led you to Okada?
I have been in the Gaming industry for 25 years, predominantly in Table Games but with exposure to all facets of Gaming and Hospitality. I started my career at the Launceston Country Club Casino in Tasmania Australia, and after 13 years covering multiple roles from Table Games Dealer through to Shift Manager, as well as roles in Cage, Slots and F&B to name a few. I then moved to Macau spending 3 years with Sands Macau as a Pit Manager and Shift Manager before joining SJM's flagship property Grand Lisboa as an Assistant Casino Manager and then Casino Manager. After 8 years at Grand Lisboa I was approached to undertake my current role at Okada Manila as Vice President of Table Games.
Okada Manila is a relatively new property. When did it open?
We unveiled the property to the public on December 21, 2016 giving a special preview, during which we opened our gaming floor. We have since opened other amenities and areas, including our signature restaurants that offer a rich representation of the world's cuisines, our iconic multicolor dancing fountain (March 31, 2017), and our indoor beach club and nightclub, Cove Manila (Dec. 15, 2017).
Okada has quickly become an iconic Integrated Casino Resort property within the city. What position does it hold within the Metro Manila gaming sector?
Set in 44 hectares of prime land, Okada Manila is a US$2.4 billion investment in a $1 billion market. That's why it is very special. But although it is the largest and most expensive property in Entertainment City, we are positioning it as an integrated resort with features that cater to different kinds of people.
True to the company's core principle, Okada Manila mainly stands for one thing: entertainment. While we have a casino and gaming area—possibly the largest in the country in terms of size and gaming options—we have a rich array of various amenities that truly spoil our guests with choices on how they would like to spend their time, from relaxation to shopping to dining and other kinds of entertainment.
For starters, we have a number of exciting signature restaurants, offering scrumptious feasts for casual, buffet and international dining. Guests can indulge in different cuisines from East to West. And of course, guests can opt to treat themselves to some shopping in the Crystal Corridor or Retail Boulevard or choose to unwind and relax in The Retreat, a world-class spa offering luxurious wellness treatments. Through our very own entertainment group, World of Wonders, we have gathered the most talented entertainers to offer one-of-a-kind and world-class performances to guests in the whole property. And for those looking for fun and unique entertainment, The Fountain and Cove Manila offer exciting ways for guests to enjoy memorable experiences.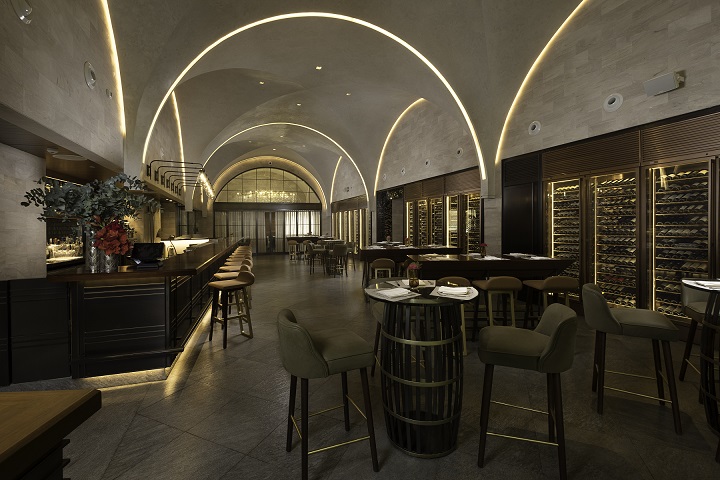 How many table games does the casino have?
We have 355 table games currently in operation, Baccarat being the major game of choice followed by Roulette and Blackjack.
How many electronic games are there at Okada?
Okada Manila now has a combination of almost 3,000 slots and electronic table games that can be enjoyed by our patrons.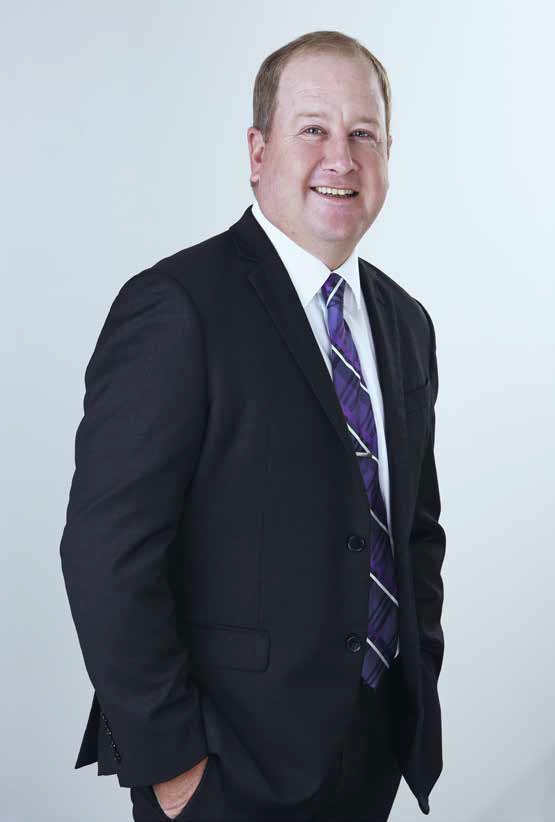 Image: Alastair  Dick, Vice President of Table Games at Okada Manila 
Okada has an ongoing promotion called Wheels & Fortune 3. Can you give us some details about that?
Wheels & Fortune 3: American Graffiti is one of Okada Manila's biggest promotions to date where we are giving away over 50 million Philippine peso in prizes. The highlight of this promotion are the 2 bespoke bikes that were created by Orange County Choppers lead by Paul Teutul Sr. of the Discovery Channel's American Chopper. He created Cove Manila Chopper and Okada Manila chopper worth 13 million Philippine peso each. On top of the 2 bespoke bikes we are also giving away 10 Harley-Davidson bikes and millions in free play. This promo started January 2018 up to June 2018. For only 20 Points a Reward Circle member can earn an entry and get a chance to win their share of over 50 million in prizes. Everyone can be a winner in Okada Manila.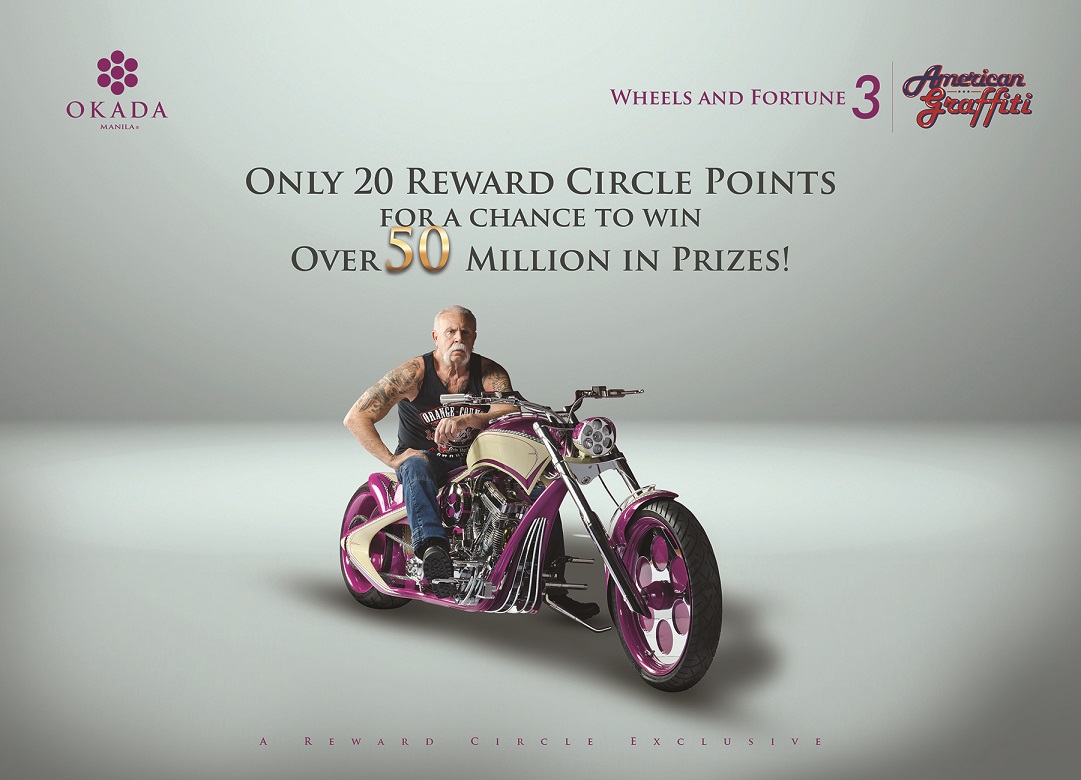 Wheels & Fortune 3 is the predecessor of Wheels & Fortune 2 where we gave away over 40 million Philippine peso in prizes. The highlight was the grand draw that happened last January 1, 2018 where we gave away Ferrari California T worth 26.5 million Philippine peso. We also gave away 11 Ducati motor bikes and millions in free play during the run of the Wheels & Fortune 2 promo. This promo ran from June 2017 to December 2017.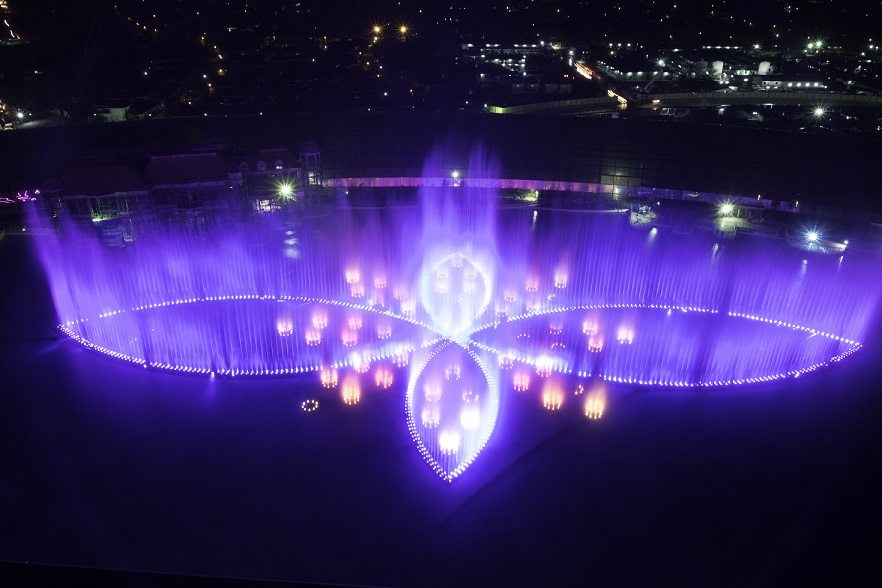 The first biggest promo Okada Manila did was the first Wheels & Fortune where we gave away over 27 million Philippine peso. The grand draw happened May 27, 2017 were Okada Manila gave away an
Aston Martin Vantage S worth over 18 million Philippine peso. We also gave away 4 sports bikes and millions on free play. This promo ran from January 2017 to May 2017.
Are there additional promotions at Okada?
We have monthly campaigns at Okada Manila, our current promotions include:
• Earn More, Shop More where members who earn points during the earning period will get free vouchers that they can use for shopping at Marks & Spencer store.
• Daily Dining Deals where members who earn points will get free vouchers that they can use to eat in any our restaurants.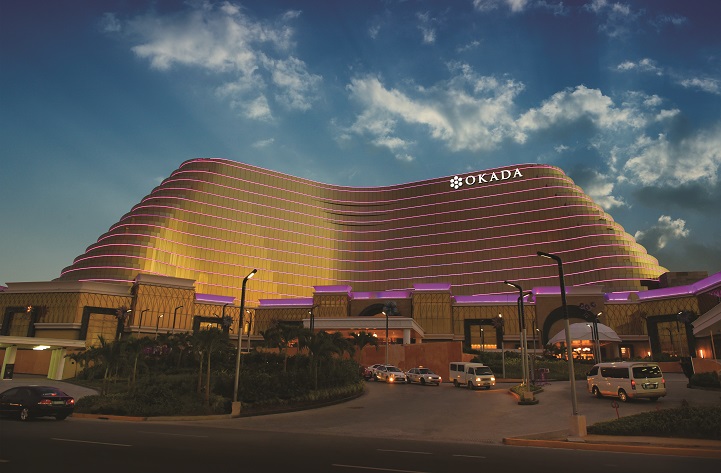 What type of tournaments are available for table games, electronic games?
Okada Manila has an on-going slots tournament called Lucky Tiger 8 Slots Tournament and the Lucky Tiger VI Slots Tournament: Okada Invitational. We are giving over 6 million free play in prizes. We have given away over 46 million in free play since we started with our Lucky Tiger Slots tournament. Okada Manila just concluded the first ever Lucky Tiger Slots Tournament Champion's League where the first prize was 1 million in free play.
Okada Manila concluded a baccarat tournament called Okada Baccarat Tournament where we gave away over 7 million in prizes.
Where does Okada draw its guests from?
Okada Manila's guests are mostly Filipinos/locals, Chinese, Japanese, Korean, etc.
Are there any restrictions on locals gambling in the casino?
We have PAGCOR or Philippine Amusement and Gaming Corporation that acts as the regulator of the casino in the Philippines. There are no restrictions on locals gambling in the casino, however, minors and prohibited persons such as government officials are not allowed to enter playing areas of any casino in the Philippines.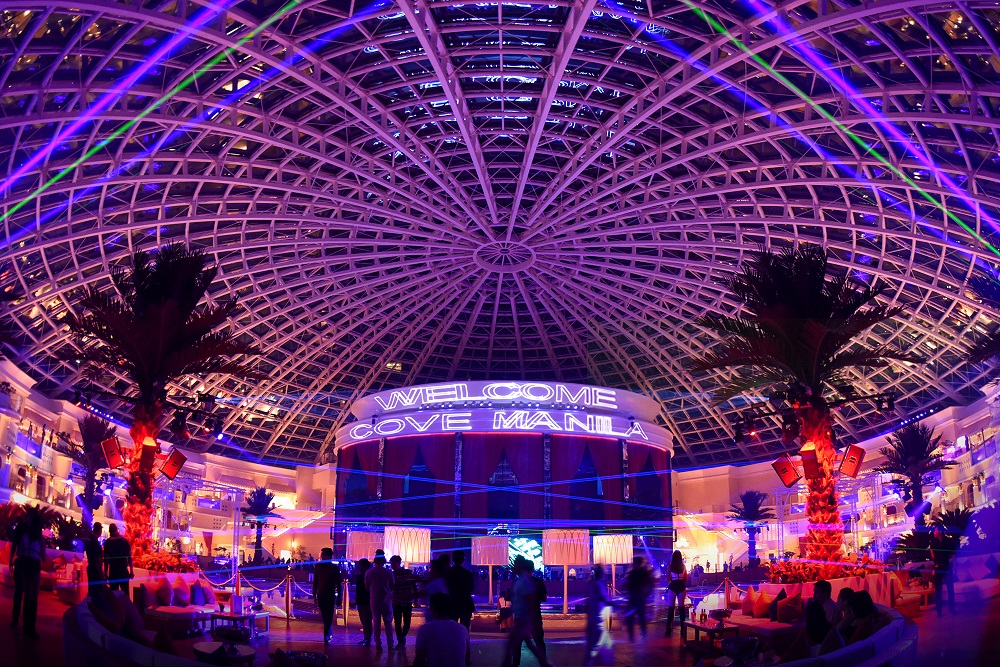 In addition to the casino, what draws other guests into the resort?
Apart from its record-breaking dimensions, Okada Manila takes pride in its unique and world-class amenities. Its most iconic feature is The Fountain, a US$30 million light and water dancing fountain surrounded by more than a kilometer of projection-mapped entertainment space called the Crystal Corridor. Aimed to become Manila's main tourism icon, this fountain is designed and developed by WET, the same team behind the world's most popular water features in Las Vegas and Dubai.
Okada Manila is also home to the country's first-ever indoor beach club and nightclub, Cove Manila. Enclosed in a glass dome, 100-meters in diameter and 30-meters in height, Cove Manila can host up to 5,500 guests and has featured world-renowned music acts, such as Steve Aoki and Nelly.
Lastly, Okada Manila boasts of one of the largest and most luxurious rooms in the industry. Ranging from 55 sqm deluxe rooms to 1,400 sqm villas, the property treats its hotel guests to breathtaking views of either the Manila Bay or The Fountain. Our rooms are an exemplar of modern conveniences as each carries a digital valet system, enabling guests to control room features such as lights, curtains, air-condition, television and other elements from a single touch-screen tablet.
Does the resort's proximity to the airport provide a benefit to drawing in guests?
Yes, the newly completed NAIA Skyway provides a direct link that makes the airport a mere 10–15 minutes away. Moreover, compared with the relatively more congested business districts of Makati, the Bonifacio Global City, and Ortigas, Entertainment City offers visitors and tourists a more relaxed yet modern option for work and leisure. That is why location and accessibility serve as the two major advantages of Okada Manila over other similar destinations. Situated in some of the choicest parts of Entertainment City, Okada Manila enjoys glorious views of the Manila Bay sunset.
Does Okada provide a Responsible Gaming program, and what is the focus?
Yes. Okada Manila has its own Responsible Gaming program which adheres to the requirements and the spirit of Responsible Gaming Code of Practice issued by PAGCOR or the Philippine Amusement and Gaming Corporation. The main focus of the program is to create awareness of the Responsible Gaming information via our website, sign, brochure and hotline so our patrons are able to make informed decisions about their participation in gambling and seek assistance on gambling problems from help centers if need be.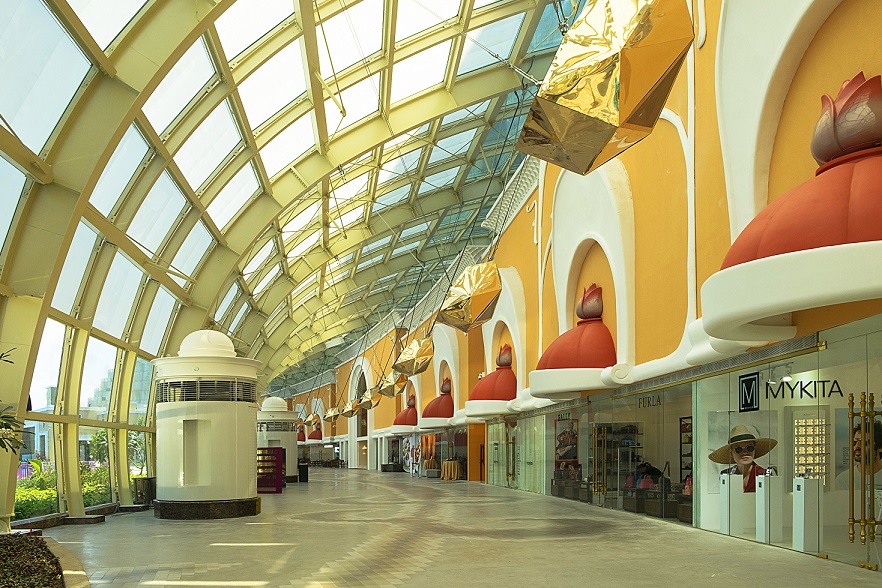 Could you describe Okada's loyalty program?
Our loyalty program is called Reward Circle. Our membership is free and it comes with perks and benefits: for example, you can earn an entry in our Wheels & Fortune 3: American Graffiti to get a chance to win your share of over 50 million in prizes. Please feel free to visit www.okadamanila. com to find out more about Okada Manila and http://www.okadamanila.com/casino to discover more about our promos inside the casino.
Casino Life would like to thank Alastair Dick at Okada Manila for his time and contribution to this interview.
Bill Healey Associate Editor Asia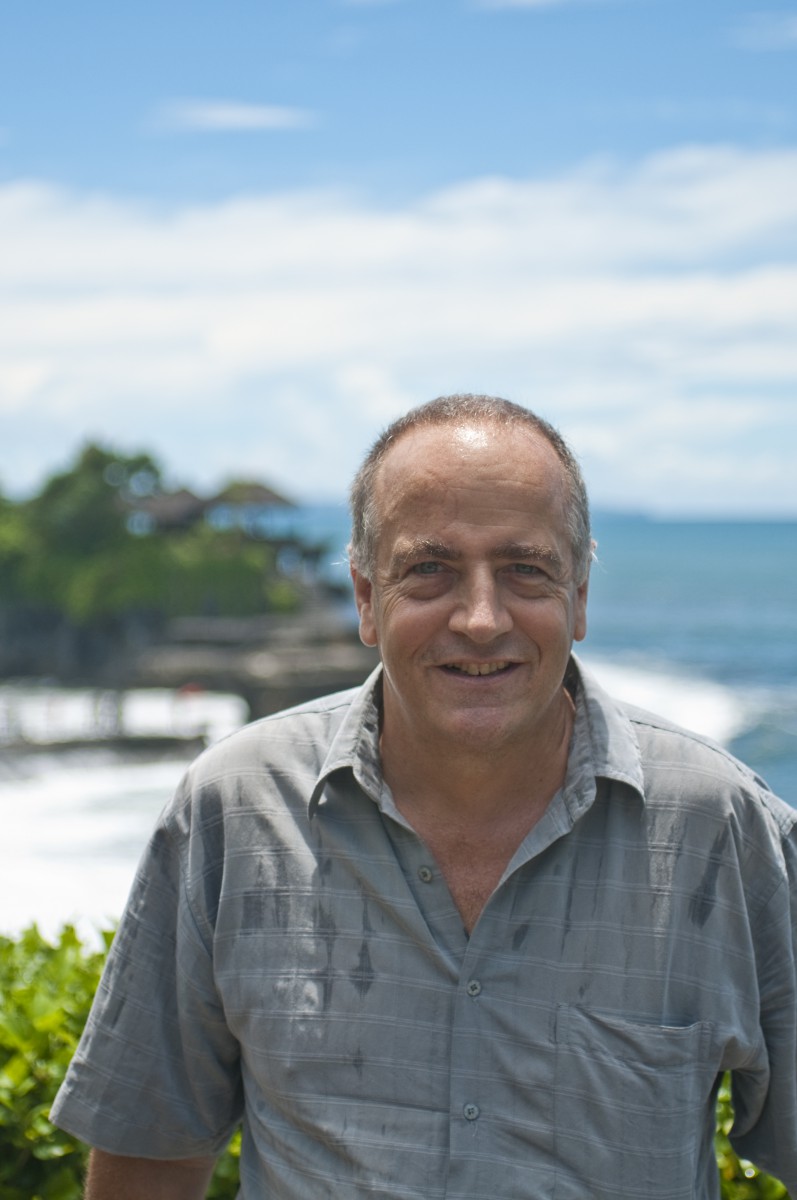 Bill Healey has spent his professional life in the leisure software industry, developing and implementing solutions used around the world.  Along with this, he has been actively writing on gaming and leisure since the turn of the millennium with content focused on global technology, market reviews and property profiles.  Splitting time between SE Asia and USA, he remains actively involved in international technology as a Director of Quasar Group International.  Connect on Twitter @heybil