Interview with Tashina Wortham, Marketing Communications Manager, Konami Gaming Inc. By Victor H Royer
Casino Life Magazine and Outsource Digital Media recently had the opportunity to interview Tashina Wortham, marketing communications manager at Konami Gaming Inc. Tashina is responsible for company and product communications for the leading provider of casino gaming entertainment and technology.
Tashina has served at Konami since 2014 and carries an in-depth understanding and extensive experience in global marketing strategies. She has recently been recognized with the Spotlight Award by the women-in-gaming organization Global Gaming Women.
Tashina, first I want to thank you for taking the time to speak with me. Please tell our readers about yourself and your role at Konami.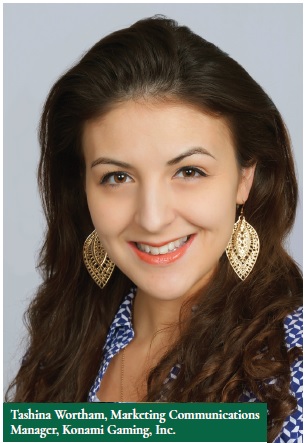 I help share top Konami advancements with players and properties in markets around the world. Konami Gaming, Inc. is a subsidiary of Konami Holdings Corporation, and operates the organization's global gaming industry headquarters in Las Vegas. Konami Gaming was first established in the U.S. in 1997. Today it is a leading developer of casino slot games and technology, reaching hundreds of direct-regulated markets across six continents.
Now that the G2E gaming convention is again "live" in Las Vegas, which are the video slots and related technologies which Konami is presenting, and what is new and innovative about them?
Since we last met in Las Vegas for G2E, Konami has seen a number of standout successes. Konami has achieved highly successful expansion in the area of premium lease product with the award-winning DIMENSION 49J cabinet and All Aboard slot series—both of which have spent months on third-party reports as top slots.
Our direct-for-sale category has also seen exceptional performance, with DIMENSION 49 ranking the industry's highest-performing core portrait cabinet for four straight months.
This year marked Konami's successful expansion into historical horse racing (HHR), working closely with Churchill Downs. And our award-winning SYNKROS has not only demonstrated its strength as the casino system of choice for the Strip's newest megaresort—Resorts World Las Vegas—it's launched the industry's most comprehensive, all-in-one Title 31/AML solution: SYNK31.
As a result of these milestone successes for us and our casino customers, our focus is expanding upon these proven high-performance products to achieve even more meaningful wins for players and properties.
Konami's G2E 2021 presentation includes never-before-seen DIMENSION premium formats and content; exceptional for-sale slot series on the newest DIMENSION core cabinets; fresh releases for historical horse racing markets; and SYNKROS innovations centered on cashless, cardless and connected convenience.
For these titles, which of them have new or re-imagined cabinets?
Several Konami cabinets are celebrating their G2E debut this fall. Konami's newest core cabinets—DIMENSION 49 and DIMENSION 27—are both appearing at the event for the first time with a mix of original for-sale series, from a new Treasure Ball integrated link on the portrait screen DIMENSION 49, to a Panda Power linked progressive on DIMENSION 27 that delivers different bonus events to each of the cabinet's 27-inch stacked screens.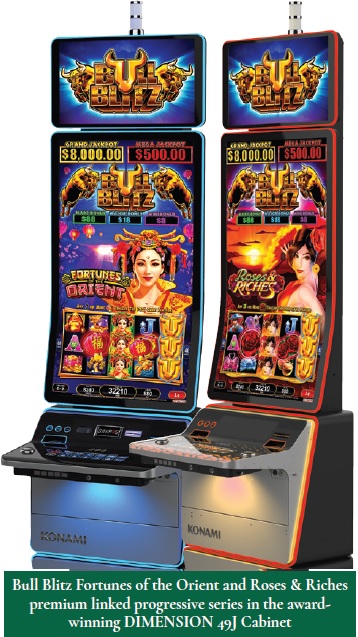 Konami's G2E 2021 display also includes never-before-seen DIMENSION premium formats, designed to attract and engage diverse player audiences over time.
What is new and innovative about these cabinets or their hardware components?
Konami's DIMENSION cabinet line is based on the proven success of the original, award-winning DIMENSION 49J machine, with 49-inch "j-curve" display in ultra-high definition (UHD). Expanding this performance to additional formats, all DIMENSION cabinets feature a sheen silver finish, multi-color edge lighting effects, sloped footrest, generous slant top, dual spin buttons, dual cup holders, and wired and wireless phone chargers.
These combined Konami hardware components have a demonstrated track record in the field and now are advancing to additional, never-before-seen Konami form factors for even greater operational gains.
Which of these titles are lease, sales or participation?
DIMENSION 49 and DIMENSION 27 are for-sale, core cabinets. DIMENSION 49J is a premium leased cabinet, backed by a premium content library.
For Konami, and for these games, which do you think is the future: sales, lease or participation? What percentage of each is the future for Konami?
With the success of DIMENSION 49J, All Aboard and Ocean Spin, Konami has achieved considerable growth in its premium participation footprint.
Our popular j-curve machine is positioned for far more growth, as G2E guests are set to experience when they try series such as Lucky Envelope, Bull Blitz and even BattleBots! As mentioned, Konami is premiering additional DIMENSION premium-form factors at G2E, for casinos to tap into. So clearly Konami is invested in the premium-leased category, and continues to drive performance and player popularity in this area.
At the same time, for-sale content has been at the core of our business since Konami Gaming was first established. Players have enjoyed Konami core content for decades, and our team continues to develop top-tier titles to this day. DIMENSION 49 and its debut series Fortune Mint have been at the top of industry performance charts since the start of the summer. Add to it series such as Treasure Ball Duo Luck, Rising Diamonds, and games like 
Mystical Pearl and Panda Power on the DIMENSION 27, and there's a wealth of winning core entertainment to power properties for the months and years to come.
Are any of these titles available in cashless configuration?
Absolutely. Konami's SYNKROS casino management system has supported cashless wagering through its Money Klip cashless-wagering module for many years.
It's compatible across manufacturers, and even at the table games. It allows players to load funds to their loyalty account and perform secure digital transactions directly at the gaming machine or table. They can even spend their digital funds at non-gaming outlets like property restaurants and bars through interfaced point-of-sale systems.
There are a variety of factors—including venue type, audience demographics, regulatory requirements—that influence the type of cashless solutions a casino venue may choose to implement, and SYNKROS has the strength, technology and flexibility to power a wide array of roll-out options to suit each casino's unique operations.
How does Konami consider the future of cashless gaming? Is this something that Konami is actively pursuing?
For the foreseeable future we think providing players with a good mix of payment options is essential to the global gaming industry's long-term growth and advancement. We have the technology to provide both cash-based and cashless payment options to players—quickly, securely and easily. Konami's Money Klip cashless has demonstrated success in the field, and continues to deliver leading advancements to empower players and properties with greater options and outcomes.
In the gaming industry, manufacturers sometimes refer to a segment of their products as "premium." Which are those that Konami is showcasing?
Premium games are a category of slot entertainment which – due to its branding, merchandising and/or hardware – is structured as leased product. It gives players a different type of slot entertainment experience compared to standard for-sale content, and it gives operators a diversified asset mix.
Several top premium series are showing at Konami's G2E 2021 exhibit, including Bull Blitz. Following proven success in the Australian market, this DIMENSION 49J premium linked progressive series is coming to North American audiences with launch themes including Fortunes of the Orient and Roses & Riches.
Any six or more golden bull symbols trigger the Bull Blitz feature, with a high-energy credit collection bonus. The three-by-five reel frame transforms to 15 independently spinning reels with random credit prizes, golden bull symbols and blank positions. Wins tally over the course of the feature and any time a golden bull symbol lands, all shown credit awards may re-tally in an "X-TRA HIT".
Lucky Envelope is also featured at G2E 2021 on DIMENSION 49J. Wild red envelope 
symbols appear on reels one and two throughout primary play, which can randomly trigger the jackpot-pick game. When awarded, 30 red envelopes flood the screen for the player to reveal a guaranteed jackpot award: Mini, Minor, Major or Grand. Lucky Envelope debuts this year with custom merchandising options and two available base games: Plum Riches™ and Jade Wealth™.
Konami is also introducing the world's first BattleBots slots! Based on the popular robot combat sport and reality TV show broadcast in over 150 countries, our new BattleBots slots feature iconic environments, sounds, scenes and machines from the show. Competitors rumble and roll across the reels in a robot combat to cash.
In the post-pandemic world, how is Konami positioned to provide video slots and content to casinos?
The state of our business is one of strong product, people and partnership. Konami's DIMENSION games product has demonstrated momentum and the same stands for our SYNKROS casino system, which is at record-high connections worldwide.
Konami retains a highly tenured, consistent leadership, with a combined 80-plus years of Konami experience just among the six executives in our C-suite. And Konami holds itself to a true partnership commitment. We operate with an open attitude and the structure of our company is light on layers, so leadership is highly accessible to casino customer input.
Does – or will – Konami provide gaming content to online casinos?
Yes, Konami games are incredibly popular on social and real-money online casinos. To help achieve robust digital distribution, Konami uses a remote gaming server (RGS) to deliver online slot content, which integrates with most popular back-end systems used by today's gaming operators for a complete interactive gaming solution.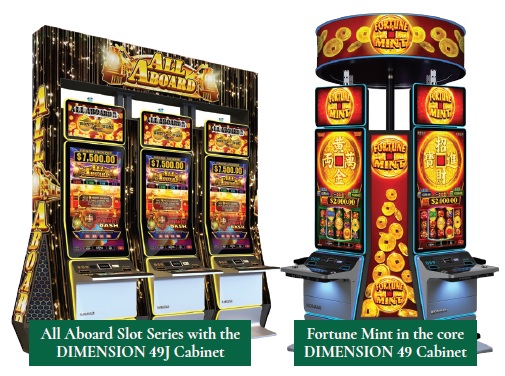 By distributing popular Konami casino games like China Shores, Lotus Land and All Aboard through the RGS, operators can easily integrate Konami games into their online gaming sites and apps. All the games on our RGS are developed using HTML5, with compatibility across a variety of personal devices including smartphone, tablet and desktop.
How would you sum-up the post-pandemic future for Konami in Las Vegas? And elsewhere in the world?
Our global customer base is focused on recovery and building back stronger, so our central aim is to support that through top-performing entertainment and systems technology.
On behalf of Casino Life Magazine and Outsource Digital Media, I would like to thank you, Tashina, for your time and for sharing this with us and our many readers worldwide.