Glyn Thomas chats to Mitja Kolman, CEO and founder of Zuum Ltd
From humble origins in a small Slovenian workshop, Zuum Ltd. has grown into a global presence, with affiliates in Las Vegas and corporate headquarters in the sunny Mediterranean climes of Cyprus. The journey, which began in 2005, has been shaped by moments of inspiration, perseverance, courage and luck. The company evolved through many phases, not least a difficult beginning, but eventually Zuum found a prosperous path.
A company that began with a roulette wheel in '05 made waves five years later at ICE London with its revolutionary Apollo Roulette. That was the first in a succession of annual roulette rollouts — Graphite, Opal, Crystal and Grand Crystal. Diversifying its product line, Zuum launched Air Bing in Murcia, Spain in 2015. Mechanical versions of blackjack and baccarat with real cards followed in 2016, succeeded the next year with the successful launch of a live-streaming platform.
Image: Mitja Kolman, CEO and founder of Zuum Ltd
Zuum was born out of the enthusiasm for, and the love of gaming and far-reaching vision of its founder, Mitja Kolman. He has never been at a loss for ideas on how to approach the gaming industry in new and innovative ways. He shared some of these with Glyn Thomas.
What has been the reaction from casino and gaming manufacturers and operators at shows such as G2E Las Vegas 2017 and ICE Totally Gaming?
The common reaction was that Zuum's latest revolutionary products not only attract the players who appreciate latest technology solutions but also offer to the players and operators much better gaming experience than other competitors.
What has been the secret to how Zuum Multiplayers have been so successful with casinos?
The secret is secret and should not be revealed. But it could be simple graphical design of the interface adjusted to the needs of the players. We made an analytical study of the habits of regular casino and roulette players, and the outcome gave us clear guidelines of how the interface should be designed. Also, attractive combination of the games is very important. Mixture of many different factors could be the secret. Who knows?
How do you sustain such a high level of innovation at your organisation?
Innovation is a risk. Employees won't take risks unless they understand goals clearly, have a clear but flexible framework in which to operate and understand that failures are recognized as simply steps in the learning process. We grew up as a small organization, which allowed us to move faster in implementing innovative ideas because there was less bureaucracy. We have an excellent team of engineers that is able to communicate with each other openly. These communications are not always friendly but at the end of the day it produces results. New ideas many times seem to be unachievable, but due to and based on the knowledge of some geniuses in the organization, we have been able to bring into live operation the Air Bing game, a unique machine due to its attractiveness, simplicity, outstanding design, and innovative approach to the traditional and well-known bingo game.
How important have you found that the appearance combined with the level of touch sensitivity and speed of interactivity affects the appeal and game performance of the Zuum Multiplayer Roulette?
Beautiful products are more successful. Modern technology helps us with the touch sensitivity in all areas of our lives. Just take a look at the last generation of cell phones, what we can do with them. The sky is the limit. They allow fast and interactive experiences. Both areas together, speed and interactivity, are the key elements of our Multiplayer Roulette. Players are nowadays very demanding, and only the best product and game is good enough for them. We have been striving to comply with this demand and it seems that we have been successful, since our loyal customers give us recognition day after day.
What are amongst your organisation's main goals for the next 12 to 18 months?
To strengthen our leadership position in our strongest markets, and to try to conquer new and interesting markets. Roulette is still the best-selling product for Zuum and our latest-launched product Air Bing is completely ready to be commercialized worldwide, and we have huge expectations for this project in the near future
You also have an extensive range of games. Can you explain to readers about the options and types you provide?
Grand Crystal Roulette with an attractive LED Ring Topper is king and the most sold product in our company. But we should not forget other outstanding products like:
New Bingo Air Bing – the bingo Air Bing machine I am presenting in continuation of this interview.
New Blackjack and Baccarat a three-to-five-player machine with mechanical cards is pure revolution and very attractive for the Blackjack-dedicated player. The mechanical-cards shuffling effect represents the live feeling, as though players were playing with a live dealer. Several machines will be installed soon in U.S. tribal casinos.
Our New Online Casino Platform was another big hit during year 2017. In this system, each playing station is programmed to load credits to players' online accounts through smart devices like cell phones and tablets. At the moment, players can play live-stream games like roulette, Top 1, bingo and virtual games such as baccarat, blackjack and poker. And many more games are to come soon...
Multi Gaming Theatre launched last October with configurations that contain several games, either fully automated or dealer assisted. Zuum Theatre Arena is what was just a dream a few years ago. Real-time betting on different games is just one of the key advantages of the new, multi-gaming platform. Players enjoy attractive games and the operators can best utilize the available casino floor space, since the number of playing stations are adjustable to fit any available space in the casino.
Zuum products are already favourites in many countries like Spain, Colombia, Argentina, the Dominican Republic, Chile, Norway, India and Cambodia.
During ICE 2018, we unveiled 123Roulette™, the standout game that has been created for tomorrow's market today. Designed to broaden the roulette market by creating interest amongst seasoned players as well as attracting new players, the 123Roulette™ design just simplifies the traditional 300-year-old roulette wheel with a visually easier, numerical layout guaranteed to catch the eye.
Unlike the traditional roulette wheel, invented by French scientist Honore Pascal in the XVII Century, 123Roulette™ is simpler in design. In in its pre-production preview at ICE 2017 in London, one visitor, remarked: "It just looks easier to beat than traditional roulette."
It's incredible the interest shown by operators the world over, from Las Vegas and Florida to Latin America, Russia, Australia and South Africa. 123Roulette™ has been exceptionally well received by operators and players alike and will create new possibilities for higher roulette revenue.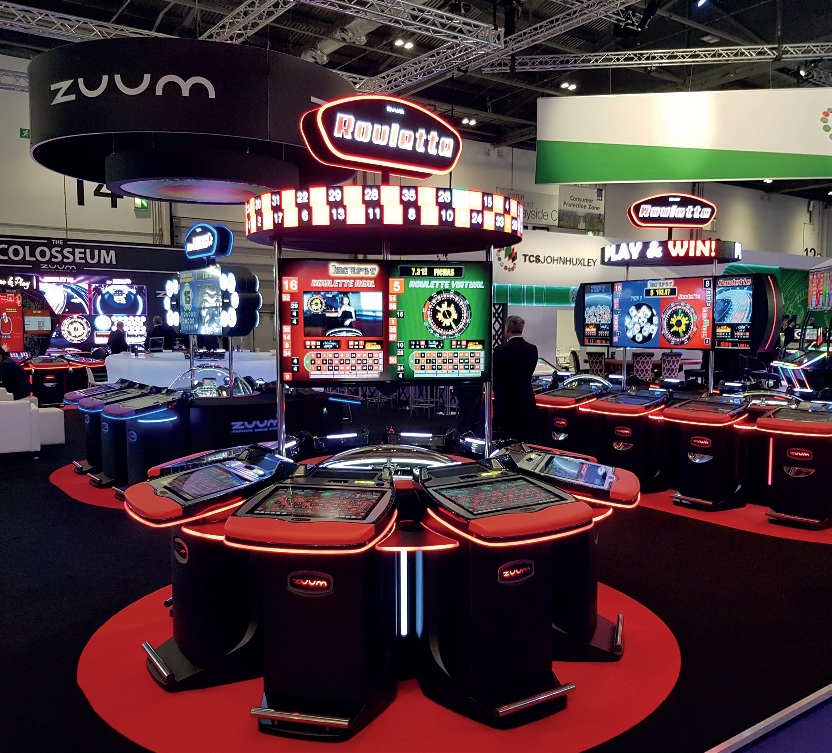 Versatility is an important advantage. What is the level of customization provided by your electronic gaming machines to casinos?
Our level of customization is huge. Due to a relatively small organization [50 employees] we are able to listen to the needs of the casino operators, and react and submit customised solutions quickly. Our product portfolio and modular setup of the EGMs offer a variety options to the end customer.
What would you like to say to gaming operators with regards to how your organisation's EGMs can assist them with further development and innovation of their casinos?
We have been working with some casinos from the beginning of their floor-plan development through to the full floor being operational. Our expert sales and technical staff have advised them with useful hints on how to improve the performance in terms of positioning and settings. This approach is unique since we have studied different floor plan configurations in order to be able to assist our customers. And today we are happy to report that our customers like it.
Can you explain to readers about your recently launched Air Bing?
The bingo machine Air Bing has a mechanical random-bingo generator which gives an attractive addition to the well-known bingo game. And better still, the players can not only select their cards in two different ways, they can play their own lucky numbers. They can also play three-by-three or five-by-five cards with the 75 balls inside of the air dome. Players enjoy Air Bing's pace, with more playing time, excitement and fun. It literally attracts the players from when the doors open till closing time. And last but not least, it offers operators optimum opportunities to enhance results. The game has received overwhelming feedback from the European casinos and has had expressions of interests from the United States and Latin America too.
Grand Crystal Top1 looks like a lottery-based game. Is that correct?
Yes and no. It depends on the variant. In the Top 1 is the roulette game, where the numbers on the wheel are replaced with the 37 or 38 balls inside the air dome, representing the numbers on the roulette wheel. The game is the same, roulette, but the way the machine delivers the result is different. The mechanical arm lifts one ball and determines the result.
Along with the electronic gaming products you also provide an eye-catching range of displays.
Yes and thanks. We think that the roulette machine without eye-catching display is like a bride without the beautiful and glorifying dress. We have placed a strong emphasis on development and design of such signs, and have today a variety of different attractive topper signs which raise the level of attractiveness of our machines. One large piece in the mosaic of recent success storiesfor the company are our attractive, illuminating signs, for sure.
What are the next events and exhibitions at which readers can see your range of electronic gaming machines?
G2E Asia Macao, followed by G2E Las Vegas, Sagse Argentina and ICE London.