To roll out this thorough remake of a tired property into the freshest thing on the Las Vegas Strip, MGM turned to three-decade company veteran Ann Hoff.
Five years ago, MGM Resorts International realized it had a problem. Its Monte Carlo casino-resort wasn't resonating with visitors. Opened in 1996, a joint venture of Mirage Resorts and Circus Circus Enterprises, it trumpeted "the era of affordable excellence," replete with marble and wannabe Roman statuary. Both companies were eventually subsumed into MGM and the latter found that Monte Carlo didn't translate for American customers. Out went the statuary, in went new restaurants and bars, defacing the façade, until then-COO Bill Hornbuckle decided something full-scale was needed. What emerged in stages, from 2016 to 2019, was Park MGM, a lifestyle-oriented resort. Its amenities included a showroom that quickly became a magnet for the top names in entertainment, as well as a dedicated Stay Well floor that promises guests "better rest, fresher air, personalized lighting, a nutritious menu and more."
To roll out this thorough remake of a tired property into the freshest thing on the Las Vegas Strip, MGM turned to three-decade company veteran Ann Hoff. President of both Park MGM and Bellagio, Hoff has been the company's chief marketing officer, its president of portfolio properties and COO of Excalibur. She's also held high-ranking executive positions at Beau Rivage, Treasure Island and New York-New York. More recently, she masterminded the implementation of MGM's paid-parking program...not a move that endeared her to customers. But her accomplishments at Park MGM have been unquestionable, in addition to her continued stewardship of Bellagio, the sole hotel in the country with two AAA Five Diamond and Forbes Five Star restaurants (Picasso and Le Cirque). She took time out of an understandably busy schedule to discuss the rejuvenation of Monte Carlo into Park MGM.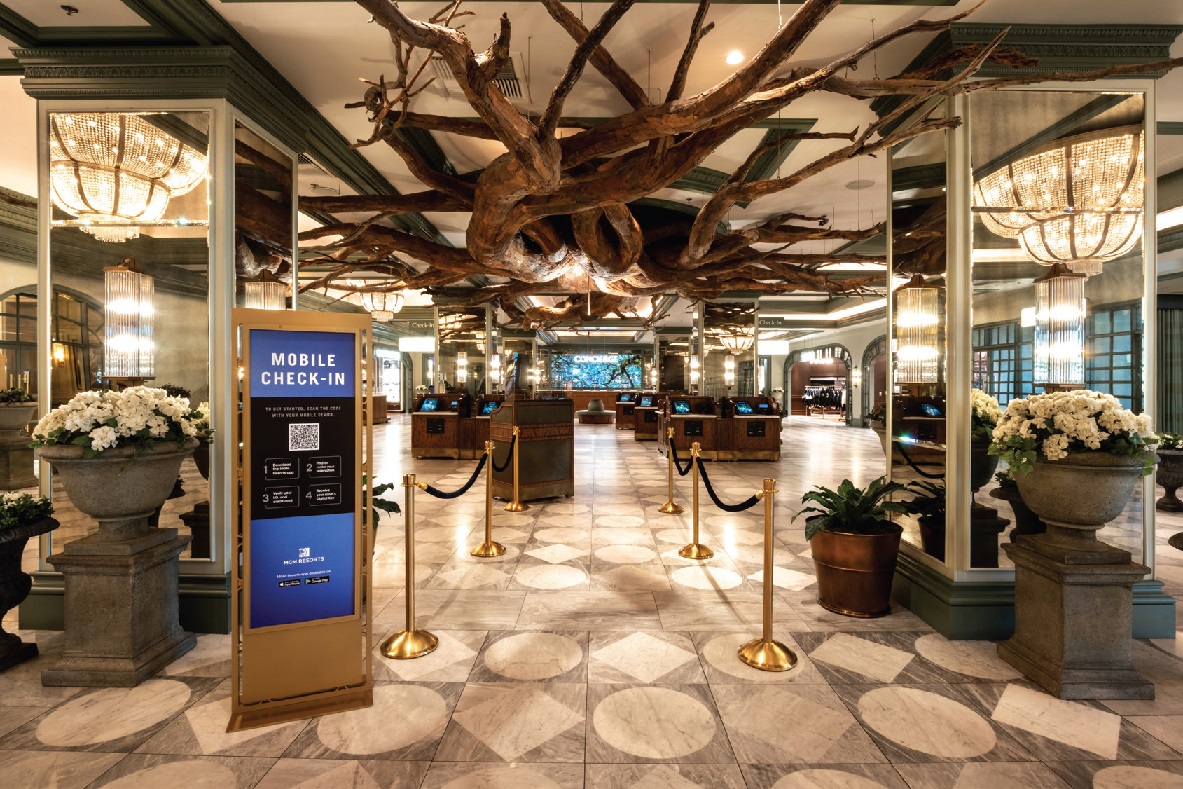 CEO Bill Hornbuckle once told us that Monte Carlo had the lowest brand recognition of any MGM Strip casino. How have people taken to the Park MGM rebranding?
First of all, Bill is correct. Monte Carlo did have a couple of things working for it. One of those is location, location, location. It had the right foundation of a great resort. The right size: about 2,900 rooms. You could navigate it, it was well laid out. But the brand identification was a little weak. It was a little vanilla. It didn't connect in a meaningful way with our customer base. We had to do something to redefine what that Monte Carlo experience was. We especially had an obligation based on the fact that we're in the middle of this very dynamic neighborhood. We had CityCenter on one side, we had just introduced The Park and T-Mobile Arena on the other side of us.
So we took a look at every element of the property. We decided rebranding as Park MGM and NoMad to be the best option. We're the final component in this neighborhood MGM Resorts was also creating. So here we are. Visitors, I would say, love what we've created in the neighborhood. Entertainment is a key driver of visitation, not only to Park MGM but also to Las Vegas. Our design and decor are beautiful, and really feel aligned with the neighboring Park.
Park MGM took a very brave step by going smoke-free. Are you getting a positive response to that? Is there a market for a smokeless casino in Las Vegas?
I would agree with you that, yes, it was a brave step to be the first. We believe, as a company, in offering options to our guests throughout our portfolio. We also found through our research that there was a significant market of people out there who were looking for smoke-free options, specifically a smoke-free casino. Fortunately for us, that has been very, very well received. Going back to that whole notion of optionality, anybody who prefers smoke on the casino floor still has a large number of options throughout our company and throughout the city, although at Park MGM we do offer a dedicated smoking area outside for those who really like the notion of a smoke-free environment inside but an option to smoke outside. So all in all I would say we have received incredibly positive feedback from our guests and also, being the first entirely non-smoking casino in Las Vegas, it's a very positive differentiator.
Not to overlook NoMad, what has it brought to the mix?
NoMad is an extraordinary brand and for us it serves as a hotel within a hotel at Park MGM. It provides a completely different experience. It's just shy of 300 rooms on our top four floors. What's really special about it is it has European touches. There's a sense of French romance and a residential vibe that NoMad is very well-known for. What I think is such a great juxtaposition is that it offers a balance of luxury to the lifestyle options that are found within Park MGM.
Is it driving room revenues?
Well, sure. Both Park MGM and NoMad have been well-received by the Vegas tourist. We're currently exceeding our projections and the great news is that the casino consumer in particular really likes NoMad.
How would you describe the non-NoMad room product at Park MGM?
It's modern. It's a little more cutting-edge, so Park MGM has its niche: more of a lifestyle brand than residential. NoMad has that residential feel.
You have a wide range of restaurants. What considerations go into choosing the dining options at Park MGM?
We actually consider ourselves very fortunate with the dining options that we have. There is a lot that does go into choosing the whole suite of dining. When creating the dining program at Park MGM there were a couple of things that we wanted to do. One is to have primarily concepts that were brand new to the
market, things that had never been seen in Las Vegas. We wanted to introduce chefs, we wanted to introduce concepts and we also felt that, in this wholerebranding notion, we really needed to represent a diverse selection of offerings, things that were well-planned, finely executed, would attract new guests and probably even our prior guests might follow to check it out.
Eataly, by all accounts, is a 'wow' destination in every market. It is a huge draw. So in that regard, we were thinking about it for Las Vegas. For Park MGM it's perfect. It's social, casual. There are diverse dining options within. It's fun. It's energetic. The quality of the experience is top-notch. Then when you look at what a brand like Roy Choi offers, Roy Choi has a huge following in Southern California. That's one of our key markets, obviously. His Best Friend concept hasn't been done in the city of Las Vegas and it was a good decision. It was packed from the moment we opened our doors. We have concepts like LaLa Noodle that has Vietnamese, Chinese, Thai all under one roof and Primrose, which is one of my personal favorites, next to the pool. It has a cool, patio breakfast and lunch, which really makes that venue special – not only the dining options but the charm and comfort I've never seen in a café-style restaurant before. I've especially not seen that in Las Vegas, so it's very neat.
One of the biggest draws is your theater. How state of the art is it?
You're going to test me here. The facility is state of the art, it's true. It opened at the end of 2016 and was immediately loved by artists and guests alike. The capacity is just over 5,000 but it's flexible. The feeling's very intimate. The farthest seat from the stage is only about 145 feet. And when I say it's flexible, it allows for multiple configurations. If we want to sell it for conventions it's very flexible. There are about a thousand seats that are located on a cutting-edge [movable] system. If we use that, it frees up about 14,000 square feet if an artist wanted to have general admission. I don't think we've ever done a mosh pit but if we wanted to there's an area for it, or if a convention wanted an area for displays. It's really unparalleled, with state-of-the-art audio. We have an immersive projection surface with 3-D motion-graphic capability, almost 160 feet wide, and one of the signature features is a first-of-its-kind proscenium arch which can feature projections also. All of the projections in the room are customizable to what the artist wants.
Which headliners are appearing there currentlyand who do you have on tap for the near future?
We had a tremendous lineup of talent from the time we opened. So this weekend, for example, we have the Jonas Brothers performing and we're thrilled to have them back. Bruno Mars makes his Vegas home at the Park Theater and he's a huge draw. He sold out to worldwide audiences with every performance. And Lady Gaga, she's been really been one of our key headliners prior to the pandemic. We even have a boutique dedicated to her called The Haus of Gaga. We hope to have news to share around her engagements soon. We recognize the value of entertainment and especially right now. It drives visitation to Las Vegas.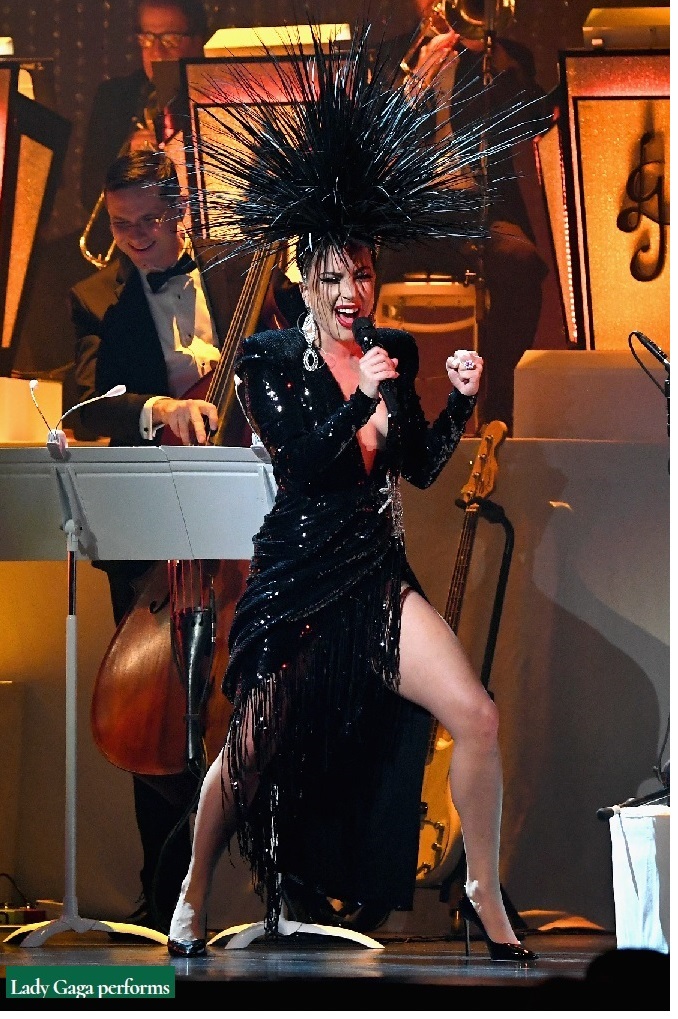 What differentiates your sports book from others on the Strip?
Our sports book is called the BetMGM sports book and when we designed that, it was the first of its kind on the Strip. The reason for that is what we did is we took the traditional sports book to a different level. We created an environment where food, drink, entertainment and viewing sports were all integrated. We transitioned it into something much more experiential, much more fun. People can immerse themselves into a comprehensive experience where they stay for much longer. What we've found is the energy that creates is really unparalleled. It's been the model for other sports books of ours as well.
Does the acceptance of legalized sports betting across the country have any benefits for a book like yours? Are players getting savvier?
I would say that the players are most definitely getting savvier with the preponderance of sports betting across the country. But we're excited about that. We're excited about the expansion of legalized sports betting. As you likely know, BetMGM has quickly become the number-two sports betting app in the country, thanks to the incredibly talented team that we have. Sports bettors are very knowledgable, they're very passionate, so for that reason we love the ability to take an interest in them, as we recognize that BetMGM affords us a tremendous opportunity to stay connected with players, keep them in mind of our brand and keep them in mind not just when they're in Las Vegas but throughout the year.
You've got a fair amount of convention space. How are meetings ramping up these days?
We do have a very nice convention facility. We've got about 77,000 square feet of space, broken out into two different types of experiences. All in all, we are pleased with the volume we are seeing for meetings and conventions. We expect to be fully booked in 2022. We recognize, not just Park MGM but all of our properties in Las Vegas, that it's such an important segment of our business and I personally, ultimately believe that nothing displaces the benefit of a face-to-face meeting and human interaction.
What kind of health measures are you currently taking to inhibit Covid-19?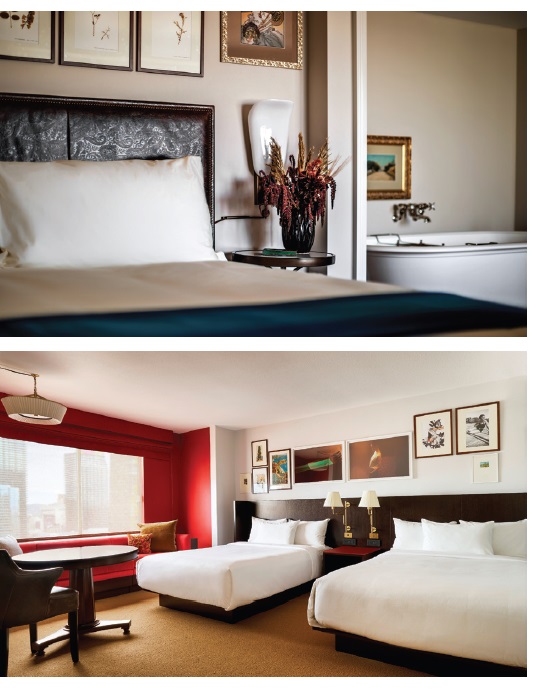 Since March of last year health and safety have been, and currently remain, the top priority for MGM Resorts. We work closely, I would say on basis, with health experts and public officials to ensure that we're making informed decisions, to make sure that we're doing everything that we can to best protect our employees, our guests, our communities, our families. We currently require that all employees and guests wear masks, regardless of their vaccination status and earlier this week [August 16] our CEO had announced a new policy around vaccinations for our employees which is pretty comprehensive. Basically all new employees, beginning August 30, will be required to be vaccinated. Then all salaried employees, effective October 15, must be vaccinated. While we recognize that decision may not be popular, we believe that we have to do our part to curtail Covid-19, to protect those people that we care about and to protect our livelihood as well. We've also introduced technology over the last year to minimize touch points. We've been able to come up with a mobile check-in app to minimize check-in experiences. At restaurants, of course, we've implemented QR codes for menus. Those changes have been welcomed by guests, expected by guests and they'll be permanent fixtures in our operation going forward. They not only enhance the overall experience they make it easier for guests to have fun while they're here in Las Vegas in a safe environment.
What is your level of optimism for the future of Park MGM and the greater Strip?
By nature I'm optimistic but I will say that a high degree of optimism and firmly believe that we'll see a full recovery in Las Vegas. Business has certainly rebounded more quickly than any of us had anticipated. There were record volumes in certain business areas. So I would say we're fortunate that people from around the world absolutely love Las Vegas and I believe we'll see a recovery as our international business is able to return, as our entertainment continues to make a robust rebound. But, as it relates to Park MGM, this property was really only completed at the end of 2019, so it's just amazing: As we went into our first full year of business, the pandemic hit and it really impacted our momentum, which stalled. But despite that we are quite excited about this product, we're excited to be back with a sense of normalcy and introduce the world to what is still a very new property right here at the center of the Strip.