Cammegh Where Quality Counts
What are your plans for 2015? What are the main challenges for you as a company and for the industry in general?
2015 looks set to be a very exciting year for Cammegh; we have already had a very busy year, as well as celebrating our 25th anniversary in March, my father Bill Cammegh received the 'Outstanding Contribution' award at this year's Gaming Awards. John Grannell has joined us on a more full time basis to assist in the sales of our roulette side bets and we've had a fabulous showing at this year's ICE Show.
In April we launch our brand new roulette side bet, Spread Bet Roulette, installing in 10 Grosvenor Casino locations across the UK. We will also launch our updated state-of-the-art Billboard Display Screens over the coming weeks. We are also thrilled to have secured deals with some very prestigious casinos this year in locations all around the world including: Galaxy Macau, Tropicana Atlantic City, Crown Melbourne, Tsogo Sun Group, South Africa and Cratos Premium, Northern Cyprus.
The biggest challenge for Cammegh this year is controlling our level of growth; we've seen huge demand for our products in recent months which is fantastic for our business but also means a lot more hard work! We have already employed more staff within our production and marketing departments which has allowed us to adapt to the increase in demand comfortably.
Do you think that the development of the online gambling market will have an influence in the way you shape your products in the years ahead?
The online market has already had a huge impact at Cammegh in the design of our wheels. Our Mercury 360 RRS wheel, designed specifically for the online gaming sector, has been hugely popular since its inception. The RRS increases the unpredictability of the wheel, provides extra security against rotor clocking and allows 'No More Bets' to be called later on in the game, increasing productivity.
In addition to this, our unique roulette side bets; Lucky Symbols & Spread Bet Roulette slot in to the online GUI very successfully and can also add value to the online operators. We have developed partnerships within the online gaming community such as Extreme Live Gaming who will be integrating the symbols from our roulette side bet, Lucky Symbols, into their Ra Roulette game. We have also found that our Billboard EyeCard is perfect for the online gaming environment; the EyeCard can track cards as they appear face-up and can be used with various card games, including Blackjack and Baccarat.
What are the key advantages of Cammegh Roulette Wheels over alternatives?
Cammegh's innovative roulette wheels contain high end precision engineering with an unrivalled aesthetic finish befitting any casino in the world. Cammegh manufacture all the critical metal components in-house, like Rolex, we do not outsource the moving parts in our precision engineered product. Having such control and ownership of the manufacturing process gives both ourselves as the manufacturer, but more importantly our customers peace of mind.
Recently, we have also seen an increasing trend in the demand for bespoke wheels, an area we are extremely passionate about, resulting in some fantastic wheel designs we have created for several world leading casino brands. Furthermore, Cammegh's manual roulette wheels feature our unique and design registered 'Double Radius Traditional Separator Ring', having a double axis on pocket frets increases the unpredictable nature of the ball scatter, delivering game control and security for the operator and protection from late and section bets.
Cammegh's reputation for manufacturing the world's best roulette wheels is further cemented by our depth of knowledge of manufacturing materials, from the high tensile stainless steel used in our maintenance free for life bearings to our in-house developed Garnite race tracks, offering an incredibly durable precision engineered contact area for the ball. Technological advancements found in our Mercury 360 roulette wheel also include an array of 4 invisible in-rim sensors plus our unique Bonus Numbers feature for value added roulette side bets, further differentiating the Mercury 360 from its competition.
Can you provide details for SpreadBet Roulette, which we understand is now approved for the UK market?
Spread Bet Roulette is our brand new roulette side bet designed to fill the void in value added side bets for roulette. Spread-Bet builds on the traditional roulette game delivering an increased house edge and a winning side bet outcome each game. Customised pay-outs ranging from even money to the mini-jackpot sized 1,200 / 1 allow the operator to tailor the game to suit their clientele.
To lengthen the odds we have ingeniously introduced two concentric roulette number rings spinning in opposing directions on the Billboard Display. At 'No More Bets', the rings stop dead, randomly aligning the two sets of numbers. The game then continues as usual until the winning number is determined, which is then paired with its aligning number on the Billboard Display. The sum of these paired numbers, a number between 0-72, determines the Spread-Bet result which is displayed via Billboard together with the traditional roulette result.
Spread Bet buy-ins (each covering a range of numbers similar to the existing 1-18 & 19-36 buy ins) are printed on the layout; any bets covering the range of numbers in which the Spread-Bet result falls are then paid out at the specified odds.
The first installations of Spread Bet Roulette are due in April at 10 different Grosvenor locations in the UK. Having been approved by the UK Gaming Commission in December 2014, we have rigorously tested the side bet over the past few months and have been delighted by the results; we were also able to exhibit Spread Bet at ICE in February and we found that it generated huge interest and intrigue by those who saw it and we look forward to seeing how the public responds.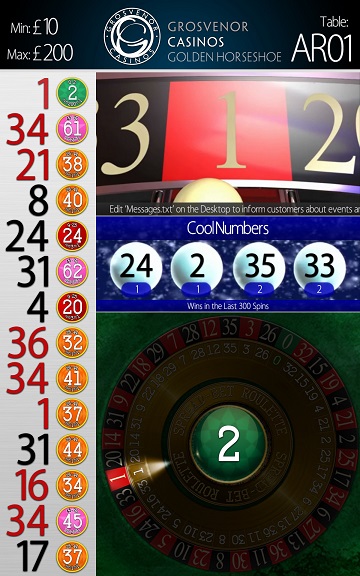 What product had the best performance in sales over the last year? Why?
The Mercury 360 is our top selling manual roulette wheel, primarily for the reasons mentioned earlier, but the Mercury 360 is frequently sold with the incredibly versatile Billboard Display System often featuring customised graphics, TV video steaming, selectable pay tables to name but a few.
The Slingshot 2 also continues to outperform expectations with sales increases year on year. The Slingshot's unique ability to have the ball in sight 100% of the time makes it a favourite with terminal manufacturers, online and land based operators alike.
What are the key features of PitBoss HQ and how can it assist operators?
Cammegh offer two wheel analysis tools : Pitboss HQ and Wheel Manager. Pitboss HQ operates via a browser based interface in a local or wide area network. Permitted users can access game data, including; rotor speed/direction, games per hour, dealer ID, 'drop' & 'float values', plus exportable raw data to enable customised reports. The data captured in Pitboss HQ allows operators to study results and performance levels ensuring operational and wheel standards are being maintained and optimised.
Wheel Analysis provides a more forensic study of the wheel itself and how the wheel is being operated against pre-set parameters including: pre-set wheel speed, ball speed and 'no more bets' threshold. In addition, Cammegh offer XML messaging which provides 'real time' messaging and wheel status alerts across the network for integration with third party systems.
What difficulties have you experienced in the global gaming industry?
Operating in a global market presents a challenge all of its own; time zones, licencing, currency, language, exhibitions and varying products specifications all add to the complexity of our operations. That said, we enjoy a very positive relationship with our customers and this has proved very important in aiding us achieve our shared goals. Notwithstanding the challenges, we consider having a global market to be a blessing as it has enabled us to maintain productivity levels as global territories experience varying economic demands.
Which one of the technology developments created by Cammegh in recent years has most impressed you?
It is difficult to choose between the Mercury 360 RRS and the truly multifunctional Billboard Display System which works with games such as; Roulette, Baccarat, Blackjack, Sic-Bo, 3 Card Poker and has the ability to support live streaming, EyeCard and EyeCard Plus. The Mercury 360 RRS offers random rotor speed to protect operators against advantage and section bet players, particularly helping operators in the online sector. This is a discreet and beautifully executed security feature seamlessly built in to a traditional product. Serving this important niche sector demonstrates our commitment to our specialist field and the high importance we place on all of our customers operational requirements.
Investment in technology and product development is critical to any organisation involved in this highly competitive market. What is Cammegh's policy on investment in innovation and product development?
Innovation has always been central to Cammegh's philosophy, with firsts including; maintenance free for life bearings, invisible in-rim sensors, one piece rotors, open protocol for third party communication, scalloped separator rings and a reinforced Garnite race track to name but a few. Innovations such as these have not only given Cammegh roulette wheels a well established reputation as the market leader, Cammegh's state-of-the-art Billboard Display System shares a similar reputation, operating as a multi-faceted and functional product on a common hardware platform, giving our customers greater flexibility.
We have always invested in R&D, supporting the constant stream of ideas we collect from our customers, but also that naturally occur as part of our day to day business and from the passion we have in what we do. Prioritising the investment into the multitude of ideas is just as challenging as developing them into marketable products, but we will always focus on our core products and this keeps our R&D priorities in check.
How were sales of the popular Cammegh Billboard Display Systems in 2014 and can you provide details on the various additions and upgrades to the system?
Our Billboard Displays are incredibly popular with sales increasing year on year. The biggest market for our screens is Australasia with the Billboard Displays featuring in some of the largest casinos in the region such as Crown Casino Melbourne and Sky City. That said, the demand for our displays remains phenomenal in other parts of the world with the US, Europe and African markets all representing a significant number of Billboard Display System sales. We have also experienced increasing growth in the Asian market, perhaps most notably with a prestigious order for customised roulette wheels and Billboard Displays for Galaxy Macau.
Cammegh Billboard Displays work with a multitude of casino games including: Roulette, Baccarat, Blackjack, Casino Wars and Sic Bo. Since the first release in 2004, Cammegh's Billboard Displays have continued to push the boundaries in casino display technology; recent upgrades to the system include: scheduled TV streaming, meaning that the screens can now be used as a point of sale and advertising for the casino anywhere on the game floor and Multiboard mini; the ability to show results from multiple tables on one screen. Also included are features such as bespoke graphic designs, pin sharp 3d graphics & animations, 3rd party integration and data logging & live export.
!