Bill Healey speaks to Roger Marris about how The Club's prestige is enhanced through its strong and enduring relationship with their sophisticated jet-set membership.
The Ritz Club is world renown as one of London's most prestigious addresses, and therefore a draw for business leaders and entertainers.  Through the years, the Club has hosted a fair number of influential and high profile people.  Can you share some of the more interesting stories?
Well, I must say that when the former President of the United States, Bill Clinton visits The Ritz Club he is extremely charming and very popular with the staff.  He has the ability to completely engage with whomever he is introduced to.  His legendary charisma stems from the undivided attention he gives to every person he meets.  I have been told that on one occasion when he was dining in the restaurant, he went over to each and every one of the staff that had served him, looked into their eyes and personally thanked them for looking after him so well.  He then asked them if they would like a photograph with him.  He connects with ordinary people, looks them in the eye and listens to what they say.  He's genuinely interested in other people's stories.
Al Pacino and Johnny Depp are two other frequent visitors to the Club when they are in London.  Johnny Deep and his long-time friend, Nick Tosches are both members and enjoy coming to the Club.  In an interview in Vanity Fair, in 2011, The Ritz Club is mentioned several times with Johnny saying that he has his blue Ritz Club membership card in his wallet and fond memories of his and Nick's last long night there on the Blackjack tables and at the Bar when their luck was in and they won!
 Britain's most successful female artist ever, Dame Shirley Bassey, chose The Ritz Club to host her first album launch in over 20 years, it featured songs written specifically for her, by a stellar cast of contemporary artists, including, Take That's Gary Barlow, the Kaiser Chiefs, the Manic Street Preachers, Pet Shop Boys, KT Tunstall and Rufus Wainwright, who all incidentally attended a glittering reception in the Club's Amber Room.
During a film shoot about the Bond movies in the Amber Room with Sir Roger Moore, the director had to shout 'cut' 11 times due to the noise of the Underground which can be heard as the tube trains rumble past.  The scene was relocated to the Bar of the Club due to the director's frustration and everyone else's amusement including Sir Roger.
The Queen Mother always presented the Waterford Crystal Trophy to the winners of The Ritz Club Trophy Stakes at Ascot.  One year she could not attend due to a bad cold, her private equerry rang to ask if it would be ok for her daughter to present instead!!  (The Queen)
As CEO of The Ritz Club, what are your responsibilities at the Club?
As Chief Executive of The Ritz Club my role is to guide and provide inspiration and innovation to the management team and staff and to continue the ongoing vision of the Club and the company's unique principles and values which were originally established by our owners. 
I am primarily responsible for the strategic direction of the business and overseeing the day-to-day operations, including all P&L's for each department, as well as maintaining and ensuring that The Ritz Club brand continues to be a strong, luxurious and iconic brand, and that it works comfortably alongside our sister companies The Ritz Hotel, and Ritz Fine Jewellery. 
Describe the Club's gaming areas, including the table games available.  How has club's mix in table games changed in recent years?
The Ritz Club's main gaming room was the former ballroom of The Ritz Hotel.  It is exquisite and very beautiful with a magnificent hand-painted ceiling and amazing crystal chandeliers created to order in Turkey.  Luxury hand-woven carpets and exceptionally fine antiques and paintings, which have been sensitively restored by some of the most highly regarded workshops in Paris, make it a very special gaming environment. 
Members can play Baccarat, American Roulette, Blackjack and Three Card Poker.  For those guests wishing to raise the stakes even further, the Club has three salles privées, The Aida and The Carmen Room provide the ultimate private retreat, accessed from a separate elevator, where a host of gaming facilities await - Blackjack, Poker, Roulette, Baccarat... within an environment strictly designed for one individual or group at a time – and with no possibility of sharing.
In 2014 we elected to transform the Amber Room into an additional salle privée and increased the number of Baccarat tables in line with the Club's strategy to welcome more Far East and Chinese visitors and to enhance their experience at The Ritz Club.  We had been continually monitoring the influx of big players from this part of the world and this led us to review our offerings and identify opportunities to attract this new wave of players.  For many operators, including The Ritz Club this meant a cultural and strategic change of direction for the business as we had to make the transition more solidly into Baccarat and other games favoured by the Chinese and Far East player. 
The Amber Room is the largest of our three salles priveés and is an immaculate interpretation of Imperial Russian opulence. The room was inspired by the famous 18th century Amber Room at the Tsarkoye Selo outside St. Petersburg and features the work of over 100 artists and craftsmen from a dozen countries who have replicated the mirrored splendour of the court of Catherine the Great.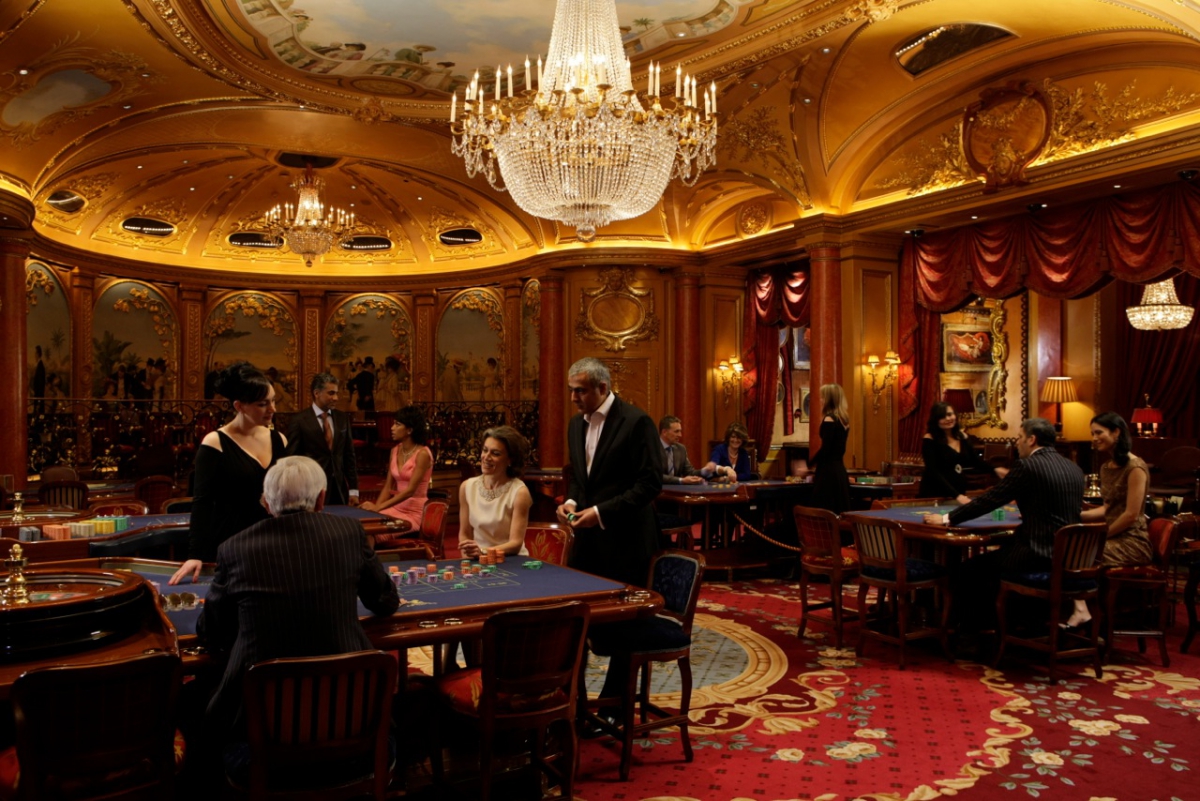 Does the Club hold Baccarat or Poker tournaments, or is there a plan to do so?
The Club has run a number of Poker tournaments and many players regularly approach us to host tournaments.  We choose to do this on a select basis.   Due to the popularity of Baccarat in the Club, we have yet to hold any tournaments but we are considering doing so in the future.
As a club for jet-setters and experienced gamers, it would be expected table games are the preferred gaming choice.  How significant is the presence of slot machines?  
Slot machines continue to surprise me.  Although they are a minor part of our gaming offer, we nevertheless have seen a significant increase in revenue from the small collection of machines that the Club offers members.  So, although table games will always remain the preferred choice, we will still continue to host a small number of machines for those members who wish to play on them.
What are the preferred slots machines at the Club?
IGT slots are the current preferred choice.  The Ritz Club has a continual dedication and focus on all aspects of innovation and technology.  We are increasingly focused on using new innovative systems to drive our business forward, and we are working with Intelligent Gaming to create a more dynamic gaming environment in order to build excitement and deliver unique products to our customers.  Intelligent Gaming have been incredibly responsive partners, meeting our needs with an advanced yet simple to use technology. 
As a private membership club, are there marketing challenges The Ritz Club must address differently from other casinos?
Rather than being a challenge, our marketing tactics are geared towards a retaining a luxury membership base that is tailored towards the individual.  Foremost, we're a people business. We have customers abroad that know us personally, and we are happy to offer them help in other aspects of their life – be it education in London for their children, for example. We have over the years formed very deep relationships with our customers, and I think that exemplifies that the casino and the hotel is more than just a destination for them.  We can't assume that our members will always be there just because we're here.  There are never any assumptions and we maintain steady friendships such as remembering birthdays and anniversaries, not just for the club member, but also for the entire family.
We regularly make private overseas visits to members in their own countries, arrange member events, such as our hugely successful New Year's Eve Gala Party, which this year took the theme of a Venetian Masked Ball, private dinner parties; such as our forthcoming celebration to welcome in Chinese New Year - 'The Year of the Sheep' and various sporting and social events throughout the year.  These members are more than customers. We're a private company that's run like a large family business.  We have adopted a very personal and individual approach as is in keeping with our brand.  Mass marketing tactics would only serve to be detrimental to the brand as well as our reputation and upset our much valued customers.
With the high-profile of many of the Club's members, it would be expected data security is a priority.  Is the membership system developed specifically for the Club, or is it commercially available to other membership clubs?
Great emphasis is placed on ensuring that the highest standards of operating procedures are consistently and constantly upheld. This, alongside the Club's esteemed name and reputation, are key factors in maintaining its international and loyal following amongst its rich and famous members.  We have a very bespoke, customised, secure membership system.
How does social media play into your marketing mix?
Social media is of course part of the marketing mix and is viewed as a positive communications tool.  As an outbound mechanism it is used to promote features of the Club or special events that we are hosting.  As an inbound mechanism we are grateful that it allows our members to engage with us regards to questions they may have about The Ritz Club.  We are very conscious about how prevalent and important social media and Apps are in the Asian market with platforms such as WeChat.  We are currently investigating how we can enhance our current social media offerings with our office in Macau.
Is access to The Ritz Club extended to guests of The Ritz London Hotel?
Yes, access to The Ritz Club is extended to the guests of the hotel and they are very welcome.  In fact, being part of the Ritz family is what sets The Ritz Club apart from the other Mayfair casinos.  For guests staying in the Hotel, exclusive access to the casino is via 'secret' doors. This means there is no need for guests to step outside the hotel to come and visit the casino.  Furthermore, for our Chinese members, Mandarin-speaking staff both in the hotel and club will make sure all our guests feel at ease and are always looked after in true Ritz style!
The Club has an award-winning restaurant with a highly ranked international chef.  Along with the Bar, the club offers guests several fashionable and intimate experiences away from the games.  Could you highlight the value these non-gaming options add to the Club's overall operations?
The importance of the non-gaming aspects of the Club cannot be underestimated.  The exceptional service, friendly staff and beautiful surroundings are the fabric of our business.  The Bar, Restaurant and Cigar Shop add a significant value to the Club's business and play a huge part in the overall operation.  Right from the start we made a conscious decision to remain as a private members club rather than brand ourselves a casino, because this is what our members want.  Being a 'club' is the hallmark of our brand and it is what The Ritz Club is renown for all over the world. 
The award-winning, intimate Restaurant is very popular with members and guests of the hotel and it is known for the highest standards of service, luxury and cuisine.  An international brigade of chefs, under the ever-watchful eye of Head Chef, Kristian Kurn have created a menu that features an authentic collection of dishes that include French, Lebanese, Thai, Indian and Chinese.  Our staff will accommodate any request from members – be it roast suckling pig for Chinese New Year or a banquet to take on board a private jet – or maybe some recommendations about the finest wines from the Club's extensive wine list. 
Some say a director's desk can convey a lot about their management style.  For some, its organized chaos.  What's on your desk, and what will it say about your management?
With my Celtic work ethic and military background, I am fanatical about a clean inbox as well as a clean desk.  I cannot bear working in a mess - I am a methodical and very thorough individual.  That being said, I have a very beautiful and traditional Aspinal leather desk set which helps me stay organised.  Although I embrace technology and function, I am very old fashioned at heart and much prefer a beautiful hand written Thank You note than a quick text.