Casino Life talks to Tracy Damestani CEO National Casino Forum about the National cross-industry campaign promoting responsible gambling Join the conversation
Can you explain what Responsible Gambling Week is?
Responsible Gambling Week is an industry-wide event, taking place from November 1st- November 7th, when all five gambling sectors come together to trigger a national conversation about what it means to gamble responsibly. It is the second year of the event and the conversation will take place in venues throughout the UK and Ireland – Irish operators are taking part this year for the first time, which means the event will be bigger than in 2017. It gives staff the chance to interact with customers, talk informally about the subject and points anyone who might want more information or need help to the right place. But it is important that the conversation also takes place away from venues, through social media channels and in the wider media so that it involves occasional customers as well as regulars and their friends and families.
What do you think is most significant about the event?
The event is organised by The Industry Group For Responsible Gambling, which represents the trade bodies from each sector, and that means the entire industry is speaking with one voice and delivering the same message. That is significant because we know our regulator wants to see the different sectors collaborating more closely.
W
hat are the principal messages of the week?
The title of the week is 'Let's Talk About Responsible Gambling'. The key objectives are to raise awareness of how to gamble responsibly and the tools available to help customers do this, and where to find more support if its is required. There are five key responsible gambling 'behaviours' highlighted:
• Only spend what you can afford
• Set your limits for time and money
• Gambling is not the answer to any problem
Tracy Damestani CEO National Casino Forum
How are the UK's casinos supporting Responsible Gambling Week?
There was good support for the event in its inaugural year and I am sure all operators will get behind it even more enthusiastically this year. Last year, there were some imaginative initiatives at our casinos – for example, staff at one Genting casino held a charity bake off and another had a 'Take a break, buy a cup cake' event for charity, while Les Ambassadeurs displayed a huge banner outside the venue to draw maximum attention to Responsible Gambling Week.
Casinos have high staffing levels, which means they have a direct relationship with their customers, and that means they are well placed to instigate conversations over tea or coffee. Operators will be displaying electronic rolling signs and prominent Responsible Gambling Week branding inside their venues, which will make the event a talking point and encourage customers to discuss it. But some customers may not want to have a conversation so in every casino there will be business cards, containing essential details about where to find help if you need it, and these can be picked up discreetly.
The other important aspect of the event, which it is worth remembering, is that it is a great opportunity for operators to educate their staff about responsible gambling. It's an opportunity to refresh staff training and to highlight the tools available for customers.
What other responsible gambling initiatives are casinos involved in?
The casino sector's commitment to responsible gambling is all-year round and has been embedded in the industry since the launch of Playing Safe in 2013. Several long-term projects are currently under way. For example, the National Casino Forum has been working for several years with Focal Research, a Canadian company, to develop an algorithm that identifies risky patterns of machine play and this is currently being trialled.
Several potential ways of encouraging customers to set limits are being explored. A research project will study customers' attitudes to limit-setting and ask what barriers are currently preventing them from embracing it. Multi-operator trials will start later this year, using on-machine prompts to encourage customers to take breaks. Workshops will be held with casino staff to discuss ways of encouraging the wider adoption of limit-setting.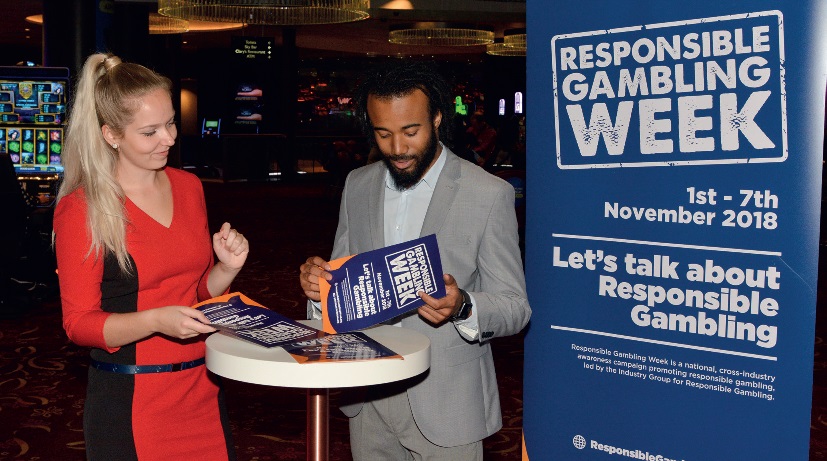 More than 10,000 people have enrolled on the sector's self-exclusion scheme SENSE since its launch in 2015 and the first detailed evaluation of the scheme has been conducted by independent academics on the Playing Safe team. Forty-four per cent of customers remain excluded and had not returned to casino gambling two years after 
enrolling on the scheme. Effectively, they seem to have stopped gambling in UK casinos completely.
Will the NCF be supporting Responsible Gambling Week through its own channels?
Yes, we will be posting content through all our social channels, Twitter, Facebook and Instagram, and on our website www.nationalcasinoforum.co.uk but we will also be directing our followers to www. responsiblegamblingweek.org where you can find all the information about the event and to @RGWeek18.
It would be great to see everyone involved in the industry joining in the conversation, sharing content and retweeting information at #RGWeek18