JOA Casino is setting itself apart from the rest with leading-edge technological innovations. Peter White chats to Dylan Peyras, Director of JOA Casino in La Seyne-sur-Mer
One of the largest casino operators in France, JOA owns 22 casinos which deploy a combined gaming firepower of 2,841 slot machines and 132 table games. It is catching the new wave of interactive gaming with branded '21' offer JOA Express, which combines a traditional casino game with virtual reality, bringing blackjack into the 21 century. If you are a newcomer to 21, it will provide a technologically enhanced hook, while the jaded fan may thrill to this new twist on an old favorite.
Another interactive development at JOA Casino is the installation of 24 Aristocrat Lightning Link slot machines. The interconnected slots give punters the chance to compete against dozens of other plays for a linked jackpot. To hear JOA's Dylan Peyras tell it, this emphasis on interactivity is paying off in a big way for the French operator.
Can we start with the recent announcement of the launch of JOA Express at the JOA Casino in La Seyne-sur- Mer. Please can you explain to readers this innovative, animated blackjack game and how it's been received by the casino's patrons?
JOA Express is the first virtual-reality table to provide a blackjack taster. This unique attraction was fully devised and developed by the JOA Group in partnership with ICONIK and FPX, two firms that specialize in developing play-based applications of emotion metrics. JOA Express offers a novel and immersive experience, set in a Wild West world, that makes (re)discovering blackjack more accessible. It's designed to appeal to a new clientele who are younger and more connected.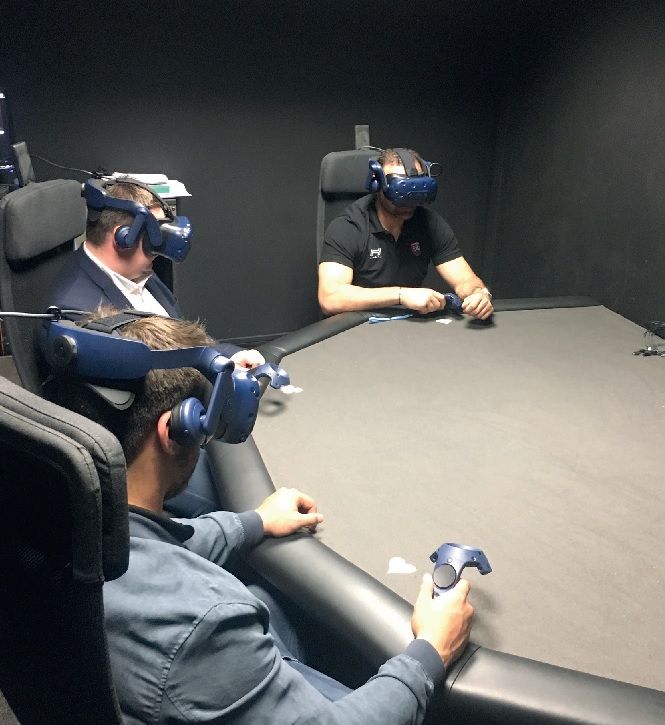 Thanks to this JOA innovation, beginners can find out about all aspects of blackjack in a fun, instructive way and try their hand at the game. And seasoned gamblers will enjoy an original experience! Customers' feedback has been very positive. What they particularly like is the fusion of virtual reality and the casino gambling experience. Every weekend, more than 30 gamblers give it a try. The emphasis on interactivity extends to JOA's sports bars (described below), which are rapidly catching on throughout the casino chain.
JOA Express is described as an immersive experience that involves players being equipped with a virtual reality headset…
Equipped with a VR headset, players are invited to take a seat round a connected table. They immediately step into a Wild West setting and board the "JOA Express" train, where they're welcomed by female croupier Lyse. The adventure begins while the train is still in the station, with a two-part presentation of blackjack. Once the rules have been taught, the train sets off and travels at full speed across the Arizona plains. Six further parts follow, and they're all different – thrills are guaranteed!
Thanks to the haptic table, the players can feel the train moving along the track. Gunfire riddles the carriage, the windows shatter, and fans blow on the players, giving a 4D sensation. The train ends up in a mine after a bridge explodes, upturning the blackjack table to leave the chips floating in the air.
Do you offer training sessions for JOA Express?
No, you can sign up for the JOA Express experience directly online, on the joa.fr website, or at the casino's reception. It's reserved for adults only, in compliance with current regulations.
Food is also a vitally important part of the whole leisure and entertainment experience. What's the main style of food served in the La Seyne casino restaurants?
When it comes to non-gambling activities, the JOA Casino in La Seyne has plenty of selling-points – an exhibition area, a bar, an auditorium and two restaurants, Le Comptoir JOA and the 360°, which serve more than 50,000 covers a year. The 360° is the JOA Group's first semi-gourmet restaurant. Its fine dining, with a weekly change of menu that highlights seasonal produce and seafood, has earned a 70 percent occupancy rate. JOA's new sports bar concept also offers light dishes – fresh sandwiches and kitchen-prepared jar desserts – at all hours.
The JOA Casino in La Seyne also provides live entertainment. Can you tell us about the acts that perform at the casino?
With its 500-seat auditorium, the JOA Casino in La Seyne is a prominent cultural player in the region… There's an extensive program of events each season – concerts, stage plays, comedy, dance – offering spectators hugely enjoyable and emotion-packed experiences.
Since the venue opened, nationally renowned stand-up comedians have performed at the Casino: Antony Kavanagh, Artus, Kheiron, Jean-Marie Bigard, Haroun, etc.
Inauguration at the Casino JOA de La Seyne-sur-Mer of LIGHTNING link lounge in the presence (left) Laurent Jourdain,Directeur des Jeux Groupe JOA, (middle) James Boje Managing Director EMEA at Aristocrat and (right) Dylan Peyras Director of JOA Casino in La Seyne-sur-Mer
The JOA Casino in La Seyne also recently added Aristocrat's Lighting Link. How has it been received? And are there plans to roll out this jackpot game at other JOA Casinos?
Lightning Link is recognized as a successful game. The JOA Casino in La Seyne and Aristocrat have decided to duplicate this game to create a concept of 24 interconnected slot machines that feed a joint jackpot. The dedicated area is a special space that offers maximum comfort and showcases the slot machines in a set design with unique lighted signs. This concept will soon be installed at the JOA Casino in Cannes-Mandelieu.
What were the key factors behind the decision to install the Lightning link Lounge?
The JOA Group has always taken a bold, innovative approach to achieving its main objective: changing how people perceive casinos.
This has led us to introduce novel products that are world or European exclusives. In recent years, we've offered our customers many new attractions on a sneak-peek or European-exclusive basis. We're now maintaining this momentum with the Lightning Link Lounge concept. We're proud to be the first group to launch it in France, and to be rolling it out in Europe too. At the JOA Casino in La Seyne, it opened on April 4, 2019. In choosing to add this concept to the casino in La Seyne, our aim is for this establishment to retain its leading position and remain the preferred casino for gamblers in its market area.
The Lightning Link concept is a gambling pacesetter worldwide – it's known, appreciated and acclaimed by gamblers in France but also globally...Lightning Link games are now on offer in 90 percent of our establishments. They're among our customers' favorite games – and they're our best advisors. This attractive concept was put in place to satisfy existing customers in search of new games, sensations and gambling comfort, but also to recruit a new, more connected clientele.
How many machines have you installed? And can you tell us about the game options selected for LIGHTNING link?
Twenty-four interconnected slot machines, in an exclusive set design, offer a unique gambling experience, with bonuses and an even higher jackpot frequency, to give our players even more enjoyment.
The sports bar concept was developed in 2017 at the JOA Casino in Montrond-les-Bains (Loire county). Has it been extended to the JOA Group's other casinos?
After the JOA Casino in Montrond-les-Bains, the sports bar concept was launched in La Seyne in March 2019. It is currently also being deployed in other JOA Casinos including Saint-Paul-lès-Dax, Cannes-Mandelieu and Le Lac du Der.
Can you explain the JOA Group sports bar concept, which gives patrons a gambling and connected-sport experience.
The fully-connected Sports Bar is intended for fans of all kinds of sports. Inspired by the famous American bars, it offers, under one roof, everything you need for an evening of uninterrupted sport. It's a place specially designed for sports fans to get together in a lively, sociable atmosphere.
The Sports Bar concept perfectly illustrates JOA's online and offline innovation strategy.
Open to all, seven days a week, the Sports Bar concept offers all sports and gambling fans the chance to live their passion, with unique benefits and experiences:
• watch their favorite sports events on a wall of giant screens in a 100 percent live-digital atmosphere, every day and at any time of day;
• check the best betting odds;
• get tips from joa.fr's experts when placing bets;
• on big match nights, gamblers and supporters can chat about sports news and debrief each other about competitions;
• spend time with their partner or among friends over a glass of wine or a JOA craft beer;
• have something to eat. All through the day and evening, the sports bar serves light dishes using fresh produce cooked in the kitchen (kitchen-prepared daily special, sandwiches, salads, etc.).
The Sports Bar is totally modular: its atmosphere can be adapted to match the patrons' profile and the sports events being screened.
The venue is also suitable for organizing events: depending on the casino, it can play host to sports clubs, boxing nights, and bespoke private occasions.
How effective are the new games and technology at attracting new customers?
The new, more connected games are attracting a different, younger kind of customer. They're making the gambling experience more fun and accessible.