F. Scott Fitzgerald's most-famous quote is that there are no second acts in American lives. Not only is Bobby Soper living out a second act (with who knows how many more to come) he's doing it with the same company where he played Act One: Mohegan Gaming Entertainment. The tribal-gaming titan is reaching across the oceans, and decided that Soper was the man to head up its international operations, particularly those in Korea and Japan.
Soper is relatively new to his remit but has clearly hit the ground running, speaking to his responsibilities with great assurance.
Then again, Soper is no stranger to Mohegan country. From 2015 to 2017, he was CEO of MGE. Prior to that, he spent 11 years with the company, in a variety of executive capacities. Between his two Mohegan stints, he headed his own startup, Sun Gaming & Hospitality. Nor is Soper's brief confined to gaming, as he explains below, although he is playing a vigorous role in MGE's transition to the i-gaming sphere. He spoke with Casino Life from his office in Korea.
What brought you back to Mohegan Sun?
The Mohegan Management Board asked if I would be willing to take on this role. The opportunity to help my Tribal family was the primary reason I took on this engagement. Also, in my former tenure as CEO, one of the last major undertakings was the pursuit and award of the IR license for Incheon, so the success of the project is somewhat personal for me. This role would allow me to help ensure the success of this project and other overseas projects that will be transformational for the Tribe and those host communities.
What were some of the highlights of your previous tenure?
As most executives in this industry would probably agree, developing and opening a new property is always a highlight. In my case, being part of the team to open our major expansion at our flagship in Connecticut in 2001 was certainly gratifying and, as CEO, overseeing the opening of the first casino in the Commonwealth of Pennsylvania (Mohegan Sun at Pocono Downs) in 2006 also makes the list. And then of course, successfully procuring the integrated-resort license in South Korea in 2016 was the start of our global expansion and a pinnacle moment for the organization. Those were all some memorable moments. However, truthfully my greatest memories and highlights were all those moments working with team members I consider dear friends that are truly industry leaders.
What did you learn as an independent operator?
For the last several years most of my time and focus has been serving as an investor, partner and board member in numerous projects, both gaming and non-gaming. While I have also spent time advising in the hospitality space, the reality is that I have spent less time in the operational trenches. However, I would say these entrepreneurial initiatives taught me a great deal about raising capital, especially in various alternative sectors outside of gaming.
What is your portfolio these days?
For the past several years, I have invested most of my time and resources on opportunities that focus on innovation with exponential growth potential. Some of those include renewable energy, manufacturing, agriculture, online gaming, online lottery and some other high-growth-opportunity areas. For example, I'm an investor and part of a team developing a micro steel mill in Miami which will be considered the greenest micro steel mill in the United States and one of the greenest steel mills in the world. We will recycle scrap metal into finished construction steel products using a de minimis carbon footprint. Steel has a history of being perceived as having an adverse perception in environmental circles. This is a unique opportunity to both overcome environmental challenges while generating strong economic returns.
How much are you involved in the gaming and resort-development sector?
I have spent some of my time overseas in gaming and resort opportunities, primarily in South America and Asia. Domestically, I was fortunate enough to assist colleagues at Juniper Capital and Richard Bosworth in their transaction to purchase the Hard Rock Casino in Las Vegas, which was recently rebranded as a Virgin Resort with the casino operated by our company. I've also been advising the Mohegan Board the past year and a half prior to taking on this current role. In addition, I have been involved as an investor and advisor in a handful of online-gaming initiatives, including some startups as well.
Could you talk a little bit more about what you're doing in i-gaming?
Non-disclosure obligations do not permit me to provide specific names, but I have been assisting online-gaming companies to distribute their product in new jurisdictions, focusing on those ones that are moving forward with the legalization of online gaming, as well as online sports wagering both domestically and overseas.
How much of Inspire is MGE responsible for building and operating?
We are responsible for the development of all aspects of the project and we're also managing all elements with the caveat that Hanwha Hotel & Resorts, a top-tier Korean hotel operator and manager, will manage our rooms.
What will it contain when finished and when do you expect that to be?
This is truly an integrated resort with over 1,200 rooms, a significant retail offering, 24-plus food and beverage options, MICE amenities in addition to a 15,000-seat, state-of-the- art arena, and a large, indoor, water complex referred to as Splash Bay. Of course, it will also include various other nightlife and entertainment amenities throughout the property. We anticipate opening in the second quarter of 2023.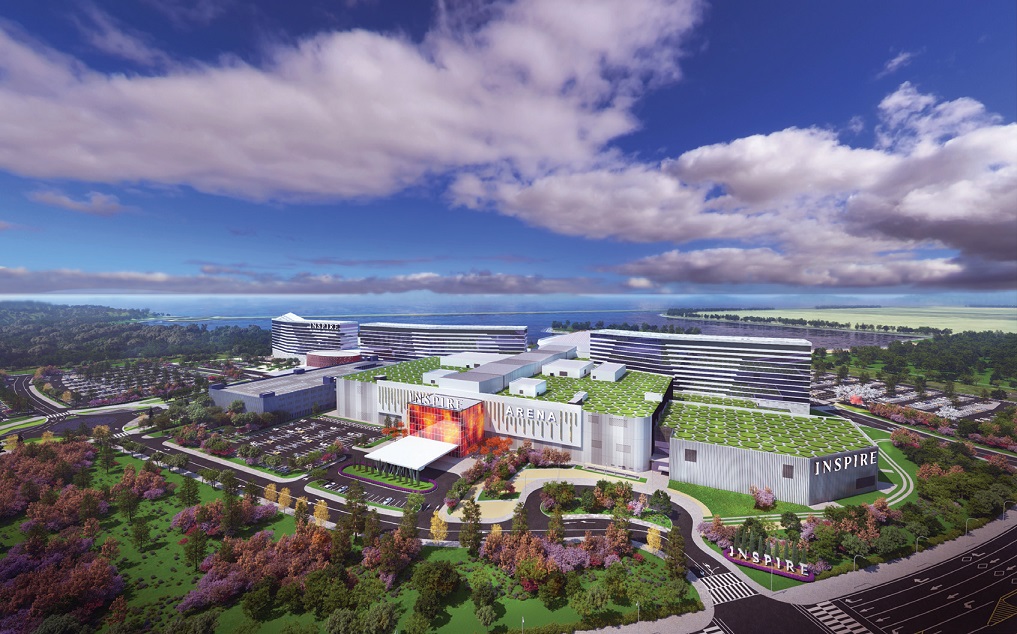 How has Covid-19 complicated the construction process? Or has it?
There has been some indirect impact. The finalization of our financing was stalled a bit due to Covid, which in turn slowed down our construction. However, now that there is light at the end of the tunnel and things are opening up a little more, we feel confident we will secure all remaining funds and will proceed with full mobilization and construction shortly.
How many visitors do you expect per year and from where will they come?
We estimate approximately five million visitors annually coming to the property, much of which will be driven by significant non-gaming offerings, including specific high-volume offerings such as our 15,000 seat arena. When you're talking about 28 million residents within an hour and a half of our property, it provides a tremendous opportunity to be a leader in entertainment. Mohegan is an entertainment company first and foremost – this is core to our model at all of our properties. Korea, and Seoul specifically, is an Asian hub for pop culture, especially live entertainment. Simply there is a very limited number of entertainment venues in the greater Seoul area, and those that do exist are sub-optimal for live entertainment. Accordingly, we believe Inspire will be a market maker and market leader in entertainment for Greater Seoul, which will allow us to drive tremendous local traffic, and which also in turn will allow us to monetize and optimize other elements of the project.
In regards specifically to gaming customers, a majority of them will come from China and Japan as well as surrounding countries, though there is a remarkably robust number of Seoul-area foreign residents who will also be permitted to gamble.How would you characterize the difference between doing business in South Korea and in Japan?
They're actually more alike than dissimilar, especially when you look at how they compare relative to all the jurisdictions within Asia. Both of these countries have great pride and appreciation for their history and culture. They both have had strong growth in their economies the past decade. Family is central to both and there's a great respect for their surrounding environment, which makes it more pleasant to operate in either environment. They are both facing super-aging societies which could have economic consequences. As regards gaming, they both take regulation very seriously and want to be cautious on how large-scale gaming operations are integrated into their major urban centers. Perhaps one difference I've observed is the manner for which foreign investors can penetrate the private sector. While local partners are essential in both countries, Korea is influenced by a more concentrated group of family conglomerates. It's important, when doing business, to have relationships with those conglomerate families.
Given how long the casino-approval process has taken in Japan, how does one stay patient?
[chuckles] Well, I guess you could say some things are worth waiting for. So that's the case here. It's pretty well indisputable that Japan will be one of the largest gaming markets in the world. When there is an opportunity this large, investments have to be made which not only include money, but also include time and patience.
How large of a market do you think it is? The estimates have been all over the ballpark.
Yes, there are a wide range of forecasts out there. As it relates to Japan in its entirety, in my opinion the most realistic estimate is closer to $15 billion annual GGR, but of course, potential is not only driven by population, but also location and various rules of operation. Assuming reasonable commercial terms, I think this number is within the most likely range of possibilities – give or take a few billion less or a few billion more.
Losing Hokkaido does not seem to have been much of a setback. How receptive has Nagasaki been?
Nagasaki seems very committed, based upon their transparency and the schedule for the request-for-proposals initiative, which is relatively aggressive. They appear to understand the specific advantages and economic benefits that an integrated resort can bring to the community.
What kind of a resort do you plan and at what cost?
For clarity, this project is primarily owned and being developed by a consortium led by Oshidori International Holdings. We are their casino partner. Oshidori is planning a $4 billion integrated resort, and undoubtedly it's going to be a remarkable property. The IR program includes over 2,500 rooms inclusive of significant suite product, a number of VIP experiences, world-class dining, over 20 restaurants, and a major retail complex, which encompasses over 19,000 square meters. Along with a casino accommodating approximately 250 table games and 3,000 traditional slots and electronic table games, there will be significant convention and MICE amenities as well as a 15,000- seat arena
Is the relatively small population – half a million people – any sort of a concern, compared to other Japanese markets?
When you look at where Nagasaki is located, both in visitation from outside the local market as well as the populations in surrounding areas, the potential is tremendous. For greater Nagasaki – population is approximately a million and a half people. But the surrounding markets are also very attractive and in close proximity to our site. For example, Saga, which is just over an hour away, is home to 800,000 residents. And Fukuoka, which is within 90 minutes of our site, is home to five million residents. Obviously it depends on where all the integrated-resort licenses will be located, but we feel confident that there will be a significant population base to draw from that will be much closer to our property relative to any other property.
When do you and Oshidori expect approval of your bid?
We anticipate a decision by the prefecture by late summer or early fall of this year.
Having resorts as close as South Korea and Japan might seem redundant but isn't. Why not?
We believe there is a substantial number of cross-market opportunities between the two properties. Both Korea and Japan are top global tourist destinations – including, significantly, travel from Korea to Japan and vice versa. And so having shared databases across the water in relatively close proximity to each other with major reciprocal visitation provides tremendous opportunity to optimize our respective databases. There are other synergistic benefits as well. As just one example, we will be bringing major Western entertainment acts to Asia to Inspire Arena in Incheon. It's typically very expensive and sometimes cost-prohibitive to bring such acts from afar, but the ability to generate greater economies of scale by having such acts play at more than one location during the visit will make it more economically feasible, and therefore provide us more opportunities to bring over such acts. That's one of many examples where we will be able to capture synergies between the two properties.
How are you adjusting to life in the Pacific Rim? Do you ever feel like a fish out of water?
[laughs] Actually, I am going back and forth from the States to the Pacific Rim. I spent a lot of time in Korea during the IR RFC and RFP process in 2015 and 2016, so I have become quite familiar with the landscape. I've always enjoyed the Korean culture and community. While there's no place like home, this is truly an enjoyable place to spend some time.
Thank you and good luck with the jet lag.
[chuckles] My pleasure!
* This interview was undertaken in August 2021 and origianlly published in Casino Life Issue 145*