Glyn Thomas talks to Mike Rothwell, Managing Director, Caesars Entertainment EMEA about Brands, Brexit ...and being the Best
Most people will be familiar with the Caesars Entertainment brand but not necessarily be aware of how diverse the company is, how it has many different operations in different countries. Can you elaborate?
Caesars Entertainment Corporation is one of the world's largest and most diversified casino entertainment providers. We now operate 47 casinos across five countries, from the destination resorts of Las Vegas and Atlantic City to the high-end glamour of Mayfair, the buzz of London's Leicester Square and the excitement of Cairo and its proximity to the Middle East.
You'll be familiar with our brands, including Caesars, Harrah's, Horseshoe, Flamingo, Bally's and Planet Hollywood. Closer to home we have the Empire Casino, the Sportsman, the Playboy Club London, Alea Glasgow, Alea Nottingham, Manchester235, Rendezvous Brighton, Rendezvous Southend together with 3 businesses In Cairo and the 750-acre Emerald Casino Resort in South Africa.
I visited your sister operations in Cairo last year and a definite "esprit de corps" exists at all levels – they are quite obviously actively part of the Caesars Entertainment family. From your perspective, how is that achieved?
I'm a strong believer in the Service Profit Chain – happy team members create happy customers who, in turn, create happy shareholders. It's simple, but is absolutely dependent on first class leadership. Better leaders deliver better results.
Image: Mike Rothwell,Managing Director, Caesars Entertainment EMEA 
We have a great team and great leadership in Cairo. They think hard about employee engagement and customer service. They have loads of energy. They work together well, share information well and, above all else, they have a strong culture of respect and professionalism throughout the operations. Authentic leadership is important and you're right, there's a real sense of pride. It's no accident that Caesars is the market leader in Cairo, with consistently more than 30% market share over many years.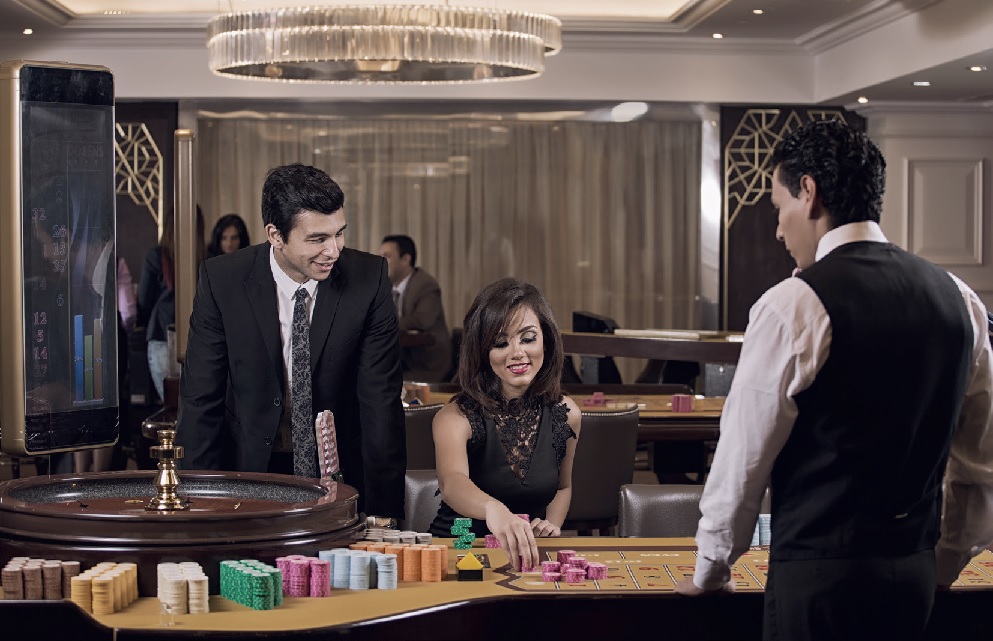 Image: The Ramses Casino, Cairo.
Following on from the last question how close are the respective casinos in terms of staff exchanges and the sharing of ideas and maybe even VIPs?
Giving our employees the opportunity to work in our other properties in the UK is relatively straightforward. This is great for their career development as it enables them to gain exposure to different markets, diverse customer bases and to develop their leadership skills. Internationally, it's a little bit tougher, due primarily to visa requirements and work permits. That said, our UK employees often have the chance to work in our overseas properties, supporting on capital projects, slot floor layouts and restaurant offerings, for example. Mark Hands, who has previously headed up our Nottingham and Manchester properties, is now leading our South African resort property, leveraging his hotel and hospitality skills to drive success there.
Sharing VIP customers is one of the key strengths of the Caesars family of properties. Our host teams operate globally, providing bespoke service to our customers, whether they're visiting London from the US or on a visit from the Far East. It's a key advantage of having a large network of properties.
Launching Total Rewards, the world's leading casino loyalty programme, into the UK market earlier this year has been a big step forward in customer service and loyalty.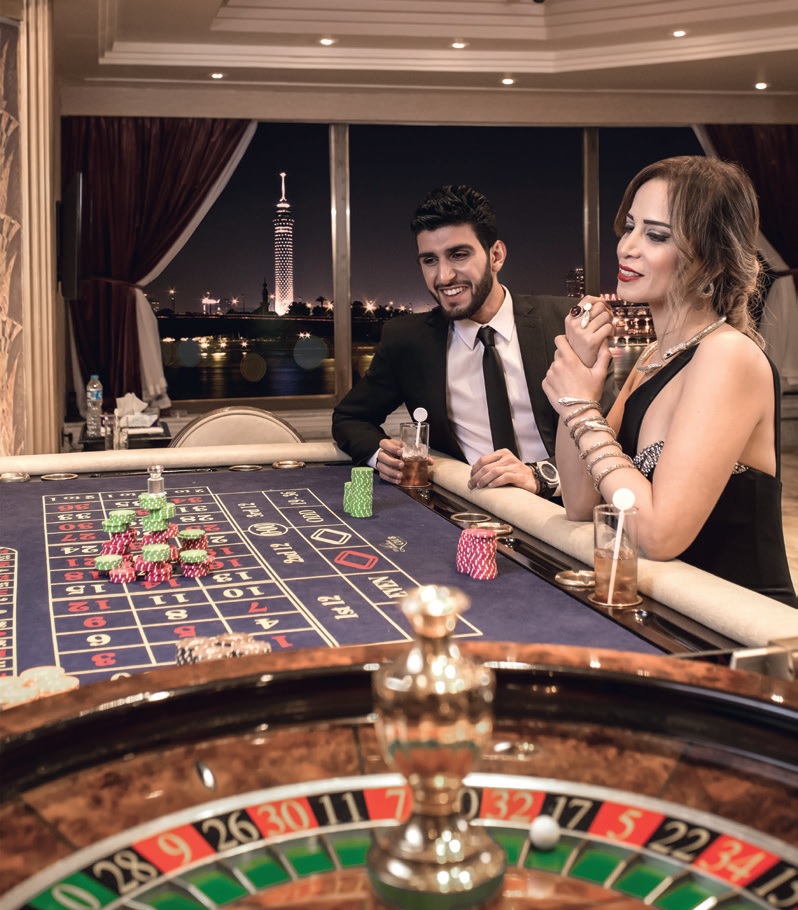 Image: The Ramses Casino, Cairo overlooking the Nile.
Focusing on the UK, how has the market changed in the past 12 months since we interviewed you last?
The two biggest changes I have seen are a significant increase in Far East Asian visitors to our UK properties and increased regulatory scrutiny.
The latter is something which has divided gambling industry opinion. From my perspective, I'm supportive of the Gambling Commission's approach to consumer protection. I believe it's vitally important that all the gambling industry CEOs culturally get their heads around the idea that treating customers fairly, and with respect, is great for business, financially as well as from a customer and employee perspective.
Image: The Carlsberg Sports Bar, one of Caesars' successful brand partnerships
Has Brexit been a gloomy topic at management level or are you approaching it all with confidence?
Personally, I'm disappointed by Brexit. Throughout the process, and the vote, we didn't try to influence our employees in any way – they were all free to make their choices and it's right and proper that government respects those choices. That said, I felt the government did a poor job of giving people clear, useful information which they needed to make an informed choice. The picture of doom and gloom they painted felt insincere to me and it backfired. I think they would have been better served emphasising the good things the EU does. It's striking that some UK communities which are supported by EU funding voted overwhelmingly for Brexit, thereby, effectively, cutting off the funding on which they depend – that makes no sense to me.
It's also disappointing that the government now has to deal with extensive and involved negotiations when it would be much better served focusing on improving the UK economy and getting public finances back into shape. We all know how it feels being distracted by "curved balls" when we're trying to focus on our jobs and I can't imagine the depth of work involved to unravel the situation.
From my perspective, I also think it's a shame that Britain has chosen not to be part of something bigger. I love living and working in London – it's an amazing city with an incredible diversity of cultures and nationalities – I hope we don't lose that.
Image: Emerald Resort & Casino, South Africa
From a business perspective, the obvious impacts have been the weakness in sterling, which has been good for tourism but, more worryingly, the potential loss of European workers on whom our economy depends. We're already seeing that in our food and beverage operations.
Fingers crossed we can come out the other side unscathed and culturally intact – I'm glad I'm not involved in the negotiations!
How does Caesars Entertainment EMEA fare against other casino brands – and how is it different?
Having distinct brands in the markets in which we operate makes sense and enables us to "localise" what we offer. So, for example, a customer in Alea Glasgow will have different expectations from a customer in Manchester235. We also empower our local General Managers to have more autonomy in how they operate their businesses, which enables them to adapt more rapidly to changes in the markets in which they operate and with which they are more intimately connected.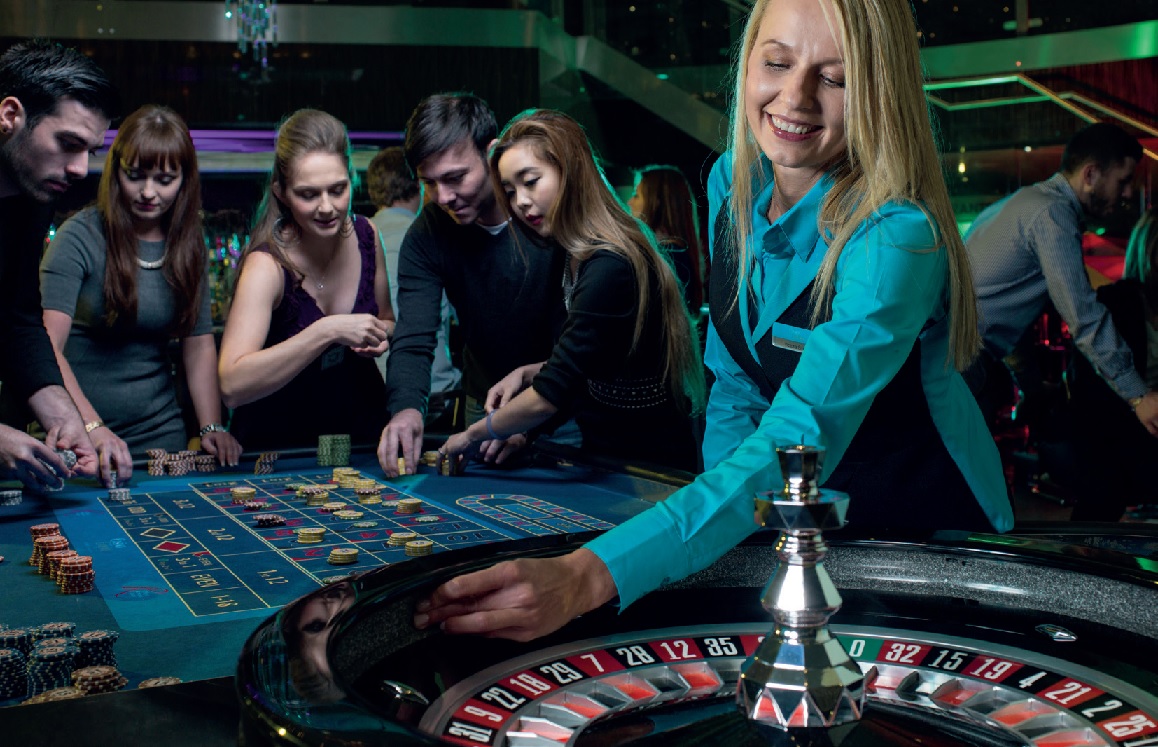 That doesn't mean we don't have standard operating procedures, we do; rather it's being able to apply those in a meaningful way in each market.
Having the Las Vegas connection is a big differentiator for us too. We are able to offer our customers access to experiences that other operators cannot. The ability to meet Britney Spears or Jennifer Lopez, or visit the "Hangover" Suite at Caesars Palace, or be invited to stay in our New Orleans property during Mardi Gras – all these are key differentiators for us.
You appointed Jim Firth as Venue Director for the Sportsman Casino in London last year – how has he had an effect?
I think Jim's a great Venue Director and I'm delighted to have him on our team. He has a leadership style which works well – he's calm, engages well with employees, is a good listener and understands the value of having a diverse network of contacts.
He has integrity and authenticity – important leadership qualities. I mentioned earlier about my belief in the correlation between leadership and results: 2017 is looking like a record year for the Sportsman. I don't think that's a coincidence or an accident – it's a high performing team.
Jim isn't the only new arrival to the Caesars' Team though. We've made some important external hires into our senior management team over the past year or so. Chris Green joined us from the Rank Group and is now leading the Empire Casino in Leicester Square. George Gordon came from Gala and is now our Venue Director down in Brighton and Maxine Gibbons is our Venue Director in Manchester235, having joined us from Rank.
We've also had the opportunity to internally promote two of our key employees into Venue Director roles. Susan McGowan has taken the property leader role at Alea Glasgow and Junior Garrod, who was formerly our Marketing Manager at the Rendezvous Southend, is now our property lead. Both are already having a significant positive impact on team morale, customer service and results. I'm delighted that we are able to see team members progress through the ranks to become property leaders. This is a testament not only to their abilities, but also to all the time and effort we've invested in training and development over the past few years.
We've had a good balance of external talent and internal promotion – I'm happy with that.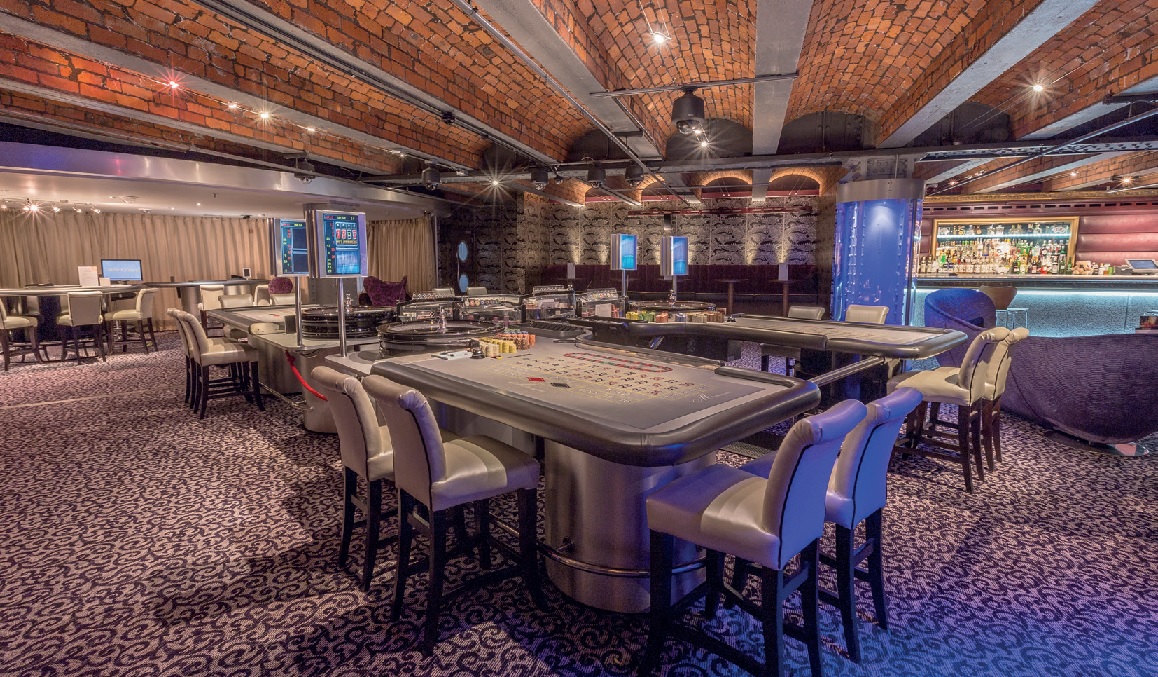 Image: Manchester235 Casino's VIP room, the most successful VIP room outside of London
You have some strong partnerships and affiliates  such as with James Martin in your Manchester casino and Playboy Enterprises speaks for itself. What other alliances do you have at the moment and are others planned?
Partnerships and affiliates are an important part of our business model. Consumers trust brands they recognise. We've been working with Marco Pierre White in Alea Nottingham for a number of years now and the MPW Steakhouse Bar and Grill has been a massive success. He's a very active participant in the direction of the business and that really helps the relationship to be successful.
The Carlsberg Sports Bar at the Empire Casino has also been tremendously successful – again, a very recognisable brand, trusted by consumers. In all these partnerships we work hard to foster strong relationships – active dialogue, ideas sharing, face to face contact – all vital to ensure success and to keep the product alive and relevant in the marketplace. In my experience, taking a passive approach to a partnership rarely leads to an optimal outcome.
A key development for us has also been the launch of Total Rewards into the UK market in March this year. Total Rewards is the leading casino loyalty programme globally – the brand is recognised and trusted by millions of customers and extending the reach to cover our UK operations is a big step forward for us in driving loyalty and engagement. Would I like to do more? Definitely. As we seek to grow market share in the territories in which we operate, partnerships will be one way through which we can differentiate ourselves. One of the benefits of being part of the Caesars global network is that we have access to some pretty important relationships. Watch this space!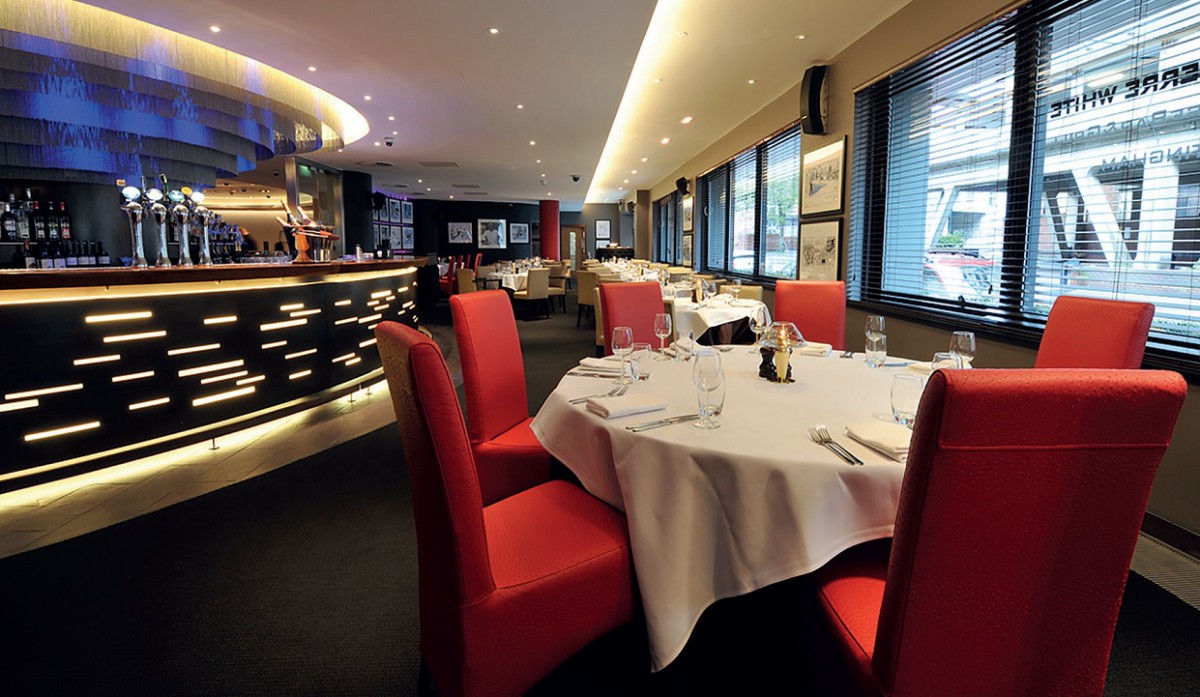 Image: Marco Pierre White Steakhouse at Alea Nottingham
You're on record as saying that each venue is different – distinct – and operates independently with no "homogenous product". That said do you try to diversify your slot offerings with many suppliers or rely on major suppliers offering different product?
Correct, each of our venues is distinct and tailored to the market in which we operate; I think this is important for attracting customers. From a slot product perspective, I don't have any hard and fast rules. Typically my start point would be which product works best in each market. In this regard, we see a lot of commonality – exciting new products tend to resonate in every territory, not just a single market. Pricing is important, of course, but I wouldn't put all our eggs in one basket if that left us with a basket of average eggs.
The political landscape has been interesting too, from a product perspective. I had hoped that the casino industry would be permitted more slot machines over and above the current 20 per property for former 1968 Act Casinos. Timing is everything though and the current backlash against Fixed Odds Betting Terminals needs to work its way through the system before we can re-engage in a sensible discussion with DCMS about where gambling products should be situated.
I'm always optimistic, though. The casino industry has been ahead of the game on social responsibility and consumer protection and I'm proud of what we do in this regard. Building this into a package of evidence for the government will help us move the agenda forward and I hope we will see appropriate relaxations within the next 12 months or so. I'm supportive of the work the Gambling Commission is doing around responsible gaming and, by continuing to work collaboratively with them, I believe that we can keep casinos at the forefront of safe gambling.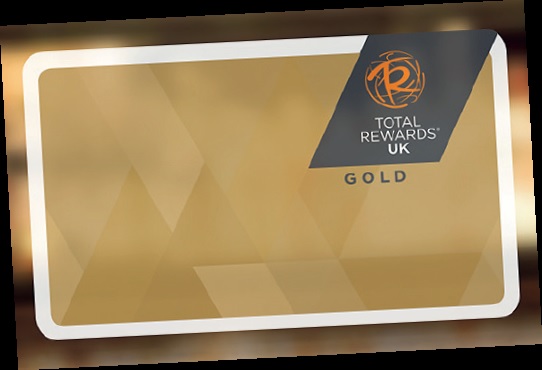 What's on your hit-list for 2018 ? Do you have any acquisitions or major refurbishments planned?
I'm excited about 2018. Caesars US finally wrapped up the protracted Chapter 11 debt renegotiations in October, with a significantly lower debt load and much improved free cash flow. The focus for our business now is growth. We will be aiming to address our current absence from the online gaming market. It's a huge industry and we have a great brand, so I'm looking forward to leveraging that and providing additional entertainment channels for our customers.In addition, we have done a great job of investing in capital projects which have delivered strong returns. During 2018, I see us investing in our flagship London properties to continue to grow our market share. M&A will clearly be a focus for us too. We have a great management team here in the EMEA region and I'm keen to leverage our great operational and marketing skills by adding to our portfolio, be that in the UK or mainland Europe.
I'm also excited about our culture-shaping work which we kicked off in 2017 and will continue in 2018. We call it "Inspire our Best" and it's all about helping our team members become better leaders and managers. Bricks and mortar investment is exciting, as is M&A, but it's our people who really shape the success of our business.