Interview with Jon Hanlin, SVP of Commercial Strategy and Analytics, Aristocrat Technologies. By Victor H. Royer
Casino Life Magazine and Outsource Digital Media recently had the opportunity to interview Jon Hanlin, Senior Vice President of Commercial Strategy and Analytics for Aristocrat Technologies.
Jon joined Aristocrat in 2015 as Sr. Director of Gaming Operations, bringing in-depth understanding and extensive experience in global marketing strategies to Aristocrat as the company expanded international initiatives and implemented growth strategies across its entire business. In 2019 he was named SVP of Commercial Strategy and Analytics.
Jon, first I want to thank you for taking the time to speak with me. Please tell our readers about yourself and your role at Aristocrat.
I have a fun and interesting job at Aristocrat, helping to lead our commercial strategy. I work with our great game designers on what we should be building for the market and help our amazing sales team sell it.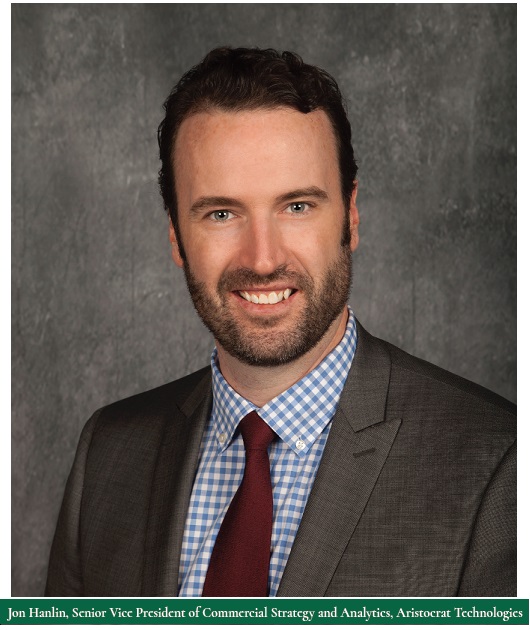 Now that the G2E gaming convention is again "live" in Las Vegas, which are the video games and related technologies which Aristocrat is presenting, and what is new and innovative about them?
At the 2021 G2E Aristocrat Gaming™ changed the gaming industry forever with the release of Specialty Dune Slot Machines, timed to match the U.S. theatrical release of Denis Villeneuve's film adaptation of Frank Herbert's classic novel Dune.
Dune the slot game appears, appropriately, on Aristocrat's new and technologically advanced Neptune Double™ cabinet. Neptune Double provides players with an out-of-this-world theatrical style experience with curved, 49-inch monitors and 4K visuals, state-of-the-art sound, and a custom-designed, adjustable sound chair.
Dune slots also feature a $500,000 multi-site progressive jackpot. Unique to Dune the slot game are new mechanics such as multiplier stacks, which add increased volatility and excitement to the base game, and frequent scatter-triggered features use proven game mechanics in new ways.
Other titles we featured at G2E 2021 are Big Fish Grand and Lightning Dollar Link. We will have more details on these great games in the near future, but they are available now for our clients.
For these titles, which of them have new or re-imagined cabinets?
The new Neptune Double combines the fundamental qualities of a larger-than-life play experience with uncompromising quality and performance. Reviewed by VIP slot players before release, this cabinet contains their seal of approval. With our new design, the product's overall volume has remained the same, but the components have been enlarged for maximum gaming presence that results in super-sized appeal and occupancy.
Two 49-inch ultra-high-definition displays combine with our P2200 GFX graphics card to yield a remarkably bright, vibrant and high-contrast gaming session. It contains an expansive, curved Gorilla Glass button deck for a more connected and intuitive wagering experience. Patented built-in candles combine with superior side-lighting for maximum presence.
Extra knee-room and a player-tested adjustable-sound chair make for an extremely comfortable playing environment. And our Cinema concept is also an innovative cabinet playing experience. More on this will be shown later, but all cabinets and game titles are now available for our clients. Among the available library of titles are the very popular Crazy Rich Asians and Timber Wolf Diamond.
What is new and innovative about these Cabinets, or their hardware components?
All three of these innovative Cabinets truly engross the player to get them a total entertainment experience. We aim to make the slot game and hardware feel as one to the player. These three cabinets bring us the closed to that dream as we have ever been.
Which of these titles are lease, sales, or participation?
Dune, Big Fish Grand, Lightning Dollar Link, Neptune Double, Neptune Single, and Cinema are all Lease Titles.
For Aristocrat, and for these games, which do you think is the future: Sales, Lease, or Participation? What percentage of each is the future for Aristocrat?
We like to give our customers options so they can choose games and business models that work for them. That is why we invest in games and hardware in both lease and sale options.
Are any of these titles available in Cashless configuration?
Cashless is an ongoing focus of our CX team, and they have developed solutions that help our customers use cashless applications in the slot area and in the table games area. Ultimately, deployment will depend on regulators, and we are prepared to help our customers for those possibilities.
Which are the stepper (reel) games and related technologies which Aristocrat is presenting, and what is new and innovative about them?
Our RELM series is popular with players and with customers, and we recently unveiled a new line of 5-reel games that received a very good reception in our pre-G2E meetings with customers and again on the show floor.
For these titles, which of them have new, or re-imagined Cabinets?
The new cabinet is our RELM cabinet, and that has now been expanded into a 5-reel configuration. We saw this opportunity to innovate in a space where innovation has long been stagnant. Aristocrat invested in experienced stepper designers and mathematicians to ensure that mechanical reel players get the experience they expect. These are not video developers making stepper products, but hardcore stepper developers who love innovating on the mechanical reel platform.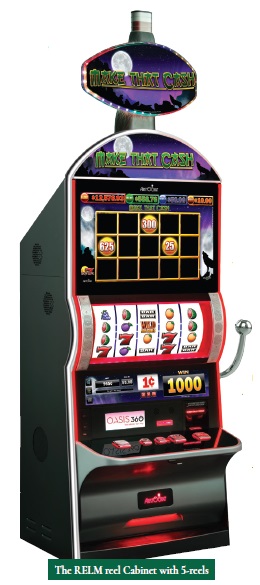 What is new and innovative about these Cabinets, or their hardware components?
Stepper patrons love their mechanical reels - from the familiar look of the protruding reels, to the simple yet exciting gameplay. But they also crave for a new experience whenever they crank that handle. That's why our 3 reel options became a huge hit for stepper aficionados, and now we're proud to launch the 5 reel option to bring stepper gameplay to the next level.
Which of these titles are lease, sales, or participation? What percentage of each is the future for Aristocrat?
These games are available for both Sale and Lease.
In the Gaming Industry, Manufacturers sometimes refer to a segment of their Products as "premium." Which are those that Aristocrat is showcasing?
Dune, Game of Thrones Kings Landing and Wild Wild Buffalo are all Premium Games from Aristocrat. DUNE is the Iconic New Game based on the newly-released film, as I mentioned earlier. And Aristocrat's Game of Thrones franchise is among the industry's most legendary, and this latest installment stands taller, ready to crown players with new thrills in an all-new game with an easy-to-understand jackpot structure and intuitive game play.
Game of Thrones King's Landing is available exclusively on Aristocrat's industry-leading Neptune Double™ cabinet, and players will cheer as dragons soar up and down the stacked, curved 49-inch monitors in 4K visual splendor. State-of-the-art sound and a custom-designed, adjustable sound throne combine to create a game experience unlike any other. 
Wild Wild Buffalo gives players a wild experience by combining the iconic Buffalo brand with the symbol-driven simplicity of Wild Wild Cash-on-Reel pays, plus a Buffalo Grand™-style wheel that awards progressives, progressive multipliers, and free games.
Wild Wild Buffalo surrounds players with the sights, sounds, and excitement of a classic western movie in a high volatility game with frequent features. All these games support the Aristocrat Neptune Double cabinet as it is entering the premium market.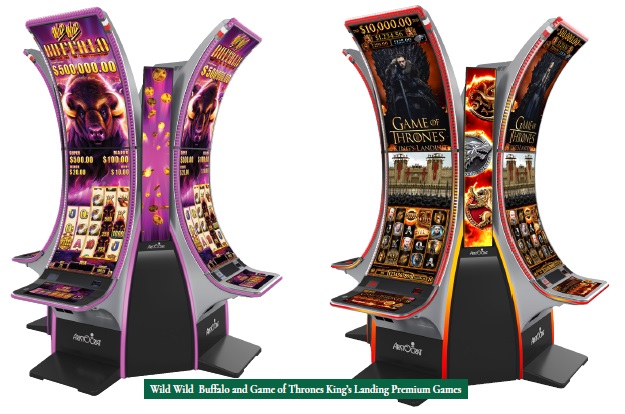 In the post-Pandemic world, how is Aristocrat positioned to provide Video and Reel Games and Content to Casinos?
As the pandemic hit and the gaming industry shut down, we were faced with two choices: stop or keep going. We chose to keep going, and we never stopped investing in design and development. That has resulted in our being ready with new games and hardware for our customers that has helped them attract players and give them new entertainment experiences to enjoy as they returned to their favorite casinos.
Is Aristocrat invested in Sports Wagering?
Sports wagering is something our customers are interested in, which means we are interested in it. We will continue to work with our customers as sports betting grows.
How would you sum-up the Post-Pandemic future for Aristocrat in Las Vegas? And elsewhere in the world?
Because of our continual investment in D&D, we are very well positioned to help our customers in Las Vegas and across North America and beyond to grow and succeed.
Finally, in your career with Aristocrat, what would you consider to be the highlights?
The highlight is working with our incredible team. We have the best people making the best product for the best customers, and every day is a highlight.
On behalf of Casino Life Magazine and Outsource Digital Media, I would like to thank you, Jon, for your time, and for sharing this with us and our many readers worldwide.