Kate Chambers, Managing Director, Clarion Gaming chats to JJ Woods
How did ICE Africa actually come about?
The story begins in London in February 2017 when we were asked by a group of our stakeholders to explore the possibilities of developing an event for Africa to take place in October! To launch an event, secure a venue get the buy in of key stakeholders and put in place all of the functions you need to run an event in less than nine months is a massive undertaking which most event organisers would have politely declined. But that's not how we approach opportunities at Clarion Gaming, so I took a deep breath and the first Gaming Africa was conceived. Nine months later we were reflecting on the success of a high profile two-day learning and networking event, which attracted industry thought leaders and regulators from 52 countries, including 16 African nations. The event received plaudits from all sectors of the industry including regulators, operators, suppliers and manufacturers. The opportunities in Africa are like the continent itself – immense. Africa represents some 52 nations with 1.6billion people, 68% of whom are under the age of 27. This is such an exciting market that we decided to take what many people believe to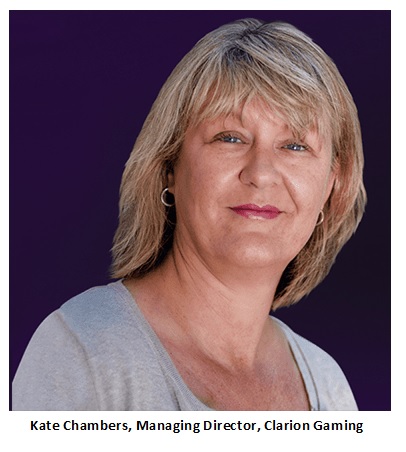 be a bold step and rebrand the 2018 event as ICE Africa. This is an historic development - the first time the ICE brand has been exported outside of the UK. The marketing campaign has started and registration is live at www. iceafrica.za.com.
In what ways will ICE Africa differ from ICE London?
Whilst the scale of ICE Africa will be nothing like the experience of attending ICE London, similarities will be based around the standards of organisation, of content and of professionalism that we are bringing to this new event brand. Whilst there is huge growth in Africa, it takes many decades of careful nurturing to develop an event anywhere close to the scale of ICE London which in 2018 occupied 43,500 sqm of net space. ICE Africa will be an event where the industry can meet, network, see the very latest gaming innovations, share best practice and progress in a strategic and sustainable manner.
What's the response been like from the industry?
When we launched at ICE London the reception was attended by over 300 gaming industry professionals and the mood was extremely positive. We had ringing endorsements from people such as Tristan Kaatze, Director of Casinos Sun International and John Kamara, Director of Global Gaming Africa. Tristan commented that the development potential in Africa is massive and that the launch reception showed how much networking potential operators and international companies see in the market. John echoed those views, adding that having the ICE brand in Africa would help showcase the new opportunities in the market from rising GPS to direct international investment and rising disposable income. I'm delighted to say that six months ahead of the opening ceremony, the high level of interest remains with key supporters, speakers, sponsors and media ready to engage with what is gaming's newest event brand. The ICE Africa team is in place and working with our stakeholders in order to deliver on our pledge to create a world class business event for the continent.
A large number of Clarion events have a strong training element to them – will that be the case with ICE Africa?
We know from the many conversations that we've had with the market in Africa and, indeed, throughout the world, how important training is in terms of raising standards and creating a professional and sustainable industry. To satisfy this need, we will be bringing the highly acclaimed 'Totally Gaming Academy' masterclasses to ICE Africa, offering full training steams for online, land based, sports betting and affiliate sectors. When the industry comes together at an event such as ICE Africa it represents a fantastic opportunity not only to see product and network but also to learn and for companies to invest in their people. Training is a vital method of equipping individuals to deliver the best possible customer experience and in the Totally Gaming Academy we have what is widely regarded as the best training and personal development resource in the industry. I'm delighted to confirm that after widespread consultation with our stakeholders that we will be including training that's specifically aimed at regulators, as well as a programme that will provide operators with a better understanding of regulation.
How do you anticipate operators making best use of the opportunities offered by ICE Africa?
Response from both the operating and supply sides of the industry in Africa have been equally positive. While there are a large number of challenges that are common to businesses operating across every gaming jurisdiction there are also some issues that are unique to local or regional markets. As such,we have been told there is great value and potential for an event that is regionalised and in sync with market dynamics. From a cost perspective it will enable operators to expose a much larger number of staff to the networking, training and information exchange opportunities that ICE Africa will deliver.
ICE Africa is the latest in a series of events launched by Clarion Gaming: how does it complement the rest of the portfolio?
Our strategy is to provide international suppliers with a schedule of business events and opportunities that meet the specific needs of the market. They range from the highly targeted WrB style events which may have two or three hundred delegates, right through to ICE London, the world's biggest gathering of the international gaming industry which in February of this year attracted a record and independently audited 33,536 visitors from 153 sovereign states and jurisdictions. In between these two extremes we have a variety of event brands all of which have been created in partnership with the local industry. While the events vary in size, duration and remit they all carry the Clarion Gaming Ampersand which serves as a kite mark for quality, attention to detail and professionalism. Our pledge to the international industry is to organise and deliver a joined-up programme of high quality business events based throughout the world and ICE Africa is the most recent piece in the Clarion Gaming jigsaw.
Clarion's gaming brands are delivered globally and attract more than 50,000 customers annually in locations spanning every continent, with flagship brand ICE London recognised as the world's largest gaming technology exhibition. Clarion also organise the world renowned iGaming events, iGB Live!, GiGse, Juegos Miami and Affilate Conferences in London and Berlin, as well as the established World Regulatory Briefings and Gaming Congresses in Brazil and Japan. Delivering multi-level training for gaming professionals since 2007, the Totally Gaming Academy has firmly positioned itself as the leader in gaming training across online and land based platforms and now offers training in casino management, online gaming, sports betting and anti-money laundering. TotallyGaming.com is the online community for the industry and iGaming Business is the leading print publication in the sector.
For more information on ICE Africa and to register, visit the website at: www.iceafrica.za.com