London's Hippodrome looks back on 10 years as a casino and forward to a brave new world for British gaming. By David McKee and Victor H. Royer
Casino Life Magazine and Outsource Digital Media recently had the opportunity to interview Simon Thomas, CEO of Hippodrome Casino London.
The story of the Hippodrome Casino in London begins in 2006. By 2008 Simon and his group received their gaming license, and then began the work physically on-site in July of 2009. After about three years – and £50 million of investment to regenerate and restore the primary building, and the building next to it – and then connecting the two – there was finally a light at the end of the long tunnel and the project neared completion. The grand opening was in July 2012, and so by today Hippodrome Casino London is coming up to 10 years' of operation.
Simon, first I want to thank you for taking the time to speak with us. Please tell our readers a bit more about yourself, and your role at the Hippodrome Casino in London.
Thank you so much David and Victor for the invitation. I truly appreciate the opportunity to share what we are doing at the Hippodrome Casino in London.
My family go back six or seven generations in gaming, so if you think of the bearded lady in the traveling fair in the late 19th century, that's probably my great, great, great granny. After my father settled down he started doing bingo, and broke away from the family business. So I'm steeped in gaming from many generations. But I too broke away from the mold, at least at first. I went to university, and then to the city. And while I was doing so, my father sold the family business. He kept a bingo hall for me, which I then built up into quite a sizable business. What had happened with bingo is that casinos and bingo were placed under the same law in 1968, and that meant that they were both highly restricted: no advertising, no promoting, no live entertainment and no alcohol on the gaming floor. You had to be a member for 24 hours before you could gamble. But then bingo was deregulated, just when I was coming into it. So the first bingo hall I had was a converted cinema with maybe 300 seats, with a largely elderly clientele gambling for small amounts of money. By 1995 I had opened a bingo hall in Cricklewood, in north London, which was by bingo standards quite enormous. It was 65,000 square feet, 2,700 seats, three bars, two restaurants, two cabaret stages, wedding license, cinema license, 265 slot machines, and 800 car-park spaces. It was more like an international casino than British casinos were allowed to be, albeit without roulette and blackjack. So that was quite a good grounding for what came next, with the 2005 Gambling Act.
Image: Simon Thomas, CEO of Hippodrome Casino London.
Please tell our readers more about the advantages your bingo experience brings to the Hippodrome.
In 2005, when the new Gambling Act came out, for the first time it deregulated casinos, so casinos were allowed to advertise, to promote, to have live entertainment and serve alcohol on the gaming floor. Plus you no longer had to be a member. At that time, all the casino operators were stuck in legacy buildings and had a mindset which was very much casino-casino-casino. They had no experience of mass-market entertainment, of bars and restaurants other than to serve the gamblers. I'd come from the other end, where when I started bingo was the same – it was all about bingo. Over the years I learned how to get the different disciplines to work together: the bar, the restaurant, entertainment and gambling. So I was coming into casinos not knowing much about casinos, but I knew how to make the most of all the deregulation, and get all the other disciplines talking and working with each other. So I had a massive advantage over the incumbent operators, who had none of that experience.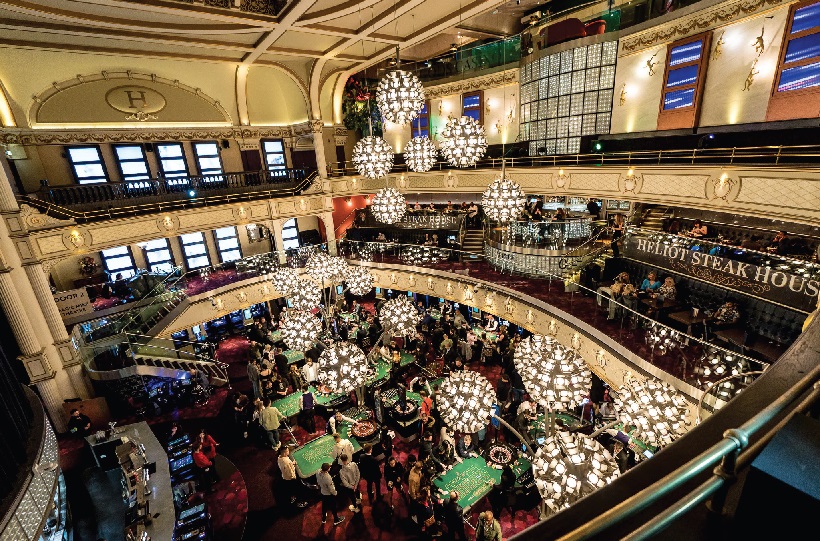 How many slots do you have in the casino, in total?
"A shockingly small number" would be what comes to mind. Especially when compared to American, and some European, casinos. You see, we are limited in the number of slot machines – by law – to 20 gaming machines. And that's it. At least for the time being. But that's something we're hoping will change in near future, with the forthcoming Gambling Act Review.
We understand there are three casinos in total at the Hippodrome. One is for the slots, as you've just explained. What do the other two offer?
It's all quite big, because we compensate with a large number of electronic roulette terminals, like you would find in a typical American casino. So we have 120 electronic terminals that play blackjack, baccarat and roulette. We've got 35 gaming tables. We've got all the usual: roulette, blackjack, three-card poker, baccarat. And we've got England's only full-sized craps table, which is actually on a balcony 55 feet up in the building, so it offers the best view of any craps table in the world. We also have 17 poker tables. We have an affiliation with PokerStars, and provide an incredible live-poker offer.
How does your location work in your favor?
The location is phenomenal. It's on the busiest corner in Europe. On a normal weekend day we have about a quarter of a million people walking past our front doors. The reason it's so busy is it's kind of the crossroads between the theatre district, to the east of us, and Soho and Chinatown to the north. To the west of us we've got the West End, Regent Street—all these great shopping areas, and to the south of us we have Trafalgar Square, Whitehall and the museums. So the location is phenomenal and the history of the building, is, obviously, very relevant. It's such a good location that every generation will come and turn this into whatever is the latest form of entertainment. The history is just amazing.
What would someone used to American casinos find different about the Hippodrome?
Ahhhh, lots. When we think of American casinos we think of very large, flat-floor barns of casinos and all created relatively recently. The Hippodrome is in a historic building. It's 122 years old. We're spread over seven floors. We have an amazing array of products within it. Some people call it "Aladdin's Palace," others say it's a bit like Charlie and the Chocolate Factory because everywhere you go there's something different happening. Just to walk into a 60-foot Victorian atrium and find gambling, but then walk into the basement and find something else going on and, as you walk around the building, find all sorts of different activities.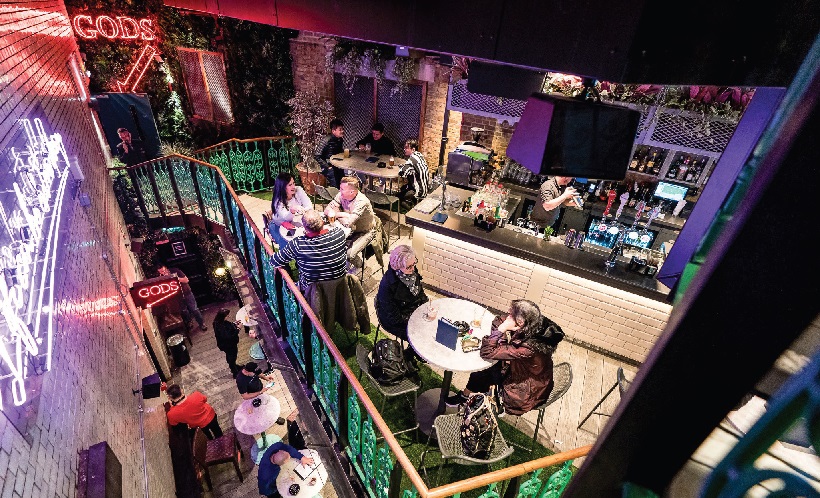 What was it about the building, when you saw it, that said 'potential casino'?
Location, location, location to start with. Then the history. It opened in 1900 as an indoor circus with dwarves diving from the ceiling into a big water tank, elephants swimming, seals, sea lions, giants, pygmies, and Charlie Chaplin and Harry Houdini. It had the English premiere of Swan Lake in 1910, the first jazz ever played in the country in 1919. Twenties, Thirties, Forties it was a famous music hall. Fifties and Sixties it was turned into a venue called Talk of the Town, and that was a dinner-dance venue for 800 people who would watch Stevie Wonder, Sammy Davis Jr., Ella Fitzgerald, Tom Jones, Cliff Richard, Judy Garland, and on and on. In the early Eighties it was turned into England's answer to Studio 54, Stringfellows Nightclub, and it was an extraordinary nightclub in the Eighties and the Nineties, but not very good in the Noughties. But there was such an incredible historical legacy in this building, and an emotional connection people had that screamed out to say: This building, deregulation, big location – it's ready to become something special as a casino-based entertainment complex.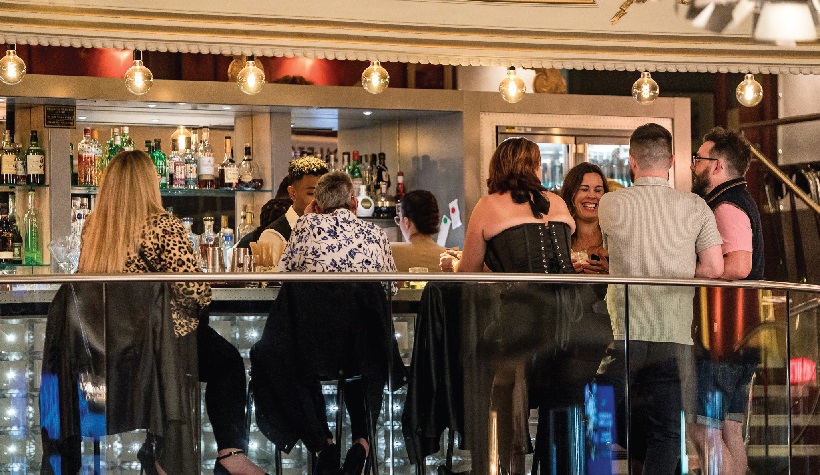 Do any vestiges of its historic past remain?
Lots. And we thoroughly enjoy it! The trick for me was not to rely on the history too much, but to build on it. It's the same with the building. It's a great building, but it does present challenges. So the trick was to make you walk in and go, 'Gosh, wow, this is fantastic! It's so impressive!' But it had not to feel austere. You had to feel at home, and we found a really nice balance between the comfort of a front lounge, and something which is an extraordinary building. We did quite a lot of restoration on the plasterwork, because I wanted people to walk in and experience the splendor, the grandeur, the drama of a Victorian atrium. But at the same time there's a lot of contemporary design in here so there's plenty of places where you can get cozy and have a great time.
Could you describe 'The Gods' and your new poker venue?
"The Gods" is what you'd historically call the upper balcony in a theater. So, if you can imagine, you've got the stalls on the ground floor, then you've got a balcony level, then you've got what was a fairly steeply raked set of seats, and we built a platform over them, which we call The Gods Casino now, and we've got six or seven gaming tables up there, plus a bit of hospitality. You're looking down over the edge into the main atrium of the building, and you are about the height the dwarves would have dived from, so you can empathize a little bit. It's a stunning space. Also on that level we have an outdoor smoking level next door, with four more gaming tables and a bar. It's a little casino in its own right.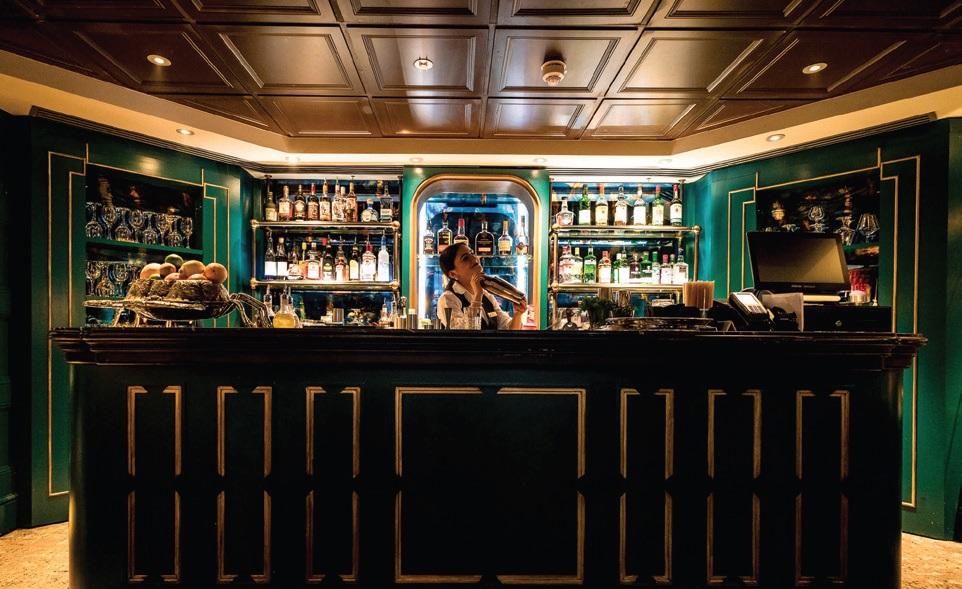 How popular is outdoor gambling at the Hippodrome?
In the English winter it's a little challenging. But there are seven tables: Three of them are on the third floor, in a well, and really well protected. They are busy all year 'round. The ones on the fourth floor are slightly less protected, but again, because of the popularity of being able to smoke and gamble at the same time, they are extremely popular and they're really coming now into their own as the weather improves. I would say we've got more outdoor gaming than any other casino in the country, and we've got much better conditions for the players, so it is extraordinarily popular.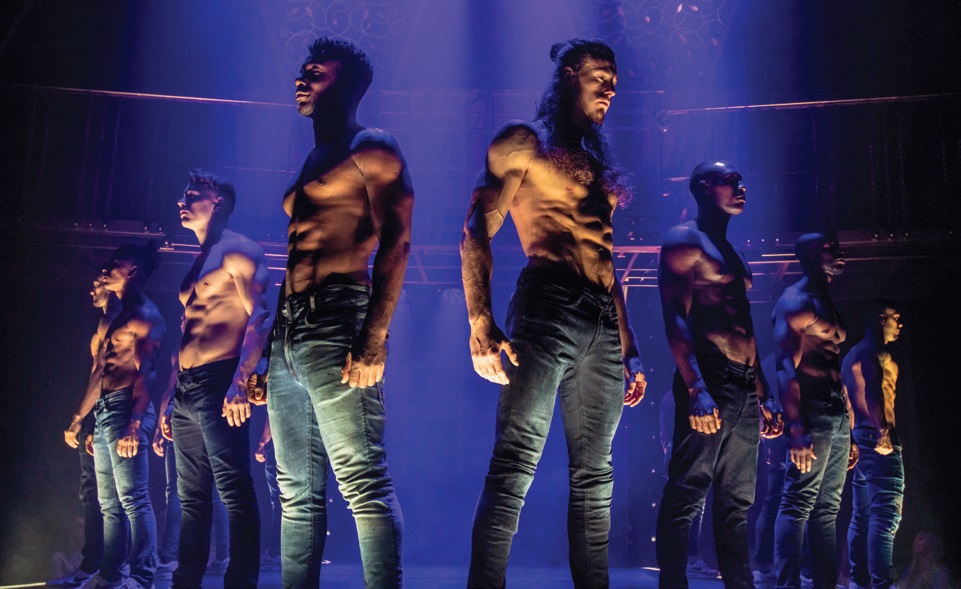 What kind of dining would we find at the Hippodrome?
We have the best steakhouse in London. I have to confess we use USDA prime steaks as our primary meat, because they are probably the best steaks in the world, three years old, grain-fed, 28-day hung, which is just extraordinary. The restaurant is on the balcony level of the theater, so you can eat overlooking the main gaming floor, which is quite entertaining. When the show's on and the ladies are coming out of Magic Mike, you get quite a spectacle to say the least. The food is fantastic, and we've been voted the best steakhouse in London three times! Our chef is called Ioannis Grammenos. He's from Greece and he describes himself as a 'meatologist.' He turns the whole production into a spectacle the same way that an expert mixologist will do with cocktails. Some of the dishes have dry ice bubbling through them. We're the only restaurant in Europe that has a filet steak on the bone. Then we go through to having some Irish tomahawk 1.2-kilogram steaks. The main restaurant is fantastic. We also have 24-hour dining in every one of the bars, so you can order a steak sandwich and a bottle of Bollinger at 4 a.m. if you want, or noodle dishes or quesadillas or all sorts of different dishes. We are currently expanding yet further and we are adding on a Chinese restaurant called Chop Chop, which will open in June, so it's quite a nice mix of food.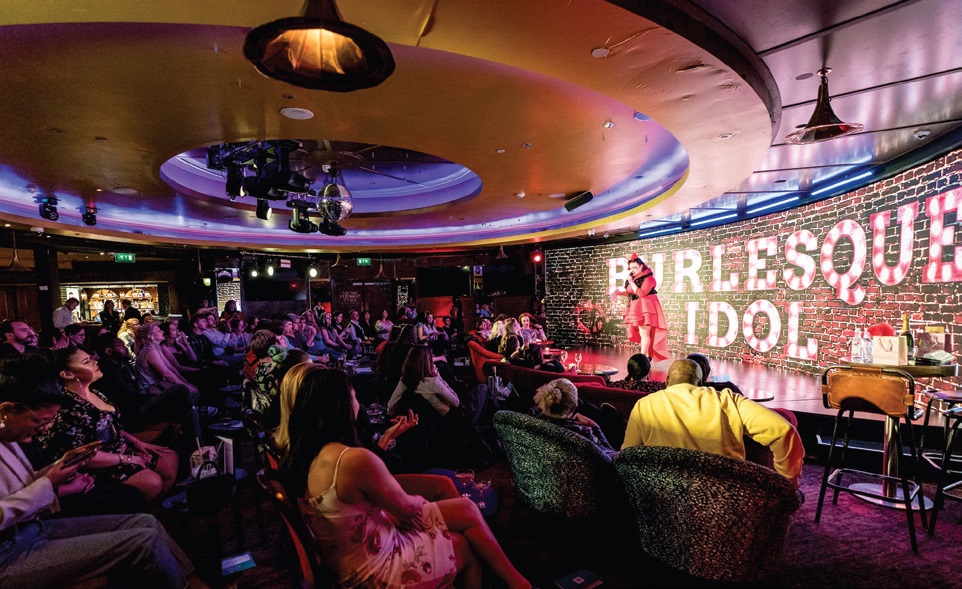 You're making our mouths water! What other revisions to the property are coming?
We never stand still. We're 10 years old this year, as you know. I was recently looking at some photographs from early on, and it seems almost like a different business. Because we're forever moving, chopping, changing. The current project is the frontage of the building. We only controlled half of it up to Covid. Then the other half, two large shop units, became available. So we took them over. We've expanded our baccarat area into the top half of one of them. The bottom half of that side is going to be the Chinese restaurant. Then the other half of the front we're turning into sort of a cool, café, crepes, cocktail, champagne, coffee concept and we'll have outdoor café tables on the high street. Underneath it we're going to have an über-cool secret bar which you can only get in if you know it's there. Stuff like that. It'll be quite a nice little hideaway. That also gives us the ability to unify the whole frontage so it's one look. It was a little bit messy before. We're quite excited about that. Then later this year we're considering moving one of our main bars to expand the gaming area. I've still got a pipe dream about doing a dinner party in the cupola, which would be the sixth or seventh floor of the building. There's an amazing brass structure over the front door with a statue of a charioteer on it and it's just big enough to hold a dinner party. I can't work out the health and safety routine at the moment, but I'll find a way.
What was the genesis of Magic Mike Live?
That was a fascinating journey. As part of our development we wanted to have live entertainment and we had a theater space that was actually the original stage footprint, albeit one floor up, big enough for 200 to 300 people. We tried to develop a cabaret club in there and it was very hard work because we had no reputation. People didn't really understand that casinos could have live entertainment as well. Over the years we had some great successes. We had Dire Straits in there, we had Prince do his last gig in the U.K. in there. We had some fun shows with the Rat Pack and Elvis, but it was always challenging. We got to a point where we had sufficient momentum and then we tried a resident show. It was called Blanc de Blanc and it was fantastic. It really gave us a taste for a resident show. At the same time Magic Mike had opened at the Hard Rock in Vegas. It had been very successful there, and they were looking for a venue in the U.K., particularly in London. Apparently the markets that really enjoyed Magic Mike were the States, Germany, England and Australia. So their number-two target was the U.K., and some of their producers had been over from Vegas to see Blanc de Blanc. So they knew about our space. They liked the fact that they were used to operating in a casino, and for a show like Magic Mike the ladies have a few glasses of bubbly or whatever and come out, not into the street, but to come into a protected area: The casino was actually quite an attraction for them.
So one quiet Sunday morning I met Channing Tatum, and took him for a tour of the building. He had 10 minutes, but I think we spent about an hour going 'round the building. He loved the heritage, and really understood the ethos and style of this operation. We set the designers to work and they worked out that they could actually get 325 seats in the theater space, and it has been a roaring success. The show was actually announced by Channing Tatum himself on the final of Britain's Got Talent in 2018, and it crashed Ticketmaster. Ticket sales were a million pounds in the first hour, regardless, and went on to be the sixth-highest presold show in London's history. And that's with a relatively small theater. We're now into year four. We've had performance number 1,022. The reason that's significant is that, in the Fifties, there was the longest-running show in the history of the Hippodrome, Ivor Novello's Perchance to Dream, and we're about to set a new record for the Hippodrome. It has been amazing. It's brought in a slightly different clientele. They're not gamblers, the people that go to it, but they've certainly enjoyed the hospitality side, and they add another level of vibrancy and excitement into the building. We're big enough to absorb it, quite happily and it's a very good marriage of brands and styles.
Has it changed your customer demographic?
Yes, we have about 30,000 customers a week, and of those about 3,000 are predominantly women going to Magic Mike. So it's increased the amount of ladies in the building, made it more glamorous and exciting, and you can feel the energy before the show starts, with everyone excitedly going in. And you can certainly feel the energy change in the building when 300 very excited, happy, giddy ladies come out into that atrium. It's all on the first floor, so it doesn't actually disturb the main gaming floor, but you can feel the energy change. Obviously, the bars and restaurants are busier as well.
Do you have a percentage of the show?
Yeah, it's a joint-venture company with Channing Tatum and his organization. So it's very good relationship. Everyone's got skin in the game and we're very well-incentivized to make it work, as they are.
Are you operating under any health-related constraints at present?
I'm delighted to say that the U.K. is sort of post-Covid. We have no legal restrictions whatsoever. Of course we are mindful that some people feel a little bit Covid-shy, and we're respectful. One of the things that we learned during the periods after lockdown, when we were under social distancing, is that actually we're a better operation giving people a little bit more space. So we've changed our operation to go for slightly less people. We give people a bit more space, and that's maybe a post-Covid reaction. It's also more profitable.
**** This exclusive interview was originally published in Casino Life Magazine June 2022 ***