Touring California's new Yaamava' Resort & Casino with General Manager Peter Arceo. By Peter White
We are grateful for your generosity to answer our questions. First, I would like to ask you to shortly introduce yourself and tell us when and why you started working in this industry. Thank you for the opportunity. I started my career in the casino industry in the mid 90's as a blackjack dealer while I was attending the University of NevadaLas Vegas. I graduated in '96 with a degree in Hotel Administration. I spent 18 years in Las Vegas before heading to Scottsdale, Arizona, to work at Talking Stick Resort & Casino for the Salt River Pima-Maricopa Indian Community. In 2015, I moved to California to join the management team at Yaamava' Resort & Casino at San Manuel (formerly San Manuel Casino).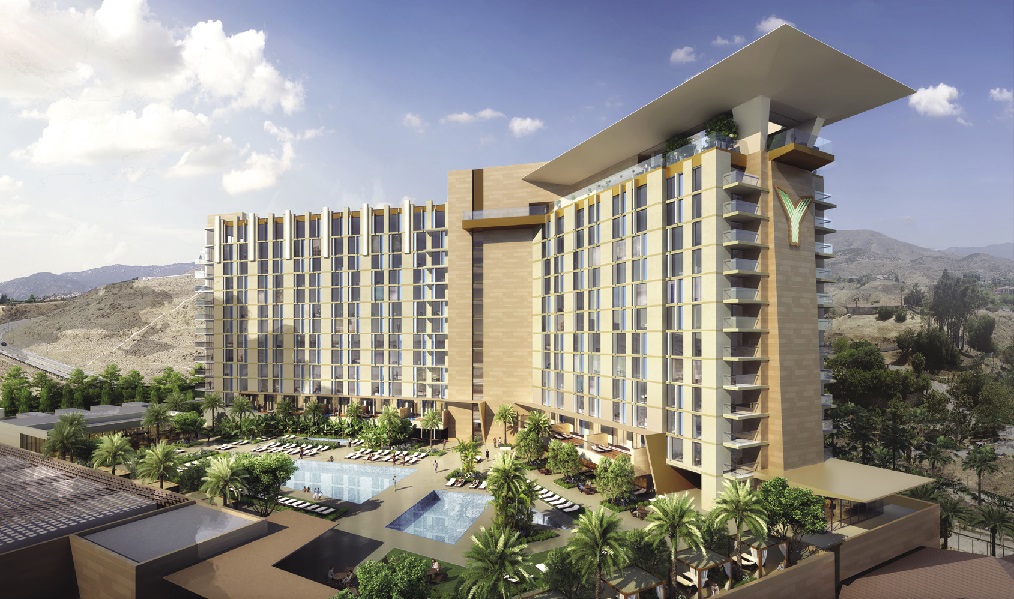 What is the story behind the name change of the resort and what is the meaning of the name Yaamava?
Because the opening of their first resort is a historic milestone for the San Manuel Band of Mission Indians, the tribe decided to refresh the property's name to represent the beginning of a new chapter and boundless potential. Yaamava' is a native Serrano word that means "spring – a time of growth, rebirth, renewal and transformation." The tribe will continue to serve as the owners of this new luxury resort and c asino, while the name change allows the tribe to pursue additional growth opportunities and serve the community under the San Manuel Band of Mission Indians enterprise. Additionally, the rebrand to Yaamava' Resort & Casino at San Manuel includes a new visual identity and logo, inspired by the ancestral lands of the Serrano people. For example, the Yaamava' logo is inspired by yucca plant fronds and basket weaving, which are critical parts of the tribe's history in the region – all paying homage to the culture and heritage of the San Manuel Band of Mission Indians.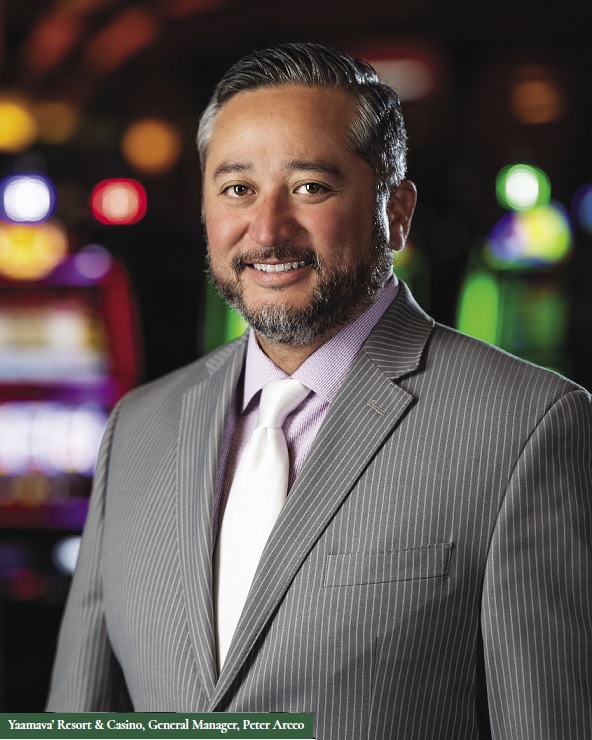 Can you explain a bit about the difficulties created by COVID-19 and what action you've taken to overcome them?
Over the last two years, the pandemic made a major impact to the hospitality and gaming industries in many ways. Initially, the issues were focused on how do we reopen our businesses in a safe manner for our team members and guests. Our casino closed for 87 days in 2020 and we spent every day researching products, technologies, and new processes that would allow us to reopen safely. We sought the advice and counsel of medical experts as part of our process. Once we were able to resume operations, the focus then shifted to hiring and retaining team members. The labour landscape changed and there is now a shortage of workers in the hospitality industry. This happened during a time period where we wanted to hire an additional 3,000 team members to re-open our casino and open our resort expansion. In order to do that, we came up with some creative ideas. Early in 2021, we created an online virtual career fair by leveraging technology that is normally used for online conferences. We took a different approach to online career fairs by giving direct access to department managers and executives as part of the career fair. Candidates were able to virtually meet with department leaders and we hosted discussion panels where we covered a wide variety of topics such as workplace culture and career development. This allowed potential candidates to engage and interact with people whom they would work with on a daily basis and gave a more in-depth view into our organization than what a traditional online recruiting event would offer. It was extremely successful and we were able to make hundreds of offers to people over three different online events Additionally, we opened up an offsite recruiting center at the Ontario Mills Mall, which is one of the busiest malls in the U.S. We set up the recruiting center as a one-stop shop for potential team members to learn about our organization, apply for a job, get an immediate interview, receive a job offer and drug test onsite. We wanted to make it as convenient as possible and didn't require candidates to come in formal attire. People were able to obtain a job offer within a couple of hours. We would also host special events at the recruitment center, focusing on specific departments and job opportunities. The events were festive and represented a brief snapshot of what it's like to work in our organization. These were extremely successful.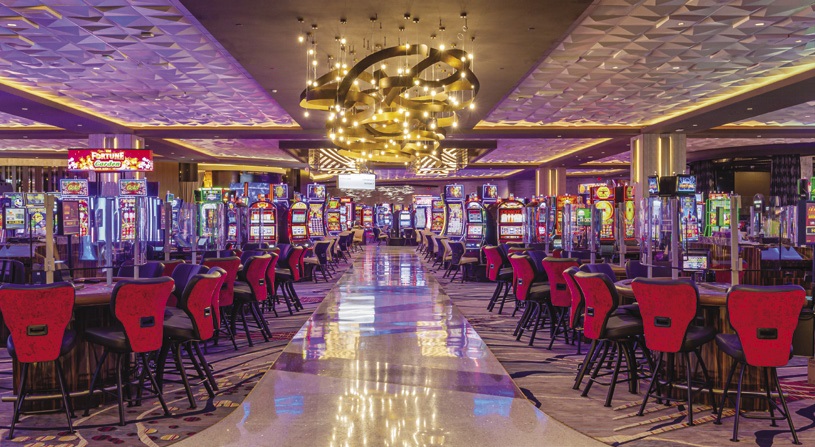 For a truly luxurious weekend, how would you describe the top-tier suites of the property, and what makes the luxurious suites so special?
Our most luxurious suites are the 5 Cloud Villa suites located on our top two floors. They feature a spacious living area adorned with the most luxurious linens and amenities. Guests staying in a Cloud Villa will have 1,000-thread-count linens on the beds, luxurious robes and slippers, and beautiful furniture and décor inspired by the native landscape. Spectacular views of the valley and mountains are visible from that vantage point.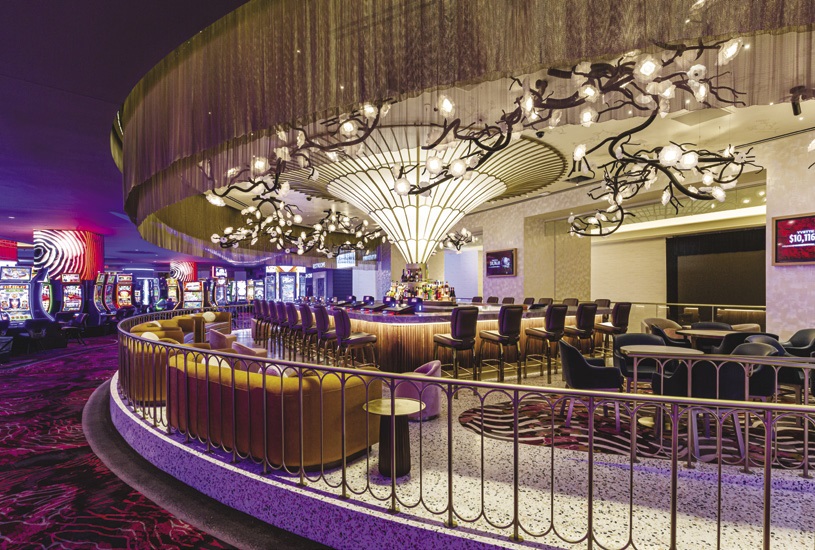 In terms of dining, what kinds of restaurants do you have on site, and what are some the signature dishes and cocktails you would recommend?
The Pines Modern Steakhouse, a fine dining steakhouse that was recently awarded the Award of Excellence from Wine Spectator based on their unique wine list and a collection of the world's rarest spirits. You can also find unique menu presentation, such as table side smoked burrata cheese with house made Sicilian trapanese.
The ambiance represents the tribe's heritage and reflects the local landscape. The menu features rare and highly coveted Japanese wagyu beef finished on olive leaves cooked table side on a hot lava stone. Then there is Serrano Vista Café, a 24-hour café where the design is inspired by the local orange groves of Southern California. The menu features a range of comforting classics with unique twists such as our Pho'rench dip that interprets the flavors of Vietnamese pho with a French dip sandwich. The beverage menu has refreshing options such as the whiskey berry smash, which is a refreshing bourbon cocktail that utilizes fresh berries that change with the seasons. In total our property has six dine-in restaurants, seven fast casual options and more than 10 lounges and bars.
Tell us about the grand opening night. How many guests were present, what was the entertainment and who were amongst the lucky winners?
We hosted over 800 people for our grand opening event on December 13th. After a beautiful ceremony featuring songs from the San Manuel Band of Mission Indian Bird Singers and speeches from the San Manuel Business Committee, we capped off the night with a spectacular projection map show and a special performance by Grammy-winning artist Miguel.
The casino also has 120 tables in addition to blackjack and roulette. What are amongst the other card games popular at the resort?
Our property now features over 150 table games. EZ Baccarat is one of the most popular games among our guests. Additionally, we have progressive jackpots across our gaming floor and a special progressive available only on games in our high-limit rooms.
How does the resort cater to its VIPs?
We work hard to provide a unique experience for our VIP players. We have five high-limit rooms, offering 532 slots and 42 table games. Slot players have six exclusive gaming salons where we can configure the room with the games they would like to play given three days' notice. We also have a spectacular beverage program, which we call "Collection 86," featuring rare spirits and wines from around the world. The Collection 86 menu is available throughout the property including the Y Lounge, which is located at the top of the resort tower for our VIP guests to enjoy light food fare and spectacular views of the valley. Our new spa features treatment "journeys" that are custom tailored for each guest to choose from and is centered around a crystal that connects the energy to the spa experience.
The resort also recently launched the Yaamava' Resort & Casino App. We spent a considerable amount of time designing the user interface and experience of our mobile app.
 Ease of use and perceived value were two critical components of our requirements. Every feature and function are well thought out and we release features once it's passed a battery of tests to ensure that our guests will respond favourably. Download the app and I think you'll immediately feel and experience the difference between other apps that are out in the market. So far, our daily active users and engagement stats have shown that this is working well for us.
Can you tell us about this sponsorship deal with the National Women's Soccer League expansion team Angel City FC?
We are partners with a variety of organizations throughout Southern California and Nevada. The partnership with Angel City FC was attractive to us because their mission and values to support the local community matched the community-focused mission of the tribe. It is exciting to be a partner with an organization that works hard to make the community a better place.
What sort of involvement does the Yammava' Resort and Casino have with the surrounding communities?
The tribe is incredibly committed to strengthening the local community and they do it in a variety of ways. They employ more than 6,000 team members, most of whom live right here in the Inland Empire. Since 2003, the tribe has given more than $290 million to non-profits, schools, medical facilities and other organizations not just here in the community, but in Nevada and other states.
Just a few examples of the tribe's philanthropy can be found on its website –
The City of San Bernardino, the LA Kings, LA Galaxy, and San Manuel Band of Mission Indians collaborated with KABOOM!, a national nonprofit dedicated to playspace equity, to open an accessible playground at Lionel E. Hudson Park.
San Manuel Band of Mission Indians donated $4 million to create more jobs through Goodwill Southern California
San Bernardino Animal Shelter received a $1.5 Million Grant from San Manuel Band of Mission Indians
A $9 million gift from San Manuel Band of Mission Indians galvanized tribal-gaming and -law programs at UNLV
Tribe donated $25 Million to build San Manuel Maternity Pavilion at Loma Linda University Children's Hospital bringing expanded care to the region's most vulnerable mothers and babies through state-of-the-art technology, private patient rooms, specially designed delivery rooms and more.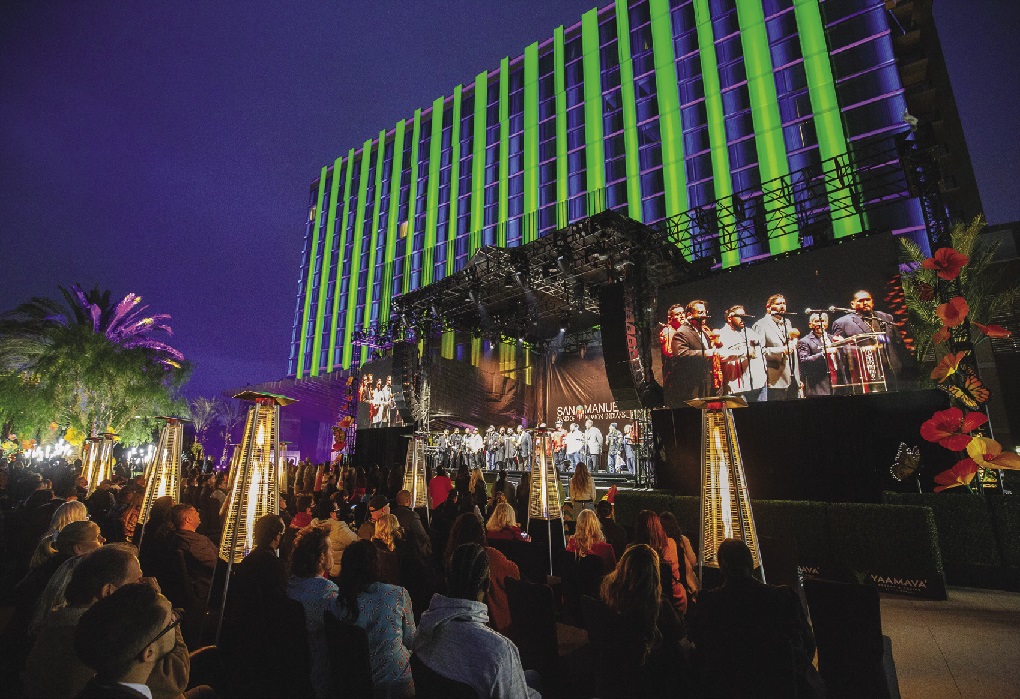 For those planning a weekend getaway to Yaamava' Resort & Casino, how would you carve out their perfect itinerary?
The perfect itinerary would be: A two-night stay in a one-bedroom suite. A Friday evening dining reservation at the Serrano Buffet. Leave time for gaming after dinner. Saturday morning, take a Aquamarine (calming and balance) journey at the spa, with a 50-minute facial followed by an 80-minute massage. Saturday lunch at the Serrano Vista Café, with time for gambling after lunch. That evening, make a dinner reservation at the Pines Modern Steakhouse. Always leave time for gaming afterward, followed by a nightcap at the Y Lounge on the 17th floor. Sunday, finish up with brunch at Pines Steakhouse.
What is Yaamava' Resort & Casino's Live Entertainment Calendar 2021 for 2022?
The Yaamava' Theater calendar to be announced in early 2022. Stay tuned, you won't want to miss it!