Aristidis Tsikouras, Managing Director, GeWeTe. Interview By Peter White
Continental casinos seeking an end-to-end solution for cash handling often as not turn to GeWeTe, a German-based firm with a wide European reach—and ambitions in the North American sphere as well. The company began modestly enough, making change machines 27 years ago. GeWeTe saw an opportunity within the casino industry, where the change person on the floor used to be omnipresent. GeWeTe's change machines rendered that function largely superfluous, freeing up casino staff for other customer interactions. The company's technology gradually evolved to enable debit-card transactions and hopper refills. Under the direction of founder Aristidis Tsikouras, GeWeTe captured 75percent of German market share and began marching toward domination of the European Union.
"Indeed, ever since 1993 we have constantly increased year-on-year turnover and our staff number has grown significantly throughout the years," Tsikouras told Casino Life. Being absorbed by the Gauselmann Group only enhanced GeWeTe's international reach, bringing it into over 150 casinos. Research and development, manufacturing, sales—GeWeTe does it all in-house, simplifying the choices for casinos looking for new solutions in cash handling. While GeWeTe's solid-state machines may not be the cheapest upfront, they're built for the long haul (for decades, sometimes) and what is spent on retail is recouped in absence of repair costs. With a durable past to draw upon, Tsikouras sat down with Publisher Peter White to discuss GeWeTe's promising future.
How was ICE London 2020 and what machines this year are your star performers?
The ICE is meanwhile the most important trade fair for our GeWeTe, especially since we have been offering solutions for the international casino market in the past4 years. The fair was very successful and the response from existing customers and potential new customers was fantastic. I know of no other manufacturer of cash handling systems that has such a huge range of products as we do. We offer the right solution for every need. For sure, the greatest interest for the casino area was with our bestseller in this sector the Cash Center Premium, but of course also with our new product Cash Center Deluxe for the betting area and the Cash Recycler Premium for AGC´s and the street market.
Tell us more about the Cash Center Premium?
We presented the device for the first time at ICE 2019.The response was fantastic and we have installed since last ICE our device in over 200 casinos worldwide. We have "packaged" the high quality equipment and technology of GeWeTe that has been consistent since more than 27 years in a new and innovative design. The device represents this brand new design concept with an extra-large 27" side-lit touch screen display. This display not only acts as the interface to the customer, it can be used by operators for information and advertising purposes and making it an effective marketing tool. Our Cash-Center-Premium has a stylish front plate combined with illuminated aluminium strips on all sides and an illuminated ground plate. Optional the front plate can be customised individually. It offers cash-in, cash-out, can accept tickets and naturally pay out the cash sum of a winning ticket. Player / customer cards can be accepted. The Cash-Center-Premium thus excels in its flexibility of handling all cash and cashless payment requirements. Customers can choose between a bill vallidator or recycler. Four banknote dispensers enable the large dispenser capacity of 2,000 or3,000 bills per dispenser unit ( in total up to 12.000 banknotes). Up to 4 coin hoppers can be fitted – meaning up to four coin values can be dispensed. The optional Pin Pad Terminal enables the acceptance of bank cards.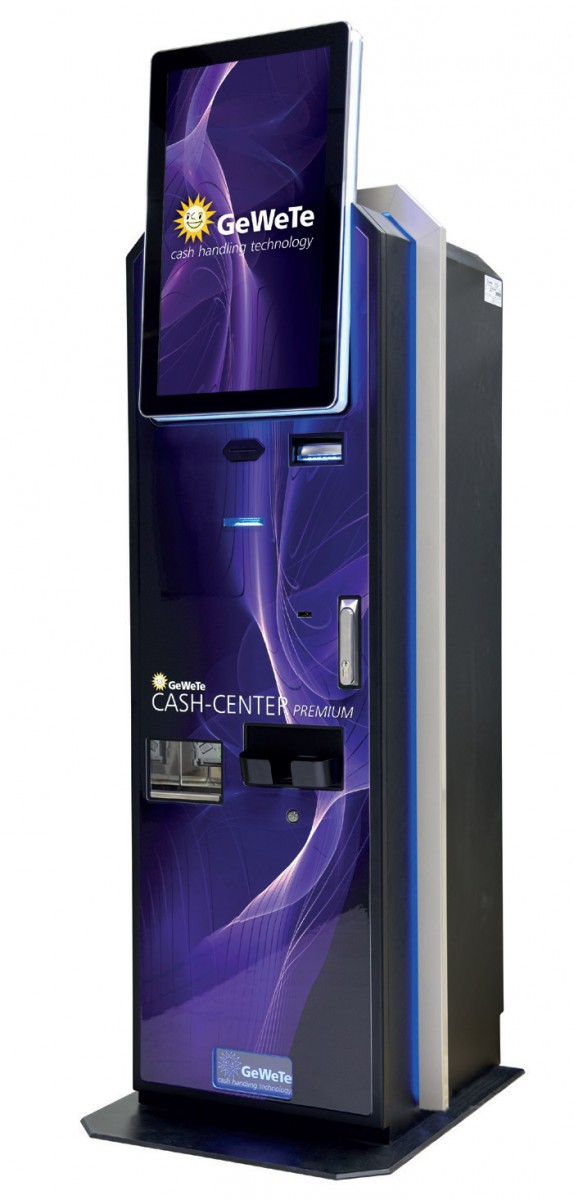 "The Cash-Center-Premium is also simple to manage. It can be connected to many casino  management systems. Furthermore, software settings, preventative maintenance and money transactions can be carried out from anywhere around the world – just an internet connection and browser are required."
Minimising the machines foot print on a gaming floor is a major factor with Gaming venues. So the Cash Center Compact Casino must be popular with Casino operations World-wide.
As I said at the beginning, I know no other manufacturer of cash handling systems that has such a wide range of products as we do. With our long experience in the street market, especially in the AGC sector and in the pub sector, the need for space has always been an issue. Not only the Cash Center Compact Casino, but also the Cash Center Premium was designed in such a way that it takes up little space. Both devices have the same footprint. And our Cash Center Compact even less, according to the GeWeTe motto, the right solution for every need.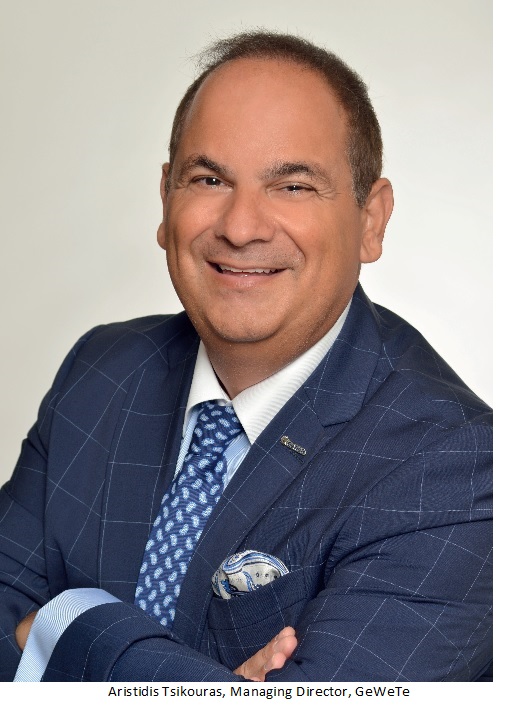 Has GeWeTe any corroborative statistics on sales of coin and bank note recyclers and change machine sales that can be linked to any reduction in usage?
In the street market, cash is still used in many countries. Especially in Germany, where we are the clear market leader with a market share of over 70%. Here, the recycling of coins as well as the recycling of banknotes is very important, to minimize the cash in a location. 2005 we sold the first coin recyclers equipped with bulk acceptance and recycling of coins, including a banknote recycler, and this resulted in our most sold devices Cash Recycler, Maxi Cash Recycler and Cash Recycler Premium, which we have now sold more than 20,000 times worldwide.
You have a superb location at ICE London and the whole GeWeTe Merkur Gaming booth did look impressive and am sure your whole Team at GeWeTe Enjoy their time at the show!
Yes, you recognized that perfectly correctly. We are very proud that we belong to such a large group as the Gauselmann Group and that this gives us the opportunity to present our entire product range "in the first row". This gave our team an extra big boost of motivation, which was immediately noticeable in the sales figures!
 What are the key features these machines have that set them apart from the competition?
Everything we do from the initial design, to the final installation and ongoing service is undertaken by GeWeTe. All is under one roof! The whole competence. GeWeTe use high quality components and high security systems for all models and have an extensive range of models and options to suit a wide range of customer requirements We are constantly adding and adapting our products to meet the needs of our customers, last year alone we launched three new models and many new options.
Do you tend to travel a lot to meet customers around the World or do you combine those trips with attendance at major shows hosted around the World?
Both are the case. In the major gaming markets in Europe, as in our home market of Germany, England, Spain and Italy, we have our own employees in both sales and technical support. We work with distributors in many other countries. For example, there is no country in Europe without a GeWeTe system installed, but also in many other countries worldwide. Of course, we also use the contacts of the Gauselmann Group , which is represented worldwide with more than 14,000 employees.
What are the next exhibitions this year that readers can get to see GeWeTe's very latest range of machines and associated transaction and currency handling equipment?
We take part in almost all casino and gaming shows worldwide. This year we will exhibit at ENADA in Rimini, at PGS in Lima, at Belgrade Future Gaming in Belgrade, at the Entertainment Arena Expo in Bucharest and of course at G2E in Las Vegas,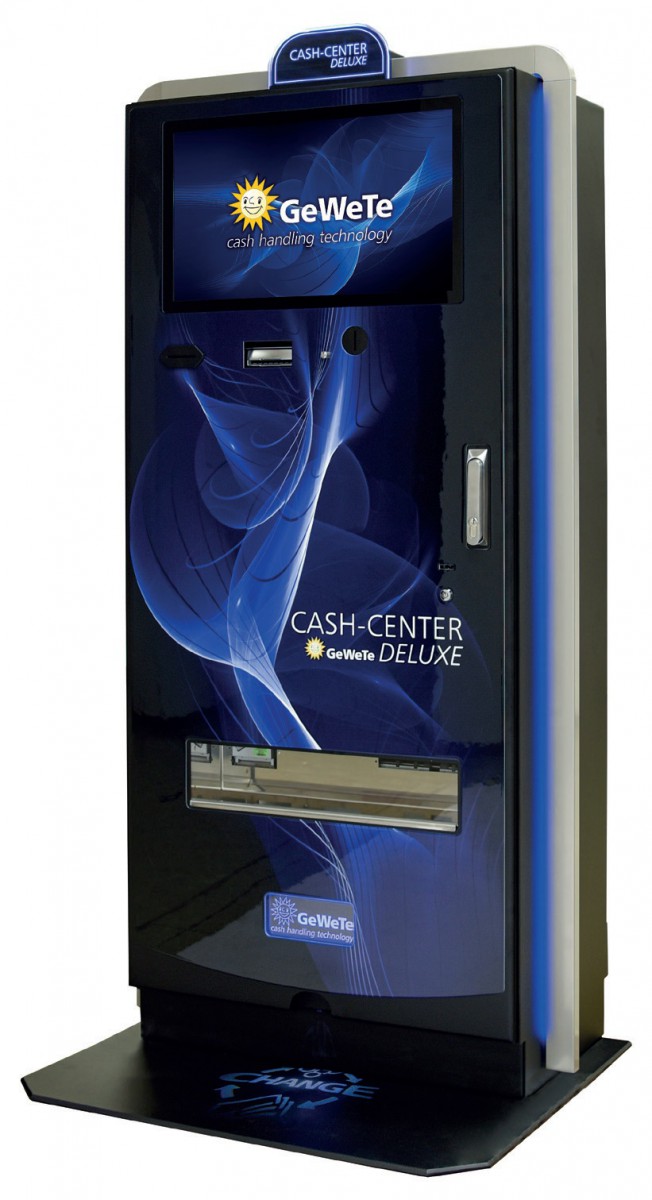 When you are traveling and you happened to be for example a meeting with a Casino operator and you know there is another not far away with your machines do you find yourself if you have the time visiting to see how the machines are performing?
The feedback from our customers and especially the feedback from the staff who work with our devices every day is very important to us. Only if we listen to these people and implement what their wishes are, can we develop the right products and therefore my answer is yes, my employees and I use every opportunity to get suggestions and feed back from the field.
Have you anything else you would like to add?
I would like to thank our customers for their loyalty over the years and I would like to promise to our existing customers, but also to our future customers, that GeWeTe will continue to provide you with great products and solutions of the best quality, made in Germany, and that we will remain true to our motto, the right solution for every need!
This interview took place during ICE London 2020 and published in Issue 138 Casino Life