Damien Connelly recently visited Casino Barrière Menton to meet the team of people making memories in this entertainment and recreation pavilion on the French Riviera
The 'Côte d'Azur' creates images of endless blue skies over an azure sea, a bright yellow sun over gently sloping beaches, all with a backdrop of lush, green rolling countryside and mountains. Colours abound in the images created by the Côte d'Azur – also known as the French Riviera. It is renowned for inspiring artists like Picasso, Matisse and Renoir, as well as having architectural gems such as Villa E-1027 by Eileen Gray and Jean Badovici.
Menton is a town close to the city of Nice (Alpes-Maritimes Département), located near Monaco and about three miles from the French-Italian border. With a population of just over 30,000, it was a part of Italy until 1860. The Treaty of Turin, an agreement between the Kingdom of Sardinia and Napoleon III's France, added the County of Nice to France as a reward for French assistance in Italy's war against Austria. Napoleon III paid four million francs in compensation to the prince of Monaco, who forever renounced Monaco's rights in 1861.
Opened in 1934, the casino is centrally located in the town. If you are on the beach, you cross a two-lane road and you are at the casino. In fact, the beach opposite the casino is called Plage du Casino. If your ideal casino is a multi-leisure entertainment pavilion close to a beautiful sea, or you dream of working close to a beach, then Casino Barrière Menton is ideal for you.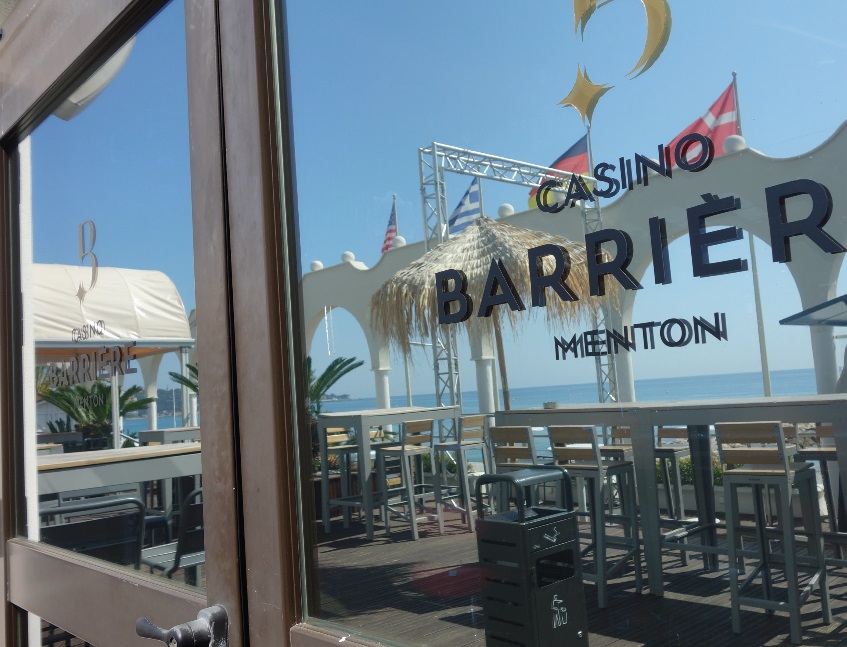 Culture is also regularly on display in and around Barrière Menton. Recently, there was a retrospective exhibition on municipal casinos in Menton, which included a visit to the casino. There was also a conference to educate and inform people about the history and architecture of casinos in Menton between 1861 through 1948. Synonymous with games, shows, and other leisure activities to entertain a wealthy foreign clientele, the casinos are buildings that also reflect the evolution of society and its way of life. On the occasion of European Heritage Days, people are invited to discover the odyssey taken by Menton in equipping itself with a casino.
Created to Entertain
The modern Barrière Menton is a rewarding property to visit, with a variety of entertainment and leisure offerings. This property with its 'on the beach' Cote d'Azur location is designed for rest andrecuperation to help recharge your batteries. Barrière Menton's entertainment includes multiple festivals and concerts – some of which are performed by Les Solistes de Monte-Carlo in the property's theater. Barrière Menton's entertainment schedule changes throughout the year and is well worth looking at for those customers who like to travel and try new places or experiences.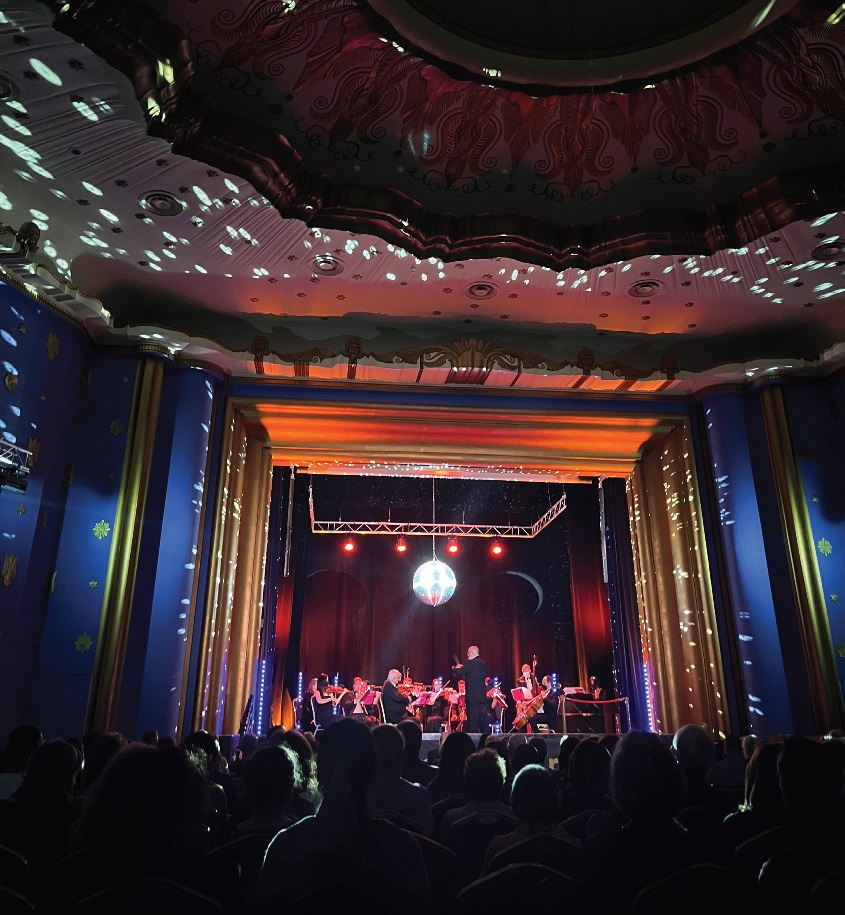 The 'Summer Party' season runs from July 1 to August 31. During this period, there are live DJs every day, plus tapas and pizzas. There are two grand festivals where the beachside road is closed to allow
people to enjoy the casino's beachfront location: Latin Addict was held in July 2022 and the Soirée Provok Party in August – that's a party organised in collaboration with the municipality. 2022 saw a visitor record for the Provok Party, creating a welcome financial boost to the area's economy.

Outside to Inside
One of the best terraces with a sea view at a European casino, with stunning views over the Baie du Soleil (Sun Bay) to the Mediterranean, Le Colombale restaurant is spread between an external terrace and an internal space. The decor is fresh and the food is even fresher. Le Colombale specialises in Italian/ Mediterranean cuisine. The menu changes with the season and it uses local products: Menton lemons, for example – the Côte d'Azur is known for its citrus fruits and the Menton lemon is probably the most famous of all of these as it is prized for its sweet taste compared to other lemons.
There's also Le Café des Sports, which is a café bar ideal for watching sports events. Serving food until 3 a.m., its big screen is a social magnet for sports fans to gather around … as is the circular bar. It's in this area that one finds the Barrière Bet product promoted.
Innovation
Geoffrey D'Hier and his team at Barrière Menton are always on the lookout for innovative solutions to keep customers engaged and entertained. They recently added a progressive table product and, more intriguingly, an interactive and contactless terminal that uses artificial intelligence (AI) technology toallow customers to interact with the screen without touching it.
The primary advantage of this innovative product s that it reduces customer wait times at peak periods thus reducing patron frustration. It allows guests to consult the restaurant menus, book a table, learn about games, discover playing tips and see the entertainment schedule for Barrière Menton.

The Gaming
European casinos are typically located in urban settings and Casino Barrière Menton is no exception. This creates an intriguing set of challenges for operators who seek to provide a variety of entertainment and leisure offerings within a limited amount of space: This is similar to how a cruise ship or a European leisure resort is operated and managed. A specific challenge for a casino operator is that they offer age-restricted gambling products in the same location as publicly accessible, non-age-restricted products such as food. As a perfect example, the public floor space in Barrière Menton is approximately 3,000 square metres. Within this, there are two F&B outlets with a large central bar, Barrière Bet, a theater, the reception/entrance space, as well as over 160 slots, six live tables and 49 electronic roulette terminals. There's also Salon Barrière, an event space for weddings, seminars and private events/parties.
Given the typical European casino is located in an urban setting, and mostly caters to local customers, European casino operators take their duty of care to their communities very seriously. This, in my opinion, helps explain why European casinos are so professionally managed – they need to be, due to the regulatory constraints of offering such a variety of age-restricted and non-age-restricted products within quite limited spaces. Also, you'll notice in European casinos a great number of floor staff, which helps operators deliver a product that is compatible with the needs of their local customers and laws, and that is sustainable in the long-term. (Casinò is, after all, an Italian word and the oldest existing casino in the world is in Venice.)

The Team
Barrière Menton employs 75 people from multiple countries (including Italy, given how close that country is). Geoffrey D'Hier is the general manager (Directeur Général), with Laurence Botcazou the marketing director, Frédéric Caserio a member of the executive committee and Patrick Bigot a security officer.
D'Hier's philosophy is as follows:
"It's a privilege to manage this property and work with the team of people we have here. Every day I have the opportunity to work in a wonderful location, with an amazing group of people, providing a range of entertainment and leisure products to our guests. As Steve Jobs said, 'Your work is going to fill a large part of your life and the only way to be truly satisfied is to do what you believe is great work. And the only way to do great work is to love what you do.' I love what I do and I am grateful for the team of people who do it with me."
As the local tourist organisation proclaims in its promotional material, 'Le Vrai Pays des Merveilles est bien réel.'