Peter White talks to Madis Jääger, CEO of Olympic Entertainment Group
Hilton Tallinn Park is an impressive building. Can you outline some of the world-class features?
This will be the first Hilton hotel in the Baltic countries. The hotel will also offer top-notch conference facilities, fitness centre, spa with an indoor swimming pool, outdoor sun terrace and an all-day restaurant. The ground floor of the hotel will also feature Estonia's flagship Olympic Casino.
How many and what type of rooms does the hotel have?
The hotel will have 202 rooms and suites, also overlooking the medieval Tallinn Old Town and the sea. The top three floors will be executive floors where rooms have French balconies. The top floor of the hotel will be holding an executive lounge.
What can patrons expect to see on 1600-square-metre casino?
This will be the largest casino in Estonia and will feature separate areas for slot machines, casino tables, sports betting and poker. There will be a special area for VIP players, spacious casino bar with stage area and a comfortable lounge. Our mission is to ensure our guests a highly enjoyable environment with the finest design and craftsmanship. We trust that the new, highly modern casino has high potential to become a benchmark for quality casino entertainment in the whole region.
Will there be enough staff for the new Casino or is training underway for additional croupiers,pit bosses, etc
As the casino in Hilton Tallinn Park will be larger than our previous Estonian flagship casino we will definitely need more staff. We take pride in our high service standards and that is why we are already in the middle of recruiting and training new employees to get them perfectly ready for the grand opening next spring. As the casino in Hilton Tallinn Park itself will be spectacular and inherently more prestigious, we have many candidates contacting us from their own initiative hoping to become a part of the team of the best casino in the region. This might also be supported by the fact that Olympic Casino has won the title of the most competitive service enterprise in Estonia for the past two years in a row.
Is the building work complete, is it now at the fit-out stage, or are there further stages to be built?
We recently held the topping out ceremony of this fantastic 13-storey building so the hotel has reachedits final height. Although the superstructure is ready, there is still a lot of work to be done before Hilton Tallinn Park and Estonia's finest Olympic Casino may open their doors in a year from now. I am really excited because on paper everything is ready but in reality it will take just a little more time.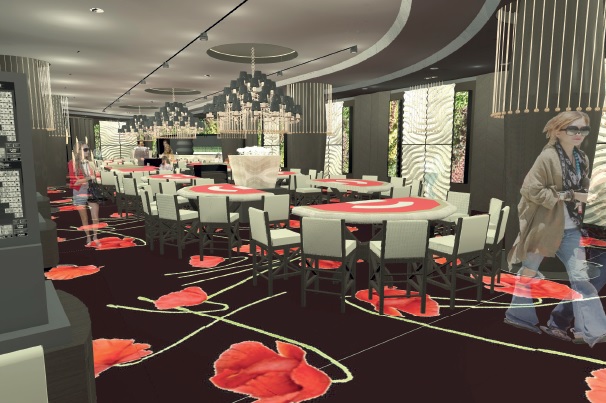 Entertainment is an important part of the whole experience; what are the facilities at the new Casino?
Offering quality entertainment and service excellence has always been the main priority of Olympic Casino. The new casino will have an excellent bar featuring highly valued barmaids, also our three-time bartending world champion. For local and foreign poker enthusiasts, the new casino will continue to host daily poker tournaments and cash games as well as the region's largest poker festivals. The casino will of course have a dedicated stage for regular performers, exciting shows and great parties with amazing additional winning opportunities.
What percentage of your patrons will be local vs tourists?
All of our flagship casinos are in leading hotels of capital cities. That means that the percentage of tourists is also quite high making up more than a third of all visitors. We expect similar numbers also in our new flagship Olympic Casino at Hilton Tallinn Park.
What is your view on the gaming industry and innovation?
Olympic has always been known for its innovative solutions. Connecting land-based casino operations with our online platform OlyBet has clearly been a strategic choice. I believe that synergy between land-based and online operations will continue to increase in the gaming industry more and more.
What impresses you most about this new World Class Casino?
It would definitely be the fact that the new hotel will be a small casino resort in its very nature, something that is unprecedented in the whole Baltic and Scandinavian region. Owned by Olympic Entertainment Group and operated by Hilton Worldwide, this will be an equally great venue for locals, and people travelling to Tallinn for either business or holiday.