Give us a bit of a background of your involvement in the casino gaming industry. What led you to Jin Bei Group?
Considering myself still new to the industry, and having the need to continually learn and improve based on vast information and strategies of the business to be executed in this challenging environment. I was recruited by Jin Bei Group to be part of the pre-opening team, now looking after two hotel and casino properties packed with a myriad of entertainment options with a total construction area of 50,000 square meters and 60,500 square meters. We started construction in 2018 and we officially opened on the March 9 2020.
What is your position, and what are your responsibilities with Jin Bei Group?
Being the director of strategic planning of the Group, my key responsibilities involves:
a. Shaping the company's overall business strategy and mission
b. Develop and materialize strategies and performance
c. Continuous assessment of the company's operational and strategic performance
d. Advising members of the board of directors on making informed and effective decisions
e. Provide insights into significant organizational changes (e.g. shift in strategic focus, mergers and acquisitions)
What does the future hold for the casino?
The company is expected to be the hottest entertainment outlet in Sihanoukville given its capability to deliver from our architecture, design, service, game types, F&B outlets, Sky Gardens, etc. In the long run, the company will seek further expansion as all other developing companies do.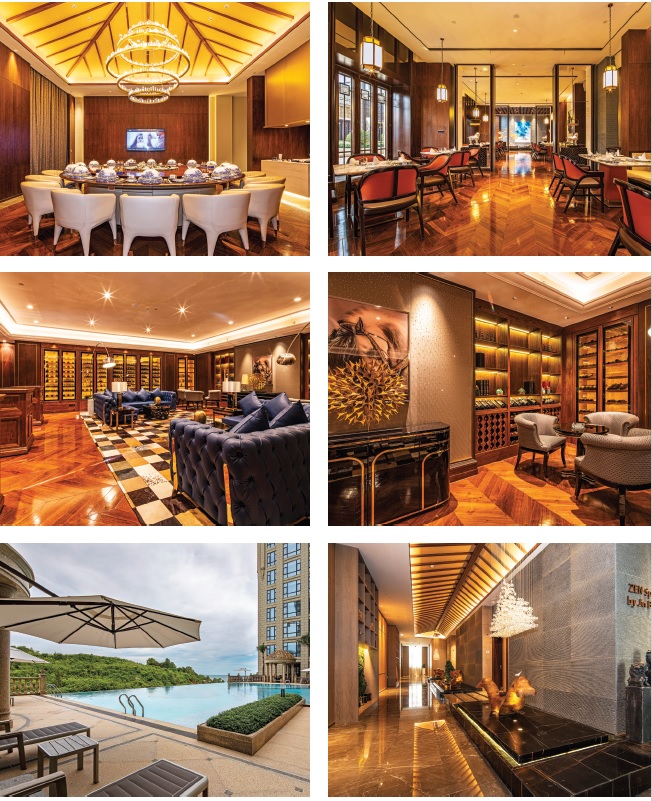 Located in Sihanoukville, how has Jin Bei Group been affected by the rapid growth in casinos in area?
Competition in the market within Sihanoukville was tight and having said that, it doesn't affect us really. We have a huge team of business development from all countries with a vast network of clientele. Since opening, we gained traction in the market share as one of the top-visited and -favored properties in town.
What is the size of the casino? Number of slot machines and table games?
We have a total of 3,740 square meters of floor area for our guests to enjoy their time here with a huge selection of both international and local games from our 95 tables and 112 slot machines on the premises.
What are the more popular games within the casino?
In this region, table games like Baccarat, Blackjack and Niu Niu (also known as Cow Cow) which is directly translated from its Chinese name are the favorite ones among the community.
Aside from gaming, are there other activities that complement the gaming to attract customers?
Our property is equipped with the biggest aquarium in a hotel in Cambodia, a see-through pool, three-hole golf, garden, cigar bar with all premium cigars, a private dining room (booking only), Dragon Palace Restaurant, Lobby Lounge, Encore Casino Bar, all-day dining of international cuisines, Palate Restaurant and much more.
How has the Covid-19 pandemic impacted the casino?
This pandemic basically hit all industries hard and especially us where tourism was our key business drivers and the statistics informs almost a 100% down, month on month and at times a pickup of five-10% flights month on month. Competition is even harder.
What practices has the casino put in place to protect staff and customers from the Covid virus?
Under strict prevention measures which we adopted from the Ministry of Health of Cambodia, all employees and guests are basically all equipped with masks, visors or goggles, alcohol sanitizer on all tables of gaming and F&B, regular sanitization of public areas and high physical interaction areas such as lifts, doorknobs, etc. It's a myriad of precautions that we've implemented in all aspects.
Are there social programs Jin Bei Group has put in place to work with the local community?
We're a strong advocate and believer in giving back, and I'd dare to say that no other private business in Sihanoukville is as active. We have been a long supporter towards the Tourism Department, Municipal Department and other nonprofits such as orphanages, senior homes and schools.