Simon Thomas Chief Executive, Hippdodrome Casino
In June last year, as Britain emerged from its first population and business lockdown, the country's prime minister, Boris Johnson called for a programme of societal renewal under the slogan 'build back better'. While the current priority for hard-hit casino operators is survival rather than reinvention, the recently commenced Gambling Act review – which seeks to ensure legislation is 'fit for the digital age' – provides an opportunity to support the rhetoric of renewal with action. As Simon Thomas, CEO and chairman of London's Hippodrome Casino articulates, ambition and innovation have never been more important for the future of Britain's casino entertainment sector.
At the Hippodrome, we have been 'building back better' since 2009 when we first started work on the restoration and rebirth of our iconic West End entertainment venue. From the very first day of trading in 2012, we have been engaged in a process of renewal – the result of listening closely to our customers and seeking inspiration from around the world. For large parts of the last 14 months, my team and I have been unable to do the work that we love – providing unforgettable entertainment experiences for customers from around the world – but we have used the time on our hands to good effect. While the Hippodrome was locked down, we pressed on with our plans to transform our small, two-level roof terrace into a much larger, three-level roof garden (expanding our covered heated outdoor entertainment space from 100 square meters to 245 square meters). This has involved the addition of two new bars, four more outdoor gaming tables and some gaming terminals high up above Leicester Square – the top level with stunning views across the rooftops of Soho. The decision to push on with this improvement allowed us to welcome customers back in April this year (for food and drink only) – more than a month ahead of the reopening date for casinos. We have already built back better.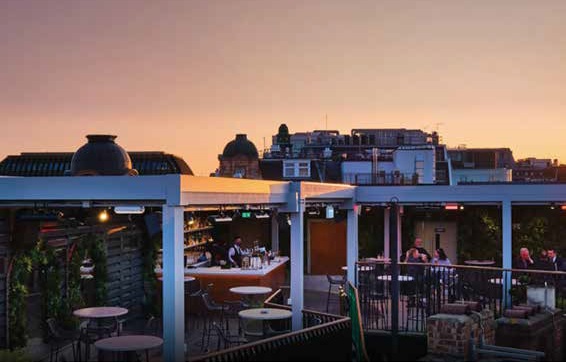 Now comes the government's review of the Gambling Act – an opportunity to address our own version of the prime minister's "unresolved challenges." In specifically calling for evidence on modernisation of casino legislation, the Department of Digital, Culture, Media and Sport has acknowledged that the laws governing Britain's casinos are not fit for the digital age.
In the 16 years since the passing of the Gambling Act, there have been two key developments that ought to have triggered a review of casino legislation. The first of these was the expansion of online gambling, which has created far wider access to casino gaming and rendered anachronistic many of the 'analogue controls' applied to land-based casinos, such as restrictions on numbers of gaming machines and types of games we can offer on our electronic terminals. The second is the development of a small number of experimental new casinos licensed under the 2005 Gambling Act, such as Aspers Stratford or Genting's Resorts World Birmingham. The first of these new-style casinos opened in 2011 and the government review (intended as a precursor to modernisation for all casinos) was originally scheduled for 2013. The process of updating our laws is already eight years behind plan.
The development of four 'Large' casinos (with up to 150 machines and sports betting) involved substantial capital investment and clear improvements to the consumer experience with a more diverse choice of gaming and non-gaming activities. The benefits from the four 'Small' casinos (which are required to provide one gaming table for every two gaming machines) has been far more modest – three of the four licences were awarded to existing casinos and the only new venue (in Bath) closed permanently last year after just two years of trading.
Two parliamentary select committees – the 2012/13 Culture, Media and Sport Committee and the 2019/20 House of Lords Committee on the Gambling Industry – have recommended that this protracted experiment in licensing modernisation be concluded with the harmonisation of legislation for all casinos. Safer gambling conditions set by the DCMS and the Gambling Commission in 2018 have been met by operators – raising already high standards of social responsibility controls.
The casino sector's calls for modernisation are both modest and already supported by parliamentary authority. In essence, casino operators want to give their customers a more diverse casino experience (both in terms of gaming and non-gaming), allowing customers to play the games that they enjoy and without having to wait for a space to become available – or without feeling pressured by customers waiting to play.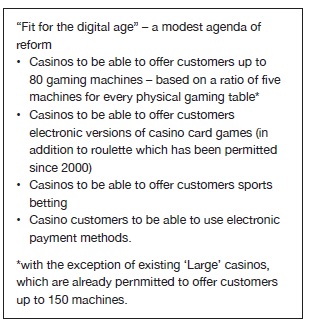 A recent survey of Hippodrome customers found that 71 percent of them had been forced to wait in order to play a gaming machine – waits that could be very long and were always uncertain. Other customers reported feeling uncomfortable when playing machines due to awareness that others were hovering nearby (waiting for a machine to become available). These negative effects are the result of grandfathered laws that arbitrarily restrict casinos to just 20 machines regardless of the scale of venue or customer numbers. Analysis of data from the Gambling Commission reveals that there are just 0.008 gaming machines for every customer who plays machines in a casino – a rate that is 44 times lower than in other non-remote gambling sectors in Great Britain. A recent review of 22 European jurisdictions revealed that Britain had the lowest ratio of machines to customer visits – around 140 times lower than in Belgium for example. During peak periods at the Hippodrome, we are able to provide just one gaming machine for every 75 customers.
Reform is important to us because it is important to our customers. Our survey also revealed that 56 percent of customers wanted to be able to bet on sports and 69 percent wanted to be able to play blackjack on electronical terminals as part of a visit to the Hippodrome.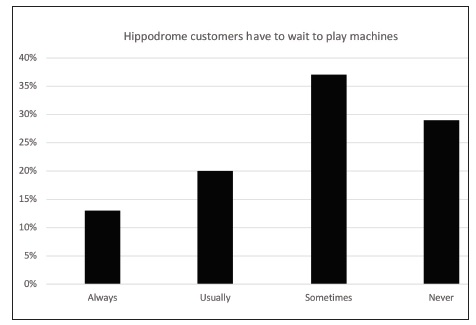 While the last 14 months have been economically damaging, the Hippodrome remains ambitious and forward-looking.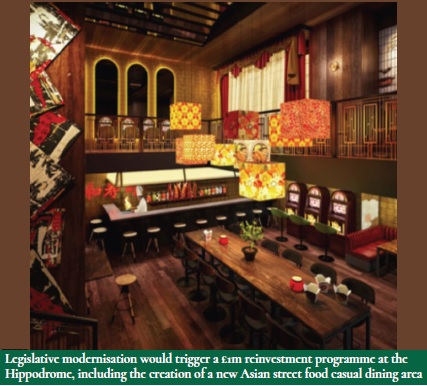 The modest and long overdue reforms we seek would (if granted) trigger an additional £1 million in capital expenditure and result in the creation or reinstatement of 90 jobs. Our plans include the development of a new, Asian street food casual-dining area to complement our top-rated Heliot steak house. Legislative modernisation would significantly increase the space allocated to non-gaming activities (from around 75 percent at present to more than 80 percent).
We are keen to play our part in the social and economic recovery of London and Great Britain. Our ambitions require only very modest legislative support and are clearly aligned with the objectives set out in the DCMS call for evidence. The Gambling Act review will test just how committed the government and Parliament really are to 'building back better.'