Anthony Cabot has been a leading advocate for the gaming industry but he's showing regulators the way to the future. By Peter White
Anthony Cabot speaks, people listen. They've been listening to him for decades as a frequent presence before Nevada regulators, advocating for the interests of the industry. But he's got a new cause and a new bully pulpit at the University of Nevada Las Vegas. Cabot is taking up the cudgels on behalf of the problem gambler and on how he or she is treated in the Silver State (poorly, in Cabot's opinion). That was the jumping-off point for a wide-ranging conversation about Cabot's beginnings in gaming law, his role at the William S. Boyd School of Law at UNLV, the innovative programming being done at the latter and, finally, the future of post-pandemic Las Vegas.
Today we're privileged to have Anthony Cabot, Distinguished Fellow of Gaming Law at the William S. Boyd School of Law, University of Nevada-Las Vegas. Welcome, Tony. Thank you for having me.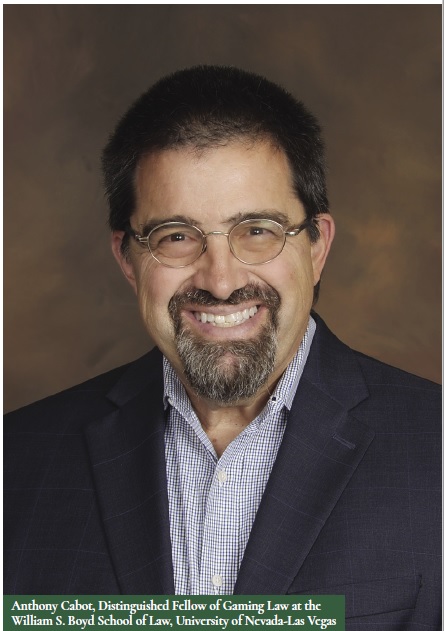 What led you to a life specializing in gaming law?
Forty years ago, I'd just gotten out of law school, and didn't have a direction at that point. I happened to be interviewed by a firm from Las Vegas. I liked the firm, came up to Las Vegas, and had the privilege of working for the former governor, the founder of gaming law in Nevada—Grant Sawyer. I did what Grant did at first, and Grant did gaming law, along with Bob Faiss, and they  ecame my mentors 40 years ago. I naturally evolved into the practice from there.
Tell us about the William S. Boyd School of Law?
So it's at the University of Nevada-Las Vegas. It's a public university. It's one of the higher-ranked law schools in the United States. It started about 25 or so years ago, and even from its initial beginning, it had a gaming-law class. This makes sense because you ought to be teaching gaming law if you're in Las Vegas and have a law school. I started as an adjunct professor, almost 20 years ago, and we gradually built the program. The gaming-law program at the Boyd School of Law began with one class and now we have nearly a dozen classes. We have a dedicated gaming law journal. We have a Master of Law program. Now we're starting the executive-law program.
With regards to the pandemic, how have the past 12 months been and what would you are the high points of the last 12 to 18 months?
Well, the high points are fewer. It's tough to get through a pandemic when you're a teacher. One of the things I really valued when I went to teach full-time was the daily interaction with the students. That becomes more difficult when virtually all of your classes go online. That's what happened. But there were bright spots. One of them was because we went online last year. With the LLM program, many students who could not take time away from their jobs joined the program because it was all online. That's an example. We had two really prominent lawyers from Macao who went through the LLM program last year, and they were up at one o'clock in the morning attending class via Zoom. [laughs] But nevertheless, they were there. We had an outstanding diversity of people who have had experience in many different jurisdictions, coming together for the LLM program last year. And it really gave a special flair to the program last year. So we were fortunate in that, but, again, I am dying to get back into the classroom because that's where I love to be.
What are your primary recommendations regarding the regulation in place concerning responsible gaming in Nevada?
I've been involved with the responsible-gambling/problem-gambling area for probably about 15 years. I served as a vice president with the Nevada Council on Problem Gambling and the National Center for Responsible Gambling. Nevada always bothered me because they give minimal effort toward responsible gambling from a regulatory perspective. In fact, they spend about $1.5 million a year on responsible or problem gambling, which is insufficient given that you have a $12 billion-a-year gaming industry. Yet, the regulations give it very little attention. So I say to myself, 'What can we do as an industry that will bring innovation to responsible gambling?' And there's been a few companies out there, like MGM and others, who have taken it upon themselves to implement responsible-gambling programs and I don't have any doubt that they do work. But it's not an industry-wide thing. We've got 300 large casinos in Nevada. We've got thousands of smaller locations. We can't rely on a few companies implementing these responsible gambling programs and expect to see outstanding results. What I propose is a different approach to responsible gambling. You know, rather than  traditional regulation, which says 'You do this or you're going to get punished.' It applies to everybody and it's pretty minimal standards. We have to innovate and adopt responsible gambling programs. Perhaps the state can offer some type of certification for the exemplary programs based on science and that are well-implemented. Casinos should be able to get a platinum-level Responsible Gambling badge.
It wouldn't be any different than how you certify buildings for energy efficiency. Let's give carrots instead of penalties or punishments and see what the industry can do to implement responsible gambling from a creative standpoint. We can then have a real life laboratory to see what's working and what's not, and hopefully bring those methodologies working to the broader industry.
I look at it as a no-lose situation. There would be other things we would do, too. The regulators could assign a person with oversight over responsible gambling who help casinos with the programs. The state could also provide some initial funding for the state programs. But try and take a different approach to responsible gambling to see if we can bring some innovation to the field. Because what we're doing now just isn't working.
The American Gaming Associations has a few initiatives with regard to that. So it's not like there's nothing happening. There's a bit of a push, especially with regard to sports betting-area of the industry.
Yes, obviously, I'm looking at the Nevada casino industry specifically. But the rapid proliferation across the United States raises much, much broader issues. Responsible gambling is clearly one of the significant issues. Still, there are many other issues involved: game integrity, insider wagering, whether or not all the different regulatory agencies regulating in all the different states have the competency to do what they need to do. So there's a whole bunch of issues in that space.
With regard to the Master of Law in gaming regulation, what's involved with this course and how can people apply?
The Masters of Law in gaming law is for people who already have a law degree. This is a postgraduate degree. We started the program about seven or eight years ago. We invited people who had their J.D.s to come to Las Vegas, enter this program, and obtain this Masters of Law degree. We initially had a group of about eight the first year and we've gone as high as 14 or 15 per year. These students come from all over the world. We've had people from Africa, South America, Asia and Europe. Our classes are usually diverse, with about a half or more coming from foreign countries. They study in Nevada for an entire year.
Because of the international flavor of the program, it is not Nevada-centric. It's not U.S.-centric. It's an international approach to gaming law. Students effectively take 10 courses. We offer 12 in gaming law, so they can take all the gaming-law classes they want  and take some other things that might be helpful to them—intellectual property or something to fill in their repertoire. But at the end of the period, we hope that they have a complete understanding of gaming law and policy in all sectors: land-based, online, sports wagering.
How does the faculty keep up with all the enormous changes in laws, state and nationally?
We have the leading experts in each area we're teaching. So those people will naturally have their finger on the pulse of gaming and gaming law. I teach two different classes. In my comparative gaming law we study the gaming laws in various countries. Let's say I have 13 or 14 LLM students—each is assigned a jurisdiction. They become the resident scholar on that particular jurisdiction for the purposes of our class. We go through various gaming law topics such as licensing and anti-money laundering. The students study and contribute the latest updates within their assigned jurisdiction in all these areas. Sometimes, like my last class where I had two of the leading lawyers in Macao, I'm getting insights I could not have gained anyplace else. My students became part of my resources for keeping up on everything. It's great. In fact, those two Macao lawyers and I are writing an article contrasting the approach Macao is taking toward regulation to how the U.S. and Europe approach it. What are the pros and cons?  It's very collaborative but I learn so much from my students. When major events happen anywhere in the world, they become topic matter for classes.
Is there a particular age group of students or are they right from their twenties to fifties?
They're diverse. For example, this year I had a student in the program who was a former judge and did quite well as a lawyer, decided to retire young and move to Las Vegas. But he wanted to remain active. So he took part in the LLM program. We have some people that are older. I'm old. [laughs] They're not quite as old as me. They're some people that are well into their careers and want a change of pace. We have several students who come directly after getting their J.D. and move to Las Vegas to get their LLM. We had one student this year from the United Kingdom who did that. He's in his twenties. So our range went anywhere from 25 to 50 or so.
Sometimes people get into their careers and find they've done everything they can within the career they've chosen. Sometimes it's just good for your mental health to take a different path. We see that in many of our students, but again, a lot of our students are younger. They do get an excellent education.
After they've left our program, quite a few of them have gotten some fairly impressive jobs in the gaming industry, particularly in regulation. We've had students who went through our program and later became the Nevada Gaming Control Board members. One of our alumni went back to Greece and became part of the Greek Gaming Commission. So there are more than a few people that have gotten an advanced education in gaming law, gone back to their jurisdictions, and put that to great use.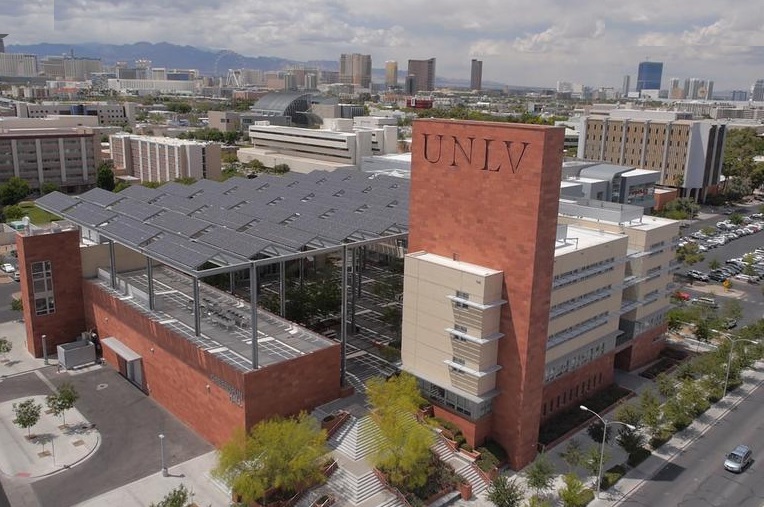 What are the key advantages of choosing the University of Nevada and William S. Boyd School of Law? Obviously, it's in Las Vegas.
Yes, being in one of the gaming capitals of the world is a huge advantage because you have access to resources. For example, I will bring in guest speakers in my classes—anybody from Gaming Control Board members to practicing lawyers to casino executives to the heads of compliance committees in major corporations. They're all here in Las Vegas. Then during Global Gaming Expo, I find out who's going to be here from all over the world, the top regulators, and I invite them to my class. That's a great advantage.
But the university itself has, over the years, put together a huge amount of resources in this area.
The law school has 12 classes and an alum program. We have six different professors. This semester we have visiting professors who are experts on Native American gaming, who are doing a residency here and teaching classes. Keith Miller from Drake University comes here on occasion and teaches classes. So we have all these people going to the law school to offer their expertise to our students. But it doesn't really stop there. We have the International Gaming Institute here, which has its own building and it's devoted to the gaming industry.
The law school did a joint program with the IGI, called the International Center for Gaming Regulation. This is where the regulators from all over the world come to get educated. Japan sends its staff to Las Vegas to be educated. They're one of the dozens that do that. We also have, by far, the greatest special collection on gaming and gaming law anywhere in the world that's part of our main library. So we have more resources put together at UNLV than at anyplace else.
So we start to look at all these different components and how they work together, and it's a unique circumstance for people who want to study gaming law. This is the Mecca for that.
Could you explain to us about the executive program that UNLV is running?
Yeah, this is the latest addition to the law school's program. Fundamentally, it's a program for nonlawyers. Many people out in the industry working with casinos or regulators don't have a law degree but want to have advanced education in gaming law. They don't have the time to go back to law school and get a law degree but they want to learn about gaming law. So we've developed this program, which we hope to grow out to about eight classes. We have four currently. We give the non-lawyer everything they need to know about gaming law in their position. Internal audit or compliance or casino manager or a new regulator in a different jurisdiction who just wants to better understand their job.
In the four classes that we started out with, I will teach an intro to gaming law. We talk about policy and comparative law, things of that nature. Just to give people an idea of the expansiveness of gaming law. But then we're going to have classes in Native American law, gaming operations and the law, and a class on responsible and problem gambling. We hope to follow that up very soon with classes on sports wagering and anti-money laundering. About 80 percent of it is going to be online. We've taped lessons and exercises and tests, things of that nature. And about 20 percent of it is going to be online but live. We get together with the students and talk about the covered topics. It's going to give anybody virtually anywhere the ability to take classes effectively at their leisure, which will add significantly to their educational background and help support whatever job they might have in the gaming industry.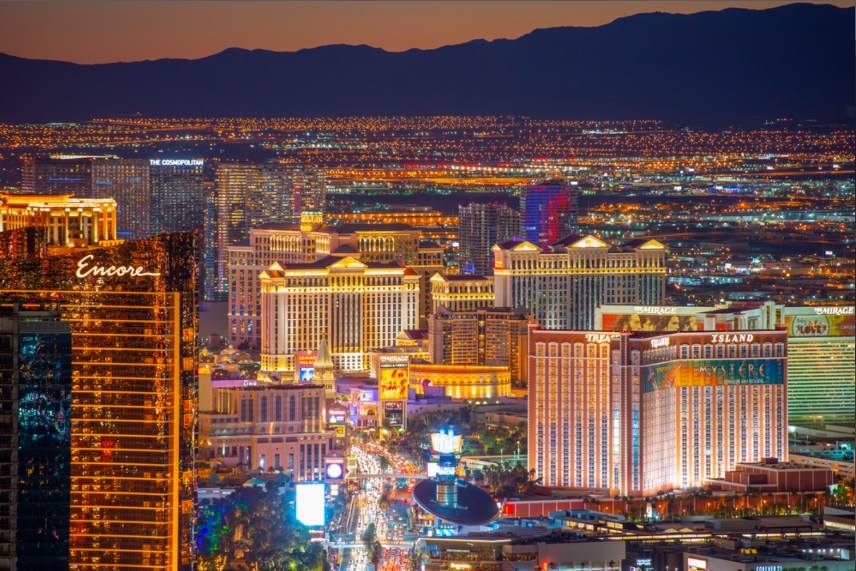 image: Shutterstock Licence ID1657895404
What are the biggest challenges that you see for Las Vegas and the entertainment community in the years ahead, post-pandemic?
There are great opportunities, which is impressive to me because we're still at the height of a pandemic, and our revenue numbers are higher than they've ever been in the casino portion of the integrated resorts. The harder part, though, is everything else. The hotels, restaurants and conventions, all took a big hit during the pandemic. So gaming revenues are doing quite well. There's pent-up demand. The other areas, we're going to have to spend some time to get those back to where they were. But people just like to gamble.
The pandemic has kept a lot of people home, kept a lot of conventions home, made huge challenges to the food and beverage industry here...and retail. Retail's taken a hit as well. It's been everything but gaming. Frankly, Las Vegas survives and prospers not because of its gaming.
It survives and prospers because of the integrated nature of its offering to people. I have no doubt we're going to get it back: We see all these great projects on the Strip and all these different things that are happening, like the Madison Square Garden arena and the infrastructure with the Tesla tunnels. It's all going to come back. It's going to be a bit of a challenge to get everything working properly again. Hopefully, the pandemic ends after this last wave, and we can get back to servicing the customers in everything other than gaming.
Finally, what would you say is the best piece of business advice you've ever had?
When I was a young lawyer, I was over-aggressive. I probably watched too many lawyer shows on TV. It was actually Grant Sawyer who took me aside and said, "You know, it's not what you say. It's how you say it." You can be as critical of regulators but you have to say it in the right way. I really took that to heart. You have to be able to get along well with people, but you also have to be effective and I think that the ability to get along with people and make your point without being offensive is a huge thing for a lawyer.
*This  Interview with Anthony Cabot Distinguished Fellow of Gaming Law at the William S, Boyd School of Law, University of Nevada Las Vegas took place in January 2022*