American Gaming Association President Bill Miller faces challenges from his first day on the job onward. Interview by David McKee
American Gaming Association President Bill Miller is the third occupant of the leader's chair of the U.S. gaming industry's premier lobbying group. Whereas founding president Frank Fahrenkopf was the consummate insider, more seen than heard, and successor Geoff Freeman was an activist, Miller splits the difference. Where Freeman led from the front, clashing with Las Vegas Sands CEO Sheldon Adelson over Internet gambling, Miller takes a more conciliatory view, one close to Adelson's. Unlike Fahrenkopf, he is quick to embrace tribal casinos as an integral part of the industry with a compelling story to tell.
Miller arrives at a time of turmoil in the gaming industry, thanks to Washington, D.C. The Supreme Court has struck down the Bradley Act (or PASPA), setting off a stampede of states legalizing sports betting with pent-up eagerness. Also, whereas then-Attorney General Eric Holder had broadly reinterpreted the Federal Wire Act of 1961 as permitting Internet gambling, current Assistant Attorney General Rod Rosenstein is trying to re-bottle the genie, even briefly construing the Wire Act to ban online lotteries (an exposed position, quickly evacuated). However, if anybody knows how to navigate Washington it will be Miller, who has six years as senior vice president of the Business Roundtable to his credit, along with astint as national political director for the U.S. Chamber of Commerce and, from 1994-1999, tenure as chief of staff to Rep. Constance Morella. In the middle of all that, Miller did crisis-management work for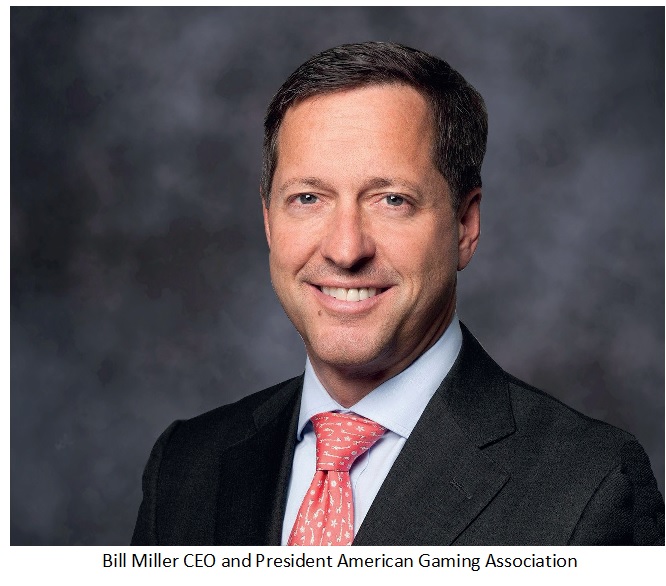 international firm Brunswick. And he will have crises to manage in his new job.
There was no easy induction for Miller. As he tells it, he was thrown in on the deep end his first day in office...
Miller: You caught me on Day 92 and I can't say every day is more exciting than the first day because my first day was the day of the reinterpretation of the Wire Act. It's hard to get a more consequential piece of information on your first day than that. I didn't spend any time filling out my HR paperwork, I'll say that.
Speaking of the Wire Act, what are the principal challenges facing the AGA as we approach 2020?
The first and probably the thing that is consuming so much of the industry right now is sports betting legislation, the stakes around sports betting. For the AGA, while we're not a sports-betting association, it is such an important development. It was an issue that the AGA felt was very important during the court-case process up to the Supreme Court and feel very strongly that we need to get this right because we are moving into a place where – across the country – there was only one state where you could legally bet on sports and now we have 11 that have passed [legislation] and eight that are operational.
So as this rolls out, it's both a challenge and a great opportunity to migrate individuals who enjoy betting on sports but by and large have been betting illegally, whether through bookies or online, offshore illegal accounts – to migrate that group of individuals into state-regulated environments where they're safer. It's easier to understand anomalous behavior and identify inappropriate betting that could be the result of individuals who are conspiring to fix games or those sorts of things.
But most importantly, we are going to have a lot of new regulators who are going to have new portfolios that are very different from lotteries or straight casino gaming. So obviously that would be Number One. Part would also be making sure the legislation that is moving is appropriate. So far we've had a number of the leagues and the NCAA gone on and asked for statutory data rights or integrity fees, and so far every piece of legislation that has been signed into law in these states has not included either. That's a good thing because, at the end of the day, the deals that happen should be of a commercial nature and not a statutory nature.
There's been some noise on Capitol Hill about federal regulation of sports betting. Do you support it? If yes, what's your reasoning? If not, what's the case for the status quo?
The gaming industry is well-regulated, with over 4,000 regulators at the state level. To the degree that there is a previous example to look at, it is a terrible one. PASPA was federal legislation to regulate sports betting and it was an abject failure. The Supreme Court believed that and it has now opened up the possibility for the states, which have a lot of experience in working with all different types of gaming, everything from lotteries to bricks-and-mortar to emerging elements around [daily fantasy sports] and sports betting, and this is best left to the states that have experienced and strong regulatory setups to ensure that. I would further say I've been up on the Hill a lot and I've talked to a lot of senators, a lot of members of the House and there has been very little interest among members of the House or the Senate to take up federal legislation on this. But I'll go back to my point that the only reason there would be federal interest, in my opinion, is if we don't get it right in the states.
The Obama administration interpreted the Federal Wire Act broadly to permit Internet gaming. The Trump administration reversed that and, until recently, interpreted the Wire Act to even prohibit online lotteries. Where does the AGA stand?
You can kind of try and divine the intent of either the 2011 [Office of Legislative Counsel] guidance opinion or the 2018 guidance opinion. The one thing that all businesses crave is certainty. Whenever you have the Department of Justice or any government agency reinterpreting statute without actual congressional interest or activity it does make it more challenging to interpret what that is. The fact that there's a federal case that's moving forward in New Hampshire has the prospect of creating a level of certainty through the judiciary that is important and is important to do rather quickly. My view is we have people in the AGA who represent many different facets of the gaming industry and have all looked at the 2018 opinion and the further guidance that Rod Rosenstein gave last week but I think they're looking to the courts to get further clarity.
What is the importance of Internet gambling to the industry?
'Internet gambling,' it's a term that requires a little bit further refinement. So the AGA does not support i-gaming or Internet gaming per se but does support Intra-net, intra-state mobility. That is a distinction that is important. What is i-gaming? In its broadest sense, I go online and I get on a computer, and it doesn't matter where I am in the world – but that is Internet gambling and the AGA has never been supportive of that.
How does your experience as a former congressional staffer help you to work the corridors of power?
I am a person who did spend a significant amount of time up on the Hill as a chief of staff, as a lobbyist both for the Business Roundtable and the U.S. Chamber of Commerce. Recognize that these individuals, these staffers – and members of Congress – are bombarded with information every day. Their schedules are horrendous from meeting with constituents, meeting with stakeholders on multiple issues, from foreign relations to domestic health care. My view is you have to get to the point. If you have an issue you want to raise with a staffer you want to get to the point, you want to make sure it's done with research and factual basis, and that factual basis is not too heavily slanted. My experience is, as a guy who has advised my congresswoman on everything under the sun, the people that I relied on the most – outside lobbyists, think-tank people, constituent groups – the ones that I found most valuable were the ones that were very respectful of the crush of visits and meetings, and so they were respectful of time. They were able to come up with a report that me as a staffer should find valuable, got to the point very quickly and was very factual.
Which of your previous jobs best prepared you for the presidency of the AGA?
We are all a sum of our experiences. My view is here, in the gaming industry, there are some big personalities and large figures, and there are oftentimes disagreements with regard to policy and/or direction and/or prioritization. But I feel like when you work for, as at the Business Roundtable, 204 Fortune 500 CEOs directly, there's a similar dynamic. So trying to build consensus among strong individuals with divergent views was something I did successfully at the Business Roundtable, and at the U.S. Chamber you had a similar dynamic in probably even starker relief: I was the political director there but I was also the point of contact for 2,600 state and local chambers, and 600 trade associations. So my understanding of the trade-association world is heavily influenced by those two experiences and probably it would be difficult for me to assign a relative importance of one of those experiences over the other.
How do you see the AGA's new alliance with tribal gaming evolving?
It's a very important relationship. I will say that in my first week I had a call with Chairman Ernie Stevens of National Indian Gaming Association. I wanted to make sure that he understood that despite the fact that I did not come from the gaming industry and there's only been three CEOs in the history of this organization, that the partnership between the tribal nations, NIGA and AGA is critically important. I did a panel with Chairman Stevens over at the ICE Show in London, in my second week here. My first domestic trip in the U.S. was to Tulsa [and] Oklahoma City, for a gaming series of events with the Choctaw, Cherokee and Chickasaw [tribes], and got to see first hand how important gaming has been to the tribal nations. It is my strong belief that, as an organization we are stronger because we have tribal members, and we are stronger because we have a very good and sustained relationship with Chairman Stevens and NIGA.
What are the priorities for your coming tenure?
We talked a little bit about the issue that's in front of us today in sports betting and making sure we get that right. That is something we will spend a lot of time on as a trade association, ensuring the regulators are communicating with each other, creating some elements and support for best practices, making sure that the federal interest in this issue remains minimal. In terms of regulatory modernization, that's a really important element to what we should be thinking about, as well. As it relates to telling our story to the important audiences that we are in some cases large economic engines in communities. But as someone who spent a lot of time at the U.S. Chamber of Commerce I had a great appreciation for these economic anchors that exist around the country and the gaming industry has an incredibly great story to tell. In many cases, the operators locate in the service areas and hire disproportionately underserved populations. The creation of jobs and entry into the middle class. But, more importantly, this industry creates opportunity for upward mobility that few other industries do. Telling the story about what we're doing on responsible gaming and making sure that we are telling the economic-value story, the value proposition that gaming creates [is important].