Clarion Gaming's Stuart Hunter explains how a pandemic-buffeted ICE London was revived. By Peter White
You recently announced your new April dates. Can you explain the process by which you arrived at these dates and the practicalities of moving events the size of ICE London and iGB Affiliate London?
Working alongside and in the best interests of our customers has always been and will remain at the very top of our agenda, so when it became clear that the original February dates for ICE London did not give the industry sufficient confidence in terms of the Omicron variant we set in motion a reach-out programme to connect with our community of exhibitors, sponsors and attendee groups.
Migrating events the size and scale of ICE and iGB Affiliate London represents an enormous challenge. This, coupled with the popularity of ExCeL London as a venue and the return of in[1]person events in the UK, amplified the challenge of securing dates that worked for the industry. We have a great relationship with the senior team at ExCeL London and with ICE being one of the flagship events in their calendar, we worked tirelessly during the run-up to and through the Christmas period to identify and secure an alternative date. Due to the size of ICE, we only really had two potential solutions, both sitting either side of the Easter break in April – neither of them perfect solutions, but our only chance to ensure ICE would be able to run in 2022. ExCeL's support was essential and involved the migration of several other events to enable ICE to have the entirety of ExCeL, which is the space required to operate at full capacity. Whilst we have been really encouraged by the support that we have received from individuals, companies and organisations including the European Casino Association, The Gambling Business Group also appreciates that the new dates will not suit everyone and we will continue to work through any remaining challenges with our clients, and support them with their preparations and planning for what is the world's biggest and most influential gaming industry gathering.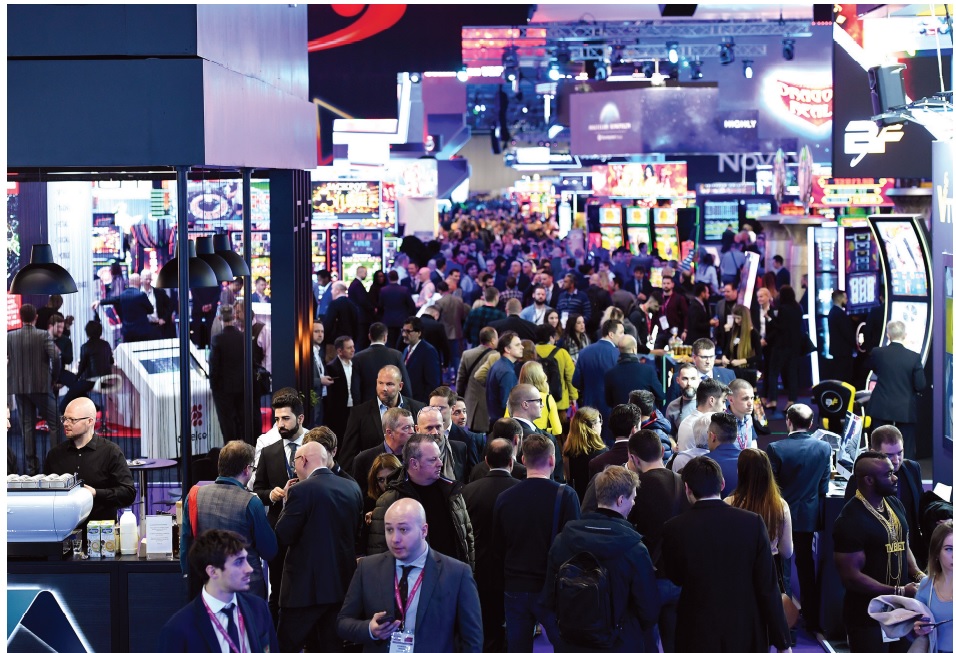 Esports represents a massive growth sector. How will it be represented at ICE London 2022?
 I believe Clarion was way ahead of the game when we launched the esports feature at ICE London 2020 and we continue to make important progress helping operators to deepen their knowledge of esports betting. Once again it will have a high profile and most importantly an authentic presence. We have secured the iconic Hyper X Esports Truck which serves as a mobile arena. Also known as Big Betty, it's a customised, 21-metre-long, classic American[1]style truck and boasts a rooftop VIP area and players' lounge with 20 gaming stations. It unfolds into a fully equipped esports studio and main stage, enabling us to reflect the culture, theatre and appeal of the esports phenomenon, which will be explained courtesy of the keynote speakers who will be sharing their insight with our B2B audience. Our job as event organisers is to explain and de-mystify esports, in the process helping to inform the gaming and betting market about the scale of the esport betting and wagering opportunity, and how it can be harnessed by the industry.
What pressure do you feel to relocate ICE to mainland Europe? How important is it to keep London as host city and what is the appetite among your customers to relocate?
 It's important to stress that as organisers we do not have a dogmatic link with London – the only dogma that we subscribe to is to always work in partnership with our customers and to always act in their best interests. To get a clear picture of our customers' opinion on London as host city we commissioned a body of independent research which was conducted by Explori in July 2021. Explori surveyed a total of 684 ICE stakeholders and it was part of a thorough research programme that also included direct engagement with a sample of 50 exhibiting brands – a community that represented 55 percent of the total ICE floor space. Seventy-five percent of ICE attendees – over two-thirds of whom were based in continental Europe – said that London was the right host location citing ease of travel (61 percent), the convenience for international visitors/ exhibitors (59 percent) and the ability to attract the right mix of customers and suppliers (53 percent) as the key benefits of holding the world's most popular international business-to-business gaming expo in London. Of the 10 percent who weren't happy with London, the most frequently cited reason was the impact of Brexit. To supplement the research and to sense-check its findings we will also be commissioning an additional independent survey with our entire exhibitor base – both qualitative during the ICE show with teams from Explori engaging directly with exhibitors and quantitative via surveys post-show. I would like to stress that we would never insist on a location that the industry wasn't happy with. Our pledge is to always work with our customers in order to deliver the best and most favourable outcomes for their businesses and for the industry that we are proud to serve.
What Covid protocols will you have in place?
Clarion took a proactive and collaborative approach to Covid, contributing to the drafting and refinement of the widely adopted 'All Secure Standard.' The 'All Secure Risk Assessment Framework' is a best-practice guide for event professionals, delivering bio-secure events in a world where Covid transmission is still a risk. As a team we all feel a sense of pride at having been a part of that process. Obviously Covid protocols must have the flexibility to be able to respond to what is a dynamic and rapidly changing scenario. Our Covid requirements are published at https://www.icelondon.uk.com/your[1]safety-at-ice-london.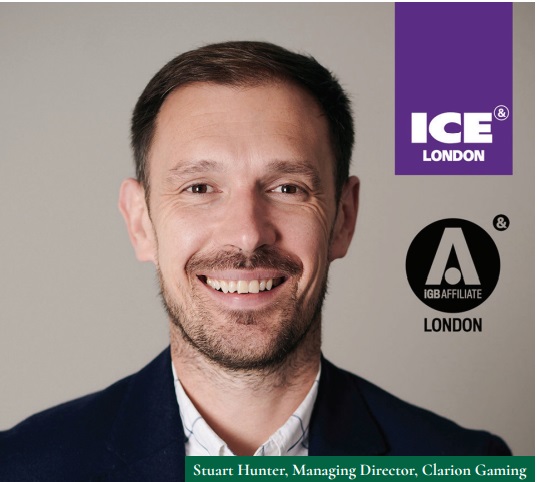 You named YGAM as your inaugural charity partner – how is that progressing?
We announced our relationship with YGAM during Safer Gambling Week. The two organisations are co operating across a range of initiatives, with us providing our in-person events and media brands as a platform for YGAM to extend its reach and continue to provide the international gambling industry with its specialist City & Guilds Assured safer-gambling training. As a team we are really excited to be working in partnership with YGAM across a broad range of activities. When I took on the managing director role, I was very conscious of making the relationships that we have more than simply endorsements and to harness the strength and reach of the brands that we have built over the years. One of our key pledges is to support the industry's safer-gambling-and-gaming undertakings and the partnership will enable us to do this in a number of ways, including providing a platform for YGAM to promote its digital and in[1]person safer-gambling-training programmes, have a continued presence in the Consumer Protection Zone and deliver safer-gambling insight and content via ICE365.com.
Clarion has invested a six-figure sum in a Hosted Meetings Programme – can you explain what that will comprise?
The Hosted Meetings Programme represents a £250,000 investment and will match influential buyers from throughout the world with companies exhibiting on the ICE show floor. The initiative, which is a first at ICE London, is being curated by Newbridge Events, which has a track record of working alongside 40 leading show organisers and brands including the UK government's Department of International Trade. The programme is a key component of the ICE Charter that we published summer 2021 and which was created in order to maximise the ROI exhibitors receive from being part of ICE London. Exhibitors provide intelligence on the type of buyers that they want to see at the show, and the team at Newbridge then identify the profiles of potential customers, and facilitate the relevant connections ahead of establishing a bespoke at-show buyers schedule and curating one-to-one hosted meetings. We have created a dedicated VIP lounge at the show with a concierge and I anticipate that we will be hosting upwards of 70 international buyers. It's another part of the overall benefits of being part of ICE London.
There have been some changes to ICE VOX – what are they and what is the thinking behind the changes?
We have addressed the ICE VOX agenda in order to provide delegates with what are flexible and focused learning opportunities. Presented as master classes the programme covers a range of business-critical topics, which will be discussed and explored in full by a lineup of leading industry experts. Having consulted with our stakeholder community, the challenge has been to deliver the exceptional content that ICE VOX is famous for but in a more user-friendly and flexible format. The programme allows delegates to select and participate in more intimate discussions that drive into the details of key business issues, without interfering with their exhibition and meeting schedule on the show floor. This way they can participate fully in the totality of the London experience.
ICE VOX speakers and attendees will have access to a revamped VIP networking experience in the new World Pavilion space, with access reserved for speakers, attendees and their guests. This gives attendees the opportunity to meet and bump into the industry's 'who's who' in ICE VOX, helping to filter networking opportunities from the ICE attendees on the show floor. The International Casino Conference and the World Regulatory Briefing are also contained within ICE VOX.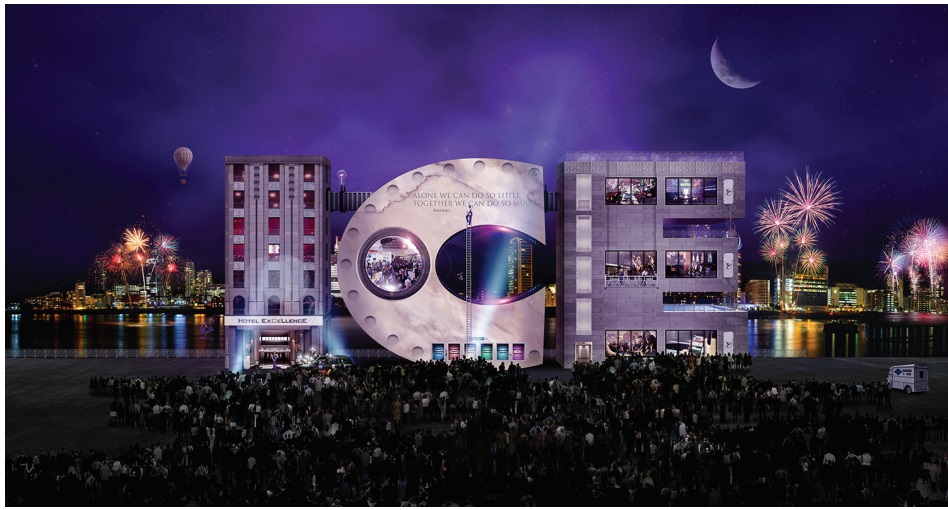 And finally – what would you like to say to readers considering visiting ICE London/iGB Affiliate London 2022?
Both ICE London and iGB Affiliate London are living up to their reputation for providing a launchpad for new businesses and a platform for those seeking to expand into international markets. During my time in the events industry, the overarching aim of every show director is to get the right balance of established exhibitor brands and new businesses. The injection of 'new blood' with new products and new services adds the X-factor to the in-person experience and makes a major contribution to why live events are so vital to business. Combining numbers from ICE and iGB Affiliate there will be over 700 exhibitors present at ExCeL London – an unprecedented number.
The key features of both ICE and iGB Affiliate London relate to their physical size, the fact that they cover every gaming vertical and their internationalism. They reflect the totality of the gaming industry and provide visitors with a unique opportunity to undertake a comprehensive evaluation of the product mix. Some 50 percent of the ICE show floor will be occupied by brands active in land-based gaming, which reflects the equilibrium and balance that are at the core of the ICE London experience. From both a visitor and an exhibitor perspective I think the experience will be slightly different from that of previous years after such a long time away. We know from staging iGB Live! last autumn quite how much the industry has missed in-person events and the ability to meet, network and to do business. It was a fantastic experience and I believe one that will be replicated on an even grander scale in April at ICE London, iGB Affiliate London and ICE VOX when we will be able to celebrate the return of the industry. Our 2022 creative, 'Together never felt so good' has never been so relevant and is totally appropriate to the mood music of the industry.
ICE London (12–14 April 2022, ExCeL London) is the biggest B2B gambling industry event in the world and embraces every aspect of the gambling ecosystem from games creators, distributors, operators and retailers, to trade associations, strategic bodies and regulators. To register visit: www.icelondon.uk.com. The co-located iGB Affiliate London event (13–14 April) connects affiliates to a 360-degree experience of igaming via networking and business lead-generation opportunities, content and learning. To register visit https://london.igbaffiliate.com For more information on the ICE VOX Conference (11–13 April), incorporating the World Regulatory Briefing and the International Casino Conference visit: https://www.icelondon.uk.com/ice-vox