Atlantic City-It will be every idea you had about winning and losing." (From the movie, Atlantic City, Louis Malle 1980.)
A great deal about Atlantic City's history is a tug of war between the "old and new," and the marketing models vs. customer perceptions. In the 1980-90's I was there along with countless others employed in this first experimental gaming model outside of Las Vegas.
In control were various corporate power players and politicians full of visionary dreams. Their idealism was fed by the excitement of being at the beginning of a new industry in the city, their ego and a daily unrealistic infusion of cash. This daily flow of funds from the casino floor sometimes blurred the lines of business realities.  Added to this a somewhat controlled chaos with an endless supply of "political buffoonery" that prevailed for decades.
A contrast in time from a late September day 2014 as an operating casino hotel to early March 2015; where the shadow of its former brand is reflected above a "closed" notice.​
The AC model was never prepared for the onslaught of border state gambling and the recession of 2008.
As predicted border state gaming initiatives became reality with Connecticut, Delaware and Pennsylvania slowly appearing on the scene.  The ground swell was in motion and the golden goose year of 2006 and 5 billion plus in casino revenue for Atlantic City would be its last. The recession of 2008 had an impact on capital markets and funding began to dry up along with the casino customers. Why drive to New Jersey when you could experience the same regional gambling experience and products in your own state?  With a consistent lack of air and rail service from outside the region the city always had a struggle when it came to bringing in the destination visitors.
"Greetings from Atlantic City" A city frozen in time by an early March snow.  Moving ahead the city stakeholders are looking forward to a "come-back" as new investments of non-gaming venues continue to change the cityscape.
The casino landscape was dated having been laid out along the boardwalk by the mid-90's using the existing older styled architecture of many of the properties.  A resort built to modern design specifications in the marina district did not develop until the Borgata in 2003 and it still remains one of the most popular properties in the city.
Hindsight being 20/20 we can also conclude (and I haven't heard much said) that a lack of competition was narrowed in this gaming market by single ownership or "managed branding" of multiple casino properties.  In a field of only 12 operating properties at the time, this certainly
impacted creativity and growth. Where was the challenge? 
Caesars Entertainment- Harrah's, Caesars, Bally, Claridge, Showboat 
Trump Entertainment- The Plaza, Marina and Taj. Also at one point the Trump World's Fair (Former Atlantis.)
It may have been easier to list the companies that only owned one casino.
Also from 1995-2000, was the Trump Resort vs. Mirage Resorts and their famous "CEO's " at war over what was known as the "tunnel project." A project to divert traffic from the expressway directly to the casinos located in the marina district, essentially never entering Atlantic City proper.  (War at the Shore by Bronson, 2010)  Another distraction for a city in need of a strict development focus.
Today, as much as the Atlantic City stakeholders hold on to the dream of a "could have been" destination location; we are now looking at the reality of an extra-large regional city with a beach that now must continue to reinvent itself.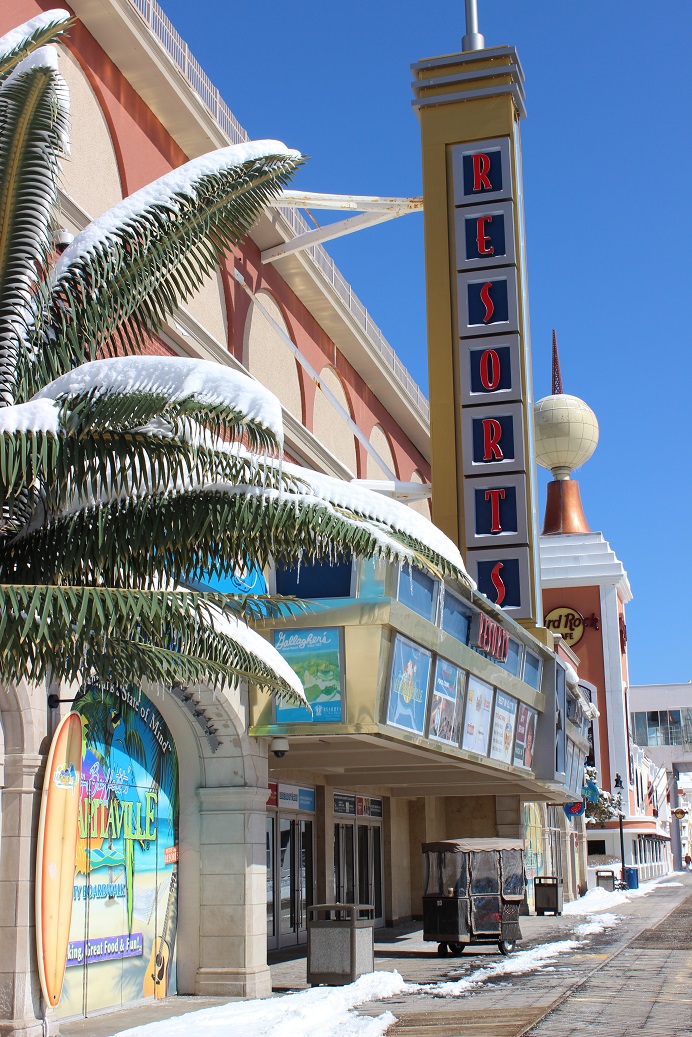 A survivor! Resorts Casino Hotel was the first casino to open in 1978. It has survived a cast-of- owners including Donald Trump; a variety of property themes and both natural and financial storms. Today this Margaretville themed property has become a prize jewel among some rough diamonds along the boardwalk. It truly represents the definition of "a comeback property."  
In the publics' mind are images of a city on the "brink" with failed casinos and a confusing message.
Can the new Atlantic City produce positive regional appeal and destination possibilities?
Some very positive plans are in motion despite the disastrous year of casino hotel closings in 2014.
Some highlights include:
Harrah's will open its Harrah's Waterfront Conference Center.
The Tropicana has already begun a huge, long overdue facelift.
The Pier at Caesars will see its vacant stores fronts under new ownership and a new model.
Hard Rock continues to show an interest in an Atlantic City footprint;-but it's all about timing.
Like any city in transition, learning from the success and failure of past outcomes can help the city guide itself to a more stable future.
Moving forward we will see a reduced casino footprint and blending of community among all segments of hospitality.
It will be a different model from its former single casino driver. Today's casino floor has been reinvented with major design changes to include a smaller footprint. New technology has assisted with this re-design but also the market place has called for the change. Gaming floor sightlines now include cafes and restaurants as well as more space to allow for social gatherings.
The next generation of customers desires a "multi-integrated" set of experiences.
Non-gaming elements generally bring a consistency to a property brand that adds interest and curiosity offering a seamless customer experience and a great benefit to the corporate bottom line.
Appealing to mass and niche markets must be a blend of idea and reality. It is ok to challenge the market place (Revel) but understand that the foundation of the ideas must be realistic and centric; secured in a solid foundation for sustainable growth.
Louis Malle's view in the1980 movie Atlantic City was about a city in transition. The fictional characters played by Burt Lancaster (Lou) and Susan Sarandon (Sally) represented the old and new guard.
Atlantic City has always been a tale of two models playing against each other. In the 70's it was about its aging layered history of the decaying destination experience reluctantly making way for the new and improved version of hospitality and gambling.
Again we see a historical transition taking the decades old model of casino gaming and hospitality to a different level. The central focus is not the casinos as they are only part of the experience. It is a return to the non-gaming experiences that made this resort town a marketable city in the 1900's. The beach, the boardwalk, lavish hotels, dining, retail and great entertainment.
The Atlantic City model is a new beginning-driven by elements of dreams backed by realistic thinking.
Perhaps this tag line from the 1980 movie trailer sums it up best: "Atlantic City-For everyone who's ever needed one more chance."
Bob Ambrose
Instructor Gaming & Hospitality
Center for Hospitality & Sport Management Drexel University
Rja73@drexel.edu  Twitter@bobambrose
http://www.drexel.edu/hsm/
Originally published Casino Life Magazine April 2015