Lesley Hodges joined Aruze in August 2022 as senior director of marketing, bringing in-depth understanding and extensive experience in global marketing strategies to Aruze as the company expanded international initiatives, and implemented growth strategies across its entire business.
Hodges will design, implement, monitor, and direct the company's marketing strategies and programs. Lesley brings more than 20 years' experience in gaming-industry marketing to Aruze and its leadership team.
Lesley, first I want to thank you for taking the time to speak with me. Please tell our readers about yourself and your role at Aruze.
Absolutely, Victor. Thanks so much for having me!  I'm the senior director of marketing for Aruze. While I'm still new to the company, I'm not new to the industry — I've had more than 20 years' experience in marketing and casino gaming.
At Aruze, I'm focused on bringing our mission to life. As I work to design, implement and direct the company's marketing efforts, one thing is at the forefront of my mind: growing our Activ-Play™ portfolio while maintaining the legacy of our traditional suite of slots and ETGs. Marcomm is vital for sharing our unique vision for casino gaming, and I'm excited and honored I get to do it with one of the most innovative brands in the industry.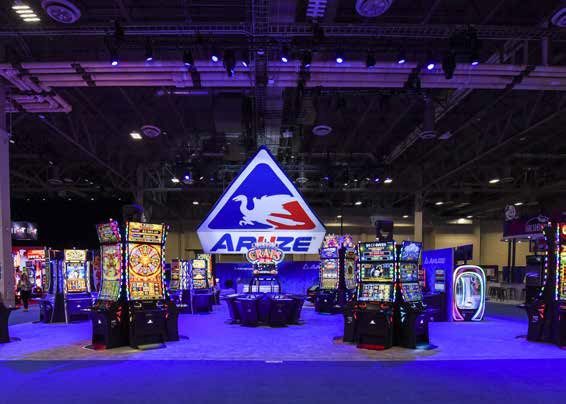 How has the direction and vision statement for Aruze changed since G2E 2021? Or has it?
Our mission at Aruze is always evolving — after all, how can we innovate if we're standing still? While the outcomes and benchmarks are always changing, our mission is always the same: to meet gaming where it's going, not to where it is. Aruze began its journey in the Eighties with the goal to design, develop and deliver innovative games… and we're still doing it.
No matter the year, that's our mission. This year, our tagline was "Innovation is our Tradition." That says it all.
Please tell us about the newest leadership appointments at Aruze, and in which roles they now serve within the company.
I am the most recently appointed leadership at Aruze, starting at the company in August. In July, we added Kurt Hansen as vice president of iGaming to build and strengthen Aruze's iGaming offering.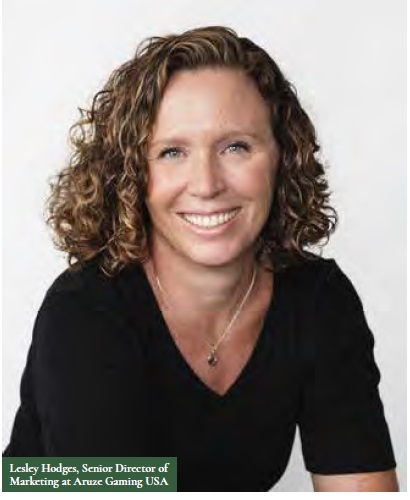 This is the first fully post-pandemic gaming convention in Las Vegas, and we'd like to know how you see Aruze positioned in the current and future gaming market?
We see ourselves as leaders in the industry. While we pay homage to the gaming industry's classics, including our suite of traditional cabinets, ETGs and slots, we also look forward to bringing the industry that next "big thing." We offer a unique gaming gambling hybrid experience through our Activ-Play™ solutions. Activ- Play™ blends arcade-style fun with the randomized excitement of a gambling machine. Through this portfolio we see ourselves positioned uniquely in the market, offering something that no one else is providing.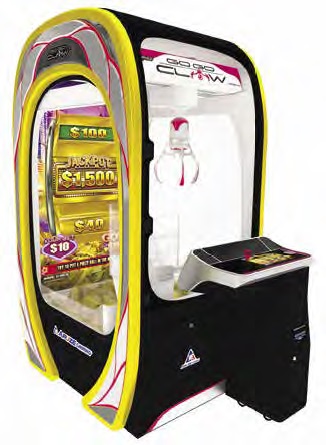 Image: Go Go Claw Gold Bars Cash Grab game
Which are the video games and related technologies which Aruze is presenting, and what is new and innovative about them?
We showed so many exciting games at G2E this year, both new titles and re-introducing some many may already be familiar with.
Go Go Claw: Go Go Claw is a hit among players and properties alike. As the winner of this year's GGA Product Innovation of the Year, it continues to redefine what a "slot machine" looks like. In this unexpected blend of arcade and casino-style play, a physical claw is used to attempt to place one of the prize balls in the collection bin, where a value-varied prize is unveiled. This lively and innovative take on a traditional slot machine captures the attention of all who encounter it. Go Go Claw has two theme variations: Go Go Claw – Gold Bars and Go Go Claw – Cash Grab.
Shoot to Win Craps™ Luck Roll: The new game is a revitalization of Aruze's legacy Shoot To Win Craps™, with an immersive experience through interactive play and spectacularly upgraded visuals.
From the AP-7 Shoot to Win! Craps, the overhead display is upgraded with a wraparound LED Display in the center unit.
The platform is upgraded from AP-7 to AP-X, and uses a new system for dice sensing, as well as new dice with the upgraded security system. A new camera system is also installed supporting the latest camera system.
Rock Paper Scissors Instant Win: Rock Paper Scissors Instant Win brings a schoolyard favorite to the casino floor. Its enchanting music and bright lights featured across the Muso Curve's 55-inch, touchscreen display are sure to pull in passersby. And, with each play leading to a chance at an even bigger prize, gamers and gamblers are sure to come back for the thrill time and time again.
Bomb Collector: With bright visuals, charming music, and chances for free games and bet multipliers, Bomb Collector is sure to be a blast for gamers and gamblers, and is for sale on the floor at this year's G2E. The game is a five-reel, three-row video slot designed for Aruze's T-32 cabinet, and has 10 bet configurations, from 75 to 750 credits.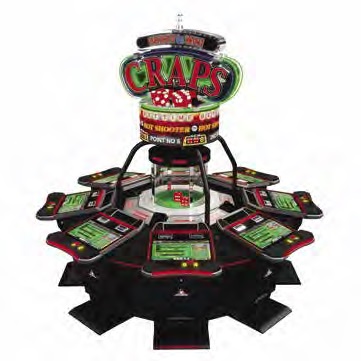 Image: Shoot to Win Craps game 
For these video titles, which of them have new, or re-imagined cabinets?
Each of Aruze's video titles is designed to be played on one of Aruze's unique and aesthetically pleasing cabinets. Rock Paper Scissors pulls players in on the immense Muso Curve 55-inch touchscreen. Our games are intentionally designed to specific cabinets.
Bomb Collector is exclusive to our T-32 cabinet, which we introduced for sale at G2E this year.
What is new and innovative about these cabinets, or their hardware components?
Our most recent and revolutionary cabinet launch is the Muso Triple-32, or the T-32. Built for fun, the T-32 has three 32-inch LCD screens that provide breath taking visuals and unique features tailored for an immersive and comfortable gaming experience. The T-32's newest feature is its honeycomb/trapezoid cabinet LED displays.
This display emphasizes a stunning visual to attract players, adding a bright and appealing touch to any casino floor. The T-32's new face design and ergonomic button deck feature a standard wireless charger, an optional USB charging port, a wrist rest and a 13.3-inch LCD deck.
Paired with Aruze's exclusive titles, the T-32 cabinet joins classic games and a one-of-a-kind gaming experience in perfect harmony.

Image: Rock Paper Scissors video game
Which of these titles are lease, sales, or participation?
Titles offered For Sale:
• T32 Cabinet, with the exclusive title Bomb Collector
• Shoot To Win Craps
Titles offered For Lease / Participation:
• T32 Cabinet, with the exclusive title Bomb Collector
• Shoot To Win Craps
• Go Go Claw
Now that pandemic concerns are no longer the main force affecting casinos and players, how is Aruze positioned to provide game content to casinos?
We think that since the world has largely moved back into the comfort of gatherings and travel, casino gaming is due for a big boom.
However, that doesn't mean players want to come back to the same casino experience every time. We're offering something fun and unique that encourages players to try again and again, drawing a crowd to their Go Go Claw escapade or cheering on a Rock Paper Scissors showdown between man and machine. While there is always room on the floor for traditional slots, there should also always be room for innovation.
Image: Bomb Collector video game from Aruze, on the Aruze-Exclusive MUSO T32 Cabinet 
Other than the games themselves, what other products and innovations does Aruze offer?
Aruze is always innovating. Aside from our Activ-Play™ titles, we offer video slots, a series of ETGs and even a hybrid ETG in our Roll to Win Craps. No matter the player, Aruze has something to offer for everyone.
Online casinos continue to gain acceptance and legalization – how is Aruze positioned to provide content and technologies to online gaming?
Aruze has been a long supporter of iGaming solutions. As we saw during the pandemic, many players sought their casino cravings from the comfort of their homes. iGaming is growing in popularity, and we plan to continue to leverage our titles in the online market as well as on casino floors. By expanding our online presence, we can bring the fun of Aruze to even more people across the globe.
And, by adding Kurt to our team, we're able to access one of the industry's most knowledgeable leaders to help Aruze grow and strengthen our iGaming suite.
In general, how would you sum-up the post-pandemic future for Aruze in Las Vegas? And elsewhere in the world?
Our post-pandemic future is the same as how we imagined it pre-pandemic: bringing the best, most innovative games possible to casinos floors across the world. We're back in casinos and so are players. We're staying true to our mission and continuing to innovate the space with one unique title at a time.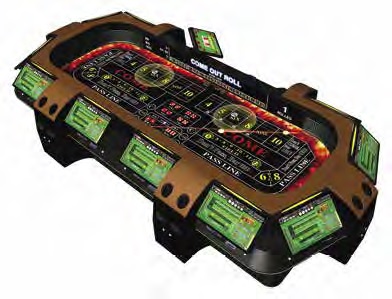 Image: Roll to Win EGT Craps game
Finally, in your career in gaming, and with Aruze, what would you consider to be the highlights?
While I'm still relatively new to the company, I think the biggest highlight I've experienced so far is working with a team as smart, innovative and fun as the team at Aruze. I'm so excited to be a part of this company and I can't wait to share everything exciting to come to casino floors with you going forward.
On behalf of Casino Life Magazine and Outsource Digital Media, I would like to thank you, Lesley, for your time, and for sharing this with us and our readers worldwide.
*** Interview originally published Casino Life Magazine November 2022***