Las Vegas' Neon Museum approaches its 10th anniversary. By David McKee
Historic preservation has never been high on Sin City's list of priorities but the Neon Museum, just north of Downtown, is helping to change that. Founded in 2012, it catalyzed a scrapyard of defunct signage into a beautiful, curated collection, fronted by a visitors center that was created from the lobby building of the curvilinear La Concha Motel, a handsome, 1961 vestige of Googie architecture that used to adorn the Las Vegas Strip but moved to 770 N. Las Vegas Boulevard in 2006. Out back is a massive array of neon signage (and some not-so-neon, like the Treasure Island marquee that is best viewed by satellite) mainly from casinos, but also from restaurants and other bygone Vegas landmarks.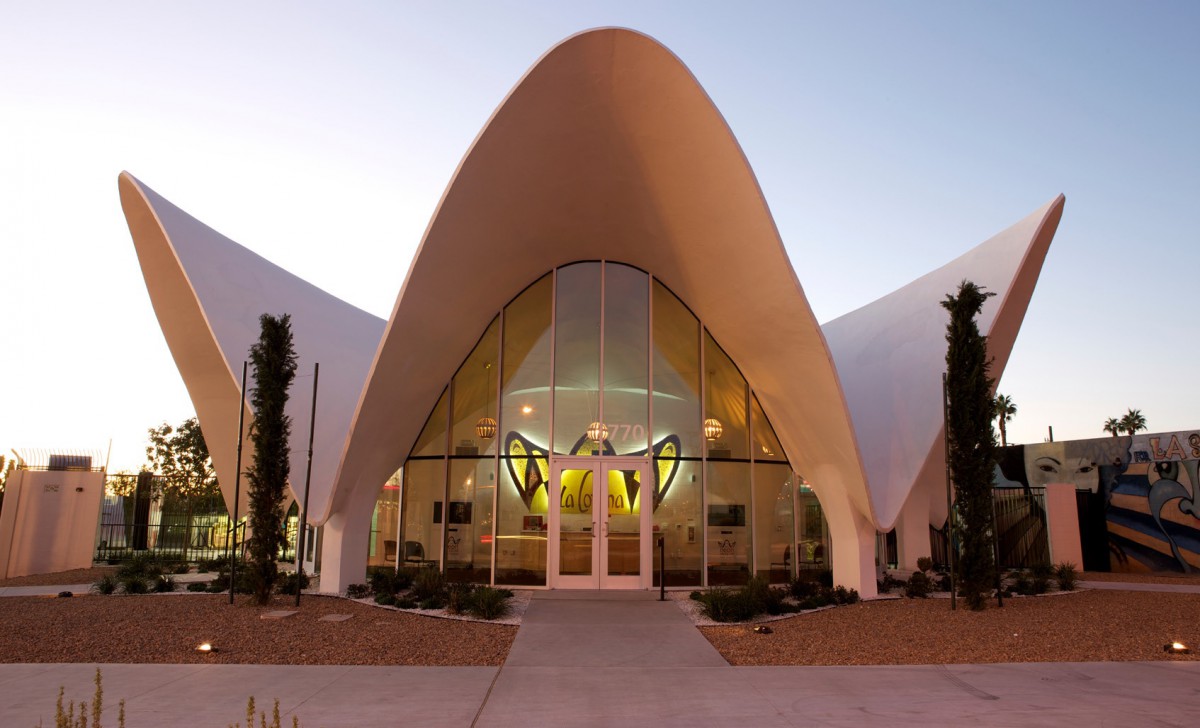 Last year, the Neon Museum achieved accreditation from the American Association of Museums, the highest such honor in the U.S. Other accolades include being shortlisted as one of Las Vegas' top-10 attractions by such media outlets as MSN, Vegas.com, forbes.com and USA Today. Most of the 2.27-acre footprint of the Museum is taken up by the Neon Boneyard, a term whose origins are explained below. Donors to the Boneyard have notably included Young Electric Sign Co. (popularly known as YESCO). The collection, which includes signage dating back to the 1930s, began being incorporated as a nonprofit in 1996 and has been growing exponentially ever since.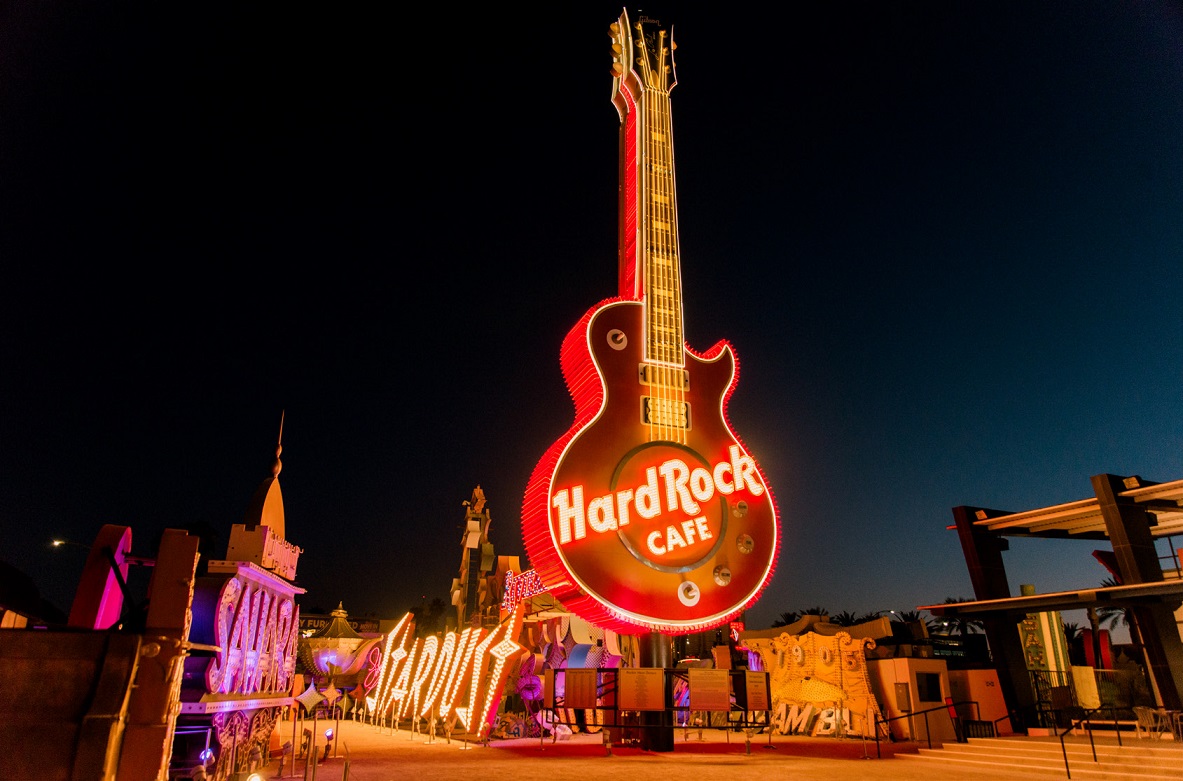 The newest augmentation is "Brilliant! Jackpot," an immersive audio-visual installation that revives through the magic of photography, drone footage, 3-D photogrammetry, Adobe Illustrator and 80,000 lumens of light antique signage that had seemed irretrievably defunct. And that's just a small sampling of what the Neon Museum has to offer. To learn more, we turned to Executive Director Aaron Berger, who was lured to Las Vegas from Atlanta, trading humidity for dry heat … and all the preservation challenges that come with it. We spoke with him from his Vegas office.
What was the genesis of the Neon Museum?
The museum itself is really attributed to a small group of individuals that, in the Nineties, were smart enough to say 'We need to find ways to preserve Las Vegas history,' and it is remarkable to me. This city is one that tears down and builds up, and tears down and builds up its landscape, so when our visitors come, you can come every year and there's a new skyline in one way or another. So there was a group of people that had the foresight to say that we need to make sure that we're preserving these landscapes as they change. So we started off by collecting the signs that promoted some of the greatest destinations in Las Vegas but were renowned throughout the country, and being able to preserve those signs and have those available started off totally volunteer. We opened in our current location 10 years ago this October and have just been overwhelmed by the response that we've gotten from the public to learn about Las Vegas' history. I kind of describe us as the memory of the city. By doing that, we're telling these stories using the signs as a catalyst for how to tell you about the history of what's taken place here.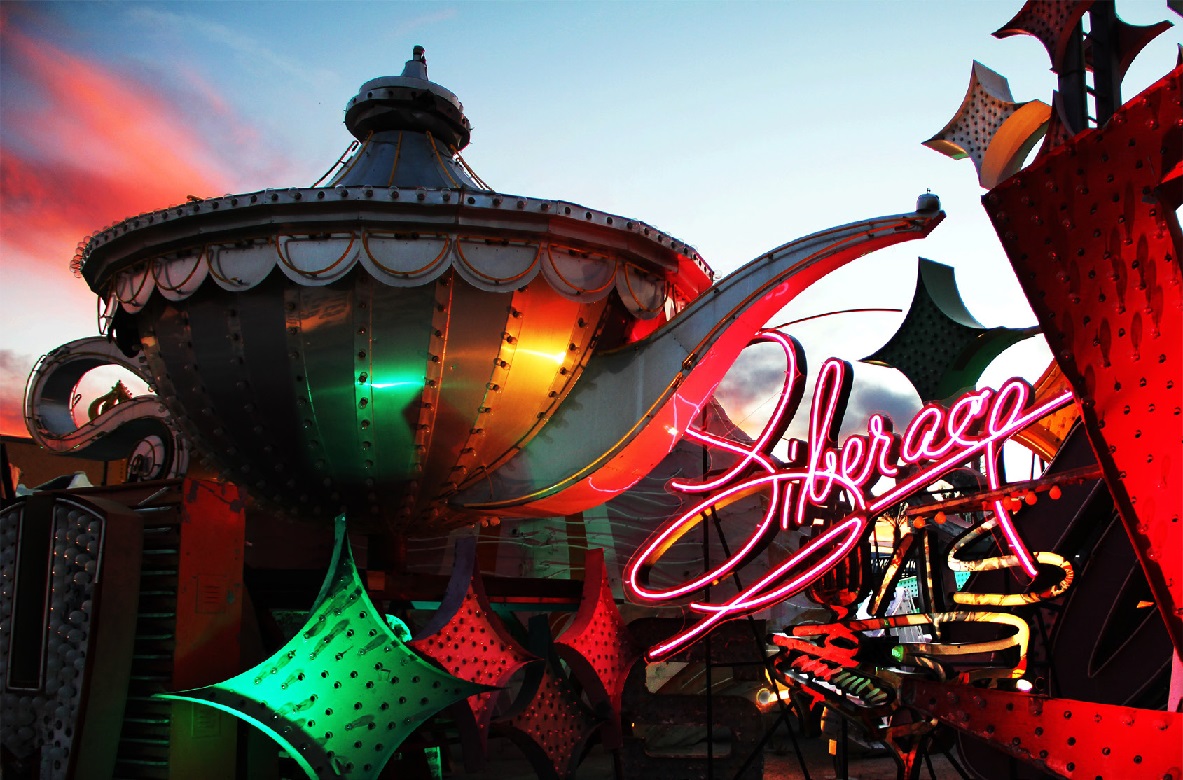 How difficult was it to bring it to its current estate, with the La Concha Motel as the visitors center and the curated tours?
There's no finish line. We're always continuing to grow and improve, and we have a lot of things that are on our horizon for expanding our programming. But you talk about moving La Concha, for example. To move an historic property, designed by a famed architect, Paul Revere Williams, we moved that in eight separate pieces down Las Vegas Boulevard on a series of flatbed trucks, shutting down traffic and doing that with a building that, at the time, was 60-ish years old. That was an architectural feat in itself and it was then reassembled in its current location. It was just amazing and it's an incredible example of a Black architect who was renowned for his work and yet not as accepted as one would be, had he been white. It's a great opportunity for us to tell a lot of stories just through that building itself.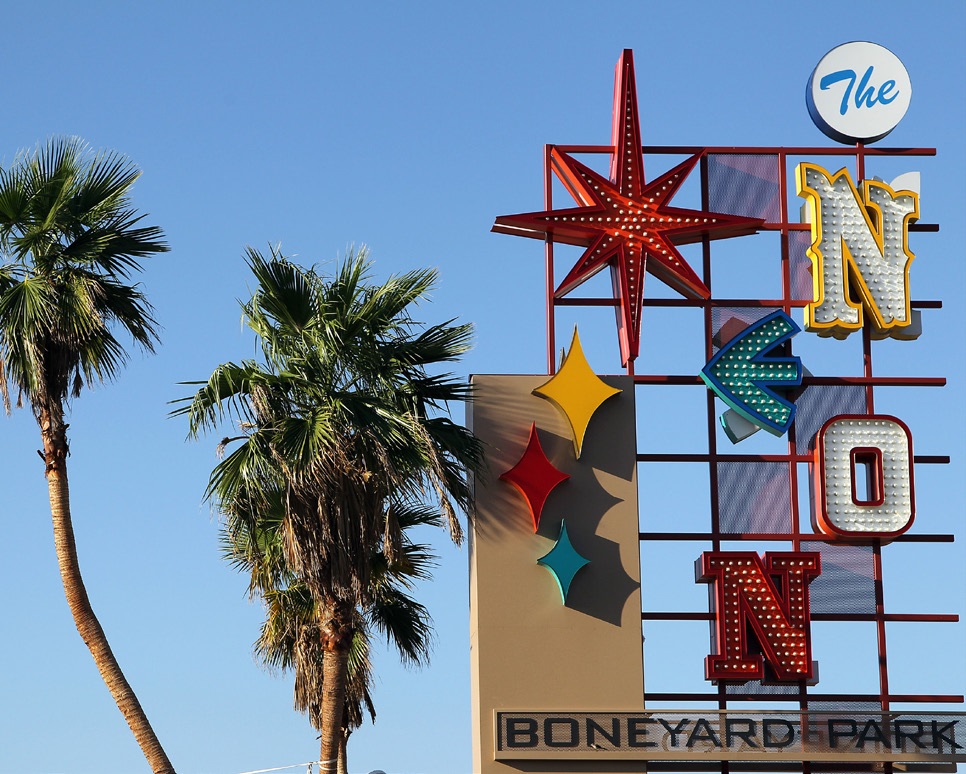 How are the collection and transportation of vintage signage underwritten? It can't be cheap.
No, I wish it were. It depends. So we get a series of—usually—panicked phone calls. Someone is calling us that Property X has been sold and we're getting rid of the sign, and you have to have it Monday or it's going into a landfill. We do have a very, very small budget for transportation. But often we ask the donors to provide that transport to our collection-storage facility. At that point it's assessed for rehab and we determine whether that piece is something that can go out into our Boneyard for display or if it has another future use where it can be displayed properly. But the costs are exorbitant, there's no doubt about that.
What was the biggest such operation?
We have several big signs. Obviously the Hard Rock Cafe guitar, which stands 82 feet tall, having that put in place was an amazing act of engineering. We have a joke in Las Vegas that the state bird is a construction crane and we certainly used our share of cranes to put that in place. But most recently we added the Planet Hollywood restaurant sign, which is a globe that has the words "Planet Hollywood" in neon that circle around that globe. That is 25 feet across and it's a monster, so right now it's segmented like an orange, which is the way it had to be transported. We shut down Las Vegas Boulevard and transported it at two o'clock in the morning, when traffic was at its lowest. It has a mechanism in the center of it that turns the globe. The mechanism alone weighs 12,000 pounds. So there's a lot of consideration when we're moving these pieces.
We have approximately 800 pieces that are in our permanent collection, about 250 of which are on display at the Museum. We also have nine that are out on what's called a scenic byway on Las Vegas Boulevard. What we're hoping to do is expand that so that we can get more of these signs that are in storage out into other communities. Whether those communities are in and around Las Vegas or whether they're in and around Nevada or throughout the country, we would love to see these historic markers given as much attention and appreciation as possible.
Which signs are the most popular and what are the Neon Museum's hidden gems?
It depends. There is a rivalry, let's say, between the Stardust sign, which is just so iconic and really is visually impactful—it's this amazing, larger-than-life sign that captures the Space Age, the time that this was created, it's mesmerizing to look at—the other one is the Moulin Rouge sign. The reason that is also so attractive is its historical significance, which is that the Moulin Rouge was the first integrated casino and hotel here in Las Vegas. So it has some really important history behind it. Two, it was created by Betty Willis. She was the designer who made the famous "Welcome to Fabulous Las Vegas" sign. It is actually written in her penmanship. So the font that is used in the Moulin Rouge sign is actually Betty Willis' handwriting.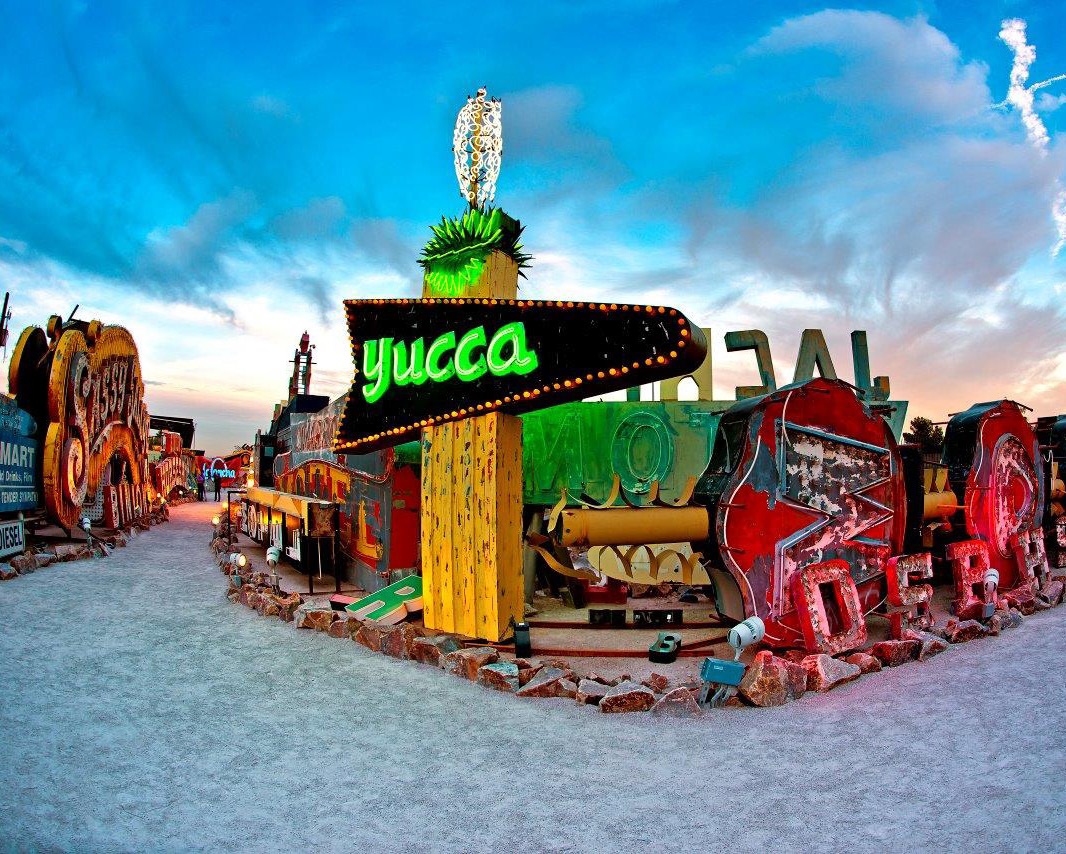 History aside, the other part of this that's so exciting is that it is featuring two types of pink in the neon, so it stands out so beautifully, it's so vibrant. It has a coral pink and then it has sort of a bubblegum pink. The coral pink is original to the piece, so that dates back to the mid-Fifties. So it gives you a testimony to how glass can survive the harsh conditions of Las Vegas, our 120-degree summers and our below-freezing winters, our windstorms and our monsoons. It survived that, as did the neon inside. Then that bubblegum pink, that's where we've had to do some restoration and the restoration to the work is new neon that's been created. We did our best to match the color as possible. It does give a bit of insight into that piece.
So those are the two that are the most engaging. The hidden gems, oh boy, for me actually relate to the Stardust sign. So the Stardust sign was massive, almost 190 feet tall, this enormous structure, and we have all of the components to it but they are lying on their side in various parts of the Boneyard. The structural point to understand that these pieces are made in the Fifties, again, they're made to grab your attention, to draw you in. They're doing that through either motion or light or just height. So that hidden gem is seeing the structural elements of the Stardust sign throughout the Boneyard and imagining what it would look like if assembled and reinstalled, which would be so terrific to do. I would love that.
Just as a side note, the reason we call it a 'boneyard' is a term that we use in the sign industry, referring to when a building is built. Oftentimes the sign manufacturer leases the sign to the building. So they're separate. So if the building changes hands or names or goes under, the sign manufacturer simply takes the sign back and puts that sign into a boneyard where they use it for other projects. They may grab the 'C' from this piece and the metalwork from another piece, and assemble a new sign as a result. So it becomes a boneyard of materials available to sign manufacturers. Our environment is made to resemble a boneyard as best as possible, so you could see how a sign manufacturer would walk in, and try and pick different pieces to create something new. That gets back to where the Stardust sign is, in its various pieces, disassembled around the Boneyard.
How was visitation affected by the pandemic?
We have been fortunate compared to some of my colleagues in the museum world. It's largely because we're an outdoor venue. Ninety-eight percent of our experience is outdoors. You enter through La Concha but once you've checked in you're outdoors for the rest of the time. Because of that we've been able to meet the needs of visitors who have been coming through the pandemic. Visitation is coming back strong. In the last 60 days or so, especially around holiday weekends, we're seeing a really significant jump in our traditional attendance. Now that the restrictions are lessening around the country, visitation is back, but there's also a part that for people who are still concerned about the pandemic, they feel a little safer in an outdoor venue like ours. People are happy to join us, knowing that we are an outdoor venue.
How difficult is the restoration and preservation of vintage signage?
Again, getting back to the harsh conditions of the environment back here in Vegas, these signs come to us—we just took one today that's 40 years old and it's been indoors and yet it still has some major wear and tear to it. What we do is go out to the public, to those who are enthusiasts and connected to signs in particular for financial support. We have done crowdsourcing around them. We also have something called the Sign Conservation Fund, which is where people can donate directly into this fund and we will use up to 20 percent of the fund every year to rehab or fix or care for the signs that are on display or in the collection.
It's also important to say, too, that with the signs that are completely defunct, that are beyond repair, we've moved those into the North Gallery, where we showcase "Brilliant Jackpot," a 360-degree, immersive, audio-visual experience. In this gallery space, which is outdoors, you're going to see about 80 signs. We have an artist named Craig Winslow who has used a process called 'projection mapping,' where he uses a series of projectors to pinpoint light so accurately that each individual light bulb will come back on, on these signs. And he does it to a very iconic Las Vegas soundtrack. So in this 30-minute experience, you're going to hear the Rat Pack and Frank Sinatra, and Elvis … all kinds of fun, exciting music that just screams 'Las Vegas,' and see these signs come back to life in the process. Even when they're dead, they're not always dead yet.
What kind of outreach are you doing to raise awareness of the museum's mission?
I've been on staff now for a little over six months and that has been my primary focus. We've really worked at developing programming that is outside the Museum's walls and that is going to be announced in the next couple of months. But we have a series of things to look forward to that are ways to engage and celebrate Las Vegas' history that won't necessarily connect you physically with coming into the Museum's walls. That's being deliberately ambiguous and I apologize but we're close to making those announcements. Outreach, I would say, is the forefront of what we're doing now. We're thinking of it through several different lenses. One is diversity and inclusion, so making sure that we are telling the stories of the Black community, we're telling the stories of the Latin community, the LGBT community, the story of women and also the story of the indigenous people, the Native Americans who lived here before Las Vegas was Las Vegas—and who still live here.
We want that diversity to be a key component and I also mentioned inclusivity. We realize that there's a ticket price that you have to pay to enjoy our offerings and that can be a barrier for some people. So, as part of our outreach efforts, we are looking and talking to sponsors to provide a free period a month where we can allow all people in to experience the Museum. We don't want money to be a barrier to people to enjoy and learn from what we have to offer.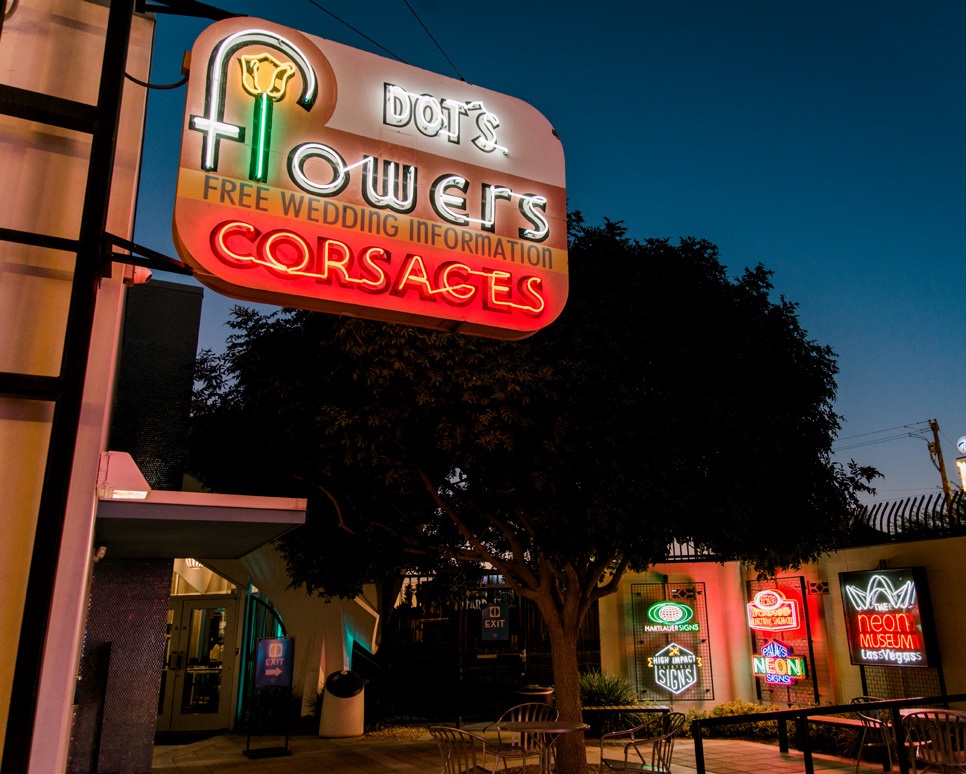 Is the Museum and Boneyard's limited footprint becoming a problem, and if so, how do you solve it?
Well there's a six-hour answer! We are landlocked, I will say that. We are looking at how we can expand our offerings. Right now I have a staff of just under 50 people, half of which don't work at the Museum. They work at a remote location. So we're physically separated in that regard. In addition to that there's education space. Because we're almost entirely outdoors I don't have an education space where I can bring together a class for teachers or a community event. Thirdly, we really want to see a fabrication studio become a part of what we are. So our team is envisioning having a studio space where if you want to take a two-hour class, you can make a small moment of your trip in neon and be able to take that home with you. Or, if you're more local or regional, over a course of five or six weeks you can learn the artistic side of neon and learn how to bend glass to create art pieces. So that'll be something that will be coming down the line as we look at how to create more space for us. That's part of our strategic plan and definitely where we're headed in the near future.
What are you most excited about for the future? Is it a program? Is it a piece of signage that you covet? What could it be?
I have to say that it's actually the reason that I took my position here. Anything is possible in Las Vegas, absolutely anything. This town is one where you can have an idea and the right support, and it's like it's been fueled with rocket fuel and it takes off. What excites me the most is the possibilities for the future. Whatever idea we come up with or are presented with, we're not limited by budget, we're not limited by staff, we're not limited by geography. We're limited by our own imagination at this point. So that's what's the most exciting for me. That's what gets me up in the morning. That's what keeps me going late at night.          
***  Neon Museum feature by David McKee originally published in Casino Life Magazine March 2022 ***