Interview with Michael Conway, Vice President, Communications and Media, Everi Games. By Victor H. Royer
Casino Life Magazine and Outsource Digital Media recently had the opportunity to interview Michael Conway, vice president of communications and media, at Everi Games. Michael is responsible for elevating Everi's brand among casino operators and their players across a variety of channels, and bringing new perspectives to promote the gaming division's content and hardware products.
Michael joined Everi Holdings Inc. (formerly Multimedia Games Inc.) in February 2004, initially as as an illustrator, and then most recently as creative director for Everi's Studio 7 gaming studio. Michael was appointed vice president of communications and media in November 2020 and brings to the role an in-depth understanding, and extensive experience in game development and player psychology, having art-directed some of Everi's most successful video and three-reel mechanical themes. His diverse background, which also includes being an entrepreneur, published author and former actor, including playing a villain on the iconic TV sitcom Seinfeld ("The Statue"), has helped him bring a unique perspective to game development at Everi.
Michael, first I want to thank you for taking the time to speak with me. As you know, Casino Life Magazine and Outsource Digital Media take great pride in interviewing leading gaming industry professionals and senior level management members to better understand both the companies that they work for or own, as well as what the key attributes are for their success. Please tell our readers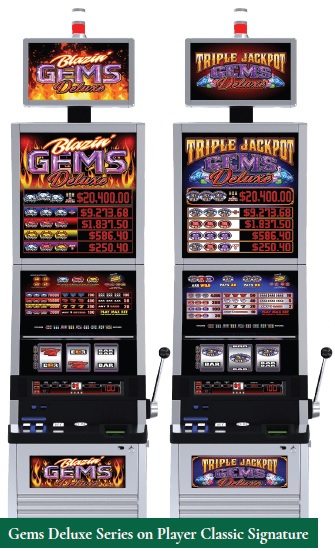 about yourself and your role at Everi?
This is a new role for me at Everi. After more than 17 years of making games, I am thrilled to bring my oddball background to the new challenges of a quickly evolving audience. The democratization of media has created all-new opportunities in digital communications beyond conventional B2B advertising to a whole new, live conversation with players through social media channels, including YouTube. I have actively been working with slot influencers on YouTube over the years to support them and promote our games as an exciting entertainment experience, as we believe this approach to engaging with players is a game changer.
Now that the G2E gaming convention is again "live" in Las Vegas, which are the video games and related technologies which Everi is presenting, and what is new and innovative about them?
Several new video-slot themes debuted exclusively on the Empire Flex™ portrait cabinet including the Old West style series Gold Hills™ that features an exhilarating Gold Run™ bonus that dares players to beat the clock to win jackpots and gold nugget prizes, and Star Wild™ Series which has a time-based frenzy mode similar to Gold Hills. Star Wild also showcases a jackpot-pick bonus (Star Wild Egypt™) and a jackpot wheel bonus (Star Wild Olympus™) that removes lower-tier jackpots for a chance at bigger prizes.
Everi's first cascading games, Ultra Cascades™ Series, and two highly innovative themes, Cha-Ching!™ and Money Line™, are also exclusively available on Empire Flex. Cha-Ching! features an incredibly wide bet range with no reels, enabling players to adjust volatility through a pick-only base game. Money Line has a novel yet intuitive mechanic where the player lines up a symbol in a row to win, with multipliers that can increase prizes and an opportunity to spin the wheel when landing on a wheel symbol.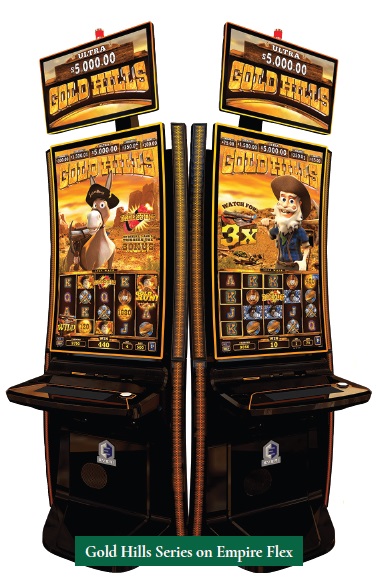 Blazin' Riches™ Series introduces Gem Pays™, which innovates on the popular cash-on-reels element and pairs easy-to-learn features that have clear upside, with player-sustainable denominations and bet incentives to support a wide range of bets. Genie's Prize™ and Pixie's Prize™ are five-reel, 40-line games, chock-full of surprises including a persistent pot feature that triggers a mystery-pick bonus and a Diamond Frenzy mode with gem prizes and gem enhancements.
For these titles, which of them have new or re-imagined cabinets?
Everi didn't introduce any new or reimagined standard video cabinets at G2E.
Which of these titles are lease, sales or participation?
All of the titles mentioned above are standard for sale themes.
For Everi, and for these games, which do you think is the future: sales, lease or participation? What percentage of each is the future for Everi?
Both for-sale and for-lease products are important parts of our business. It's worth noting here that Everi reported a nine percent increase or 1,313 units in its installed base (lease footprint) at June 30, 2021, compared to the same period in 2020. The premium portion of our installed base increased by 20 percent or 1,165 units during this same time period, representing 43 percent of the total installed based at quarter ending June 30, 2021, compared to 39 percent a year ago. This continued growth in our install base, particularly increased placements of our premium units, is driving in part our momentum in the company's games segment.
How does Everi consider the future of cashless gaming? Is this something that Everi is actively pursuing?
Good question – for this asnwer I'd like to introduce Jeff Hoss, vice president of markeing, Everi FinTech:
While we don't believe cash will become obsolete anytime soon in casinos, demand from both operators and guests to transform the floor into a more digital environment is increasing. Cashless gaming and the digital wallet is a key piece of this transformation, which is being driven by demand for self-service options from patrons, as well as the the freedom and convenience of accessing and managing funds via a smartphone like the Apple Wallet and Google Pay.
Everi's CashClub Wallet® integrates and extends cashless payments throughout the gaming enterprise using traditional, alternative and mobile technologies. CashClub Wallet is a mobile digital wallet that allows operators to offer their guests the option of cashless and contactless funding of electronic game play, including funding at the gaming device, as well as payments at the point of sale or online to fund sports betting or social gaming. The digital wallet also provides guests with multiple options to access their funds while on the casino floor.
Currently available at 15 casinos that host more than 32,000 electronic gaming devices, CashClub Wallet is the most widely deployed land-based digital gaming wallet in the U.S. and the market's only fully integrated, multi-property, multi-jurisdictional, system-agnostic solution.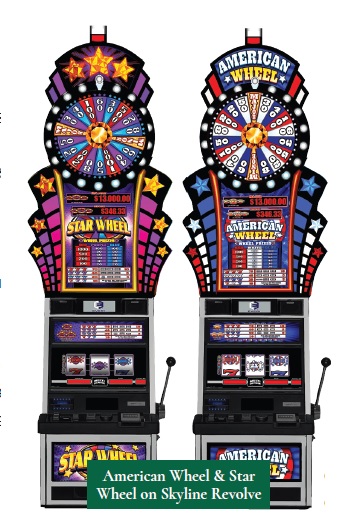 Which are the stepper (reel) games and related technologies which Everi is presenting, and what is new and innovative about them?
Everi introduced the newest addition to its Player Classic® three-reel mechanical cabinet series at G2E 2021 – the Player Classic Signature™ cabinet. Player Classic Signature builds on the more than 10 years of success with the Player Classic which continues its run as the number-one mechanical cabinet in the industry consistently taking over 20 of the top 25 titles in the high-denomination mechanical games segment per "Eilers-Fantini Game Performance Reports."
Player Classic Signature will debut with three new, original series each consisting of two themes including the Gems Deluxe™ Series which pairs high performing games (Triple Jackpot Gems® and Blazin' Gems®) with proven mechanics, including a Double Nudge® feature and the Jackpot Power™ Series with a unique Jackpot Power™ innovation feature that removes lower-tier progressives for a chance at bigger prizes. The Extra Spin™ Series is an innovation, frequently anticipating progressive stepper titles with an exciting respin feature.
Everi presented eight new themes on its Player Classic cabinet at G2E 2021 including Diamond Power Grand™ and Smokin' Hot Gems Grand™ with symbol-triggered progressives and increasing multipliers, and Gold Shots™ and Wild Freedom™ with a respin feature and a multiplier that can multiply wins up to 40X, respectively.
Everi brought its successful video slots Snoop Dogg Presents The Joker's Wild® and Press Your Luck™ Whammy Riches to the three-reel mechanical space with its Game Show™ Series. Both themes showcase features that will appeal to both loyal stepper and video slots players while the artwork and mechanics reflect these classic, iconic game shows.
The 5X Skyline™ Series on the Player Classic with the Skyline™ top box, enhancing the look and feel of the Player Classic with a vintage-inspired bezel, was also on display in addition to the Triple Double™ Series.
For these titles, which of them have new or re-imagined cabinets?
The Gems Deluxe Series, Jackpot Power Series and Extra Spin Series will all be available on the latest addition to the Player Classic series – the Player Classic Signature cabinet.
What is new and innovative about these cabinets or their hardware components?
While maintaining a classic look and feel and built for the future to create more memorable player experiences, Player Classic Signature features a simplified four-button deck; a clear digital touch-meter panel for improved player ergonomics; and wider, more intelligent and more powerful spinning reels with full-spectrum controlled lighting.
A new integrated 21-inch monitor is positioned above the reels to convey more player messaging including paytables that are larger and interactive to help simplify gameplay as well as a larger, higher resolution 28-inch top box monitor to improve game marketability.
Which of these titles are lease, sales or participation? What percentage of each is the future for Everi?
All of the titles mentioned above are standard for-sale themes.
In the gaming industry, manufacturers sometimes refer to a segment of their products as "premium." Which are those that Everi is showcasing?
Everi continues to deepen its library of original content for its premium, three-reel mechanical cabinet Skyline Revolve™, with the debut of the patriotic and stars-and-stri
pes themed stepper titles American Wheel™ and Star Wheel™. Both themes showcase symbol- and wheel-triggered progressives and a wheel bonus with two times and five times multipliers. American Wheel and Star Wheel are follow-on themes to Cash Machine Jackpots™ and the award-winning Gold Standard Jackpots™.
Customers experienced the fully featured banked product Flex Fusion™ first-hand at G2E with two new game families – Cashnado™ and Smokin' Hot Stuff Wicked Wheel Fire & Ice™.
Cashnado features an exclusive, frequently occurring Cash Grab™ bonus which triggers during Cashnado Alert, a bank-wide community event that immediately delivers heart-pounding excitement. Players touch dollar bills flying across the screen for credits or a shot at progressives.
Smokin' Hot Stuff Wicked Wheel Fire & Ice are 243 Ways™ games that consist of seven linked progressive prizes, two pick bonuses, two wild accumulators, and the iconic, player-popular Wicked Wheel bonus. The frequent bank-wide jackpot enhancement Fired Up Jackpots™ delivers a limited-time boost that upgrades any awarded progressive prize in the pick bonus with the next-largest progressive prize instead.
The highly successful Discovery Channel Shark Week® theme returned to G2E 2021 with the launch of Shark Week® Feeding Frenzy™ on the Empire DCX™ cabinet. Based on the hugely successful television series that spans the genres of history, science fiction, romance and adventure in one amazing tale, the Outlander™ theme also debuted on Empire DCX with several thrilling elements including the Wild Pair® feature which is active during the base game, free spins, and unique mystery multi-card bonus.
The high-performing Empire Arena™ banked product was back at G2E again this year with two new game families including Jackpot Falls™ and Fu Lu Shou™. Jackpot Falls consists of three unique base games all with a novel Power Pick™ bonus where the player can win all credits on screen with a successful credit pick which continues until they locate the stopper.
The theme also includes a similar adrenaline-pumping bank-wide bonus event like the award-winning The Vault® and Discovery Channel Shark Week, but now allows players to add more time to the bonus event for a chance to win more credits. The Asian themed game Fu Lu Shou showcases two base games with a bank-wide shared persistence as well as mystery features, a progressive-pick bonus, a wheel bonus, and fortune slides that can award progressives and credit prizes.
Does – or will – Everi provide gaming content to online casinos?
For this answer I'd like to introduce David Lucchese, executive vice president of sales, marketing and digital:
Yes, Everi Digital has been providing gaming content to online casinos since April 2019. At G2E 2021 we launched digital progressive games with 11 themes for our proprietary Spark RGS (Remote Game Server) platform. Since Everi first demonstrated Spark RGS at G2E in 2018, the company has continued to invest in updates for its server-based gaming solution, particularly to support the progressive-game content that has proven to be very popular with i-gaming players. Everi's digital gaming catalog now consists of more than 50 distinct titles with more on the way.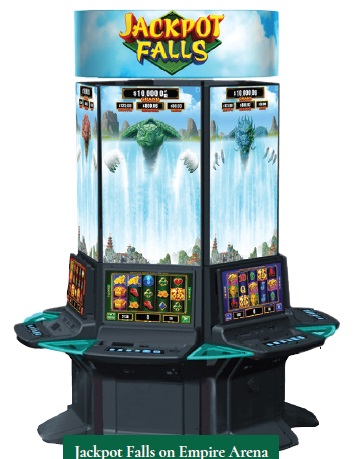 Over the past three years, Everi has extended the footprint of its Spark RGS platform to include Connecticut, Michigan, New Jersey, Pennsylvania and West Virginia, as well as British Columbia, Manitoba, Quebec and Ontario in Canada.
Everi will continue to expand its digital portfolio with a range of our top-performing land-based content. Our strong and growing digital presence continues to resonate with players in all existing markets. In this time, Everi has become a top provider of i-gaming content to operators and has consistently grown its reputation for creating compelling content.
Is Everi invested in sports wagering? If yes, please elaborate. If no, why not?
For this answer I once again turn to Jeff Hoss:
Everi is not directly invested in sports wagering, but enables operators to offer their guests the option of cashless and contactless funding of sports betting as well as electronic game play, including funding at the gaming device and payments at point of sale or online to fund social gaming via its CashClub Wallet product.
How would you sum up the post-pandemic future for Everi in Las Vegas? And elsewhere in the world?
From a games perspectives, the investments we've made to expand our game-development studios and to broaden our hardware offerings continue to drive our sustained growth. Each of our cabinets is supported by a robust pipeline of original content that's available for both Class II and Class III markets. This expanding content pipeline also supports the growth of our digital gaming business. We believe these investments coupled with our core strengths will continue to support the growth of the business.
Finally, in your career with Everi, what would you consider to be the highlights?
Helping Mulitimedia Games grow from a small, scrappy Class II innovator into an up-and-coming contender in this industry is certainly a highlight. I was also part of the development of a networked tournament product called Casino Commander™ in 2006 which evolved into an award-winning slot tournament platform called TournEvent®. To date, more than 5,000 TournEvent enabled EGMs (electronic gaming machines) have been deployed at more than 400 casinos in North America.
I also helped design TournEvent's animated virtual host The Money Man®, recorded his voice, and hosted the gaming industry's premier slot tournament in North America TournEvent of Champions® The Million Dollar Event® for many years.
This annual event started out as statewide slot tournaments in California and Washington in 2012 with only 30 participating casinos. Since then, the program has grown to more than 100 casinos across the U.S. and Canada, participating on an annual basis and more than $7 million in total cash prizes awarded. It was an amazing journey. My current chapter is probably my most exciting and most challenging.
On behalf of Casino Life Magazine and Outsource Digital Media, I would like to thank you, Michael, and Jeff and David, for your time and for sharing this with us and our many readers worldwide.